Crunchy chocolate coconut granola with toasty almonds, coconut oil, honey, and a dash of cinnamon to make your breakfast the best meal of the day.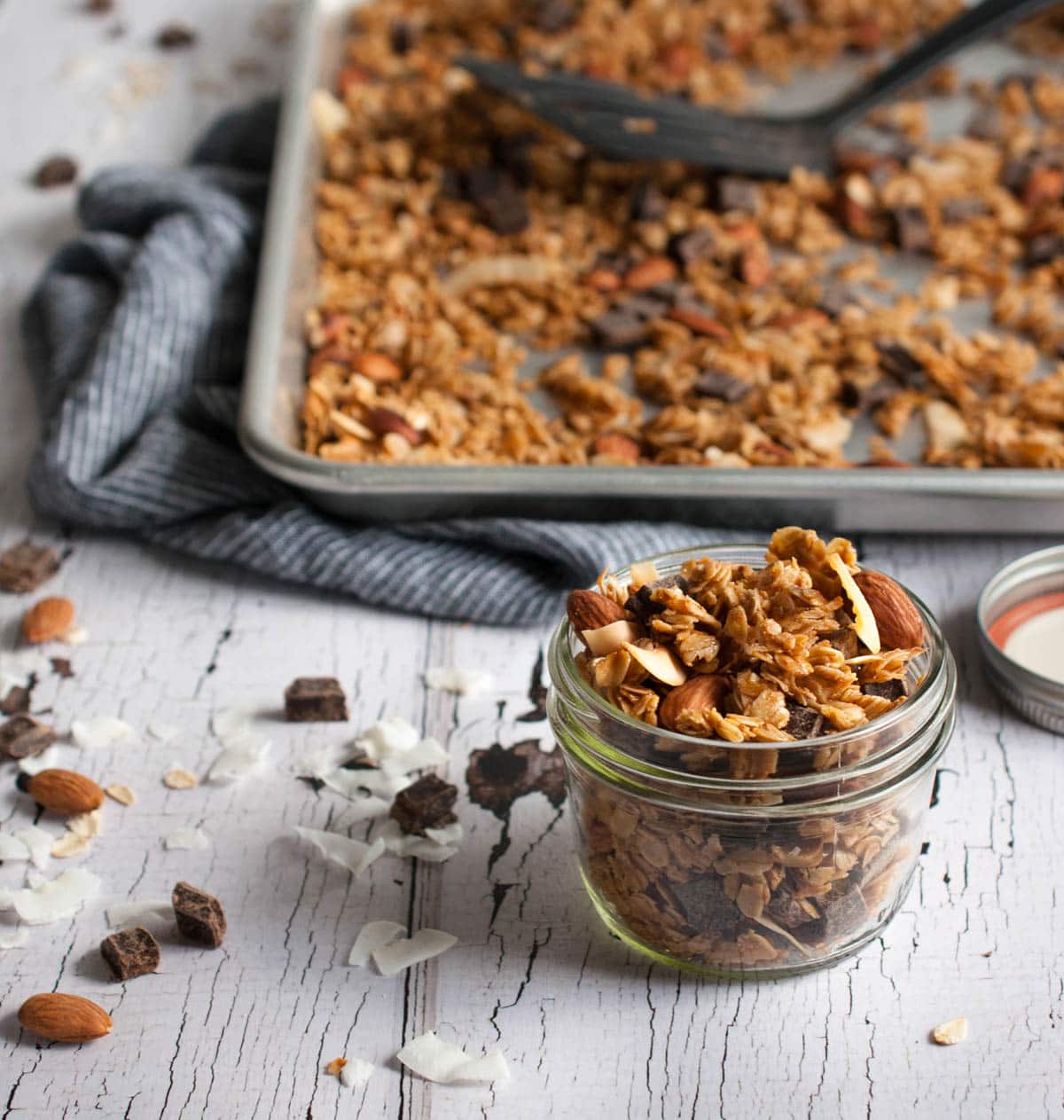 Granola is a love of mine that has blossomed throughout the years. Ten years ago, I was more take it or leave it. To be honest, more leave it than take it even. I couldn't care less about crispy oats.
Today, its a mandatory staple in my cupboard. I add a touch of granola to my morning yogurt, grab a handful as a snack, or tilt the jar directly into my mouth like a desperate granola fiend letting granola fall to floor all around me. Kind of like cookie monster but with granola.
All of the above happen on the regular…
And as with anything, homemade usually trumps what you can buy off the shelf. I've got my go to basic granola recipe that I use all the time, but have been branching out and trying new versions lately. Now that I've gotten this one tweaked to perfection, I figured its time I share with you. Why this one first? Coconut. That's why.
I honestly don't even care about the chocolate chunks too much. I do if I'm snacking on it, but if its in my yogurt, eh, I don't really care. My husband on the other hand – chocolate obsessed. The chocolate made this recipe for him. I'm also one of those people that prefer chocolate chip cookies with minimal chocolate and maximum cookie though so take my preferences with a grain of salt. Weirdo alert.
Anyways, he was having a meeting with his business partner/ friend in our dining room when I pulled a test batch of this chocolate coconut granola out of the oven. It got demolished in minutes. Like absolutely obliterated, barely a crumb left. Granted, I was just testing so it was a half batch, but damn boys! This granola is a popular one.
Although you've got to pull it out and do some stirring, this really is a simple recipe. You mix it up in one container (ala the pic below) and in two simple steps. Blend the wet ingredients and seasonings, then add the oats. Stir, then spread out on a baking sheet.
Here's what that oat mixture looks like up close and personal…
The tricky part is that you bake all of that separately, and then add in the nuts and coconut once the oats have already had a chance to roast up on their own. Not that tricky when I put it like that huh? …