Oat flour waffles are naturally gluten free and have an added protein kick from almond flour and almond milk for energy to fuel your morning.
Greetings friends! Today's oat flour waffles post comes to you from sunny Seattle. Yes, it hasn't rained a drop all weekend – we lucked out. 😉
I'm up here for a bestie weekend and it has been incredibly relaxing. The only thing I would change is probably drinking half the amount of champagne I consumed yesterday. Yikes. My head is pounding. Given this, I'll make this short and sweet for you.
First and foremost – I don't know how I lived without a waffle maker for so long. We bought one a few months ago and I have been absolutely loving this thing. You've seen quite a few pancake recipes from me already. Between those delicious almond pancakes and my protein yogurt pancakes, its about time we switched it up. Well these oat flour waffles are the perfect transition. I've got more breakfast ideas swimming around in my head too so I'll keep 'em coming.
These oat flour waffles are made with oat flour and almond flour. This means they are incredibly filling.  I have been making these on the weekend and then reheating throughout the week for breakfast for a few weekends in a row now. I figured its high time I finally shared this recipe with you.
They don't reheat perfectly, but not bad at all for a quick weekday breakfast. They keep me full until lunch which is all I care about. On the weekends when they're fresh, I manage to eat the whole thing. When reheated throughout the week though, I normally call it good after about three waffle sections.
I'm not just saying that either. I am not a dainty eater by any means. I can put down some serious food. These waffles are that filling though that I really don't need to.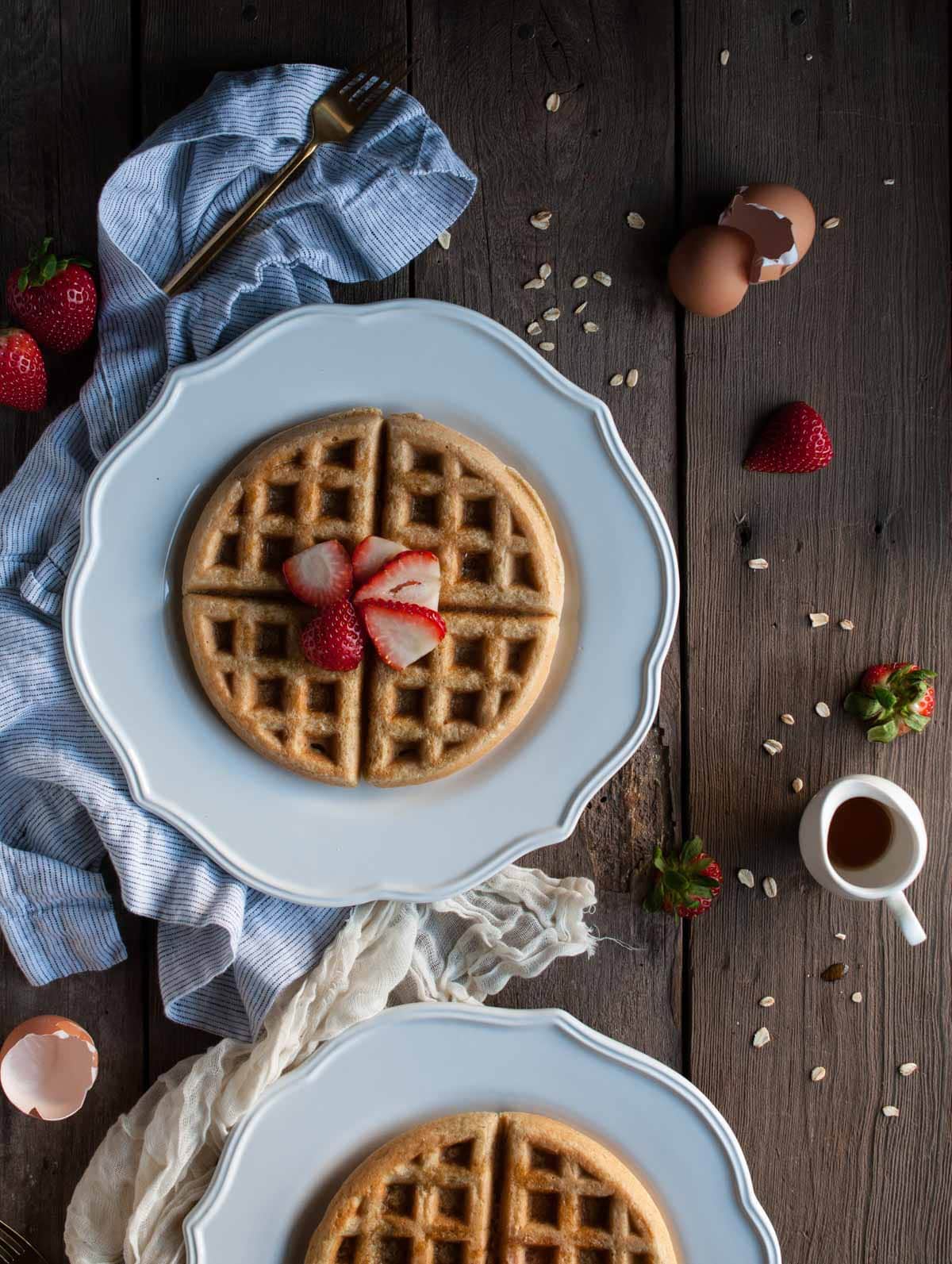 And for anyone wondering what exactly is oat flour, I'll break it down for you. Its ground up oats. Plain and simple.
If you're not using oat flour in baking, you really should be. There's nothing better than downing some delicious oat flour waffles and feeling great about it since its pretty much like a bowl of oatmeal right? A bowl of oatmeal that gets extra protein from almond flour. Double win. …