Chicken potato casserole is comfort food at its finest, full of flavor but loaded with chicken and veggies to makes the dish deceptively light and healthy.
Its summah time and the livin's easy. So easy that I haven't done a blog post in over two weeks! Sorry food lovers.
I've been wrapped up in my own little world of crazy over here. We've had a series of visitors staying at casa de Christy over the last month and this week has been my recovery time… before we do it all over again.
I know I've talked about our house being a magnet for visitors before, but my views have changed so much on it all over the past year. Its crazy, its fun, it can be stressful, but I don't think I would change it.
I love being able to spend that kind of time with our nearest and dearest while they pass through town. Life is short and not making time for the people that mean the most to you is really a damn shame.
These last few years I have been in such a go, go, go mode, trying to figure out what I want my life to be like, that at times, I straight up forget to just live already.
Relax, breathe, and enjoy it. We only get one life and it would be a pity to let it slip right by without early morning coffee in the garden, long walks with the dog, nights by the fire pit, way too much wine, and  stopping to soak up the sheer awesomeness that is summer.
Take a deep breath. Let go of perfect, and embrace the moment. Doesn't that feel fabulous?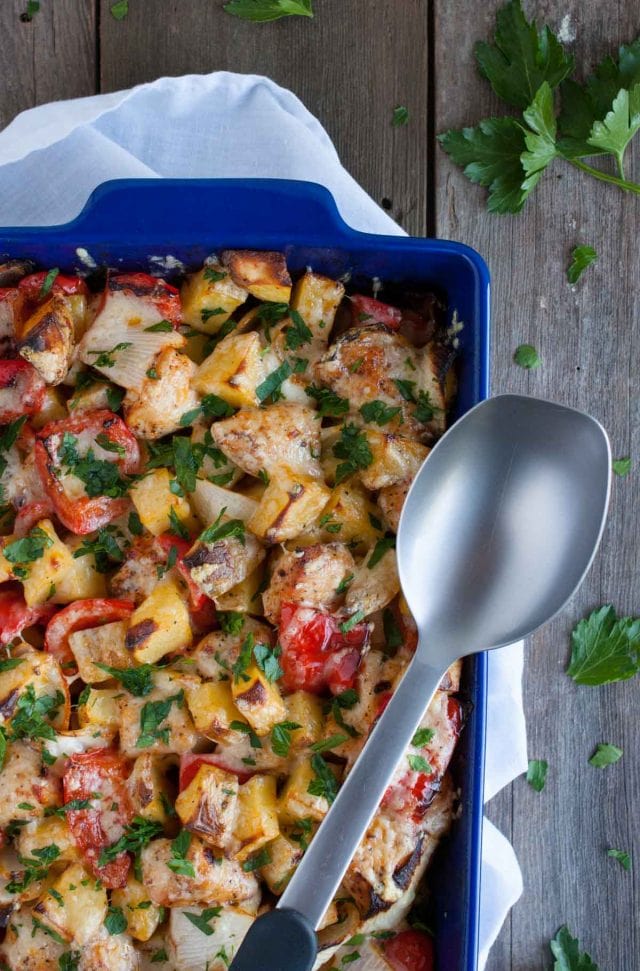 Now on to what you're really here for – food! This chicken potato casserole is where its at people. I've made it a handful of times in the last month because its just so easy and comforting. I know, I know, its July, why in the holy shiznit is comfort food on the menu.
Well, sometimes you just want chicken and potatoes. And you want said items to be covered in cheese. ASAP please.
It takes a good 20 minutes of prep work to get this chicken potato casserole in the oven, most of that being chopping. A lot of people complain about these kinds of recipes, but I really don't mind the chopping one bit. When I'm exhausted after work and my mind is a million miles away, thinking about a hundred different things, simplicity is king. I go into auto pilot and want an easy recipe that I can totally zone out on. Even better if I can pop it in the oven and forget it for a while. …