Romesco sauce is a Spanish staple made from roasted red peppers, tomatoes, and garlic that is served over fish, pasta, spaghetti squash, or a dip for bread.
I recently heard about Romesco sauce and have been obsessed with it for weeks now. Once you branch out from the traditional red sauce there are so many incredible options out there! Break the chains and try something new.
If you don't know what this tasty, zippy sauce is, I'll sum it up for you. Its basically roasted red peppers, tomatoes, garlic, nuts, vinegar, oil, and some seasonings. Simple and full of nutrition.
Its naturally gluten free, vegan and would be paleo if it weren't for the vinegar. As I've said before, I don't follow any of these paths, but have the upmost respect for those that can stick to a particular way of eating. Power to you.
Meanwhile I'll be over here eating all the foods… like seriously, all of them.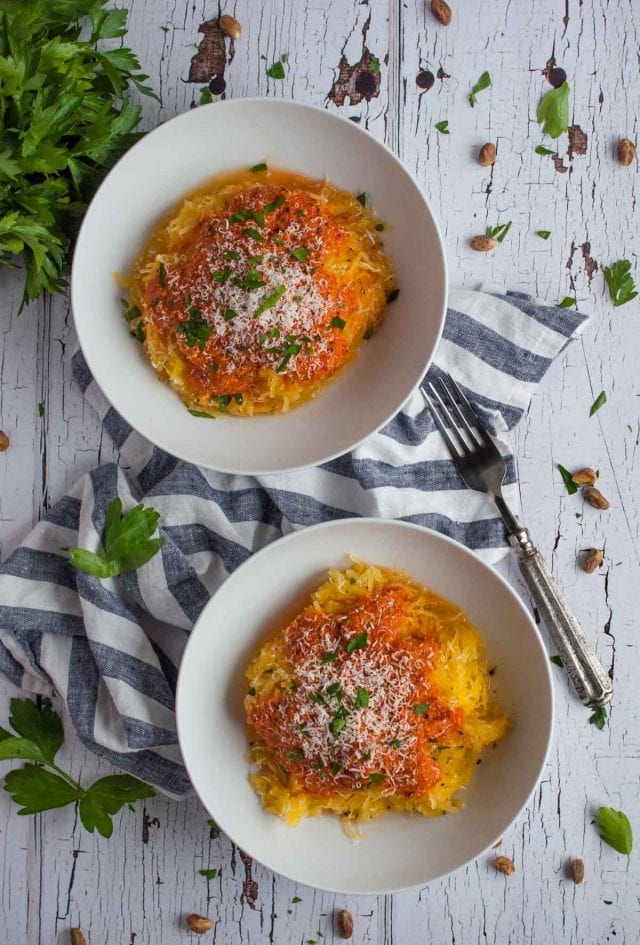 When you eat it with spaghetti squash noodles, its like heath food nirvana. You know you're eating healthy because your body doesn't feel like crap after, but it tastes so good, you don't mind one bit. Its cheater health food.
In my romesco sauce obsession, I researched its origins so I'll summarize the highlights for you. Romesco sauce hails from Spain and was traditionally a sauce served over fish. Bread is typically served with it to sop up all of the delicious extra sauce that runs off onto your plate.
Since we're all veggie enthusiasts over here though, let's agree to try it with spaghetti squash. Maybe next time we'll serve it with fish, but spaghetti squash it is today.
One of the things I love most about eating this sauce with spaghetti squash is that they can roast alongside each other so it really isn't a whole lot of extra effort or time. Whose got time for long involved recipes anyways? Certainly not this gal these days.
I admit that I miss my kitchen experimenting days where I'd make more complex dishes that take hours to put together, channeling my inner wannabe Julia Childs to the max. Frankly, I just don't have that level of effort in me these days.
My cooking philosophy has changed over the past few years so much. I still crave complex, unique flavors, but I don't want to put in a ton of work to get there. Ya feel me? …