Coconut chia pudding that will make you rethink chia seeds altogether! Its so rich and delicious, you won't believe that its made with natural ingredients.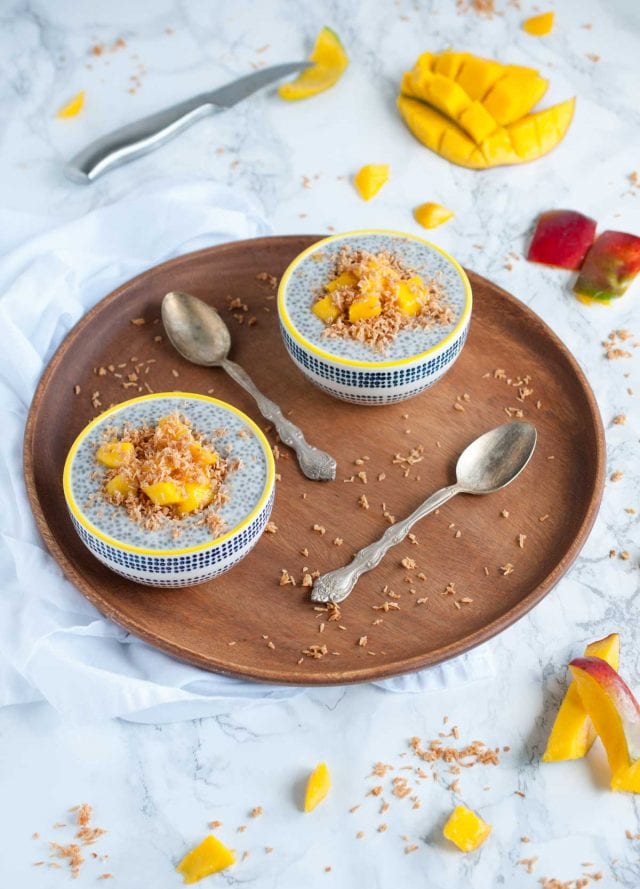 You know you're obsessed with chia pudding when you find yourself making almond chia pudding three times in one week. Yeeeah, I might be in the middle of a hot love affair with this stuff.
I wanted to try making a different type of chia pudding though. The kind that is too decadent and rich for breakfast. The type that taste testers would gobble up and not slap a 'health food' label on. A pudding that you can serve to guests at a dinner party and get rave reviews.
Well, this is that kind of chia pudding.
This coconut chia pudding is a dream come true. It uses thick canned coconut milk to make a pudding so thick and creamy that you'll find yourself savoring every bite like you would a piece of cheesecake or pie. Absolutely DO NOT use cartoned coconut milk and expect to get the same results, because it won't happen.
The Kitchn explains the difference between the types of coconut milk if you want to get a better handle on what to use where. I used light canned coconut milk, which helped make it a little less heavy without sacrificing any texture or flavor. I highly recommend going this route because you don't miss any of the flavor or consistency with this coconut chia pudding recipe. Full fat canned coconut milk is perfectly fine too though.
Before we get too far along, can we take a minute to talk about the toppings though? Wowza!
We've got some winners on this one. You can use whatever fruit you want really, but I think mango is perfect with this dish. I was lucky enough to find perfectly ripe mangos in the store, but, as I've said before, frozen mango works in a pinch too. I just run it under warm water before using to defrost and get all of the frozen water crystals off.
If you live in the tropics and have fresh juicy mangos at your disposal, of course, you don't have to worry about this one bit. For those of us in cooler climates though, mangos are usually chemically ripened and in this case, frozen can be better than the 'fresh' mangos you can find in stores. …