These spicy roasted chickpeas are a tasty and satisfying savory high protein snack with over 6 grams of protein in each delicious serving. 
Hello to one and all and Happy Easter! I don't celebrate religiously but I can't help still loving all the crazy decorated eggs and fun traditions that come with this holiday. I guess that's how I feel about most holidays though. I'm a lover of the fun stuff and the decor, food, and activities. Its a nostalgic good time and I'm not one to deny myself of that.
So what do these spicy roasted chickpeas have to do with Easter? Nothing, nothing at all. I simply just couldn't wait any longer to share them with you. If you're a regular reader, this recipe might look eerily similar to the garbanzo beans that topped this salad I shared a while back. Well, you caught me, They're pretty much the same thing. I've been making them so often though that I figured it was about time they got their own moment in the spotlight. Shine on chickpeas, shine on.
What I love about these summed up:
The crunch!
The saltiness
The savory spice combo
The high protein
The fiber
They're portable
Did I mention the crunch?
This recipe is really such a great way to satisfy that crunchy, savory, potato chip craving. They're not exactly the same of course, but a close second. They actually remind me a little bit of corn nuts. What ever happened to those things? They were in every vending machine across America in the 90's and then vanished into obscurity.
While I was never the biggest corn nut fan, I am in fact a huge fan of these spicy roasted chickpeas. How many crispy munchies have 6 grams of protein in one serving and actually fill you up? Not many. Snacking on these and popcorn together has been my go-to salty fix lately. Hits the spot and is super filling.
Last month it was kale chips and those zucchini pizzas I went nuts over and now its spicy roasted chickpeas. What can I say, the heart wants what the heart wants.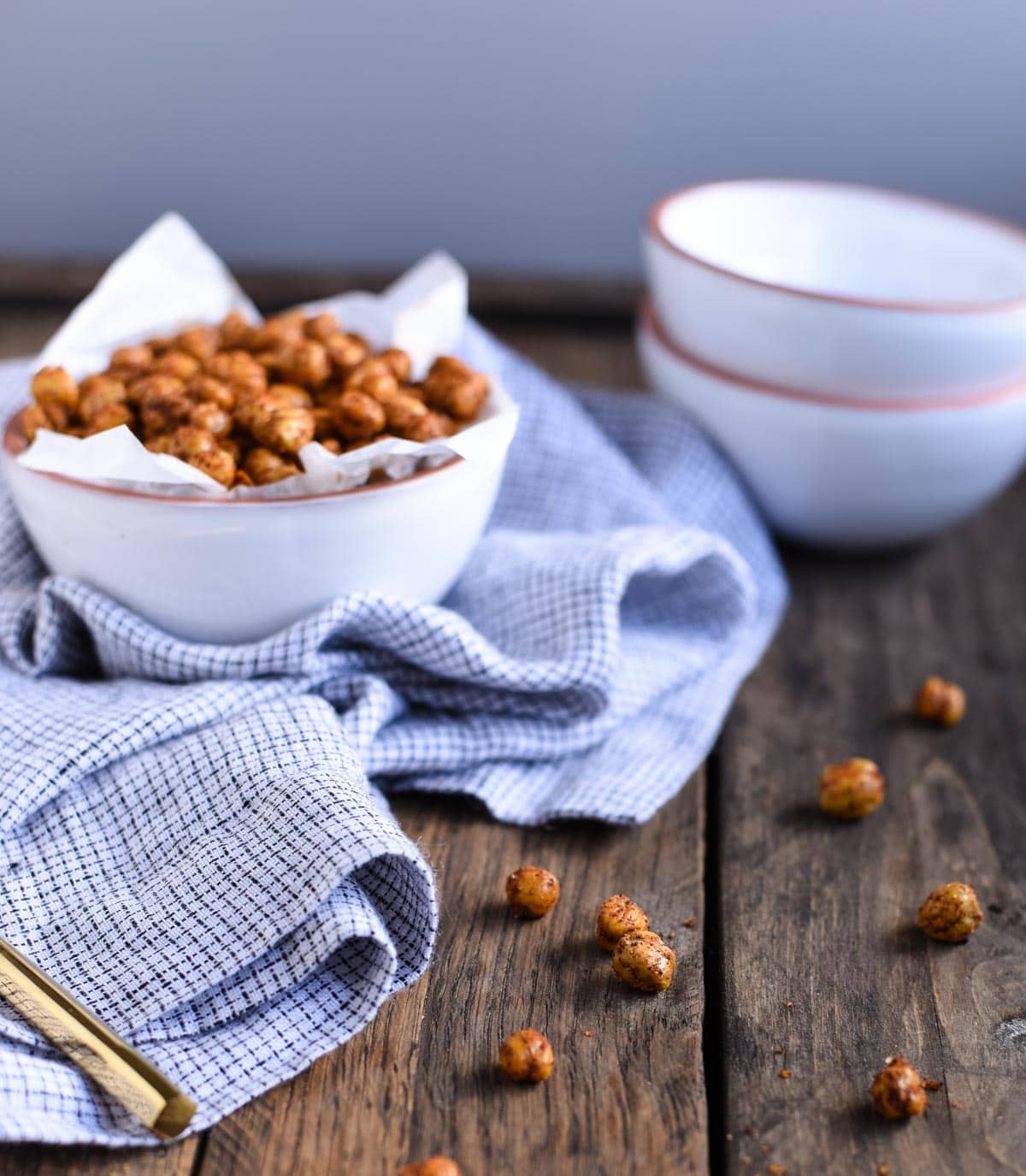 I crave salty foods way more than sweets so having healthy snack options is a must for me to stay on track. I know I'm not alone in this. Any others out there that can't get enough of the salty, savory stuff? Its okay, you don't have to speak up. I know you're there.
Don't get me wrong, sweets have their place, but nothing is quite as satisfying as the salty stuff. I've always been like that. I remember going out to get ice cream with the fam as a kid and sometimes I'd get french fries instead. Seriously. Weirdo child. …