Cashew cream sauce is drizzled over perfectly roasted caramelized carrots in this easy, flavorful, absolutely delicious, naturally vegan dish.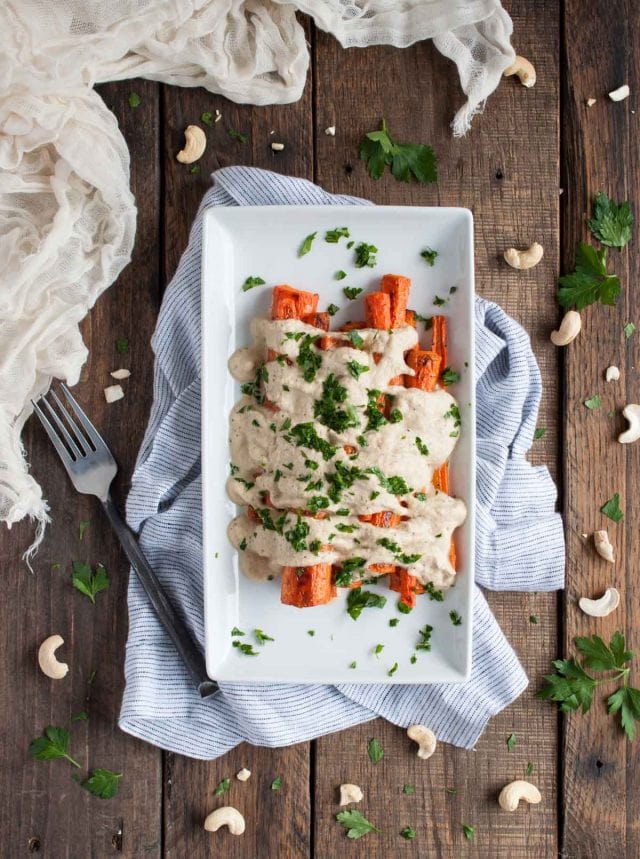 Have you had caramelized carrots before? You'd remember if you had. The roasting brings out an intense sweetness that becomes pure magic when coupled with the charred bits on the outside. And after smothering them in a cashew cream sauce, ahhhh!! They're almost too good to be true!
I used to get Better Homes and Gardens magazine and would swoon over the pictures, flipping page to page, dreaming of my future house and perfect life. Don't laugh. Or at least, don't laugh too hard.
It was a ritual that served its purpose at the time. I was working long hours and putting my way through grad school at night and was burnt out to the max. This dream kept me going during those hard, stress filled crazy times.
But, no matter how much I loved ogling those picture perfect houses and meticulously decorated rooms, I always flipped to the food section in the middle and devoured it first, pouring over every image and recipe. Go figure. Once a food nut, always a food nut.
I have an entire binder somewhere filled with torn out recipes from old magazines. Most are riddled with scribbled notes and changes I'd made to the original instructions (or course). These were my pre-blogging days, and even then, I couldn't stick to a recipe for the life of me.
The reason I'm telling you this is because this recipe was inspired by something I made yeeears ago from a BHG magazine that hasn't left my mind. It was a thanksgiving issue probably 7-8 years ago, and umm, yeah, I'm still thinking about it. I've tried finding it online, but can't remember what it was called.
I do remember, however, that carrots and heavy cream are a pairing made in veggie nirvana. Total yum sauce.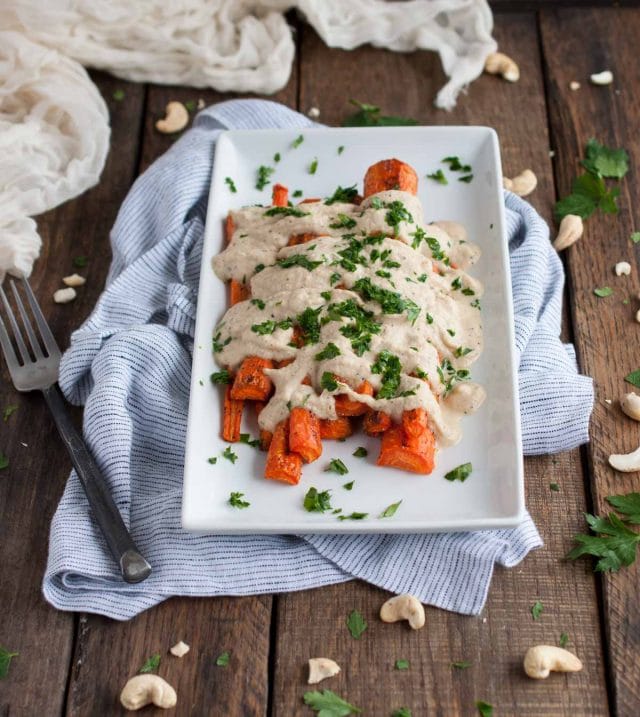 I wanted to try recreating this delicious duo, but in a lighter, plant based way. That's where the idea to replace with a cashew cream sauce came from. I've been obsessing over a new podcast lately called Food Heals Nation that talks about plant based diets a lot. This could be annoying, but for some reason it isn't. The hosts are super entertaining and the guests are full of good info. …