Healthy cheesecake parfaits are an excellent, easy summer dessert that only have 220 calories per each nutritious, delicious serving!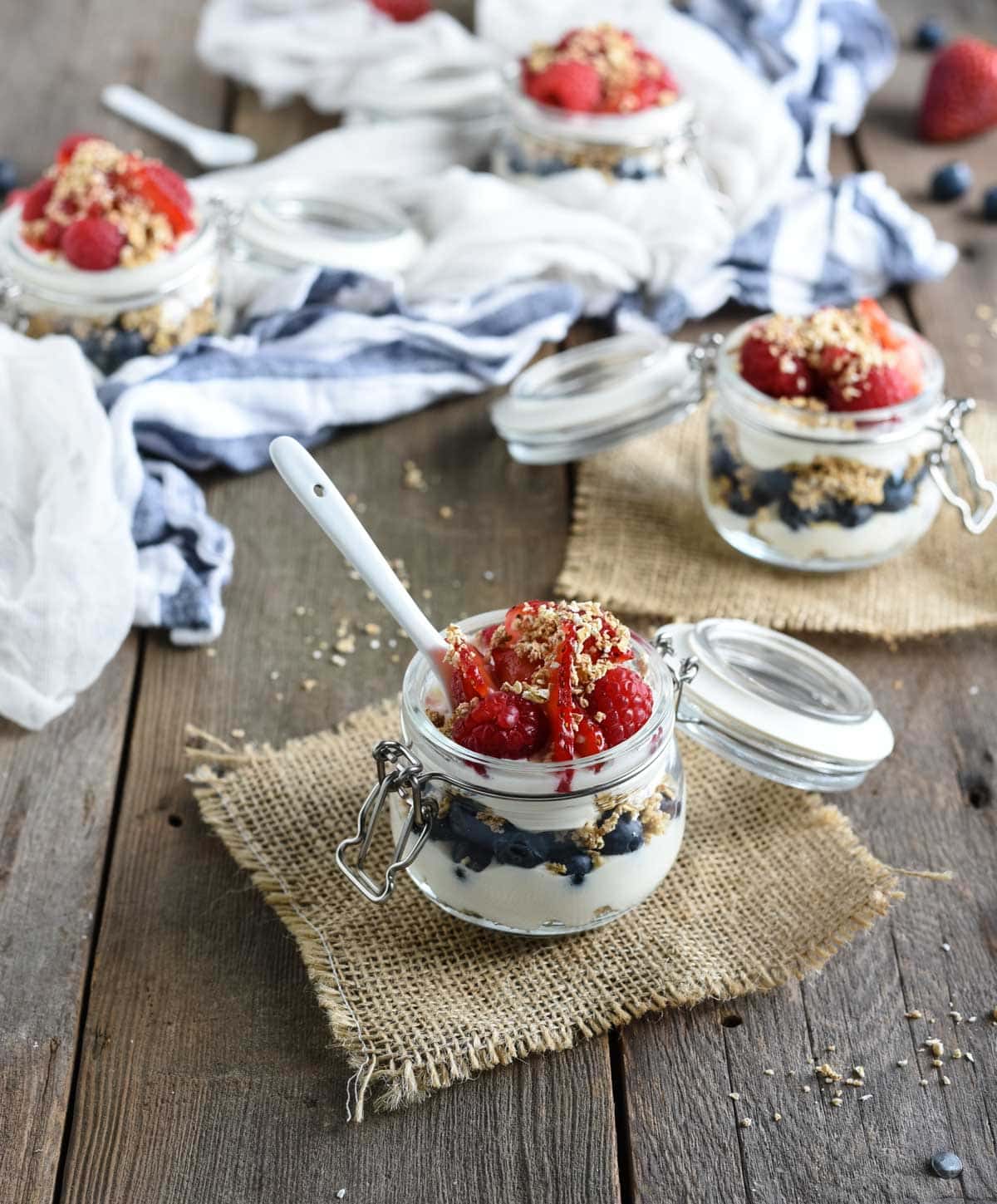 Hello on this beautiful Sunday afternoon! I'm so incredibly happy to share these healthy cheesecake parfaits with you, especially considering that many of you will be celebrating July Fourth, the USA Independence Day, this Tuesday. For those of you not in this country, we usually do epic BBQ throw downs with a spattering of red, white, and blue, fireworks, and relaxed summer fun. Its a cheesy good time.
Recent politics have me feeling pretty conflicted about my homeland so I'm sharing this recipe as simply a recipe. Not necessarily a Fourth of July thing, just a recipe. If you choose to make it on the holiday, great. If you make it for another summer get together, that's perfectly fine too. Just make it!
If you're looking for another easy Fourth of July recipe, try the cheesecake stuffed strawberries I posted last year or you could make these healthy red velvet cupcakes and top them with blue sprinkles instead of red. So many tasty options to choose from on the internet these days!
I'm typing this post from a coffee shop in Homer, Alaska right now. I know if you follow me on Instagram, you're probably sick of seeing my world traveling Insta stories lately, but this is our last big trip before baby FNF comes so don't be too jealous! Pretty soon I'll be cleaning diapers and my big trip each week will be to the grocery store. I'm soaking it up while I can and truly enjoying every minute of this stage.
Baby girl is still un-named. The husband doesn't approve of any of the names I've suggested so I've dubbed her Shaniqua for now (or LaShandra or DaKiesha or whatever other ghetto-fab names pops into my head). She will continue to be ultra fabulous until a viable name option is reached so suggestions are more than welcome.
But, once again, I digress. We were talking about cheesecakes, weren't we?
Aside from being as absolutely adorable as food can get, this recipe is full of ingredients that are actually not too bad for you. The cream cheese, honey, and maple syrup you end up eating per serving is minimal and the bulk of the dessert is just oats and berries. Doesn't get much healthier than that. …