These healthy carrot muffins are made with oat flour, applesauce, honey, coconut oil and a tasty mix of spices that will remind you of carrot cake!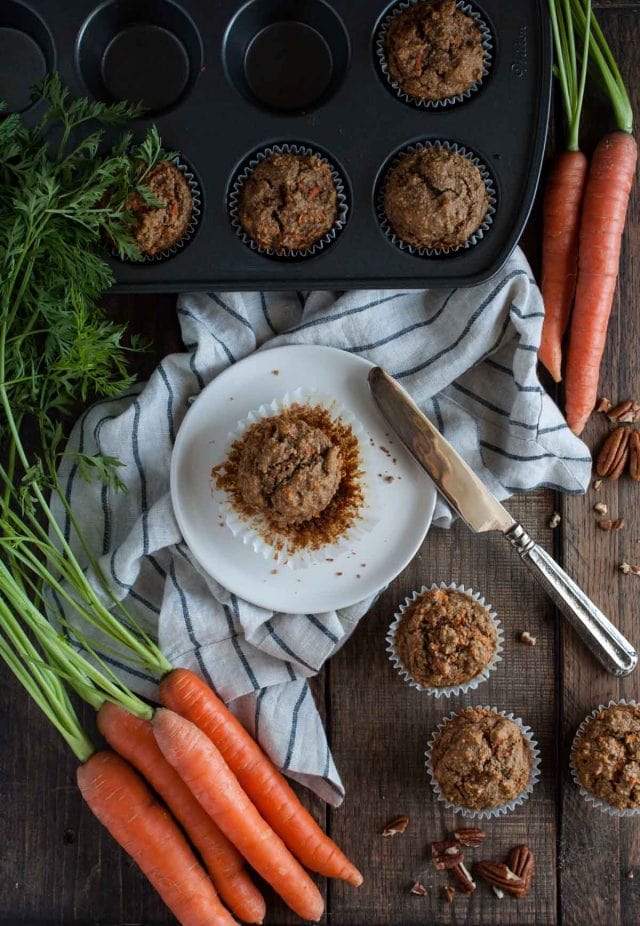 Oh yum, more muffins! These ones are so dang good too. Nice and spice filled with a crunch from nutty pecans. They're about as healthy as a bowl of oatmeal too. Yup, for reals. I don't know about you, but I'd take a muffin over oatmeal any day.
These healthy carrot muffins have a lot going for them. Between being naturally gluten free (if you use gluten free oats) and full of good for you stuff, there's no denying that these should be part of your regular breakfast regimen. And if you're vegan, this recipe can work out just fine for you with two easy substitutions.
For the rest of us without dietary restrictions, you'll be happy to hear that the ingredients will rock your socks in the health department. I'm not going to lie, they do taste hearty, not like your standard white flour muffin that are essentially a cupcake without frosting. BUT, don't click away! They're still absolutely delicious!
There can be middle ground between cardboardy crap muffins and sugar laden diabetes creating cupcake muffins.
Eating healthy doesn't have to (and shouldn't!) taste bad. Sub out the bad with the good without sacrificing flavor. In this day and age, we have so many healthy options, there's really no reason not to.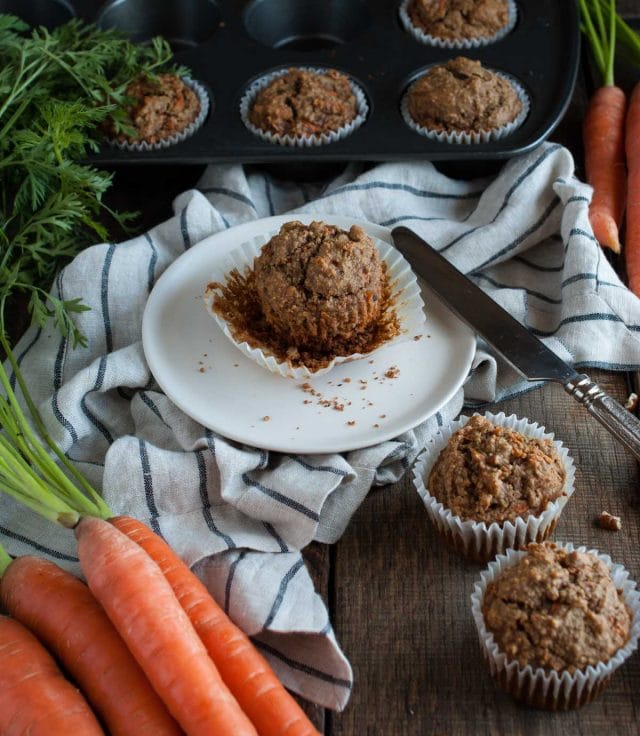 Speaking of good for you ingredients, these healthy carrot muffins are absolutely loaded with them. Carrot being the obvious (duh), but beyond that, we've got oats, which are known as the heart health superstar. Your body needs carbs to function properly. Make 'em count.
Applesauce helps add moisture to these healthy carrot muffins in one of the best ways possible. Last year I had a stockpile of homemade applesauce that I canned myself during a serious Martha Stewart inspired canning phase. I'm missing the boat on that this year though and just used store bought applesauce. I love buying those little 4 oz. containers because its just the right amount for a recipe like this.
All that being said, you can sub with yogurt if you don't have applesauce on hand. No problem.
And there's no added sugar in these tasty little creations. Its honey all the waaaay baby. As with anything, moderation is key. I mean, its still sugar folks. Honey is lower on the glycemic index than sugar is though and contains all kinds of minerals and B vitamins. If you're eating sugar, might as well get something out of it, eh? …