This tangy blackberry vinaigrette has just the right balance of sweet and savory to rock your tastebuds with a fresh new use for summertime blackberries.
I wish I had been on my game enough to share this with you last month when blackberries were at their peak freshness. Alas, I was not so its coming to you now. This blackberry vinaigrette is a treat either way, as long as you can find ripe berries.
You know the kind of ripe I'm talking about, the kind where the berries almost squish in your fingers as you're pulling them off the vine. The kind that are so plump with juice that picking a small hand full will leave you with stained fingers for the entire day. Those are the kind of berries I'm talking about here.
Our small blackberry patch in the backyard was like a little slice of heaven this summer. Now if only our raspberries and blueberries would follow suit, we'd be set. *sigh*
I know we're really only a few minutes outside of Portland now (ha, literally 2-3 minutes), but our new place has such a country feel to it. The commute aside, I'm truly loving every minute of it.
We've got walnuts falling outside and I've got a hankering to set up a chicken coop. Is this what 30 looks like? If this is what the next decade holds, bring it on. I'm ready for it.
Of course, I'm picturing my chicken coop looking like this or this, when in all reality, I have absolutely no building skills and my chickens would be lucky to get a shack out of me. For this reason, chickens have not materialized and this is more of a fantasy not an immediate 'To Do.'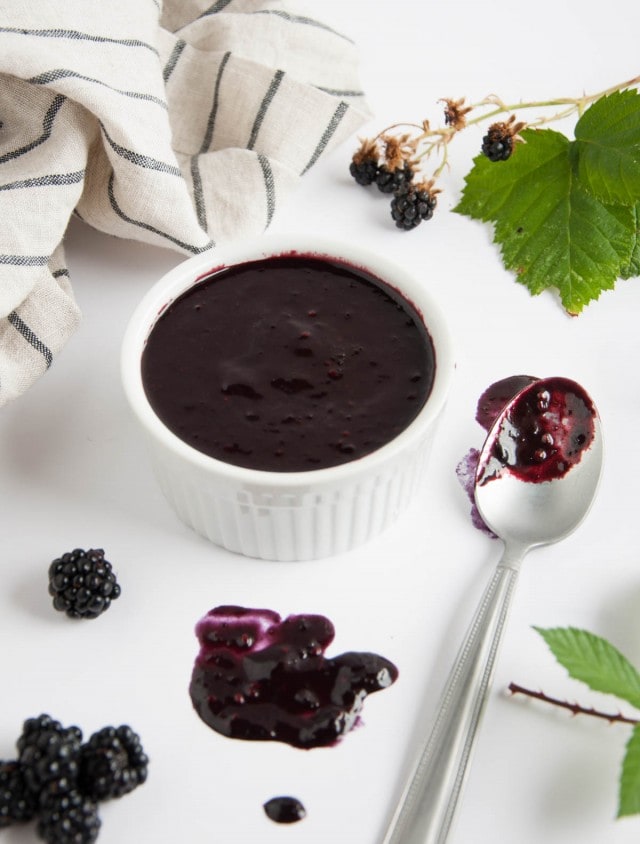 Chickens aside, with the change of seasons and crispness in the air, I figured I'd share a few last summer recipes with you all before moving on to squash, potatoes, and everything fall.
I know raspberry vinaigrette is pretty common place, but if you haven't tried blackberry vinaigrette yet, well my friends, then you're missing out. Combined with the tangy richness of balsamic, this tasty dressing is one you won't be able to get enough of.
In addition to smothering every salad in sight with this stuff, I was slathering it on grilled cheese sandwiches, drizzling it over caprese salads, and adding a dollop to cheese and crackers. This blackberry vinaigrette elevated a simple gruyere, prosciutto cracker snack to a whole new level of complexity in flavor that was out of this world.
I'm even guilty of using it as a dipping sauce from time to time. Please don't judge me… lets just say this sauce got a lot of mileage in this house.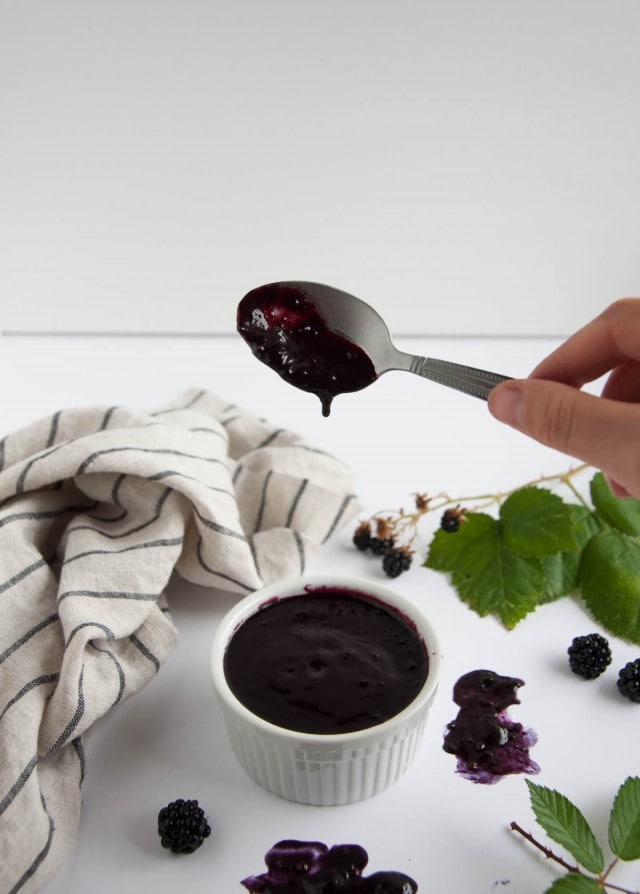 It only takes 5 minutes and a blender or food processor to make and keeps for about a week in the fridge. If you can get your hands on some ripe berries before summer leaves us for good, give this recipe a try.
Then, report back and let me know what other uses you found for this blackberry vinaigrette. If you're anything like me, by the time you get around to telling me about it, you'll have slathered it on half the contents of your fridge… and I certainly can't blame you.
This tangy blackberry vinaigrette has just the right balance of sweet and savory to rock your tastebuds with a fresh new use for summertime blackberries.
Instructions
Add all ingredients to a food processor or blender and mix well. If dressing is too thick, you can thin it with a few drops of water. Dressing will keep in fridge for about a week.
Nutrition
Calories: 49kcal | Carbohydrates: 4g | Protein: 1g | Fat: 4g | Saturated Fat: 1g | Sodium: 64mg | Potassium: 29mg | Fiber: 1g | Sugar: 3g | Vitamin A: 40IU | Vitamin C: 3.8mg | Calcium: 5mg | Iron: 0.1mg