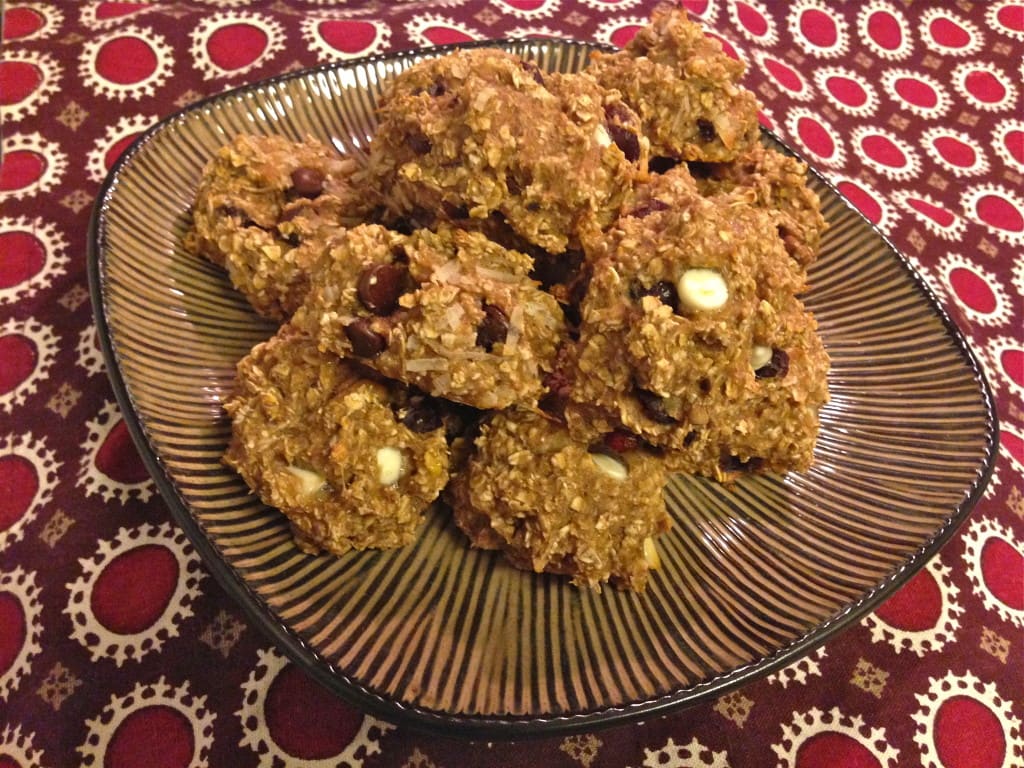 Sometimes you just need a cookie in your life. The problem is that those moments strike all too often for some of us and can be counterproductive to healthy living if you give in too often. Luckily, I have found a solution. These banana oatmeal cookie nuggets were actually my husband's idea during our post NYE ultra health kick. Even Berney got part of a cookie that fell on the floor. I had to pick out the chocolate chips, but he didn't seem to miss them.
What I love most about these little cookie nuggets (other than the taste) is the versatility. I have made a few different variations and switched up ingredients and have never had them turn out anything short of perfect. They can easily be made vegan by replacing the milk with almond milk and leaving out the chocolate chips or using vegan chocolate.
One of my favorite variations was trading out the white chocolate chips, cranberries, and pecans for 1/3 cup of coconut and 1/3 cup semi-sweet chocolate chips. Sometimes I even split the batter into two parts so that I can try two different types, scaling down the amount of add-in ingredients to match for each batch.
These little nuggets are quick, healthy, tasty, and versatile – best of all worlds. I love that with all the oatmeal and no added sugar, I don't feel bad  eating these for breakfast. Cookies for breakfast? Yes please!
Banana Oatmeal Cookie Nuggets
Servings: 12
Prep time: 10 min
Cooking time: 15 min
Ingredients:
3 mashed bananas
2 cups oats
1 tsp vanilla
1/2 tsp cinnamon
1/4 cup milk (replace with almond milk to make vegan)
1/3 cup applesauce
1/4 cup white chocolate chips (leave out to make vegan)
1/4 cup dried cranberries
1/4 cup toasted chopped pecans
Instructions:
Preheat oven to 35o degrees F. Mix all ingredients well and drop onto cookie sheet in one inch balls. Bake for approximately 15 minutes, until edges are starting to brown and cookies are somewhat firm.
Nutrition per Serving
Calories: 120
Carbs: 19.8 g
Fat: 3.8  g
Protein: 4  g
Sodium: 7 mg
Dietary fiber: 2.8 g
Sugar: 7 g