This healthy brown rice risotto is so good! It's satisfying as either a main dish or side with roasted butternut squash, mushrooms, spinach, and sage.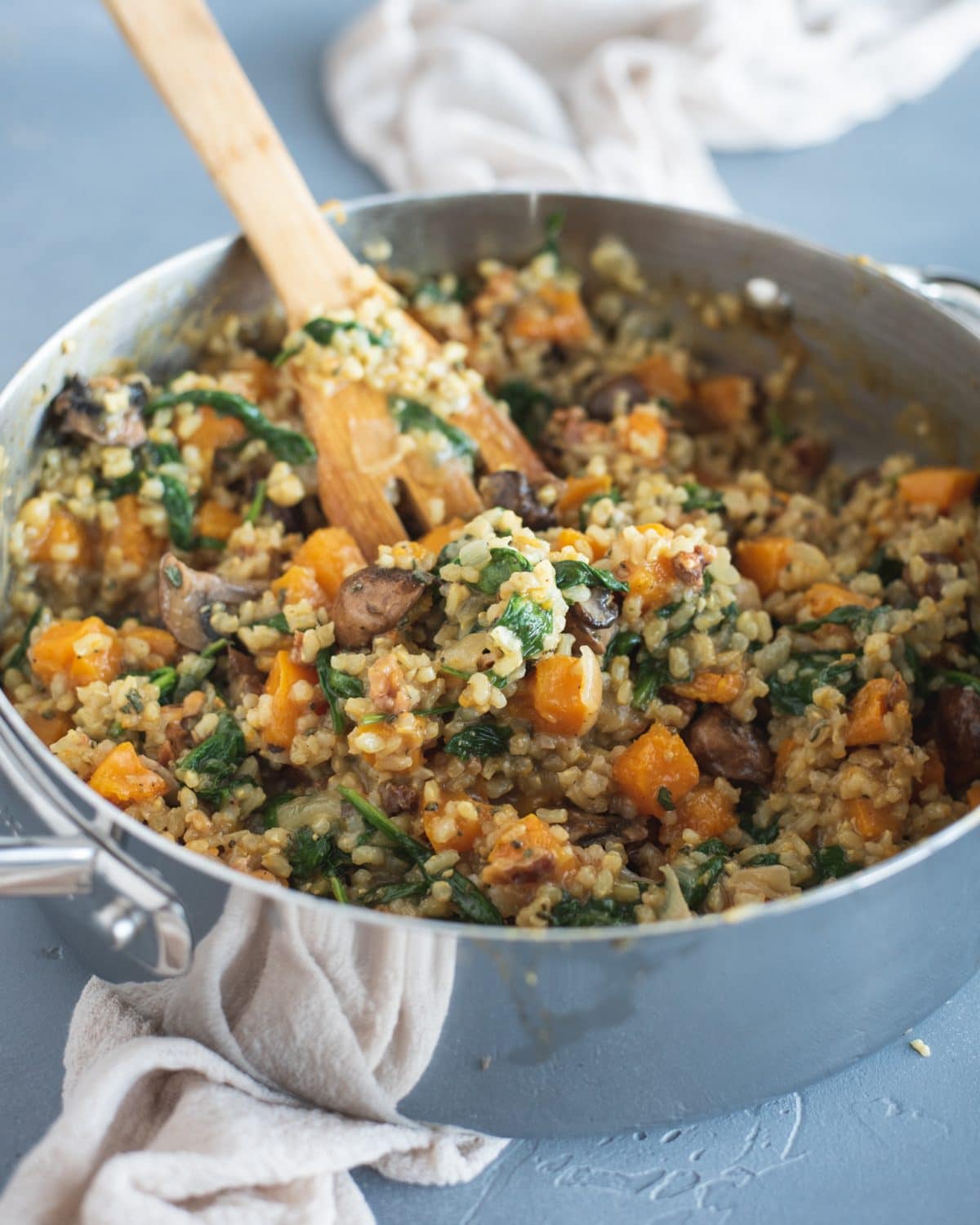 This post may contain affiliate links which means that if you buy a product through the link, I will receive a small commission at no extra cost to you. I only link to products I truly recommend and love using.
I am a die hard risotto lover and can't get enough of this starchy rich comfort food. I could seriously eat risotto any day, any way and just love experimenting with different combinations of ingredients, knowing that it will always turn out decadent and flavorful. Unfortunately, traditional risottos aren't healthy. Bummer, right?
Normally risotto is made with white arborio rice and oozing with parmesan and other not so healthy add-ins. Luckily, there's a solution so we can all get our fill of the good stuff – brown rice risotto!
I always made risotto with arborio rice and at least a cup or two of parmesan in the past so it was truly a splurge, but recently I've made the switch over to sprouted short grain brown rice and will never look back! It'll have a heartier texture in the end, but I think it gives it more flavor and love the earthiness that brown rice adds. Factoring in the extra nutrients and minimal guilt that come along with the switch, I'm sure you'll be a convert too.
Using already sprouted short grain brown rice makes it cook in about the same amount of time as arborio rice too. You can use regular brown rice instead, but it'll be an arm workout stirring for that much longer. The option is there none-the-less though.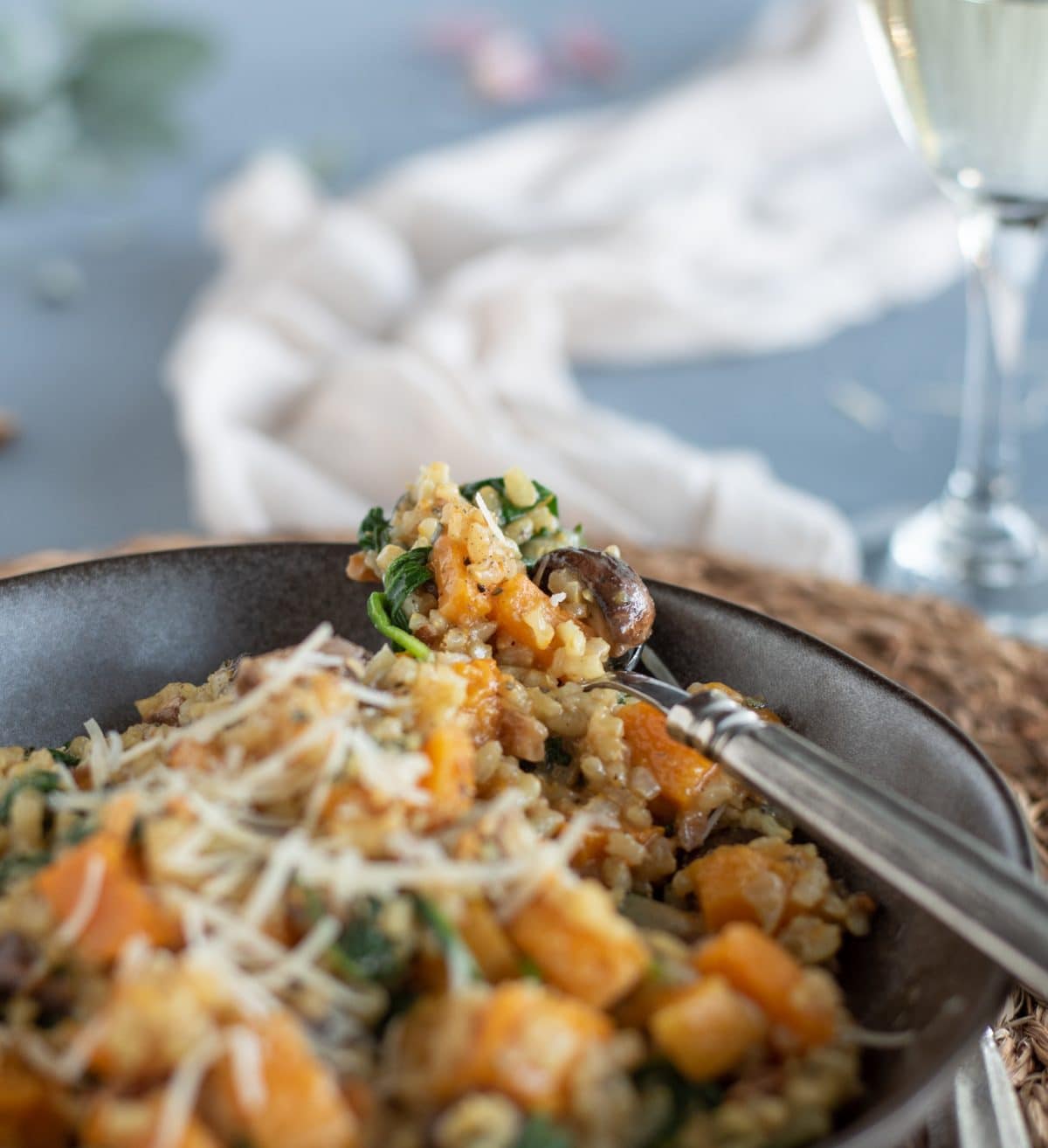 Between brown rice, using less cheese, and loading the dish with tasty veggies, this vegetarian main dish is actually makes for a pretty healthy dinner. Plus my little munchkin approves which makes all the difference. Baby approved!
The butternut squash, sage, walnuts, and mushrooms all meld together harmoniously, there's no way not to love it. This brown rice risotto is one of the most satisfying comfort food makeovers I've done yet. Something about the fresh, herbal flavor of the sage and the sweetness of the squash are just so dang tasty.
I have a love hate relationship with butternut squash because it can be so hard to peel raw. Luckily most grocery stores sell peeled and cut cubed squash these days though which makes cooking with it a breeze. Just make sure not to let the pre-cut stuff hang out in the fridge more than a few days or it will get slimy and gross.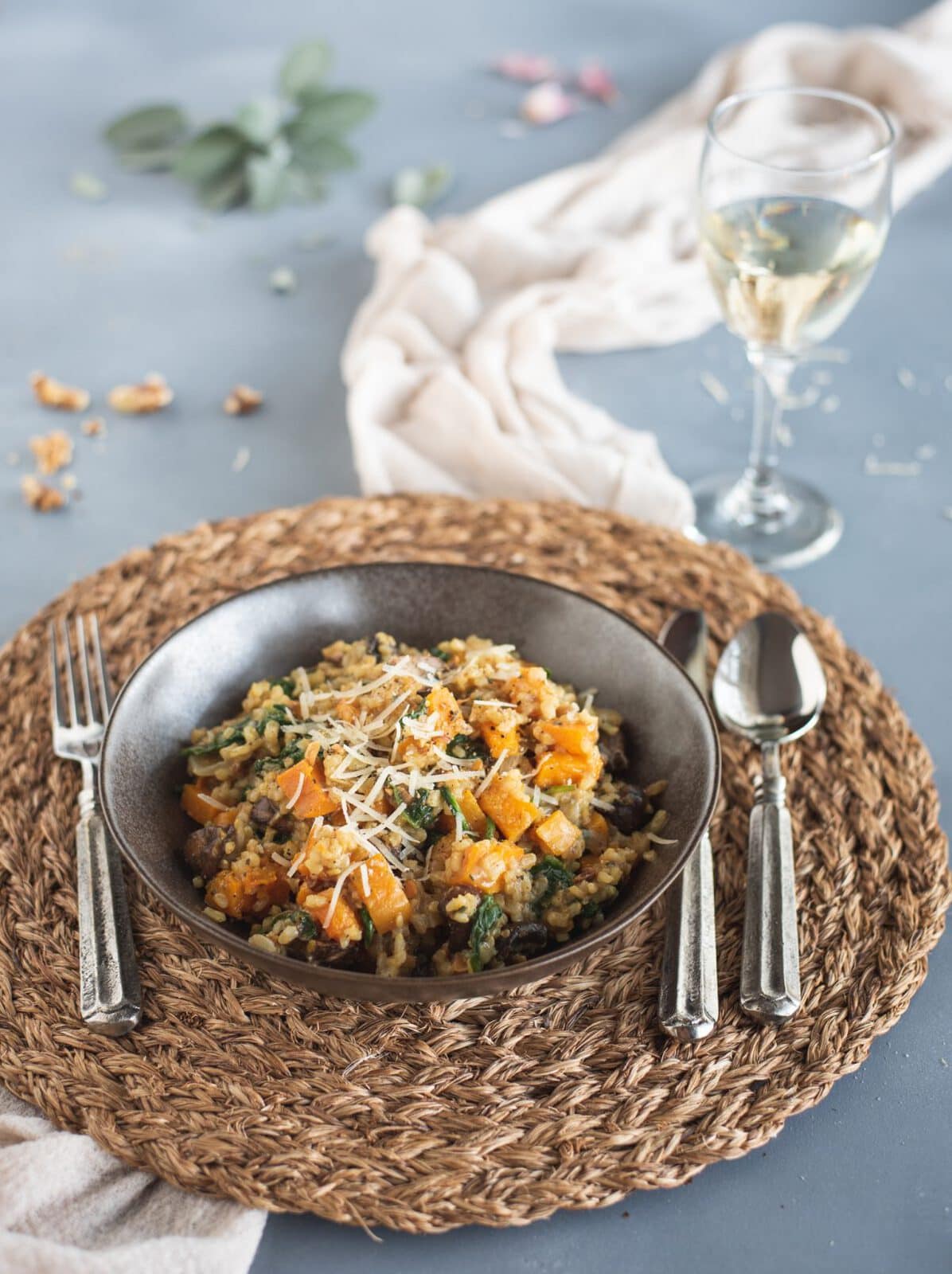 I used walnuts here as well but you can swap for pecans if you want. I've made it both ways and they're pretty interchangeable in a dish like this. The step you absolutely cannot skip is toasting those nuts!
They've got to be nice and toasty to give that nutty wholesome flavor that ties the rest of the dish together. You can toast them either in a pan in the oven or stovetop, your choice, just don't skip it!
While risotto isn't typically a recipe for a novice cook to tackle, it really isn't hard to make. It just takes a lot of stirring and active time. Skill isn't what's needed most here, just patience.
You prep the roasted butternut squash and mushrooms first, getting them roasting before you start the risotto.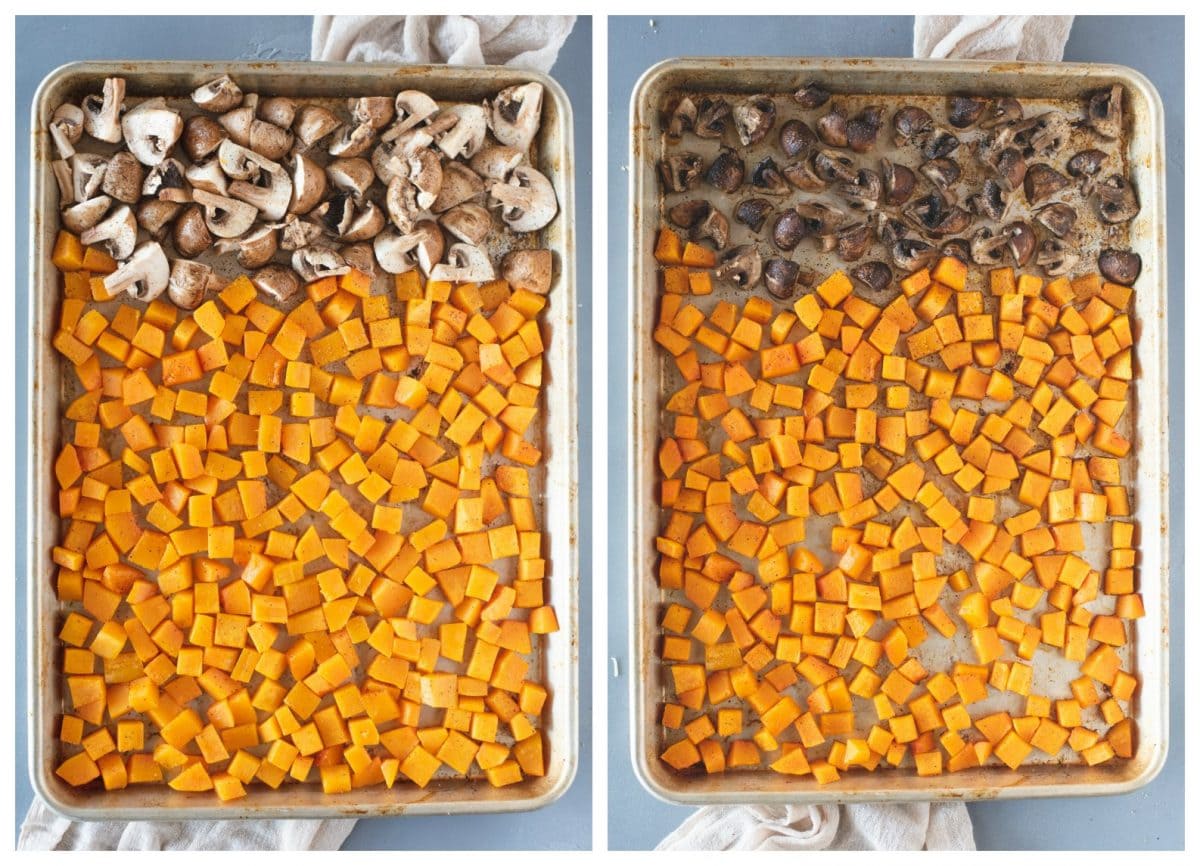 Then, you get the risotto started with some sautéed onions and garlic. After you add the rice, its just adding broth and stir, stir, stir. In the final stage, you stir the roasted veggies and remaining ingredients in and you've got dinner made!


If you're looking for other vegetarian main dishes, check out this quinoa Mexican casserole, these eggplant lasagna rollups, these spinach artichoke dip stuffed portobellos, or this roasted veggie pasta. These are some of my all time favorites and prove that you don't need meat to pack a punch of flavor.
I know I said this before in my browned butter butternut squash and mushrooms recipe but butternut squash, mushrooms, and sage are just so magical together. *Swoon* I have a major food crush on this combo.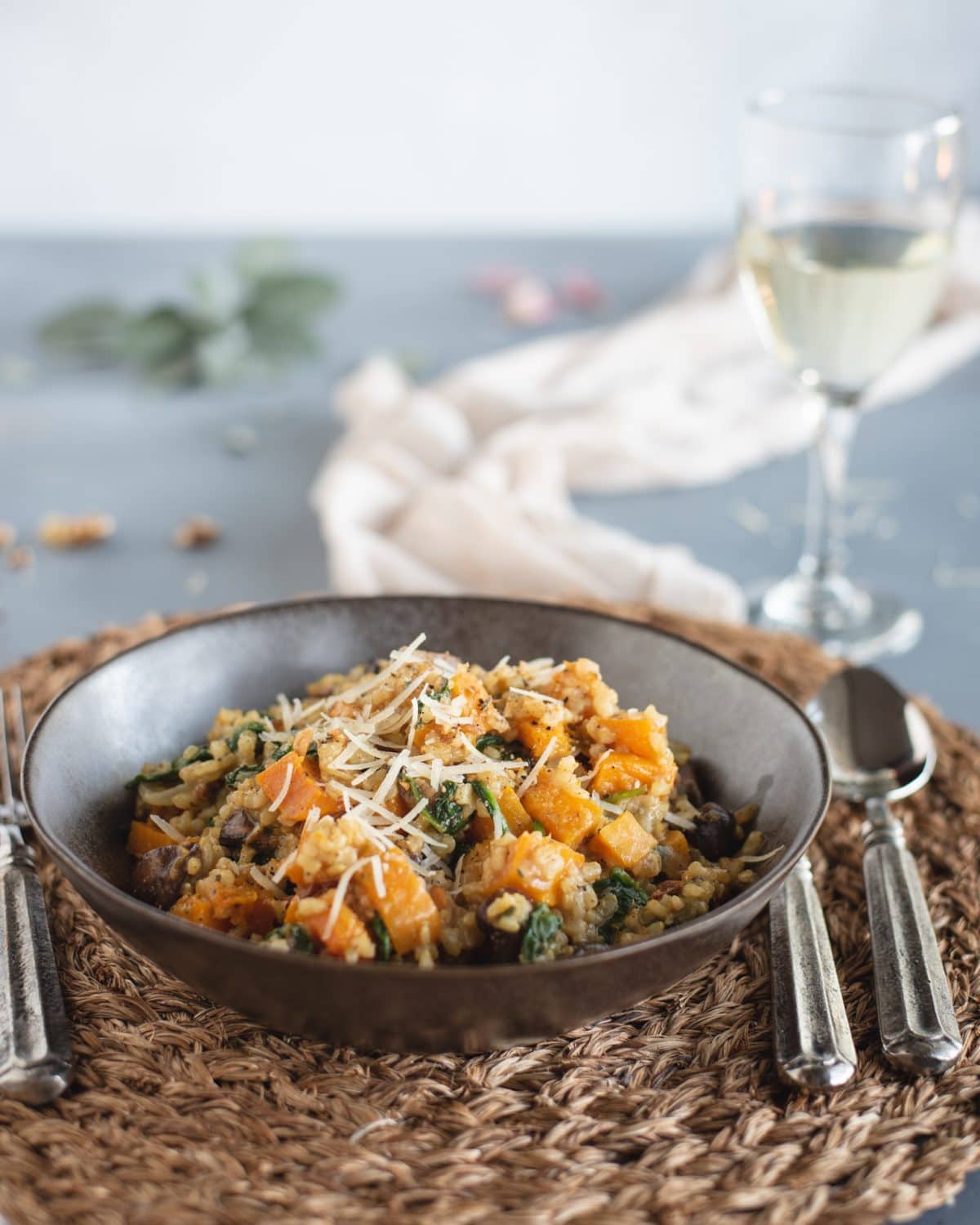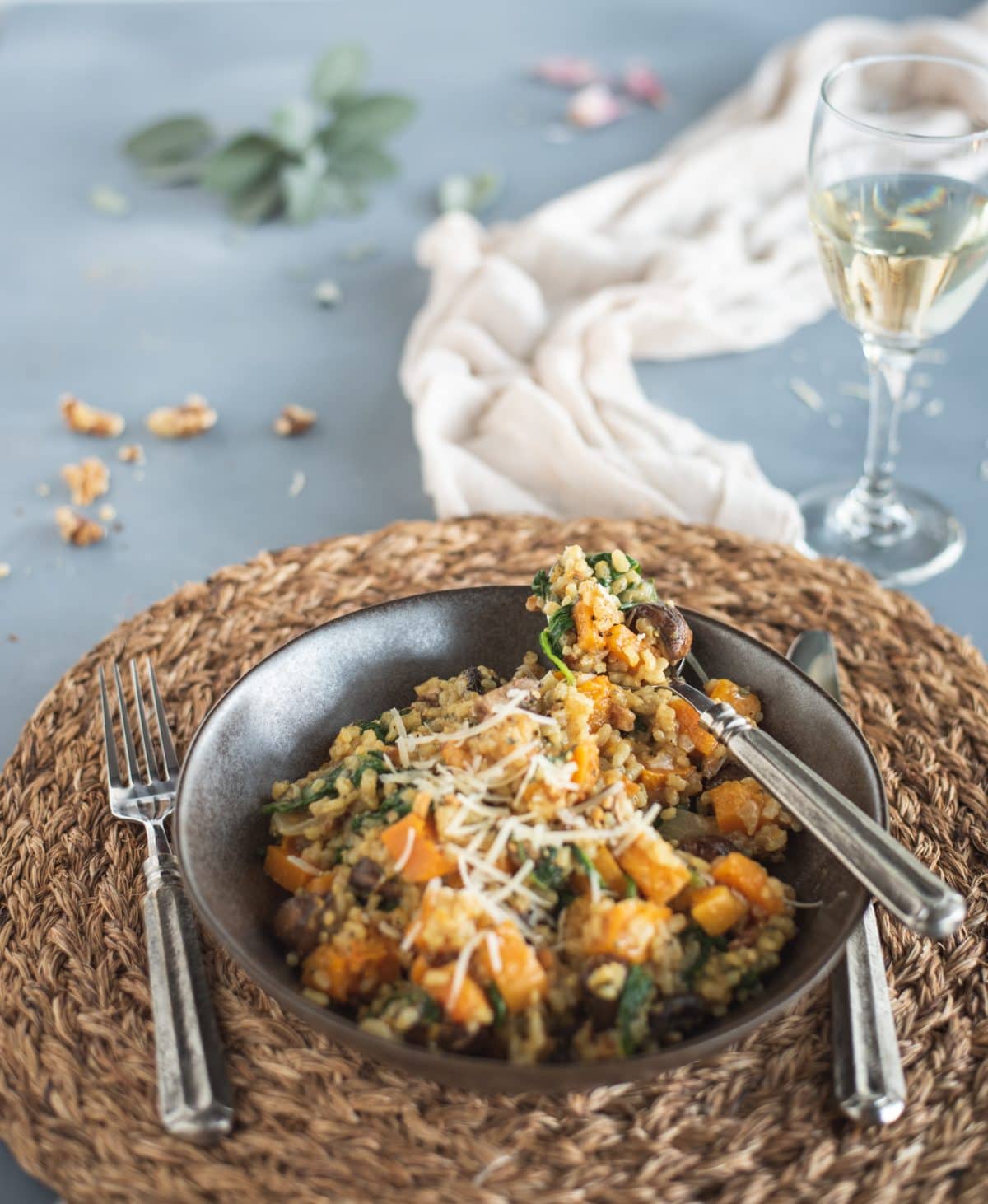 (Recipe originally published February 7, 2014, but pictures and post text have since been updated)
This healthy brown rice risotto is so good! It's satisfying as either a main dish or side with roasted butternut squash, mushrooms, spinach, and sage.
Ingredients
1 1/2 Tbsp. avocado oil, divided (or whatever kid of oil you prefer)
3/4 lb. butternut squash, cubed into 1 cm cubes
8 oz. mushrooms, quartered
1 small onion, diced
1 tsp. minced garlic
1/2 cup dry white wine (sauvignon blanc works great)
6 cups broth (either chicken or vegetable)
5 oz. fresh baby spinach
2 Tbsp. freshly chopped sage
1/8 tsp. nutmeg
1/4 cup grated parmesan
1/4 cup toasted walnuts, crushed*
salt and pepper to taste
Instructions
Preheat oven to 425° F (218° C).

Rub butternut squash with 1/2 T oil and sprinkle with salt and pepper on a large baking sheet. Place in oven and roast for about 10 minutes.


After squash have baked for 10 minutes, add mushrooms to same pan as squash (or a separate pan if there isn't room), rub with 1/2 T oil and place pan back in oven for about 15 minutes until squash and mushrooms are fully cooked.

Heat 1/2 Tbsp. oil in a large saucepan over medium heat. Add onion and sauté for 2-3 minutes to soften. Add garlic and cook for another minute.

Add rice to pan with onion and garlic and stir for 2-3 minutes. Add white wine to rice and stir until mostly absorbed.

Ladle 1/2 cup broth into pan with rice and stir until mostly absorbed. Continue adding broth half a cup at a time, stirring continuously. Repeat adding more broth every few minutes when rice has absorbed most of liquid (takes 20-30 minutes total).


Add spinach and sage to rice and stir 1 minute until spinach is wilted.

Remove from heat and add mushrooms, butternut squash, toasted walnuts, nutmeg, and parmesan. Season with salt and pepper and serve immediately.
Notes
* If using regular, non-sprouted brown rice, you'll need to par-boil first. To do this, bring a medium pot of water to a boil with approximately 1 tsp. salt and add rice. Boil rice for 15 minutes (do not cover). Remove rice from heat and drain water using strainer. Complete the rest of the recipe as directed but only use 4 cups of broth instead of 6. * Toast nuts by placing on a baking sheet in the preheated oven for about 5-6 minutes or stovetop by toasting in a dry pan over low-medium heat.
Nutrition
Calories: 419kcal | Carbohydrates: 60g | Protein: 11g | Fat: 13g | Saturated Fat: 2g | Cholesterol: 5mg | Sodium: 1544mg | Potassium: 905mg | Fiber: 5g | Sugar: 7g | Vitamin A: 13170IU | Vitamin C: 31.4mg | Calcium: 178mg | Iron: 3.2mg