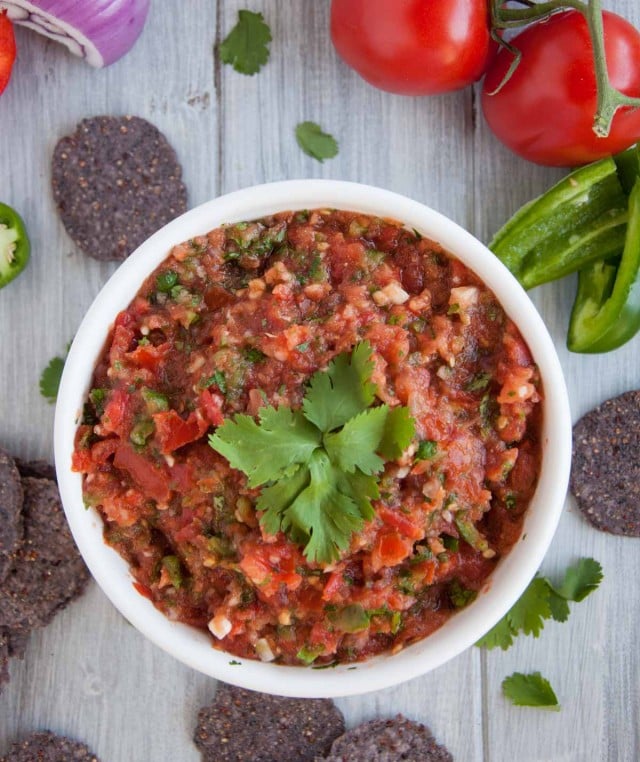 With all this fresh produce reemerging in grocery stores, its high time to dust off those spring and summer time recipes we all know and love. And what better way to showcase summer veggies than salsa? You can buy them fresh or grow you own tomatoes for this recipe.
Show me one (sane) person who isn't crazy about salsa and my hat goes off to you (whatever that saying means). This fresh blender salsa is a quick and easy way to get your spicy fix without a lot of chopping or effort.
The ingredients are simple and as long as you use fresh, high quality produce, this salsa will have you desperately scraping the bowl to get every last drop. This fresh blender salsa recipe is pretty forgiving too so you don't have to pay too much attention to getting the ratios right. The only two things I would watch out for are the onions and jalapeños, which can overpower the other flavors if you over do it. I normally go light on both and add more after doing a taste test to make sure I don't over spice the whole batch.
I've made it with different colored bell peppers, but it really is much better when you just use red pepper in my opinion. This is *mostly* aesthetic since having too much green overwhelms the general redness of the mix, but I also think it goes beyond aesthetics and the touch of sweetness in the red peppers adds to the overall deliciousness of the salsa.
Using a blender makes it oh so easy too. Roughly chop, add to blender, pulse, EAT. Its truly that easy. Since you're blending it all anyways, you really don't need to chop the ingredients up very well and big chunks work just fine.
Yup, its as easy as it looks. No need to complicate things.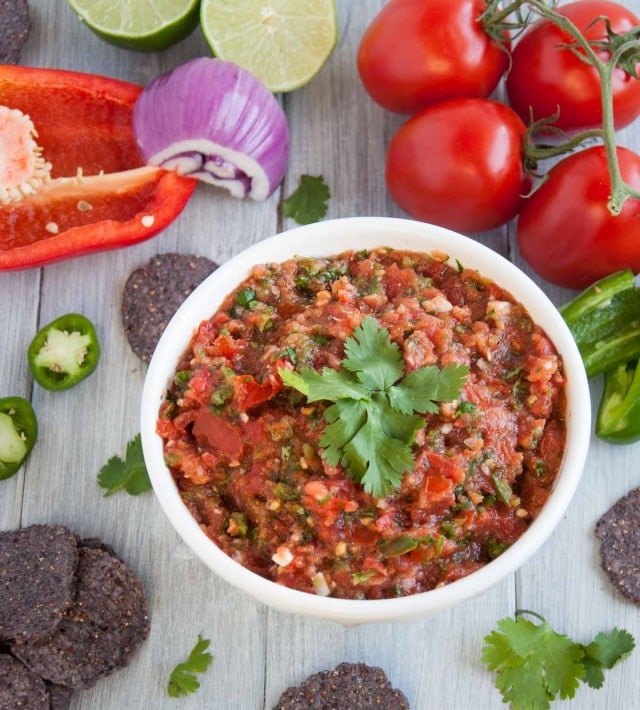 This recipe will make a couple cups of salsa, which should serve 6-8 as an appetizer with chips or as a side to tacos, burritos, or any Mexican fare… but for us, we finished it in about 2 hours flat. With tacos. Between two people. In our defense, two very hungry people.
10 minute fresh blender salsa with tomatoes, onion, jalapeño, cilantro and just the right amount of kick to have you coming back for more.
Ingredients
5-6 roma tomatoes (cut into large rough chunks)
1/4 cup roughly chopped red onion
2 jalapeños (seeds removed and cut into a few large pieces)
1/2 cup loosely packed cilantro
1/2 cup chopped red pepper
Juice from one lime
1/2 tsp. salt
1/2 tsp. cumin
1/4 tsp. fresh cracked pepper
1 tsp. minced garlic
Instructions
Add all ingredients to blender and pulse until smooth. Since jalapeños vary in spice level, add one at a time until desired heat level is reached. Add additional salt and pepper to taste.
Nutrition
Serving: 104g | Calories: 16kcal | Carbohydrates: 3g | Protein: 1g | Fat: 1g | Saturated Fat: 1g | Sodium: 123mg | Potassium: 138mg | Fiber: 1g | Sugar: 2g | Vitamin A: 720IU | Vitamin C: 22.2mg | Calcium: 7mg | Iron: 0.3mg