These tasty protein packed energy balls taste like a tasty dessert but are sweetened naturally with dates and have 6 grams of protein each.
Energy balls are a great way to stave off hunger between meals. These particular energy balls are sugary and sweet, thanks to medjool dates, so they also work as a tasty dessert alternative instead of cookies or chocolate or whatever else you're craving.
I know I just shared a dessert ball recipe, but this one has an important difference – protein!
I like to keep these on hand for those after dinner TV times when I find myself desperately craving ice cream, but know I'll feel like crap the next day if I cave. Snacking on chocolate or other sweets can leave you feeling like an insatiable bottomless pit. These energy balls have just enough protein though, that one ball makes me feel satisfied.
They're also perfect as a pre-gym snack with my morning coffee to keep hunger at bay and give me enough energy to make it through. Lord knows, I need all the help I can get at the gym these days!
They're the perfect snack to keep on hand for any situation really. Bring a batch to the office for mid-day snacking. Whenever you're craving a snack but don't want to overdo it, energy balls are the solution.
This recipe is easy to play around with, as long as you keep the basic elements the same. You can use a different nut, scale down the coconut butter or dates a bit, leave out the chocolate chips – really whatever minor tweaks you want to make should work. It is a pretty forgiving recipe and I've made countless tweaks myself, depending on my mood.
That being said, I have never tried this recipe with plant based protein powder. If you do, please leave a comment letting me know how it turned out!
I used plain whey protein powder because its pretty much tasteless and mixes into snacks like this seamlessly. There are other organic options out there that you can look into though if you prefer. The chocolate chips are entirely optional. It feels blasphemous saying this, but since these energy balls are so sweet, they're perfectly delicious without chocolate. 😮
There I said it. The words I never though would come out of my mouth. Chocolate optional.
They really are super sweet though so the chocolate is merely a bonus. Chocolate chips add about 12 calories to each energy ball and are included in the nutrition facts. It's up to you if you want to include them though. No judgements here either way.
Did I mention how easy these are too? I used my food processor to mix them up and then rolled and put the balls on a small plate. I then wedged that plate into the only inch of refrigerator space left to let them harden up. Easy peasy.
I have frozen them too before and they thawed just fine, but they were only in the freezer for a few days. We ate them too fast to see if they stand the test of time. All future experiments on this have failed similarly. I'm tellin ya, these balls don't stick around for long. They'll keep for up to 5 days in the fridge but they're too good to ever last that long!
Between the two of us, we normally demolish these within 2-3 days. You can easily double the recipe though if you want them to last longer or if you have more mouths to feed.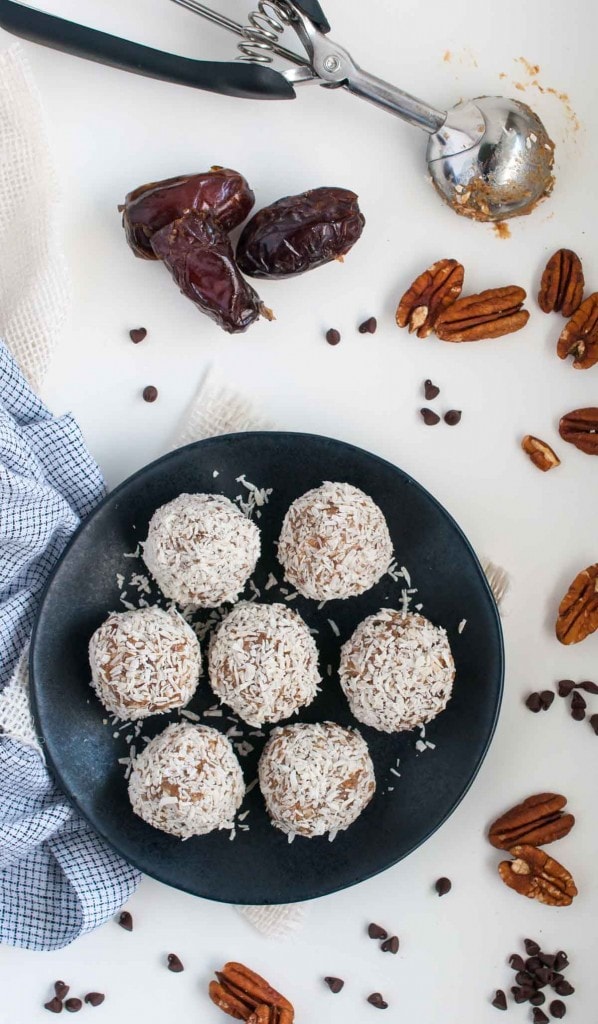 What's your favorite protein packed snack?
These tasty protein packed energy balls taste like a tasty dessert but are sweetened naturally with dates and have 6 grams of protein each.
Ingredients
1/2 cup pecan halves, lightly toasted
10 medjool dates, pit removed
1 Tbsp. coconut oil
4 Tbsp. plain whey protein powder
1 Tbsp. water
1/4 cup unsweetened desiccated shredded coconut
2 Tbsp. mini chocolate chips (optional)
Instructions
Put toasted pecans in food processor and pulse until they are lightly crushed. Add dates, coconut oil, protein powder, and water and pulse several times.

Add mini chocolate chips and stir in with a rubber spatula or spoon.

Roll into 1" balls using your hands. Roll each ball in coconut and place on a tray or plate. Refrigerate for at least one hour before eating. Keep in refrigerator for up to 5 days.
Nutrition
Calories: 185kcal | Carbohydrates: 25g | Protein: 6g | Fat: 8g | Saturated Fat: 4g | Cholesterol: 14mg | Sodium: 20mg | Potassium: 249mg | Fiber: 3g | Sugar: 21g | Vitamin A: 45IU | Calcium: 58mg | Iron: 0.5mg