Beet smoothie with almond butter, banana, and hemp hearts – delicious, high in protein and has the perfect amount of sweetness to balance out the earthiness of the beets.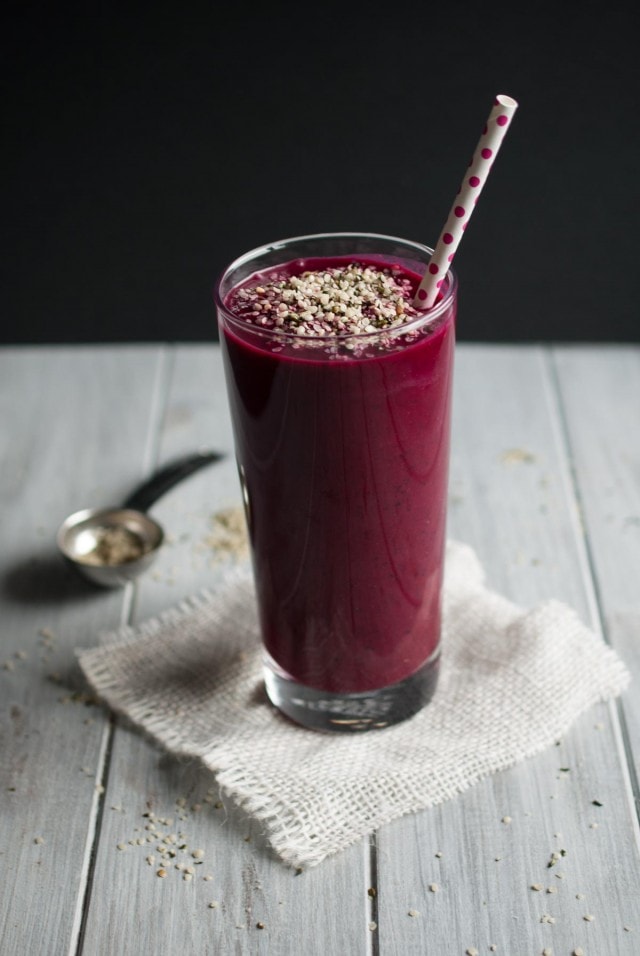 Valentines day is right around the corner and you know what that means… pink and red errrything! The recipe I've got for you today isn't just your regular ho-hum smoothie. This sexy concoction gets its pinkness from one of my newfound favorites, beets! If the idea of a beet smoothie horrifies you, please try to keep an open mind. Its crazy delicious in such a unique, fantastic way. I'm pretty sure you'll love it.
Plus, this bad boy is high in protein and vitamin C and works for vegetarian, vegan, gluten free, paleo, and probably any other diet type on the planet.
Since my valentine and I will be at a wedding this weekend, we're celebrating a bit early. The wedding just so happens to be in Costa Rica, so smoothies and salads have been pumping through our house the last few days in a last ditch attempt at getting fit for the tropics. Pretty soon, like tomorrow, our smoothies will have mangos and coconut in them though so my level of caring is somewhat at a minimum.
I've never been a big V-day celebrator. Don't get me wrong, I love a good cheesy valentine as much as the next girl, but this holiday just doesn't get me pumped like others do. But, I do love a good excuse to make themed recipes, so I'll be sending another one your way later this week.
From da beach mon.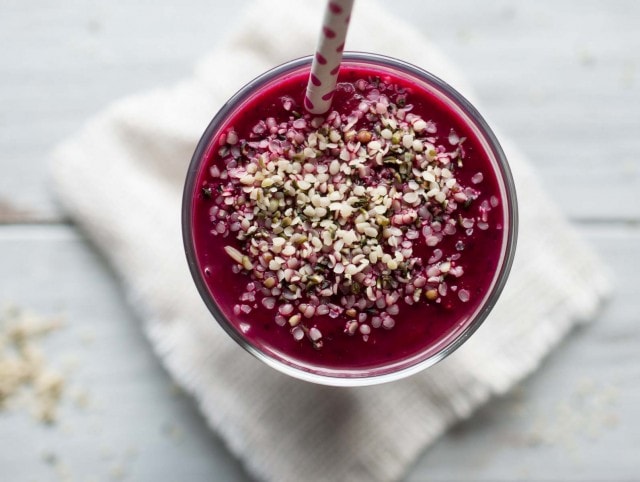 As you can see in the picture below, this beet smoothie has all of the good stuff. The cast of characters include strawberries, beets, kale, almond butter, hemp hearts, vanilla, and half a banana. The beet I used is pre-roasted to bring out the best flavor and make it easier to blend.
I've heard that high power, fancy blenders like the Blendtec and Vitamix can handle raw beets like it ain't no thang. I do not have a blender that is capable of such things, so I pre-roast my beets. I also, just love pre-roasted beets to no end and having a few pre-roasted and waiting in my fridge is always a huge plus. It adds so much extra flavor.
I haven't kept my love of beets a secret. I know gushed about them when I made this beet salad. And then again in this arugula beet and orange salad. But making a beet smoothie is my latest favorite way to showcase this tasty veggie.
It's high in protein too, which all smoothies can't boast. I love that it comes from natural sources too, instead of just adding protein powder. The almond butter adds a unique, rich, almost decadent taste that enhances the beet and banana flavors in the best possible way.
And, did I mention that this smoothie actually filled me up? That never happens to me with smoothies. Normally, I'm hungry 20 minutes later, but not with this beet smoothie. No sir. This can actually act as a meal.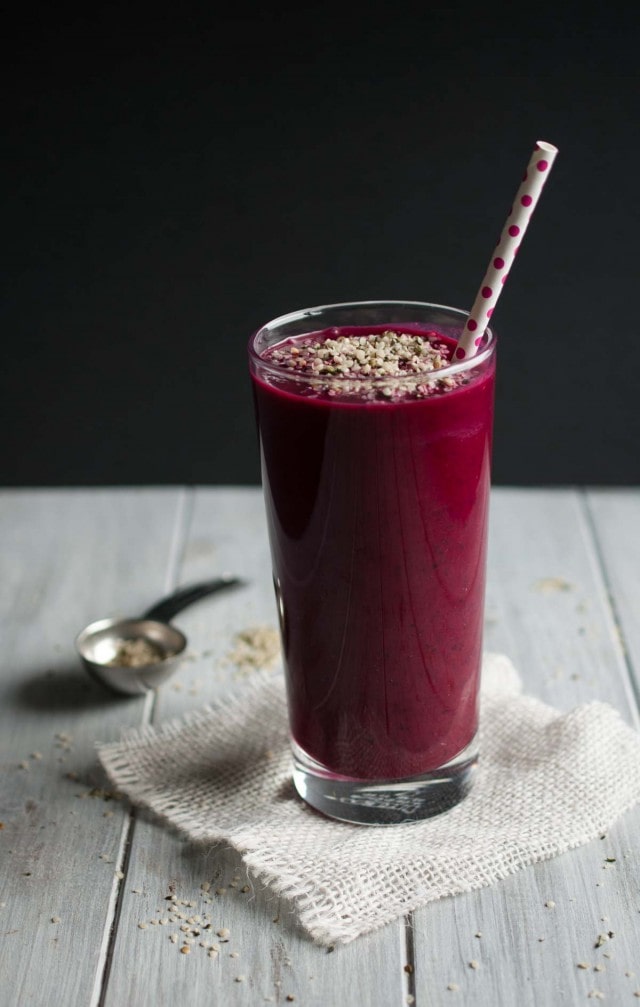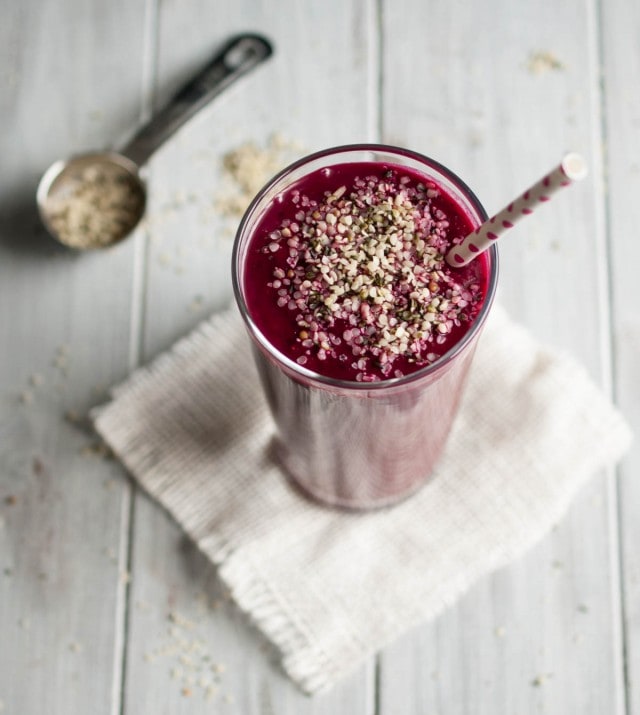 This beet smoothie recipe is pretty flexible too in terms of ingredients. As long as you've got the beet, banana and nut butter covered, you can use whatever greens or berries you have on hand. Beet greens are especially delicious in this (if you haven't already used them making this sautéed beet greens recipe.
The hemp hearts are optional. They add more protein and nutrients, but if you don't have them, feel free to just leave them out.
Speaking of hemp hearts… is it wrong to bring a bag of them on a vacation? Does that put me into a totally new category of weirdo that I don't want or need to be a part of? Any insight on this would be appreciated… but probably not listened to.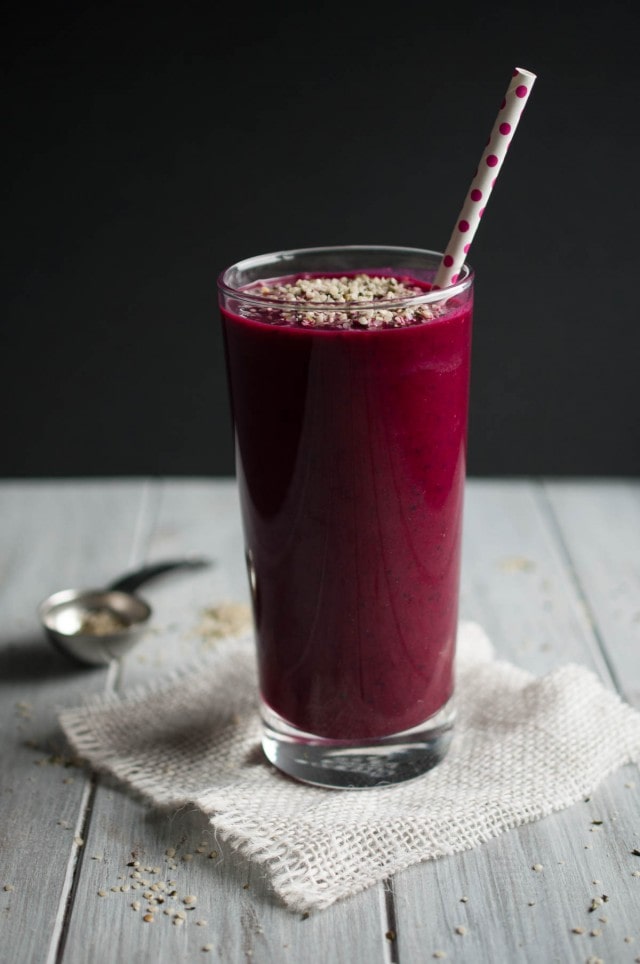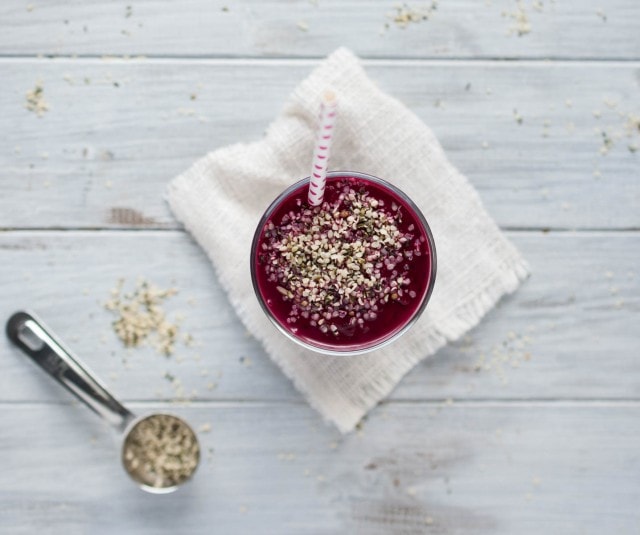 Beet smoothie with almond butter, banana, and hemp hearts! Its delicious, high in protein and has the perfect amount of sweetness to balance out the beets.
Ingredients
1 small roasted beet (about 1/4 cup)
1 cup frozen or fresh strawberries
1/2 banana
1 kale leaf, torn into pieces
1 tsp. vanilla extract
1 Tbsp. almond butter
1/2 Tbsp. hemp hearts
1/2 cup water
Instructions
Place all ingredients in a blender and pulse to thoroughly mix. If desired, reserve hemp hearts and sprinkle on top for texture. Add a tiny amount of water at a time if smoothie is too thick.
Nutrition
Calories: 309kcal | Carbohydrates: 41g | Protein: 11g | Fat: 12g | Sodium: 95mg | Potassium: 1088mg | Fiber: 8g | Sugar: 21g | Vitamin A: 5695IU | Vitamin C: 162.2mg | Calcium: 183mg | Iron: 3.6mg