These baked pears with honey and almonds are the perfect healthy dessert for the holidays with cranberries and a nutty crunch all for 100 calories!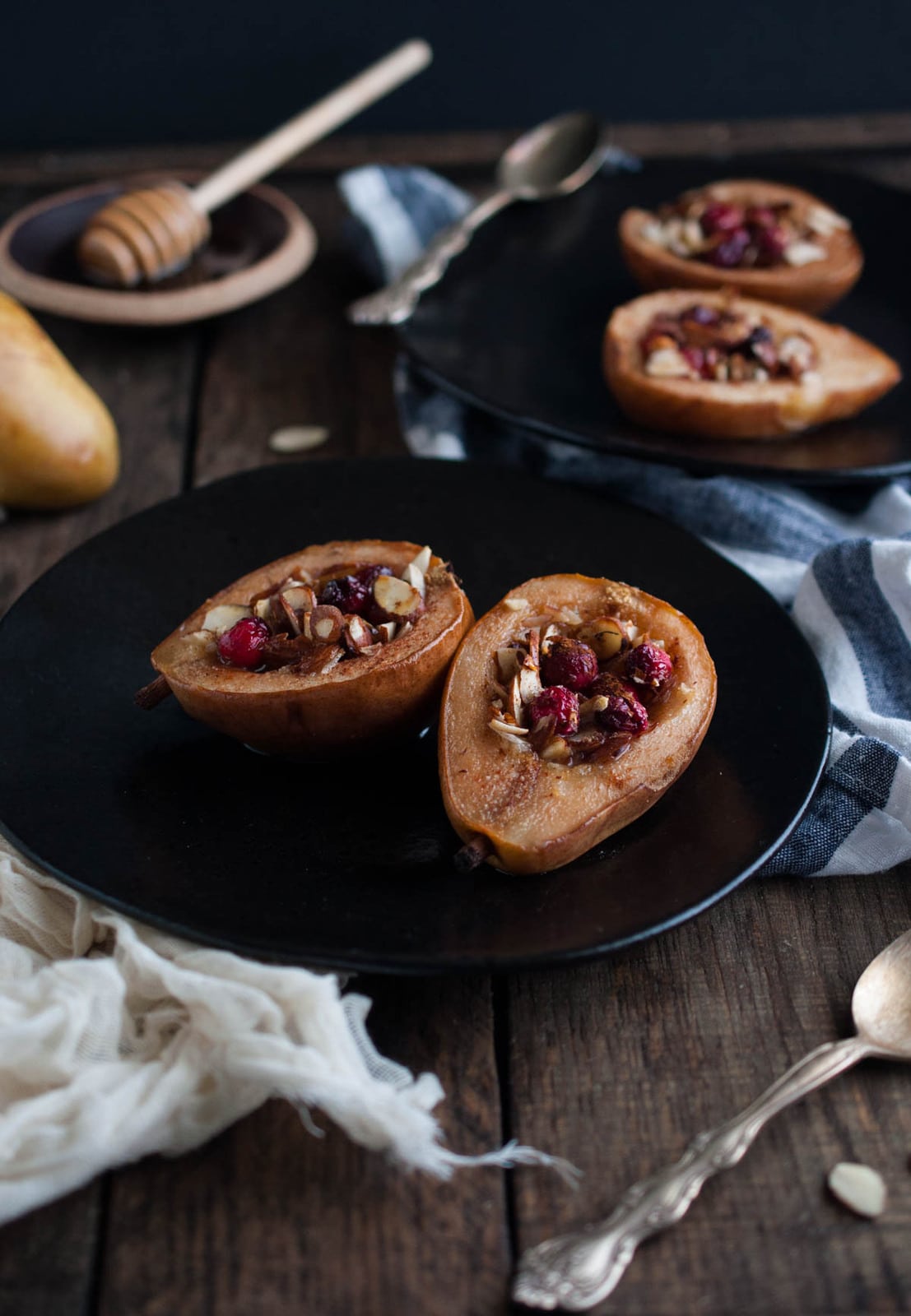 For someone who rarely makes desserts, I'm on a roll here – two in a row! If you missed the chocolate pomegranate bites I shared earlier this week, or just didn't care, maybe these baked pears with honey can win you over.
A magical thing happens when you roast pears. They become soft and the juices seem to get sweeter. The almonds get a little bit toasty and the cranberries reach their bursting point. The cinnamon and other spices add just the right amount of spice to make this feel like a full on dessert.
I actually served this after breakfast last weekend so I could take some pictures in daylight. There were no complaints about that at all. Can we make breakfast dessert a thing please?
Unpictured is how well ice cream and/or vanilla yogurt pairs with this. Baked pears with honey are perfectly tasty on their own, but adding a touch of dairy is pretty phenomenal too. Pair with yogurt for breakfast or ice cream for dessert. Or either or, there isn't a steadfast rule on this and I'm not one to judge ice cream for breakfast.
Or if you're dairy free, maybe some coconut whipped cream would be worth a try. I made a delicious peanut butter coconut frosting a while back that I'm sure could be tweaked to go with pears.
Again – none of these are necessary, just enhancement options. We ate baked pears with honey all on their own the second time I made them and absolutely loved them that way. And if you have vegan, paleo, or dairy free friends, this fits the bill on all levels. Just switch the honey to agave syrup for vegans.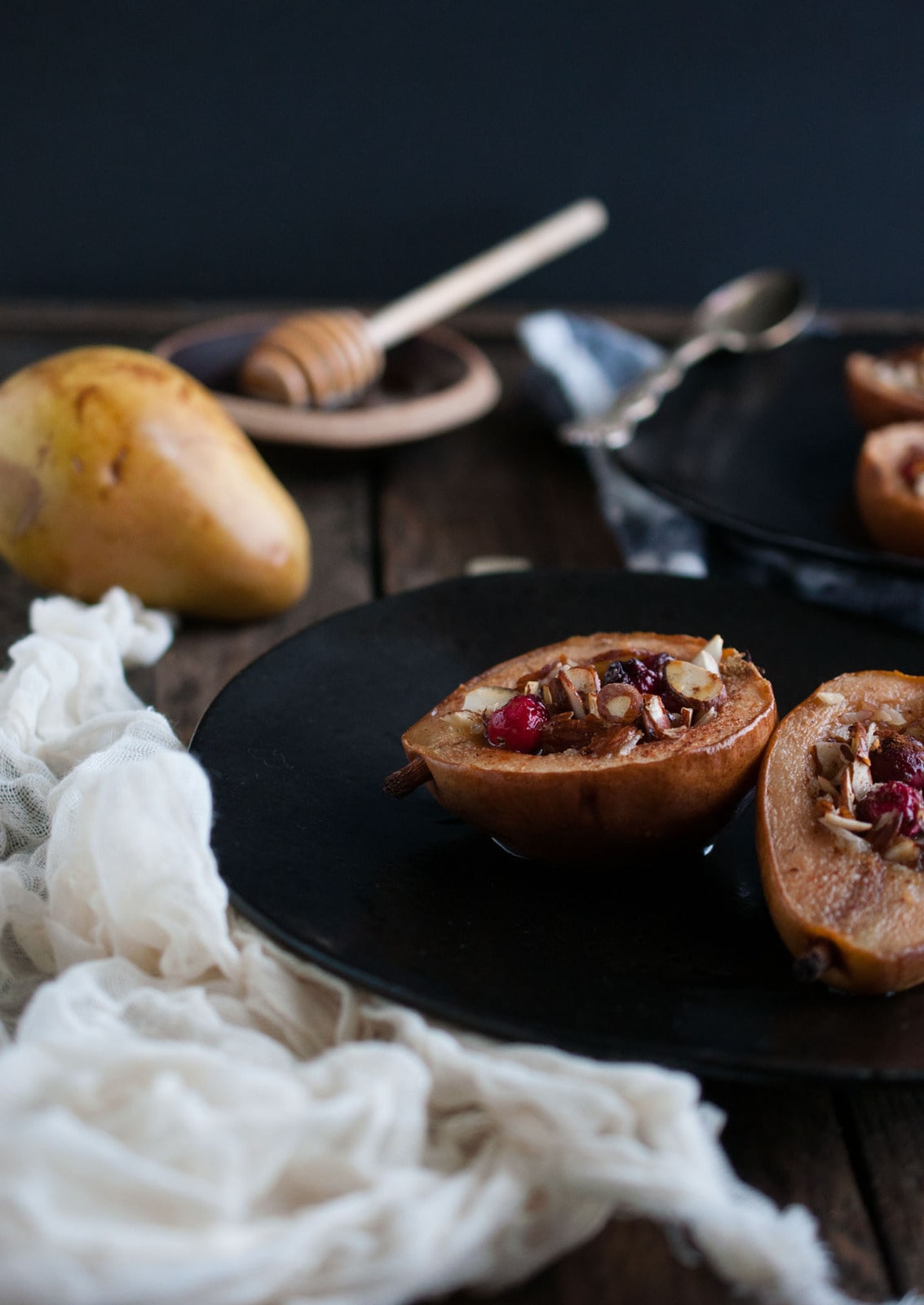 Before we get too much further, can we take a minute to talk about what a royal pain pears are? Don't get me wrong, I looooove pears. When they're good, they're to die for. Juicy, plump, and full of flavor. They bruise on a dime though! By the time you make it back from the grocery store, each pear has multiple stem induced stab wounds to boot. Get it together pears!!! Your fans demand more durability.
Serious love hate relationship going on here. I want to drop the hate and embrace only the love. If you have any pear tips, leave a comment. I'm sure we'd all love to hear your wisdom on this topic.
Now lets talk about those spices. Cinnamon is really the only one you absolutely need for baked pears with honey, but the nutmeg and cardamom add a nice touch. You can play with the spices and tweak however you want.
Don't skip the cinnamon though. It's mandatory. Plus cinnamon is healthy for your heart! Gotta sneak those perks in wherever possible.
The honey (or agave) is also critical. Cranberries are tart and kind of gross on their own (in my opinion) so you've got to sweeten them up. The almonds add much needed texture. I could see pecans being equally as good though.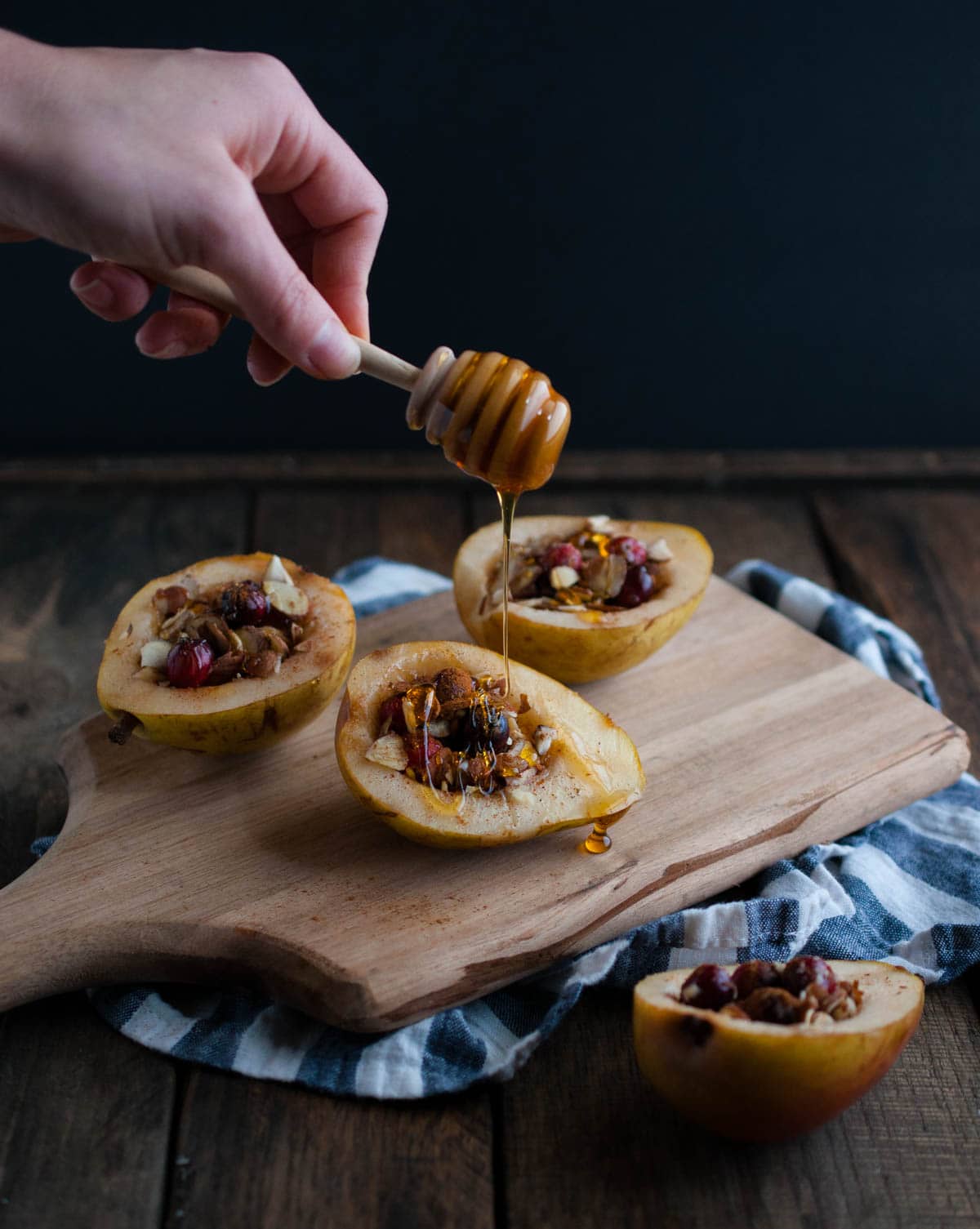 If pears or baked fruit in general doesn't float your boat, I have some other healthy dessert options that are just as appetizing. For starters – these chocolate avocado truffles and coconut balls are equally holiday festive. If you're looking for something a little less wintery, this coconut chia pudding is one of my favorites.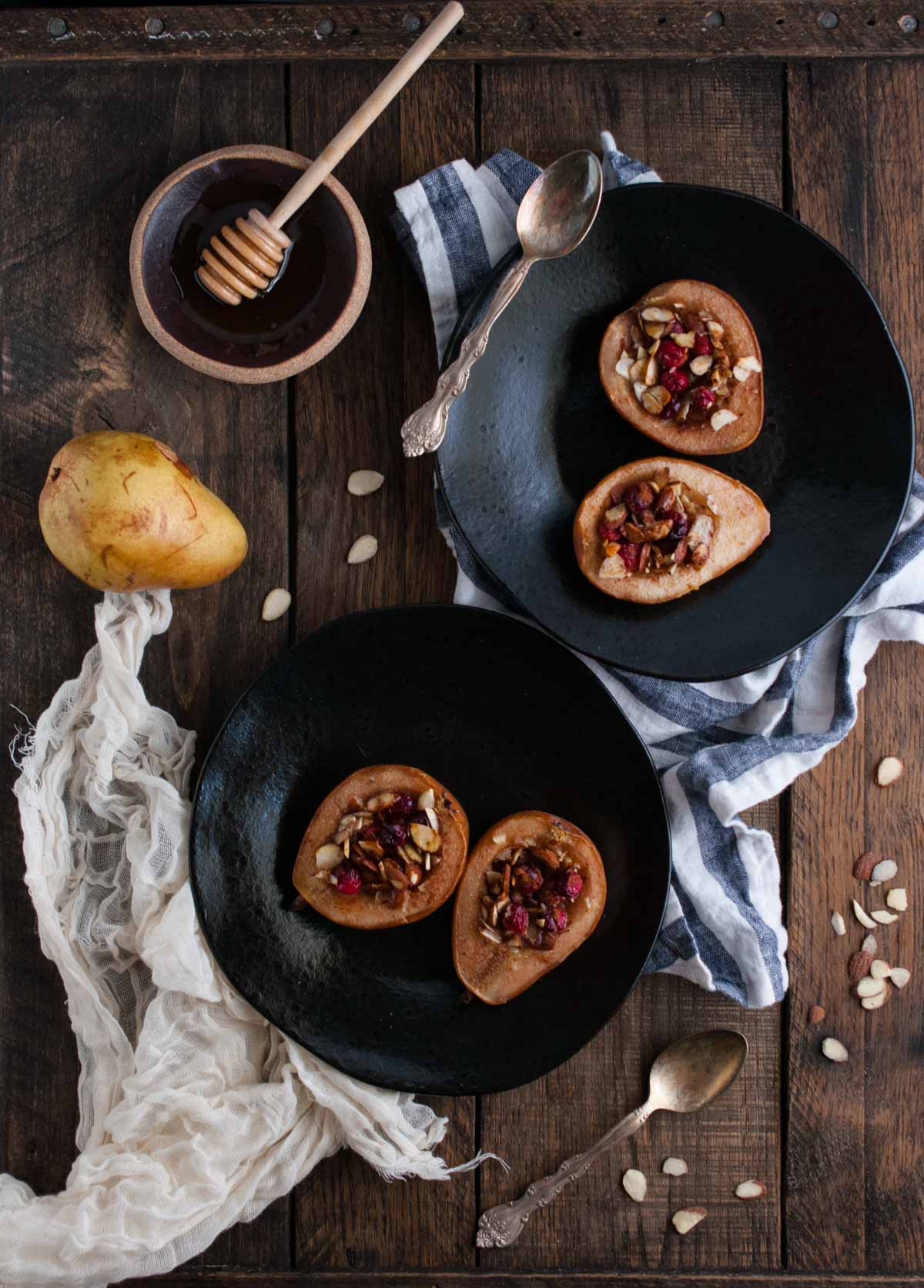 And now for a final challenge. Can you spot the dog hair on the pear below? This should be a challenge in all of my recipe photos. If you go back through, I'd say a good 25% probably have a rogue pug hair.
Thoroughly grossed out yet?
For those of you who eat at my house on a regular basis, fear not! The only good lighting I have is all the way upstairs. This means that I have to lug whatever I'm shooting up a set of stairs and then shoot on a small trunk by the window. All the while, I have a little shedfest of a pug mutt sitting next to me, monitoring the whole affair. Its inevitable that a stray strand sneaks its way into each and every picture.
Its becoming my photography signature. Who needs a logo when you have an eye spy going at all times?
I know I showed you my photography setup a while back on Instagram, but I'll take a few more pics of the whole shebang soon so you can fully see what I'm working with. Its not terrible by any means, but certainly has some 'special' challenges. Turns out dog hair is one of them. Maybe someday I'll be a good enough photographer to just edit these out, but where's the fun in that?
These baked pears with honey and almonds are the perfect healthy dessert for the holidays with cranberries and a nutty crunch all for 100 calories!
Ingredients
2 pears
3 – 4 Tbsp. cranberries (about 6 cranberries per pear half)
1/4 cup slivered or sliced almonds
Light pinch of cinnamon per pear half
Tiny pinch of nutmeg and cardamom, optional
2 tsp. honey (or agave if vegan)
Instructions
Preheat oven to 350° F (177° C)

Cut pears in half and then scoop out the core. If pears are very round, cut a thin slice off of the backside of half so that it will lay flatly with the cored side facing up.

Place core halves onto a baking sheet. Divide the cranberries and almonds between the four pear halves.

Evenly sprinkle a tiny pinch of each spice onto each pear half. Drizzle ½ tsp. honey over each pear half.

Put pan in oven and bake for about 25 minutes. Remove from oven and serve while warm either plain or with vanilla ice cream or vanilla yogurt.
Nutrition
Calories: 109kcal | Carbohydrates: 20g | Protein: 2g | Fat: 4g | Saturated Fat: 0.3g | Polyunsaturated Fat: 1g | Monounsaturated Fat: 2g | Sodium: 2mg | Potassium: 175mg | Fiber: 5g | Sugar: 12g | Vitamin A: 38IU | Vitamin C: 7mg | Calcium: 28mg | Iron: 0.5mg