Banana almond butter muffins are made without wheat or refined sugar by using healthy ingredients like oat flour, honey, yogurt, and flax meal. All of this good stuff and they still have a great texture, are high in protein and absolutely delicious!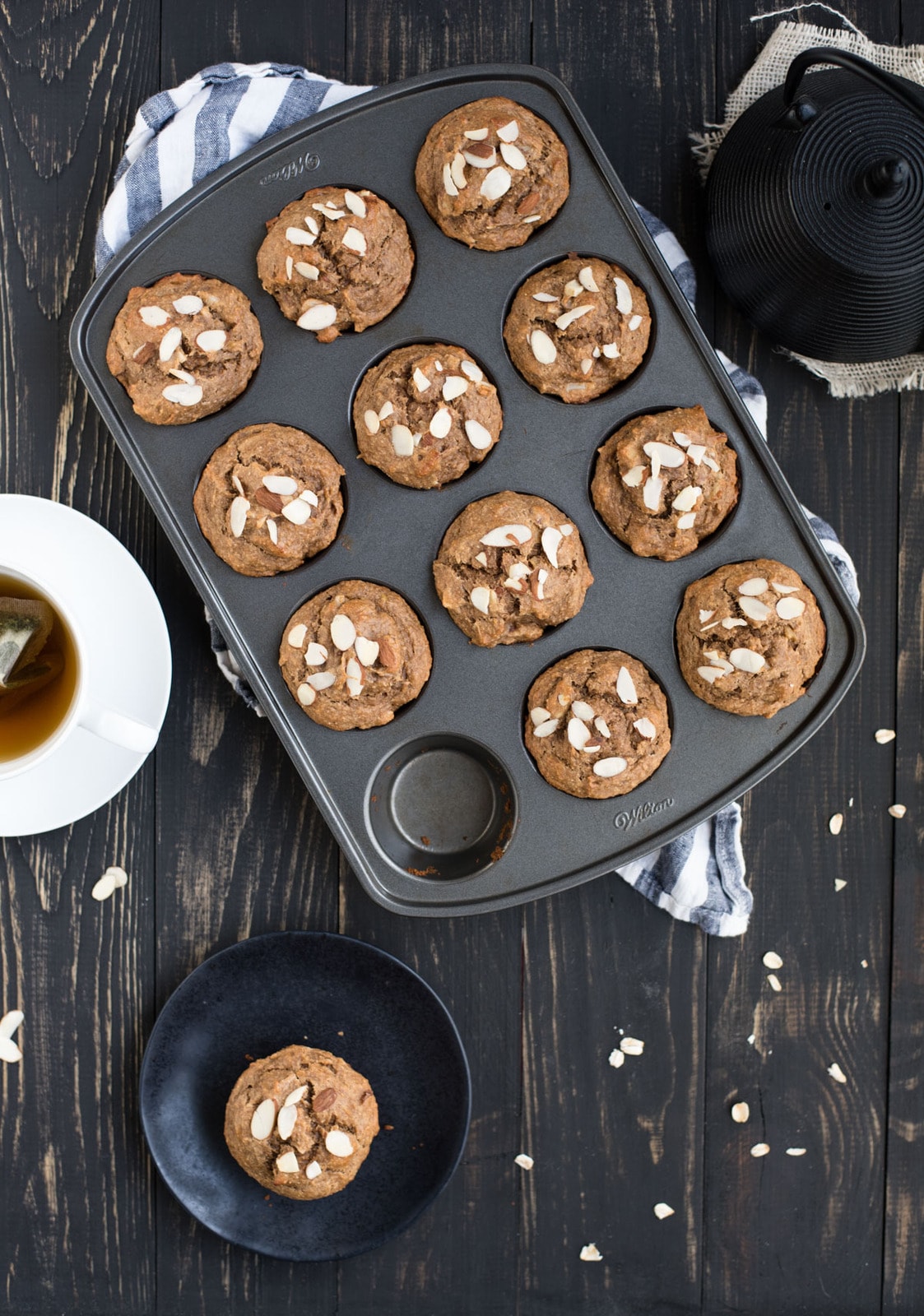 Let me just start off with saying that these almond butter muffins are LEGIT. When paired with your morning coffee, they're near perfection. Being made from oat flour, flax and having 9 grams of protein makes these almond butter muffins healthy and filling enough to eat for breakfast, and best of all – they'll actually satisfy that morning sweet carb craving! Hallelujah.
I can't be the only one that craves carbs in the AM. I don't know what it is but I just love a good bready breakfast. I normally choose some kind of egg dish when I go out to brunch but on regular 'ol weekdays, I gravitate toward carbs. Be it granola, avocado toast, overnight oats, or healthy almond butter muffins like this. Get me some carbs stat… or I get cranky.
This is the primary reason I turn my nose up at all of the low-carb diets. Def not on board with the new keto craze. Just isn't my thing. My brain functions better when I have good quality complex carbs in my diet. That being said – these almond butter muffins don't have any flour in them! Yup, just oats ground up into oat flour.
Oat flour has been my go to wheat flour replacement for a while now. It all started with my popular peanut butter banana muffins and I've since branched out into a carrot variety, chocolate peanut butter cupcakes, and now these almond butter muffins. To say I'm an oat flour lover is probably an understatement at this point.
For good reason though! Oats are high in fiber, protein, and various nutrients and have been proven to lower bad cholesterol. You've probably seen oat commercials highlighting how they're heart healthy. Would the quakers lie? Well, maybe, but not about this. Oats are your heart's best friend.
This recipe takes a few steps since you have to grind the oats… OR you can buy already made oat flour like a boss. Ever since Vitamix entered my life, I grind everything and anything I can, but when I had my old crappy blender, I usually just bought stuff like this. Do whatever works for you though. Its super simple to make oat flour yourself, but if you don't feel up to the task, you don't have to. …