Delicious arugula salad tossed with a tangy balsamic vinaigrette and plated with roasted beets and orange slices, then sprinkled with toasty pecans and feta.
(Recipe originally published May 23, 2014, but pictures and post text have since been updated)
Looking for the best possible salad to make this holiday season? This arugula salad with roasted beets and orange is the only one you'll need! I've already made it three times this month. It's that lovely.
When I was younger, beets were one food that I never thought I would like in a million years. They tasted like dirt and were normally downright foul. Being married to a Russian, it's inevitable that I'd have a change of heart and jump on the bandwagon. If you've been following this blog for awhile, you know I've come around to them wholeheartedly. I've made beet smoothies, sautéed beets w/ greens, beet hummus, beet soup, beet cupcakes even. You name it and I'll add a beet to it.
When done right they add an earthy sweetness and a splash of color that can't be beat (sorry, just couldn't help myself there).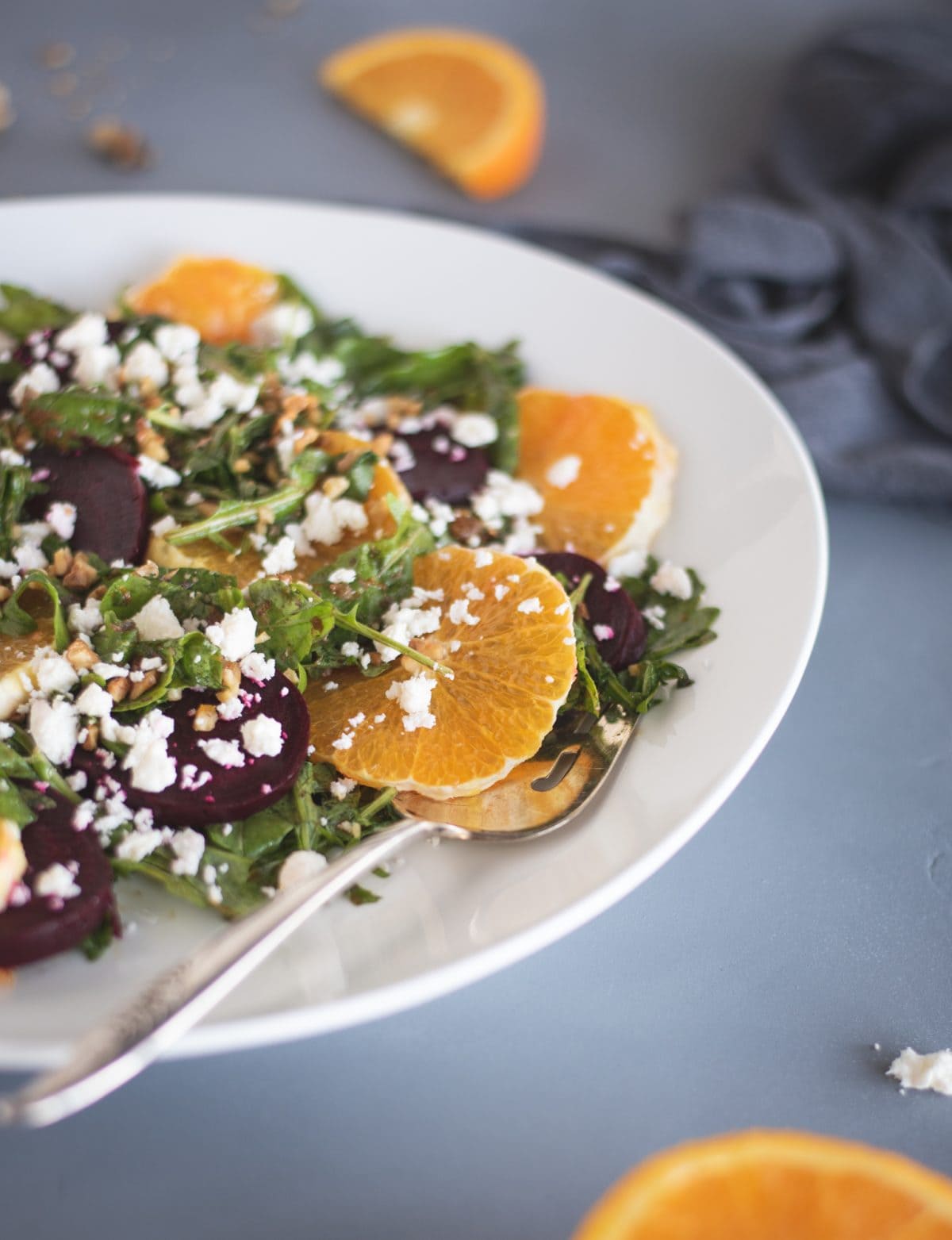 I've made arugula salads with beets before that were just fine, but the orange, feta, and toasted nuts really take this one to a whole new level of deliciousness. Its so tangy and good! The splash of citrus and saltiness of the feta bring out the best in the peppery arugula. The combo is just so dreamy – and I rarely say that about a salad!
If you're on a beet salad kick, try this salad with roasted beets and figs. It's another favorite with a lot of similar elements but a totally different end result.
One thing I love about this tasty arugula salad is how versatile it is. It goes well with so many types of main courses – turkey (hey hey Thanksgiving!), seafood, chicken, lamb, or you could easily add chicken or another type of protein for a one-dish salad meal. My husband refuses to call salads dinner but I'm usually game if the salad is tasty enough. Luckily this one is.
To make this recipe quicker to put together, roast the beets, make the dressing, and toast the nuts ahead of time so all you have to do is toss it together before serving. I like doing all of the prep like this sometimes just for myself so I have healthy salad lunch fixings ready to go. It pretty much guarantees I'll actually eat salad for lunch instead of getting sidetracked by whatever else sounds tasty at the moment. …