The best healthy banana bread recipe around! It's perfectly moist and delicious made of white whole wheat flour, yogurt, coconut oil, flax, and honey.
(Recipe originally published February 25, 2014, but pictures and post text have since been updated)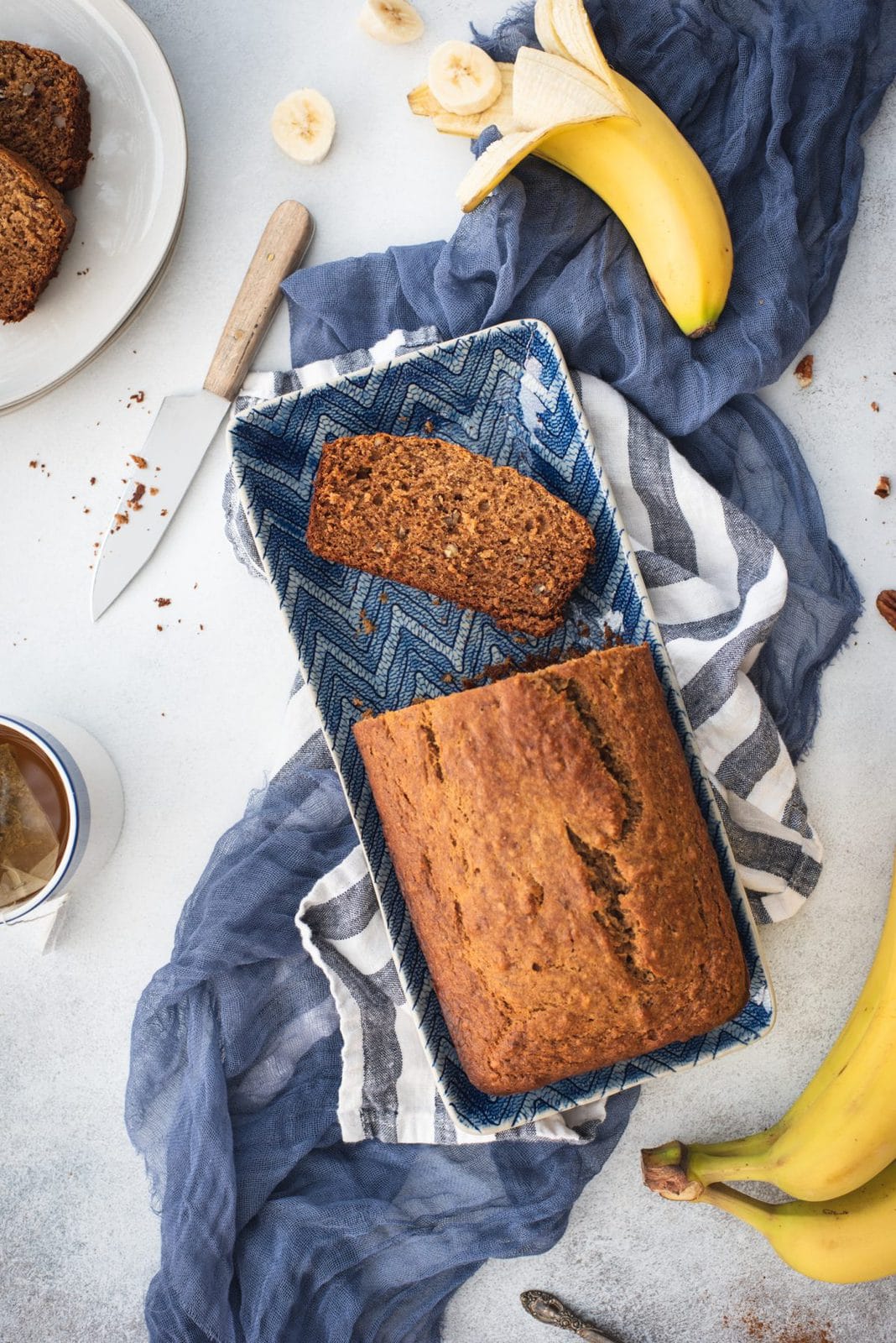 Over the years I have literally made dozens of attempts at creating a healthy banana bread without white flour or copious amounts of sugar and oil that still has that same moist, satisfying texture and strong banana flavor that we all know and love. Well, my work paid off and this is the one my friends! It is so incredibly good and the best banana bread ever! You'd never know it was "healthy."
I have probably made this recipe 50 times since first creating it back in 2014. And 50 might even be a gross understatement. We eat it all. the. time.
Many of my early efforts ended in dry, overly dense, bland bready loafs of disappointment. Some were close, but just not quite right. There was always something a bit off.
Once I added a bit of oil and yogurt in, all problems were solved! Also, switching to white whole wheat flour in this and pretty much every baked good normally does the trick. It has the same nutrition as regular whole wheat flour but the end product will taste more like you used white flour. Its simply amazing. I linked to it on Amazon to show you what it is but the price looks pretty steep there so I'd recommend just checking out your regular grocery store. If they don't carry it, natural food stores certainly will.
This version of healthy banana bread is filling and low in added sugar while maintaining just the right level of sweetness. I credit this to using overly ripe bananas. By overly ripe, I mean brown spots everywhere, on the verge of being too bad to use. It might sounds gross, but that's where the magic happens! There's a pic of the kind of bananas I mean over in my chocolate zucchini banana bread recipe.
I look at bananas ripening on the counter as little fruity gold mines and can hardly wait long enough for them to get to that ideal stage of yellowy-brownishness that you need for recipes like this.
Next time you're tempted to throw out bananas that are too ripe to eat plain – do yourself a favor and put that aged fruit stash to good use! Or, you can always throw them in the freezer to turn into healthy banana bread at a later date. I always have a few ripe bananas lurking in the freezer for when the craving hits. …