Juicy, crispy shredded pork tenderloin carnitas uses a leaner cut of meat than traditional recipes for healthy, delicious pork tacos made in a slow cooker.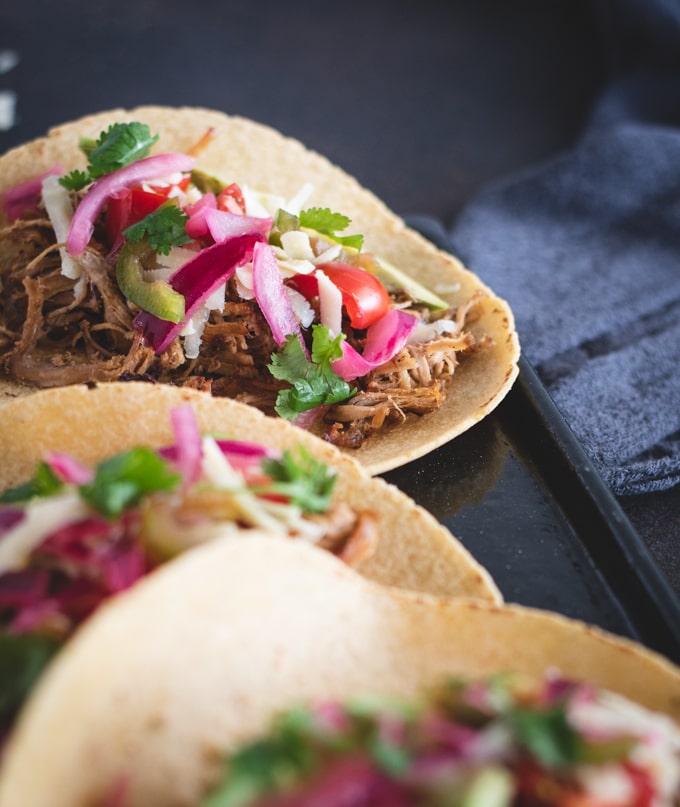 Traditionally carnitas is made with a fatty cut of meat like pork butt or pork shoulder, and the extra fat is part of what gives it that enticing mix of juiciness and crisp concentrated flavor. The grease dripping out the backend of the taco is part of the whole experience… but it doesn't have to be.
I think all of us pork eaters can agree that there is something inexplicably intoxicating about carnitas. It may be in part the mandatory Corona or Pacifico that goes with it, but there is something about the meat itself that is so overwhelmingly delicious that even those of us that normally are models of self control (not I obviously), can't resist pigging out on these.
This pork tenderloin carnitas recipe reduces the guilt so you don't have to feel like a total health-food failure as you load up taco number four.
Why make this recipe?
This pork tenderloin carnitas recipe successfully lightens things up with a healthier leaner meat. Using tenderloin helps maintain that salty pork flavor and texture that are critical elements of good pork carnitas, but this recipe has nearly half the calories as traditional carnitas.
Also, its easy with minimal prep work! Using a crock-pot makes this an easy weeknight meal since the prep can be done the night before and it can cook while you're gone. Not to mention coming home to the smell of this will make all of your work woes quickly melt away. Trust me, carnitas therapy works.
How do you get the pork so crispy?
You may be wondering how you get the pork crispy if you use a slow cooker, and that's where a sneaky little trick comes in. I used to avoid making crock pot meat dishes like this altogether because I'm never quite satisfied by mushy meat.
In the past, I would just make carnitas in the oven. To get the right texture, you basically have to slow roast it all day and but you can't safely leave your oven on all day when you're not home so this ruled out carnitas for a weeknight taco night. …