The best lemon kale salad you've ever had! This quick and easy recipe has pistachios, cranberries and parmesan all tossed in a zippy lemon vinaigrette.
Kale has had a bad rep for years and its resurgence is a godsend since its a true superfood. One serving of this lemon kale salad recipe has over 300% of your daily recommended intake of Vitamin A, over 200% of your recommended Vitamin C, and 30% of your calcium needs. Woohoo!
While I understand that not everyone shares my love for this bitter green, frankly, they should and this is the recipe to convince the naysayers. I have served this lemon kale salad to quite a few people now and have gotten rave reviews from both my kale-loving friends and those that have been slower to warm up to this leafy vitamin packed veggie.
The kale trend is here to stay so you might as well make it delicious!
Plus, it keeps better than any other salad I've made. The rough texture of kale helps the dressing stick to the greens and also keeps the salad fresh longer without wilting. While it won't be as good as the first day, you can eat any leftovers for lunch the next day and they'll still be edible.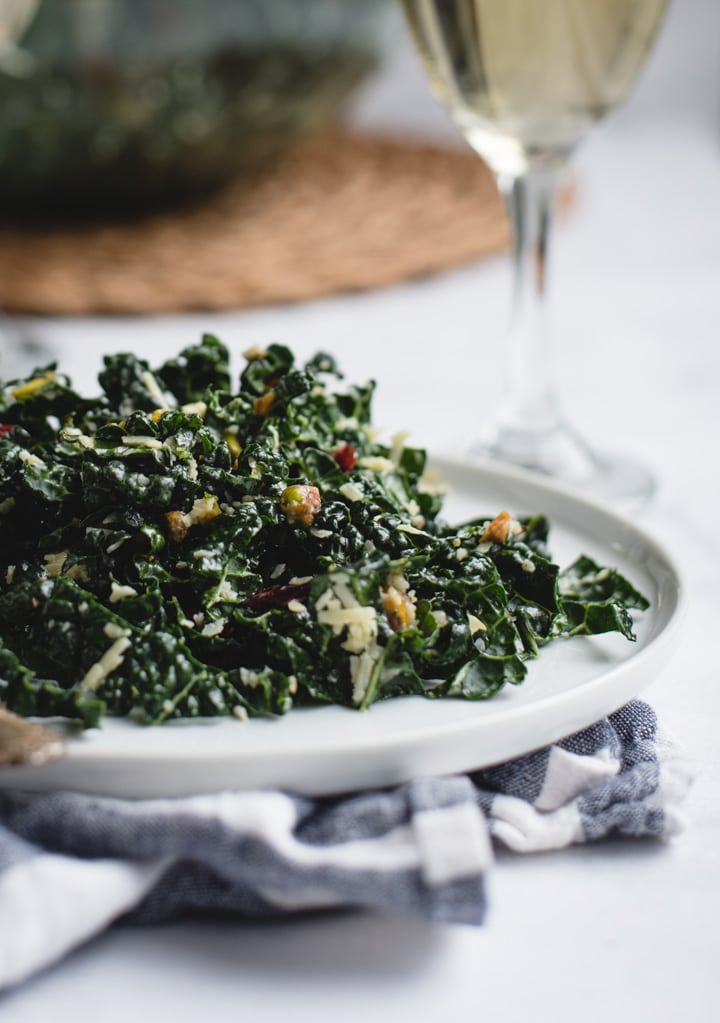 Ingredients in Lemon Kale Salad
One of the things I love most about this salad (other than the out of this world flavor of course) is how the ingredients are just basic items I always have on hand. Nothing fancy or hard to obtain here, just the basics.
Here are the ingredients in this lemon kale salad:
kale
parmesan
dried cranberries
pistachios (I use the Wonderful pre-shelled ones)
lemon juice
olive oil
shallot (finely minced red or yellow onion will do in a pinch)
garlic
dijon mustard
honey (skip if needed, but its much better with honey)
salt
pepper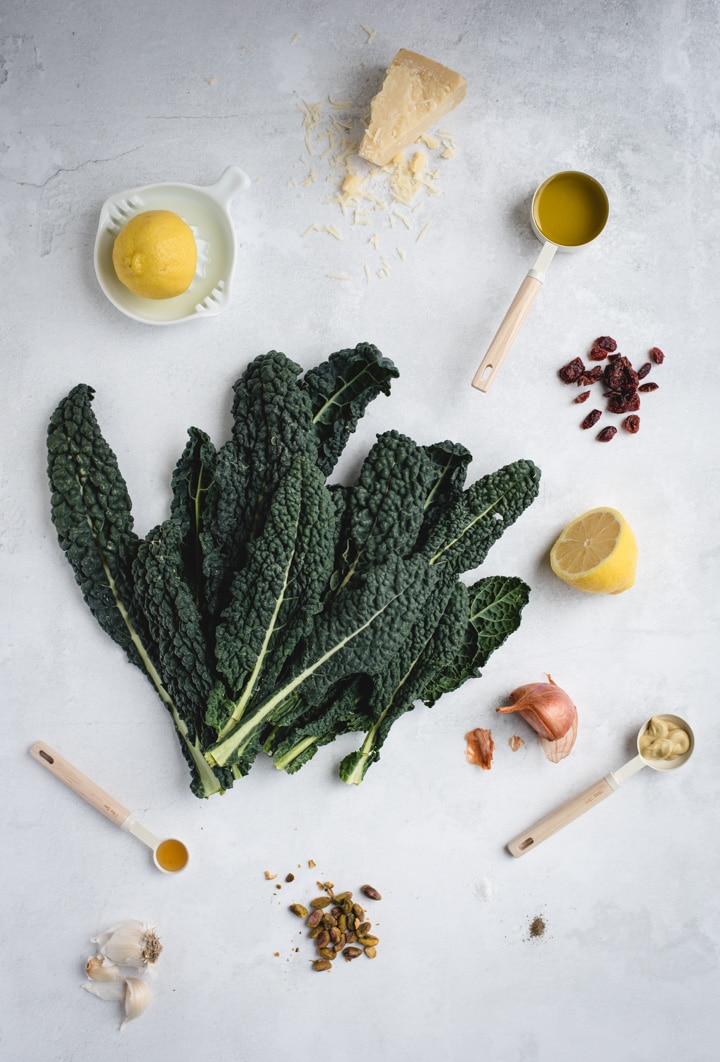 I used Italian Latticino kale in the pictures, but I've made it with Red Russian kale and your standard curly green variety and all have turned out great. The dressing is so flavorful that it truly doesn't make that much of a difference.
Onion can be subbed for the shallot if needed, but shallot has a softer, more delicate taste that really works well here. If you're feeling incredibly lazy, you can sub 1/2 tsp. onion powder for the shallot and 1/4 tsp. garlic powder instead of mincing it. It will still taste good, but won't be quite as fresh and pungent as it is when you use freshly chopped shallot and garlic.
How to Make Lemon Kale Salad
This kale salad is pretty easy to make. Trimming the kale can take some time. This stage normally takes me a solid 10 minutes on its own. The rest is quick and easy though.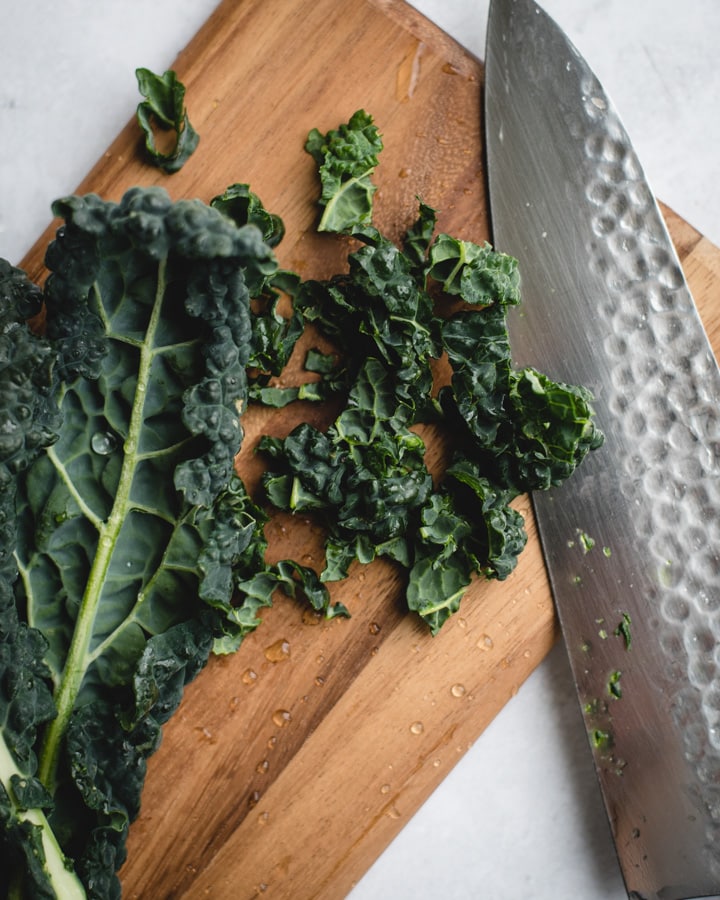 First you add all of the dressing ingredients to a tightly sealing container and then shake to mix it all together. Let this sit while you make the rest of the salad so the flavors can meld together and the shallot and garlic can soften.
While the dressing is sitting, prep the kale by removing and discarding the center stem from each leaf and then chopping the remaining leaves into small pieces or strips. You want them to be small enough that all pieces will get coated with dressing but large enough that you can still stab them with a fork and eat it easily. Don't overthink it. Just chop away.
Grate the parmesan and sprinkle this, the cranberries, and the pistachios on top. Shake that dressing one last time and pour it all over the salad. Toss and serve. Easy as can be.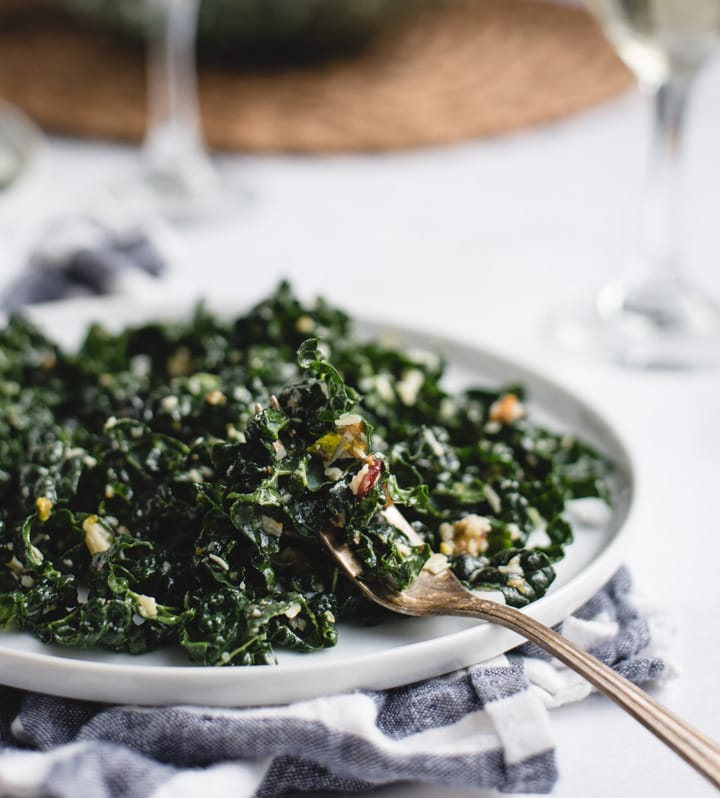 To Massage Kale or Not?
I know most kale salad affectionados swear by massaging the kale and I've certainly done my fair share of this. What I've found is that if you chop it small and toss it well enough, this isn't really necessary. No need to take the rings off and roll up your sleeves unless you reeeally want to.
That being said, if you're using curly kale instead of Latticino, there are more crevices for the dressing to get into so massaging can help if you find that tossing with tongs isn't getting the job done well enough.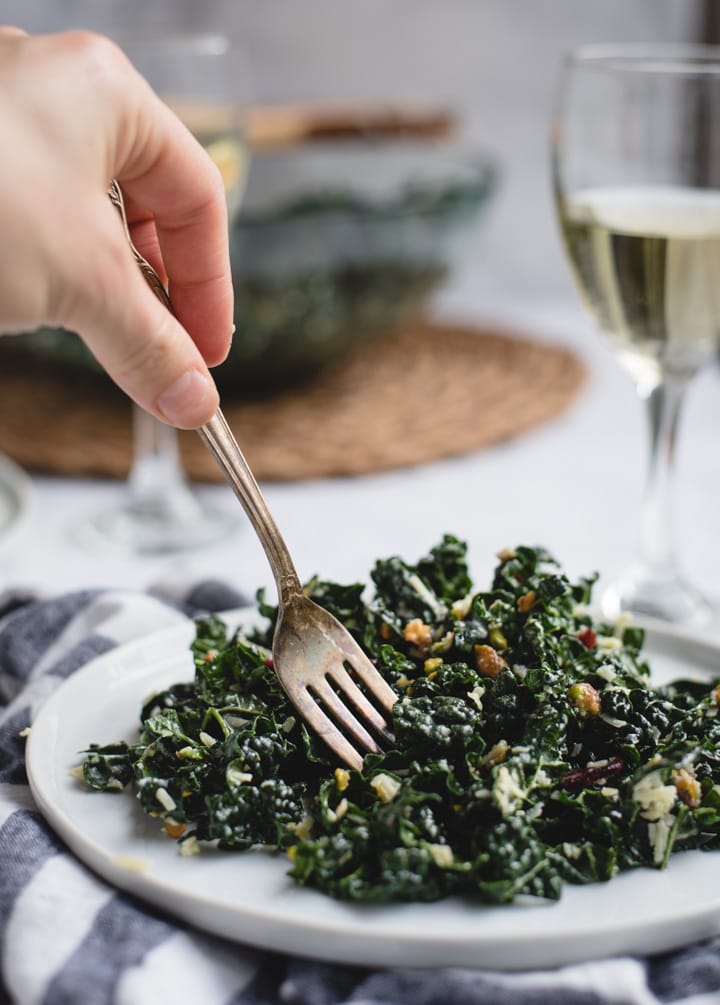 Prepping Ahead of Time
You most certainly can prep this salad in advance. Cutting the kale is the most time consuming part of the recipe so I often do that ahead of time and then top with the parmesan, cranberries and parmesan. I leave it like that without tossing and put a lid over the top and store it in the refrigerator for up to 24 hours.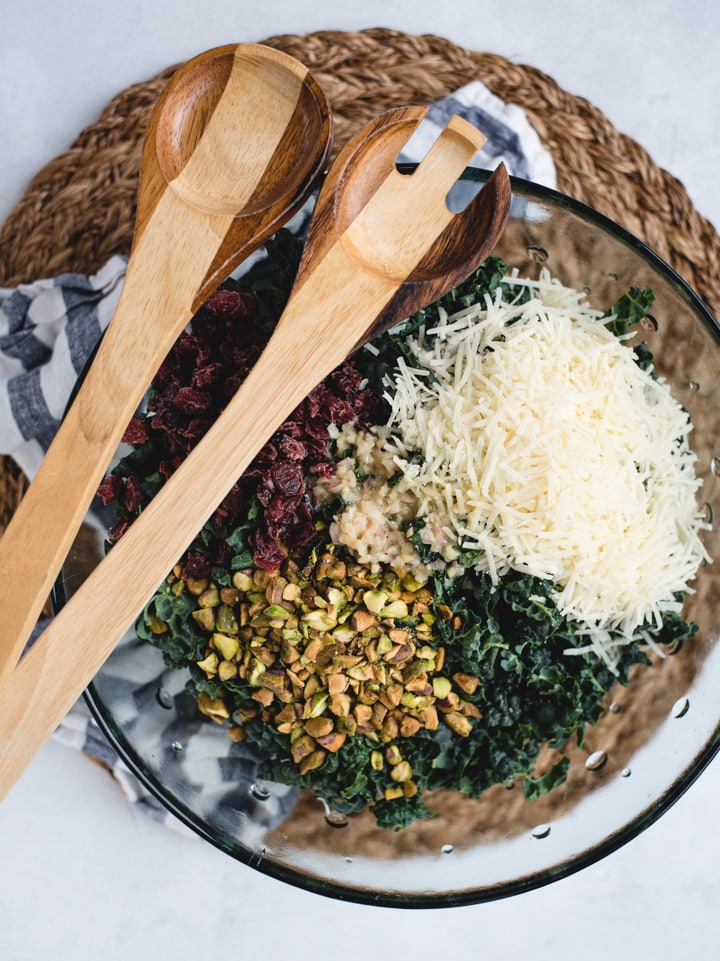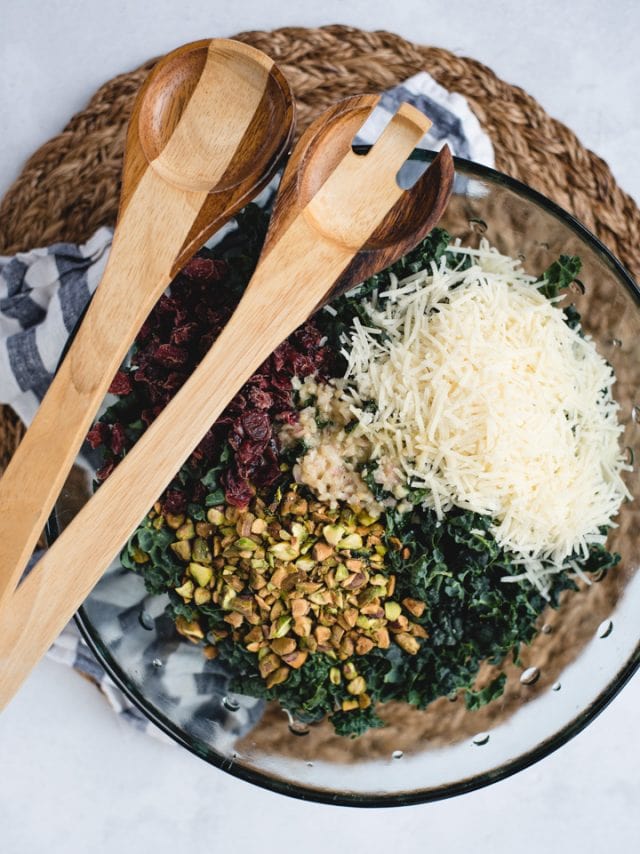 Similarly, I prep the dressing ahead of time so all I have to do is toss it before serving. The dressing will keep for up to a week in the refrigerator so you can double the batch and use it on multiple salads.
Just pull it out an hour or so before you intend to use it so that the oil can come back to room temperature and shake before pouring over the kale salad.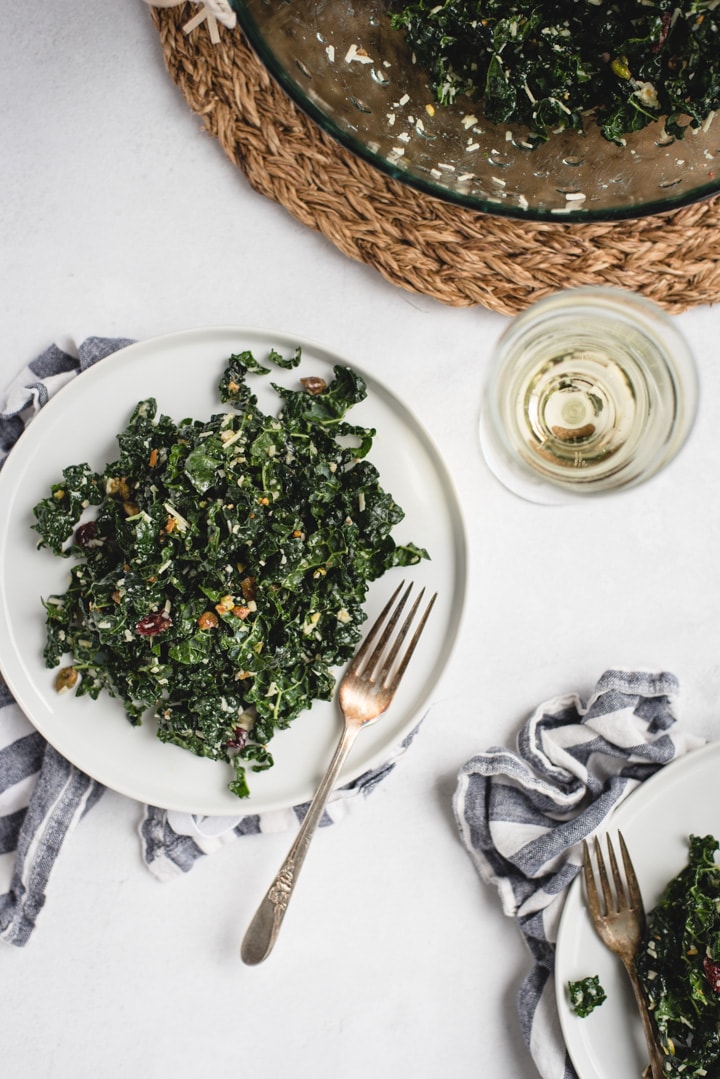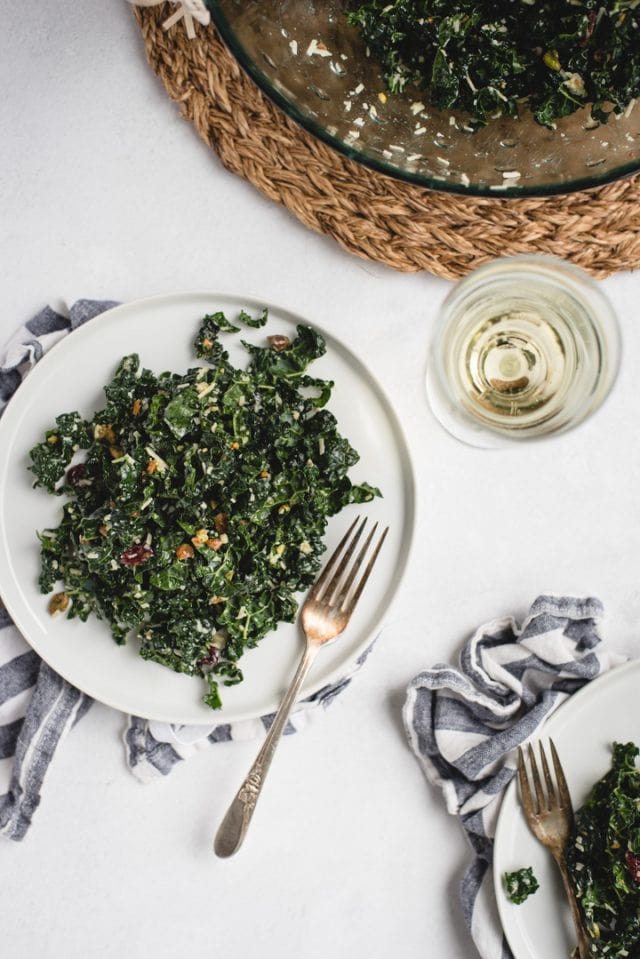 What to Pair With Kale Salad
This lemon kale salad goes with pretty much anything so the list could truly be endless. I picked a few of my favorites for this list of what to serve with kale salad: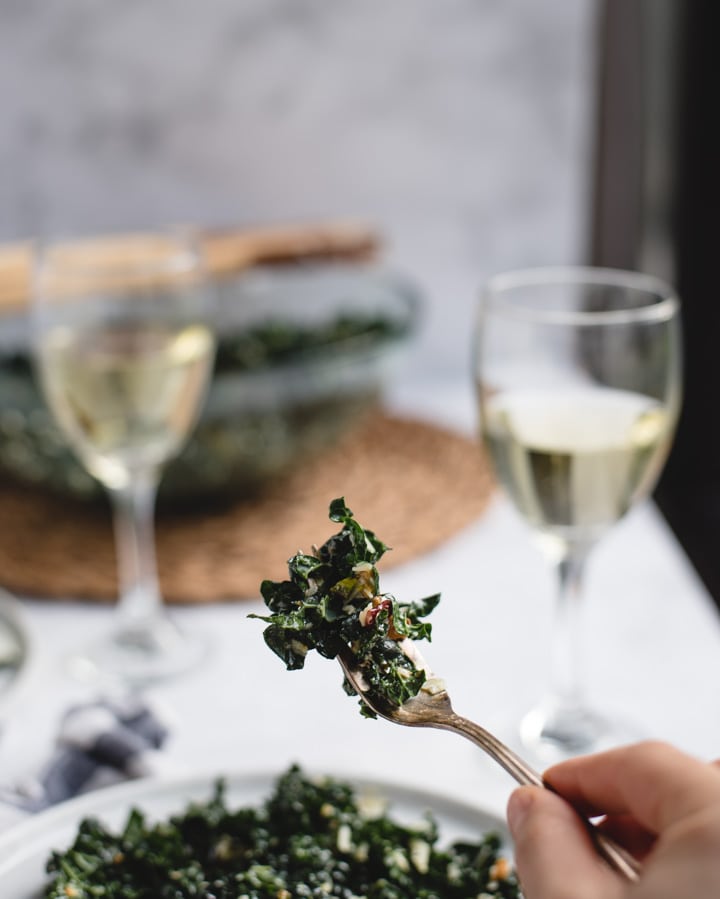 The best lemon kale salad you've ever had! This quick and easy recipe has pistachios, cranberries and parmesan all tossed in a zippy lemon vinaigrette.
Ingredients
Salad
2 bunches kale, center stem removed and remaining leaves chopped into thin strips (I use lacinato kale but any will work)
1/2 cup roasted salted pistachios, roughly chopped
1 cup grated parmesan
1/2 cup dried cranberries
Instructions
Place all dressing ingredients into a jar or container with a tightly sealing lid and shake vigorously to emulsify. Let dressing sit and flavors meld while you prepare salad.

Toss kale, crushed pistachios, parmesan, and dried cranberries together in a large serving bowl.

Shake dressing again and pour over salad. Toss to evenly coat kale. Serve right away or within 20 minutes of salad being tossed in dressing.
Notes
Dressing and salad can be prepared up to a day in advance. Just wait to toss salad in dressing until right before serving. Shake jar with dressing in it before pouring over salad.
Nutrition
Calories: 243kcal | Carbohydrates: 17g | Protein: 10g | Fat: 17g | Saturated Fat: 4g | Cholesterol: 11mg | Sodium: 379mg | Potassium: 445mg | Fiber: 1g | Sugar: 7g | Vitamin A: 6883IU | Vitamin C: 85mg | Calcium: 250mg | Iron: 2mg
Recipe originally published March 5, 2014 but post, recipe and photos have since been updated.