Chocolate peanut butter cupcakes that are outrageously decadent and rich but made healthy with oat flour, honey, banana and coconut cream based frosting.
Yes, you heard me right, I'm sharing healthy cupcakes with you today! What? Cupcakes can be healthy?!?! Hold the phone. Well, these particular cupcakes are healthy as can be. Each one of these filling chocolate peanut butter cupcakes has about 300 calories, only 15 grams of sugar, and over 11 grams of protein. So, umm, yeah, you could call them healthy. For a cupcake at least.
In fact, I ate a cupcake for breakfast three days in a row without a shred of guilt. With all that protein and healthy oat carbs, I stayed full for hours too. We've got to count the victories where we can people. A healthy dessert that can also sub in for breakfast is a win in my books.
I come from a long line of chocolate peanut butter lovers.We all fancy a good Reese's cup and don't even get me started on peanut butter ice cream. Seriously, you'll wish you hadn't.
If you've ever paused at the checkout stand and wondered who on earth actually buys those chocolate peanut butter trees, santas, eggs, pumpkins, and whatever other misshapen holiday goodie the candy gods decide to crank out, wonder no longer. They're made for us.
Me and my clan of unruly siblings spent year after year greedily gobbling those and other chocolate peanut butter treats up like the next one will never come. Although those chocolate filled years were glorious, this addiction has been a hard one to kick, let me tell ya.
I have found ways of combatting it though, that I'd like to share with any other struggling choco-peanut aficionados out there. And why not start with chocolate peanut butter cupcakes? Seems like a good jumping off point to me.
This recipe took a lot of trial and error to get right. Even using my peanut butter muffin recipe as a base, it still took an incredible number of tries to perfect. So many that I lost count. Somewhere between 7 – 100. I am not a newbie to chocolate peanut butter cupcakes, and wanted this healthy version to hold it's own with the big boys.
Aaand not to toot my own horn too loudly, but at this point, I think I've pretty much nailed it. Geez. Took long enough!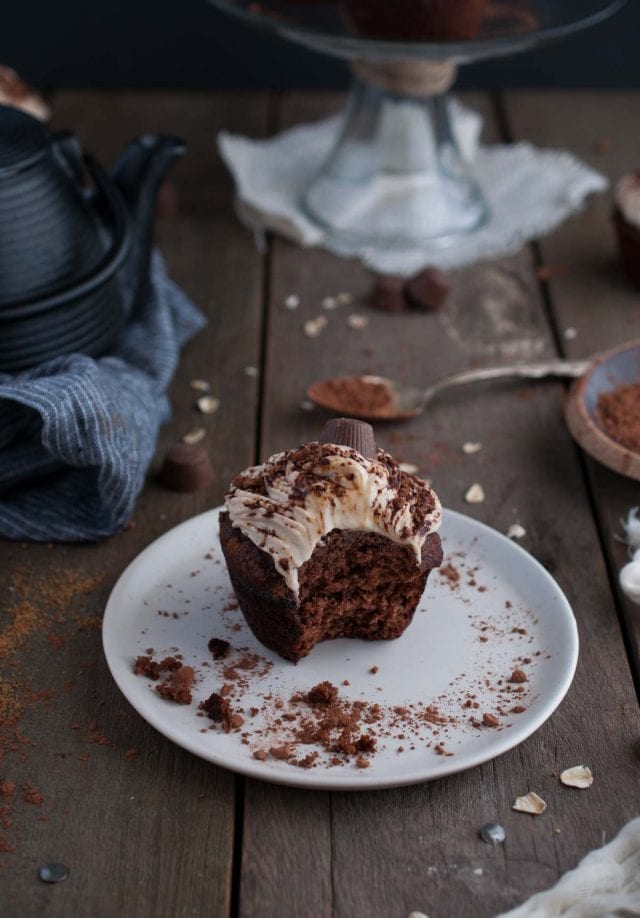 Don't expect these to be super sweet because they're not. For me, they're just the right amount of sweetness though. Not too sweet, but just sweet enough to satisfy my dessert cravings. If you know you prefer stuff like this on the sweeter side, or if you're just in the mood for a full on sugar laden frenzy, you might want to add some coconut sugar to the batter.
You can easily skip the frosting and just call it good at muffins too if you prefer. They're plenty delicious that way too. The second I added this coconut cream peanut butter frosting though, I knew there was no going back. Consider yourself warned. These chocolate peanut butter cupcakes just might be the best healthy dessert I've ever made. Ever.
And for you dairy free folks, just leave the yogurt out and replace it with applesauce. The end result is slightly less moist in my opinion, but still really good. I have a lot of dairy free family members and friends that I'm super excited to share these with.
If you haven't tried coconut whipped cream yet, you're missing out! As always, I'm late in jumping on board with this trend. Better late to the party than not attending at all though in my opinion.
I used coconut cream, which works absolutely fabulously, but you can make it with coconut milk too. The Kitchn has a great tutorial on how to do this, if you want to go that route.
Its easy as can be too. Add coconut cream to a bowl with a touch of maple syrup and a good scoop of peanut butter.
From here, blend until its smooth and creamy, like dis. The problem here is that it'll be soupy and not exactly frosting material. This is where the refrigerator comes in. Chilling makes it the perfect consistency.
As a heads up, you'll have to keep these chocolate peanut butter cupcakes in the refrigerator after icing or the frosting will get melty.
This is a small price to pay though and they'll keep for several days. They're best the first day, but still perfectly delicious on day two and three. I dusted the top with raw sugar and then added a sprinkle of cocoa powder. Sprinkles would hold up far better though I'm sure.
Give this recipe a try and let me know what you think!
If cupcakes aren't your fav, first thing, please call a shrink and make sure your sanity is in tact. Second, maybe check out a few of my other healthy desert recipes, like this chia pudding recipe. Its one of my favorites and I make it several times a month. These truffles are pretty darn delightful as well.
Chocolate peanut butter cupcakes that are outrageously decadent and rich but made healthy with oat flour, honey, banana and coconut cream based frosting.
Ingredients
Cupcakes
1 cup mashed ripe banana (2 extra large or 3 regular, speckled with brown spots)
1 cup creamy natural peanut butter
1/2 cup plain Greek yogurt (or applesauce for dairy free)
1/2 cup honey
2 tsp. vanilla extract
2 eggs
1 3/4 cup oats (use gluten free oats if needed)
1/4 cup plain protein powder (I used whey)
1/3 cup cocoa powder
1 tsp. cinnamon
1/2 tsp. salt
1 tsp. baking soda
1/2 tsp. baking powder
Cooking spray or muffin wrappers
Peanut Butter Coconut Frosting
Instructions
Preheat oven to 350° F (177° C).

Add ingredients for peanut butter icing to a medium bowl and mix with the whisk attachment on a hand mixer. Place bowl in refrigerator while you bake the muffins and let them cool (approximately 1 hour)

Mix mashed banana, peanut butter, honey, vanilla, yogurt and eggs using a hand mixer. Make sure that you use a full cup of mashed banana and measure that first.

Add oats to a food processor and blend to a fine powder. Add protein powder, cocoa powder, cinnamon, salt, baking soda, and baking powder and pulse to combine.

Pour dry ingredients into wet ingredients and mix in with a hand mixer while scraping the sides of the mixing bowl until just mixed together. Do not over mix!

Spray muffin tin with cooking spray or line with muffin wrappers. Spoon batter into prepared muffin tin, filling each cup a little over 3/4 of the way full.

Bake for 15 to 17 minutes until muffins are cooked through. Don't over bake or they will be dry! Test for doneness by inserting a toothpick in the center. Let muffins cool in pan for 10 minutes. Remove and rest on a wire rack for 20 - 30 minutes until cool.

Remove frosting from fridge and stir. Either spread on top of each muffin or use an icing bag to add frosting to each muffin. Store cupcakes in fridge until about 15 minutes before serving to keep the frosting from melting.
Nutrition
Calories: 318kcal | Carbohydrates: 27g | Protein: 10g | Fat: 22g | Saturated Fat: 11g | Cholesterol: 22mg | Sodium: 266mg | Potassium: 369mg | Fiber: 4g | Sugar: 14g | Vitamin A: 40IU | Vitamin C: 1.7mg | Calcium: 43mg | Iron: 1.9mg