Coconut chia pudding that will make you rethink chia seeds altogether! Its so rich and delicious, you won't believe that its made with natural ingredients.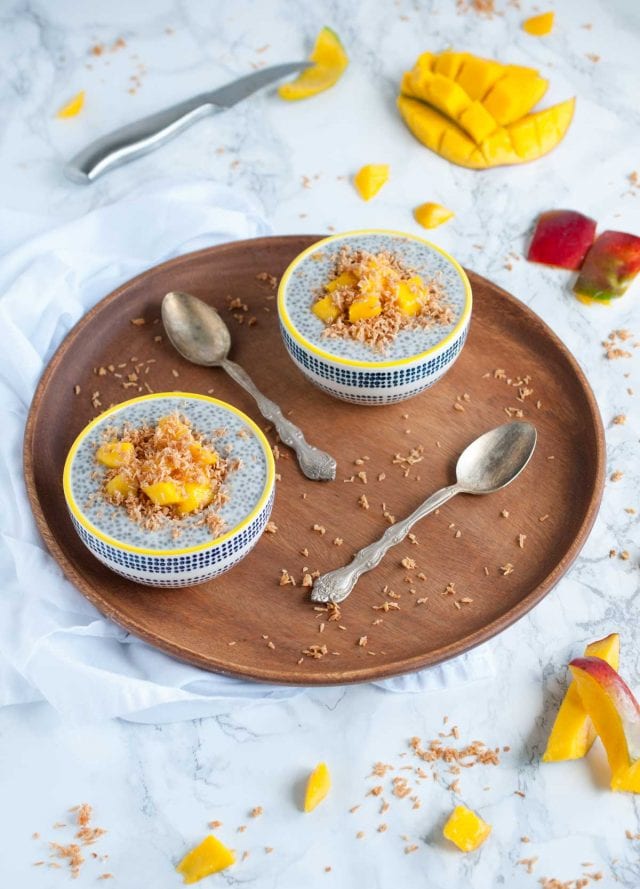 You know you're obsessed with chia pudding when you find yourself making almond chia pudding three times in one week. Yeeeah, I might be in the middle of a hot love affair with this stuff.
I wanted to try making a different type of chia pudding though. The kind that is too decadent and rich for breakfast. The type that taste testers would gobble up and not slap a 'health food' label on. A pudding that you can serve to guests at a dinner party and get rave reviews.
Well, this is that kind of chia pudding.
This coconut chia pudding is a dream come true. It uses thick canned coconut milk to make a pudding so thick and creamy that you'll find yourself savoring every bite like you would a piece of cheesecake or pie. Absolutely DO NOT use cartoned coconut milk and expect to get the same results, because it won't happen.
The Kitchn explains the difference between the types of coconut milk if you want to get a better handle on what to use where. I used light canned coconut milk, which helped make it a little less heavy without sacrificing any texture or flavor. I highly recommend going this route because you don't miss any of the flavor or consistency with this coconut chia pudding recipe. Full fat canned coconut milk is perfectly fine too though.
Before we get too far along, can we take a minute to talk about the toppings though? Wowza!
We've got some winners on this one. You can use whatever fruit you want really, but I think mango is perfect with this dish. I was lucky enough to find perfectly ripe mangos in the store, but, as I've said before, frozen mango works in a pinch too. I just run it under warm water before using to defrost and get all of the frozen water crystals off.
If you live in the tropics and have fresh juicy mangos at your disposal, of course, you don't have to worry about this one bit. For those of us in cooler climates though, mangos are usually chemically ripened and in this case, frozen can be better than the 'fresh' mangos you can find in stores.
Beyond the mango, we've got the best coconut topping you ever did see. This stuff is so good you'll want to sprinkle it on everything you eat forever on. I started with unsweetened shredded coconut. Then, not only is it toasted, but then its tossed in some maple syrup to sweeten it up.
Use the good stuff. Sorry Aunt Jemima, but we've moved on. None of that high fructose corn syrup crap that you get in presweetened coconut and cheap syrup. Just wholesome, toasty coconut with a bit of a crunch and a touch of sugar. It adds the perfect texture and added sweetness to make this a valid contender in the healthy dessert realm.
Speaking of healthy desserts, I've been on a tear lately! Between those cupcakes last week and remaking my chocolate coconut balls, it has been downright tasty around here. Aaaand, today is father's day, so we've got more sweets planned!
My dad is more of a savory guy though so the dessert isn't the focus at our Father's day BBQ. I've got ribs on the smoker and a potluck style lunch happening in T-minus 3 hours. The whole clan is coming over and I can't wait to see everyone. When you have four siblings and oodles of nieces and nephews, family gatherings become quite the affair.
There's normally enough food to feed a small village, half a dozen spilled drinks, hugs, loud chit-chat, and sugar-dosed kids running around doing what kids do best: absolute mayhem.
Its crazy. Its certainly not for the faint of heart. And I wouldn't trade it for anything.
Since I gushed excessively about how cool my dad is last year, I'll leave you with a short and sweet post today. Happy father's day to all of the father's out there and all of the kids who look up to them!
And yes, at 30, I still classify myself as a kiddo. Please don't bother to tell me otherwise.
Coconut chia made from coconut milk, maple syrup, and coconut extract with a tasty toasted coconut topping.
Instructions
Add chia seeds, coconut milk, coconut extract and 2 Tbsp. maple syrup to a medium sized bowl and whisk to mix in and break up any chia clumps.

Place bowl in fridge for at least 2 hours, preferably overnight.

Before serving, toast coconut by spreading out on a baking sheet and placing in an oven preheated to 350° Fahrenheit (177° C) for 5 minutes.

Pour toasted coconut into a small bowl and toss with remaining teaspoon of maple syrup (this can be done ahead of time if desired). 

Divide chia pudding into two bowls and top with diced mango and toasted coconut and serve.
Notes
*If using full fat coconut milk, the chia pudding may become extremely thick. Add 1/4 -  cup of water and whisk to mix in, adding additional water until it reaches your preferred consistency.  You may want to add a little more maple syrup to account for the extra liquid added too.  Chia pudding can be made ahead of time and keeps well in the refrigerator for up to three days. The coconut can be toasted ahead of time as well, but do not add to the chia pudding until just before serving. If pudding becomes too thick over time, add water, a Tablespoon or two at a time and stir until desired consistency is reached.   
Nutrition
Calories: 491kcal | Carbohydrates: 37g | Protein: 5g | Fat: 35g | Saturated Fat: 27g | Sodium: 179mg | Potassium: 319mg | Fiber: 12g | Sugar: 16g | Vitamin A: 125IU | Vitamin C: 2.6mg | Calcium: 156mg | Iron: 2.5mg