Coconut banana bread that is actually healthy! This recipe has whole wheat flour, coconut oil, coconut sugar, and almond milk yet still tastes decadent.
Hello from Italy! Even though I'm away from my own kitchen, I prepped something ahead of time to share with you so that we wouldn't go so long without being in touch. Oh and my friends, this one is a good one. This is THE coconut banana bread recipe.
This recipe has shredded coconut, coconut oil, coconut extract, and coconut sugar. Sooo, needless to say, we're heavy on the coconut on this one.
If you thought you've tried coconut banana bread before that was good, you're going to be blown away by this moist, coconutty loaf. My issue with other recipes I've tried is that the coconut flavor is just never pronounced enough for me. I want to taste the banana and the coconut, not just one or the other.
Well this recipe delivers on both fronts. On top of all of that, its healthy, well, healthy-ish. As far as banana breads go though, its healthy as all get out compared to its quick bread compadres.
Lets talk about that glaze though. Look at that sexy drizzle. If you're avoiding refined sugars, you can certainly skip the glaze. No problem here, its tasty with or without.
If you're open to it though, it really does turn this tasty bread into more of a cake. Most of the glaze drizzles off too so you're really only getting a portion of the sugar that's factored into the nutrition facts. I'm not trying to play devil's advocate here and talk you into something you'll regret, just stating the facts because I want you to try it!
It gets devoured in hours any time I make this recipe.
Before we get too much further, I want to point out the kind of bananas you need to use too. They've gotta be riiiiipe. Like brown speckles everywhere kind of ripe. Not so brown/black that they're rotten, but super soft and lots of brown. I shared my thoughts on this in an old banana bread recipe I shared if you want to see an example.
I intentionally get way more bananas than we'll eat just so that they'll brown out on me and get to be used in this coconut banana bread. If you aren't a coconut fan, I've got a wicked chocolate zucchini banana bread that is pretty epic and a peanut butter banana muffin recipe that is extremely popular around the internet. People love that one.
Here's the loaf again. The next few pictures are going to show you what the glaze does to make this something super special. Bear with me folks…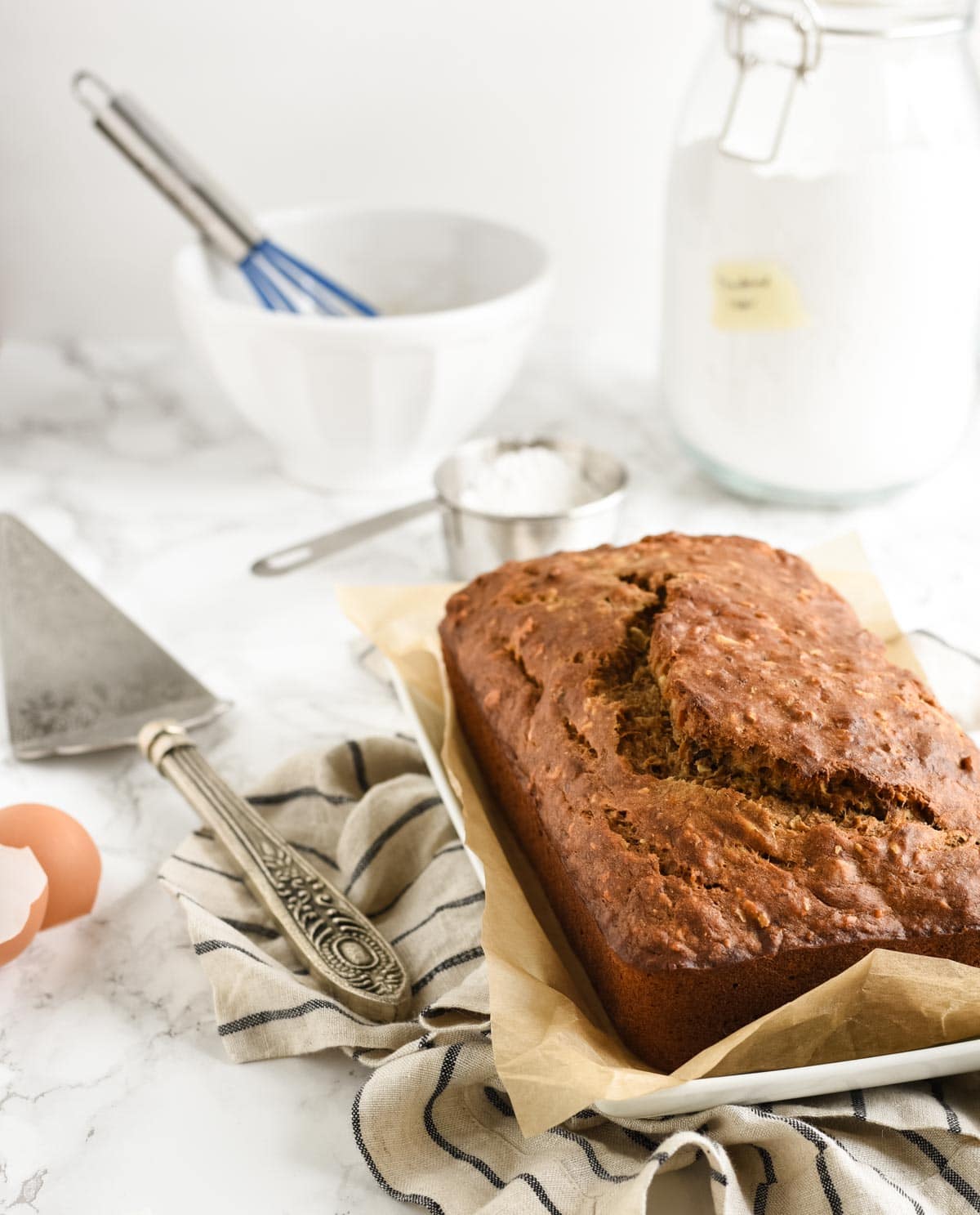 Here the glaze is being daintily drizzled. You can stop here and just leave it with a touch of coconut sugary toping. Or…
You can go crazy and keep on drizzling! Keep on pouring baby. Its a beautiful thing when you go full out drizzle-style. It takes an already good coconut banana bread and turns it into something that causes people to beg for the recipe.
The choice is in your hands, just know that I fully support the full drizzle.
When it comes to slicing, the nutrition facts are based on 16 slices which means they have to be a touch thinner than the ones pictured. I'm not trying to bait and switch here, just wanted to point that out so that you'll be aware in case you're counting calories.
Last awkward picture of my hand too for the day, I promise.
Well, I'm going to get back to enjoying Italy! Much love to one and all.
Coconut banana bread that is actually healthy! This recipe has whole wheat flour, coconut oil, coconut sugar, and almond milk yet still tastes decadent.
Ingredients
Glaze
1/2 cup powdered sugar
1 1/2 Tbsp. unsweetened almond milk (or whichever milk type you prefer)
1/2 tsp. coconut extract
Instructions
Preheat oven to 350° F. Use a paper towel to rub a loaf pan with solid coconut oil to keep bread from sticking. Set aside.


Mix flour, baking soda, baking powder, coconut, cinnamon, and salt together in a medium sized bowl. Set aside.

In a mixing bowl, add mashed banana (or mash directly in bowl). Add melted coconut oil and stir in. Add coconut extract, vanilla extract, and coconut sugar and stir until coconut sugar is dissolved (can use hand mixer instead). Beat in eggs. Add milk and mix in. Stir three times to mix in pecans.


Pour flour mixture into wet mixture gradually while stirring. Stir to mix in but stop when combined. Don't over mix or bread will be dense.


Pour batter into prepared baking pan. Place in center of oven and bake for approximately 45 minutes, until a toothpick inserted into the middle comes out mostly clean.

Remove from oven and let cool in pan for 10 minutes before removing and cooling fully on a wire rack.

Wait until the loaf is fully cooled to top with glaze. To make glaze, combine powdered sugar, 1 Tbsp. of almond milk, and coconut extract in a small bowl and whisk until combined. Add more milk as needed until consistency is thick but still easily pourable.

Drizzle glaze over bread and then let sit for 10 minutes before cutting to allow the glaze to harden somewhat. Slice and serve.
Notes
* To toast pecans, lay in a single layer on a baking sheet. Place in preheated 350 degree oven for 5-6 minutes or 3-4 minutes if nuts are already chopped. For easy clean up, line pan with foil beforehand. 
Nutrition
Calories: 183kcal | Carbohydrates: 23g | Protein: 3g | Fat: 9g | Saturated Fat: 5g | Cholesterol: 20mg | Sodium: 172mg | Potassium: 149mg | Fiber: 2g | Sugar: 10g | Vitamin A: 45IU | Vitamin C: 1.9mg | Calcium: 32mg | Iron: 0.7mg