This chocolate zucchini bread is packed with healthy ingredients like whole wheat flour, flax, oats, banana, zucchini and yogurt – but you can't tell from the rich chocolate taste and dense satisfying texture. This recipe will quickly become your favorite way to eat both zucchini and bananas.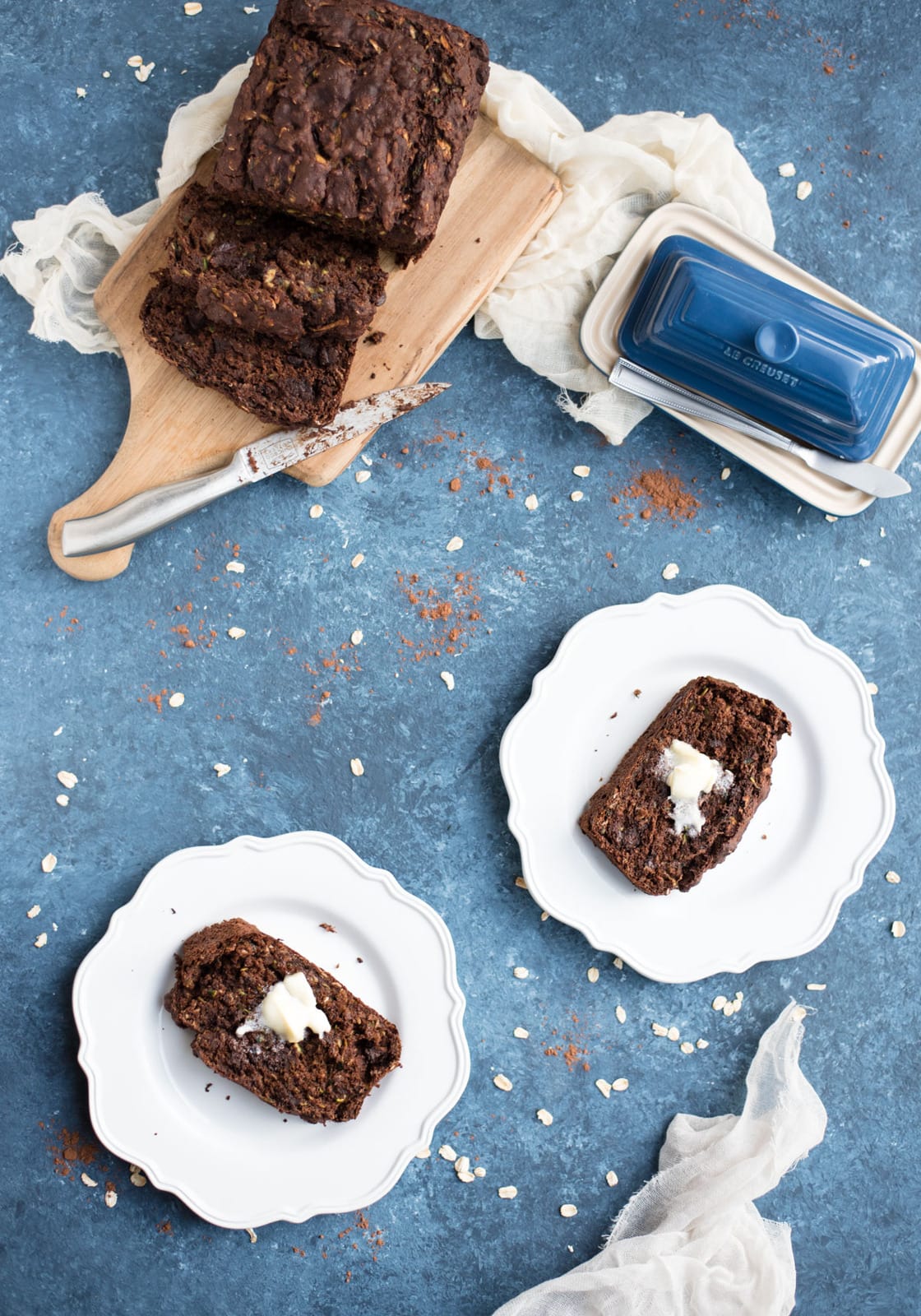 This chocolate zucchini bread recipe was shared back in Feasting Not Fasting's infancy, back in May 2014. Back when the blog was an itty-bitty baby and I had no idea what the hell I was doing. Wait – I still barely know what I'm doing… but at least I've got some practice now!
Although my intentions were pure, many of those early recipes are pretty rough around the edges so I'll be revamping them over time and re-sharing all of the best recipes with you. I plan to make every other recipe an oldie but goodie, re-tested, photographed and shared, but probably won't follow that strictly. Gotta keep you all on your toes. Some of these old recipes are just way to lovely to be stashed away in the archives, never seeing the light of day. Like this chocolate zucchini banana bread- I looove this recipe and you will too!
I've made this chocolate zucchini bread more times than I can count and every single time, my husband and I wolf it down within 24 hours. Its great for breakfasts, snacks, and even a sweet night cap that you don't have to feel too guilty about. It's incredibly popular in my choco-loving house.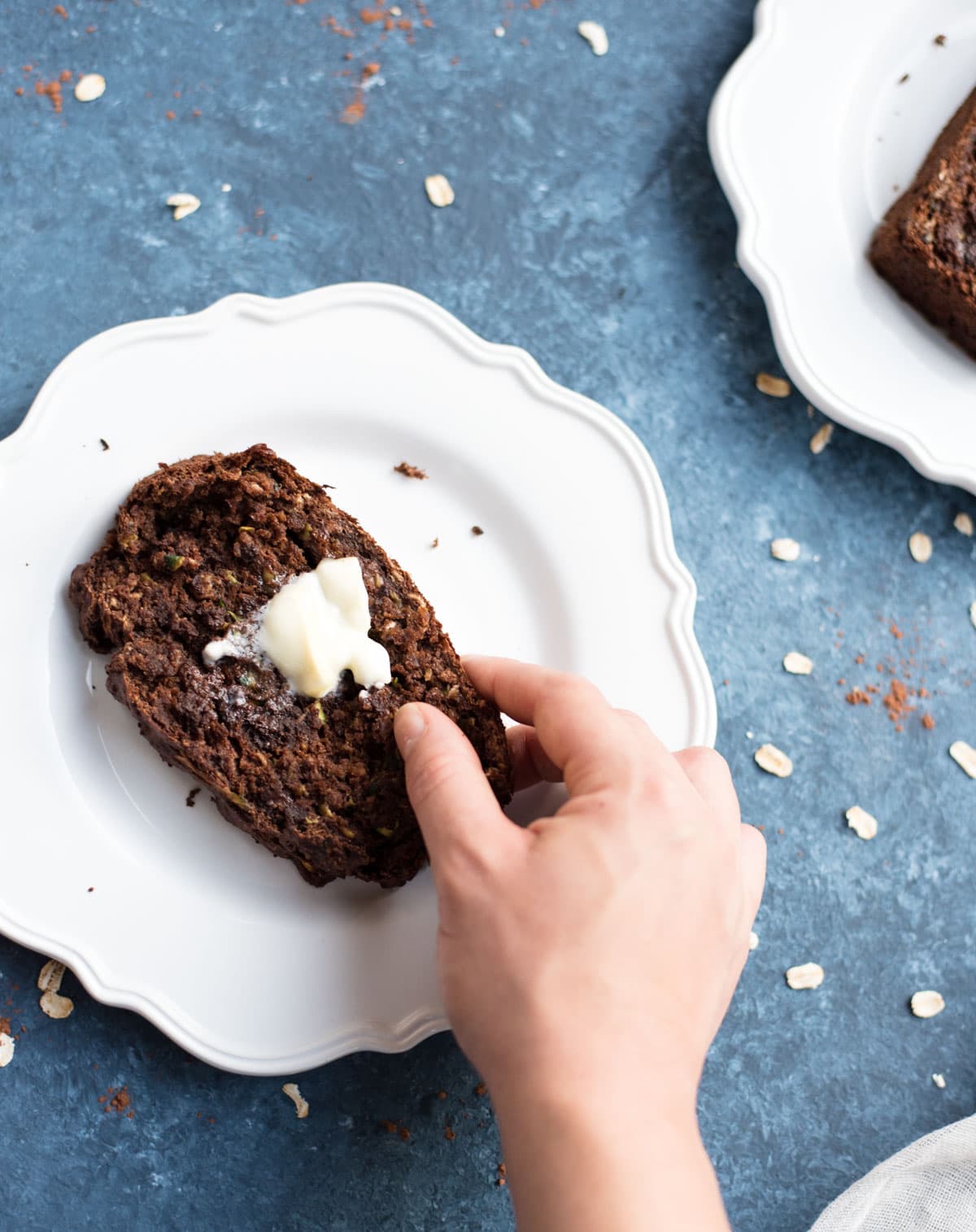 If you haven't had chocolate zucchini bread, this may just be the only way you want to use ripe bananas from here on out. These peanut butter banana muffins are also pretty epic, but *ahem* chocolate is chocolate so this one has more of a dessert like vibe to it, especially with those added chocolate chips. You can skip them, but trust me and just don't. Those little chocolaty pockets are MONEY my friends. They're the reason I wake up in the morning some days. So that I can munch this dessert-like chocolate zucchini bread and still have it count as breakfast. It's a reason to live.
Here's a quick pic of the good stuff. I mean how could you go wrong when your bread is loaded with fruits and veggies? Exactly. Its health food.
Notice how brown those bananas are? If you're a banana bread enthusiast, you already know that this is essential, but for the rest of you, as bananas brown, they become more sugary. To make sure I always have peak banana bread quality bananas on hand, I freeze bananas when they get to this stage (i.e. still yellowish but covered in brown spots). Then, when the banana bread craving hits, I simply pull them out of the freezer and defrost.
This is great for those times where you buy a slew of bananas with the best intentions of eating them all but then they go brown before you even put a dent in them. Please tell me I'm not the only one that this happens to regularly. It's pretty much a given that I have at least one overly browned banana lurking on the counter at any point in time. Its part of my kitchen décor at this point. Helps bring out the brown in my hideous oak kitchen cabinets. Someday we will remodel, but I have a feeling that the brown banana is a permanent fixture 'round here.
I'm not complaining. A good banana bread is worth having a brown banana or two sitting around on the counter. Especially when the recipe is an easy one like this. Here's a play by play of the basic steps. Dry ingredients + wet ingredients + zucchini and chocolate chips and you have yourself some chocolate zucchini bread that will knock your socks off.

Its a thick batter so you'll need a spoon's help to pour it into the pan. This makes for a dense, cake-like bread in the best possible way.
If you have reservations about chocolate zucchini bread on account of the veggies, have no fear. Chocolate overpowers all and the zucchini just adds a bit of texture and nutrition. It provides a legit reason for calling this a healthy snack too so it serves many purposes.
I know I've done some questionable chocolate pairing with my chocolate avocado truffles and beet red velvet cupcakes. Sounds dicey but all of these recipes turned out just fabulously. Make one of them today and treat yourself! Whichever sounds best to you, just do it. You deserve a little chocolate.
This chocolate zucchini bread is packed with healthy ingredients like whole wheat flour, flax, oats, banana, zucchini and yogurt - but you can't tell from the rich chocolate taste and dense satisfying texture. This recipe will quickly become your favorite way to eat both zucchini and bananas.
Ingredients
1 1/2 cups whole wheat flour
1 cup rolled oats (old fashioned oats)
1/4 cup ground flax meal
1/3 cup cocoa powder (unsweetened)
1 1/2 tsp. baking powder
1 1/2 tsp. baking soda
1 1/2 tsp. cinnamon
1/2 tsp. salt
2 eggs
1/2 cup coconut sugar
1/2 cup plain yogurt
3 ripe bananas (mashed)
1 1/2 tsp. vanilla extract
2 cups grated raw zucchini (2 average sized zucchini)
1/2 cup semi-sweet chocolate chips (optional)
coconut oil for greasing pan (can use butter or other oil instead)
Instructions
Preheat oven to 350 degrees F. Grease a bread loaf pan with a thick layer of coconut oil and set aside.

In a medium bowl, mix flour, oats, flax, cocoa powder, baking powder, baking soda, cinnamon, and salt together and set aside.

In a large mixing bowl, mix eggs, sugar, yogurt, banana, and vanilla well using a mixer or by whisking vigorously.

Stir dry ingredients into mixing bowl with wet ingredients and stir to combine (do not over mix).


Use paper towels or a kitchen towel to squeeze excess moisture from zucchini. Add zucchini and chocolate chips to batter and stir to distribute throughout the batter.


Pour batter into pre-greased pan and put pan in center of pre-heated oven. Make sure that the second oven rack is not directly over the pan, as the bread will rise while baking.


Bake for 50 -60 minutes, until a toothpick inserted into the center comes out mostly clean and bread is set. Remove and cool on a wire rack for 10 – 15 minutes in the pan.


Run a knife around the edge of the loaf, flip, and release the loaf from the pan. Let cool completely before slicing and serving.

Nutrition
Calories: 216kcal | Carbohydrates: 36g | Protein: 6g | Fat: 6g | Saturated Fat: 2g | Cholesterol: 29mg | Sodium: 221mg | Potassium: 435mg | Fiber: 5g | Sugar: 12g | Vitamin A: 110IU | Vitamin C: 6.3mg | Calcium: 73mg | Iron: 2.2mg