This chocolate zucchini bread is packed with healthy ingredients like 100% whole wheat flour, oats,  banana, and yogurt – but you can't tell from the taste!
This recipe was one of the few unplanned, "just wing it" experiments that I've had actually work out for the better. I had zucchini, I had ripe bananas, and I was craving chocolate (big surprise there), and decided to throw it all together and see what happens. The first batch far exceeded my expectations, so I made it again. Then again. And then, one more time for good measure.
This chocolatey quick bread is filling, and pretty darn healthy for being able to easily double as a dessert. With how rich, decadent, and cake like this chocolate zucchini bread is, it feels like a sinful treat, but is healthy enough to eat for breakfast.
Have I mentioned lately that we've been busy? Oh, like a dozen times? Hmm… well, I'll keep my comments on that to myself then. On a positive note, our little home improvement projects are almost finished and I can't wait for life to get back to normal. My big undertaking was the room we've been referring to as "the crap room" pretty much since we bought the house four years ago. Its a weird little loft room with low ceilings that has slowly gotten filed with kick-knacks, boxes, holiday decor, and other random crap (hence the name). Well, there's more to the name actually, but the other incident that earned the room that lowly title involves our sneaky little dog and I don't want to relive that memory long enough to put into words. Trust me, you don't want to hear about the little surprises he left us after the move in.
Anyways. Needless to say, the room doesn't get much use. The problem is that its pretty much our only guest room and I'm sick of doing a mad scramble before guests arrive so that we can pretend we aren't hoarders for a brief amount of time. It was more than time for a change. After a few productive weekends, most of the heavy lifting is done on that project (hurray!) and I finally got time to do some tidying up on the blog yesterday. My WordPress skills are pretty limited so it took me a while, but the site is getting more functional piece by piece. Progress is being made at a slower than slow rate, but regardless of how long its taking to pull everything together, I'm still absolutely loving this new found hobby. It has really been pushing me to make new foods, learn new skills, and play with our fancy camera more.
Its just so refreshing being able to learn something that isn't work related. Don't get me wrong, analytics is fun and all (I kid, really I do), but its nice to have a little creative outlet that doesn't involve complex algorithms, statistical modeling, and managing a bazillion customer needs on an ongoing basis. So, cooking and baking has really become a stress minimizing way to relax more than ever lately. Not to mention that having an end result of chocolate zucchini bread makes baking pretty much the best hobby ever.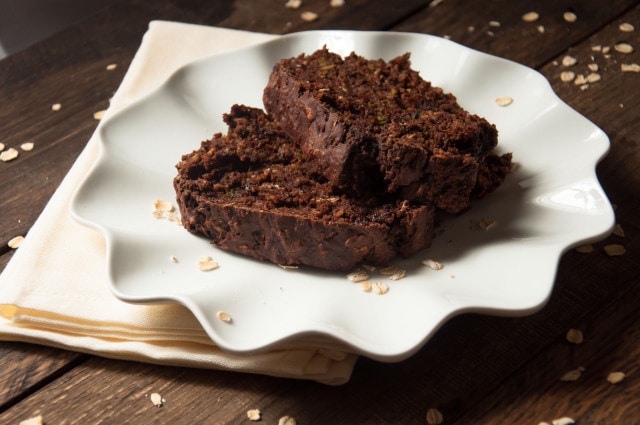 Chocolate Zucchini Bread
This chocolate zucchini bread is packed with healthy ingredients like 100% whole wheat flour, oats, banana, and yogurt - but you can't tell from the taste!
Ingredients
1½ cups whole wheat flour
1 cup rolled, old fashioned oats
¼ cup ground flax meal
⅓ cup cocoa powder, unsweetened
1½ tsp. baking powder
1½ tsp. baking soda
1½ tsp. cinnamon
½ tsp. salt
2 eggs
½ cup sugar
2 Tbsp. coconut oil, melted (plus additional for greasing pan)
½ cup plain yogurt
3 ripe bananas, mashed
1½ tsp. vanilla extract
2 cups grated raw zucchini
½ cup semi-sweet chocolate chips (optional)
Instructions
Preheat oven to 350 degrees F. Grease a bread loaf pan with coconut oil and set aside.
In a large bowl, mix all wet ingredients well using a stand or hand mixer. Make sure not to add eggs directly into melted coconut butter. Add sugar and mix well.
In another bowl, mix dry ingredients together, excluding zucchini and chocolate chips. Combine dry and wet ingredients and stir to combine (do not over mix). Add zucchini and chocolate chips and stir to distribute.
Pour batter into pre-greased pan and put pan in center of pre-heated oven. Make sure that the second oven rack is not directly over the pan, as the bread will rise while baking.