Delicious cucumber salad is loaded with orzo, red pepper, and kalamata olives tossed in a refreshing lemon dill dressing.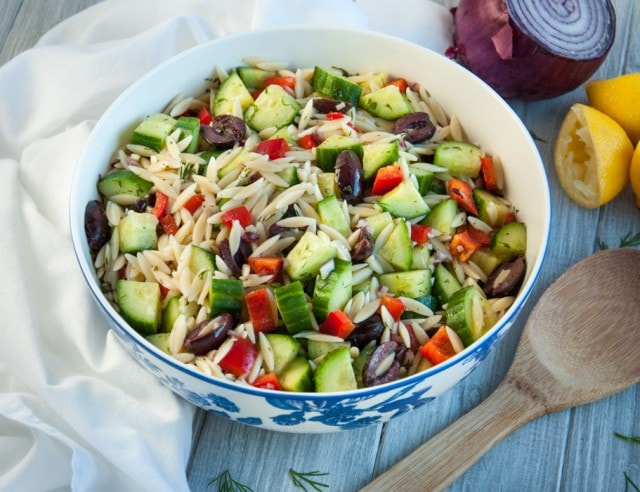 I've got a new recipe for you… and it tastes like pickles! If you're not a dill fan, you may want to pass on this one, but for the rest of you pickle fiends that embrace the world of lemon, dill, and briney goodness, please read on. This recipe is a hodgepodge between pasta and cucumber salad and goes best as a side for fish or chicken where the flavors can really complement the main course.
Even though its technically a pasta salad, you can use whole wheat orzo to add a little more nutritional value, plus, this salad is loaded with veggies. Altogether its probably about 30% cucumber (hence the pickle flavor). If you haven't heard the news about cucumbers yet, they're extremely low in calories, which (I think) pretty much makes up for the orzo. To put it in perspective, a whole cup of chopped cucumber is only about 15 calories. You can't even get a few crumbs of a cookie without dipping over that 15 calorie mark. Yup, I'm on team cucumber.
Feta is a welcome addition to this salad, but I left it out of the recipe for all of the vegan and dairy free folks out there. Its totally fine without it. Its especially good if you make it the night before so that the flavors have some time to mellow out and meld together.
I made this cucumber salad recipe with my husband in mind since he is a bonafide pickle lover. When we first started dating, I was a little shocked by the extent of his pickle love. The guy had an entire shelf in the fridge filled with pickled goods – mushrooms, tomatoes, asparagus, you name it. I decided to embrace it and signed him up for a 'pickle of the month' club to further expand our pickle collection. Please don't judge us…
Then, slowly, the pickled items started dwindling and now, we're lucky to have even one jar of pickles in the fridge at any given time. I'm not sure what caused our household pickle consumption to decline, but this cucumber salad has gotten me ready for a pickle revival. Bring on dem pickles.
Delicious cucumber salad is loaded with orzo, red pepper, and kalamata olives tossed in a refreshing lemon dill dressing.
Ingredients
2 large English Cucumbers (or 3 -4 regular cucumbers, quartered long-ways and then cut into 1/4 inch pieces)
1 red pepper (seeded and diced)
1 cup uncooked orzo (can use whole wheat or gluten free)
1/4 cup finely chopped red onion
1/2 cup halved kalamata olives
Instructions
Cook orzo al dente per package instructions. Drain but DO NOT rinse with cold water.

Stir cucumbers, red pepper, onion, and kalamata olives into orzo.

Add all dressing ingredients into a small container with a lid and shake to mix thoroughly. Pour dressing into bowl with orzo and vegetables and toss to combine.

Refrigerate salad for at least 3 - 4 hours, preferably overnight.
Nutrition
Calories: 137kcal | Carbohydrates: 20g | Protein: 3g | Fat: 5g | Saturated Fat: 1g | Sodium: 203mg | Potassium: 217mg | Fiber: 2g | Sugar: 3g | Vitamin A: 790IU | Vitamin C: 26.2mg | Calcium: 26mg | Iron: 0.7mg