Dark chocolate pomegranate bites are a simple tasty treat to eat or give as Christmas gifts. Made to satisfy a sweet tooth for under 100 calories!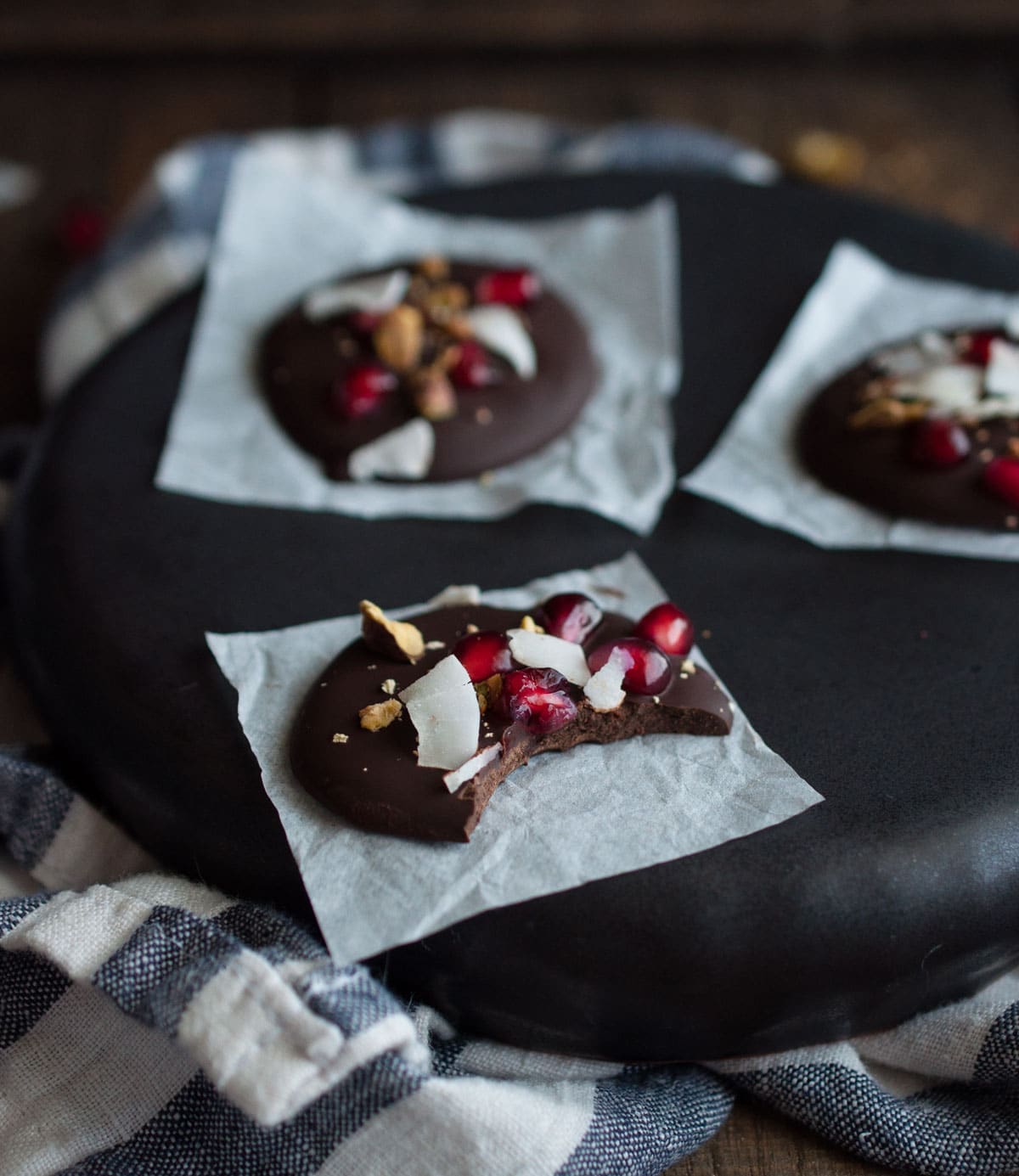 With Christmas right around the corner, its about time for an all out winter sugar fest. Am I right or am I right? These dark chocolate pomegranate bites are exactly what you need to round out the holiday season. A sweet base with a touch of tart and an underlying nuttiness that brings it all together.
These little morsels are what your cookie platters are lacking ladies and gents. Say goodbye to boring holiday sweets and jazz things up forevermore with the simplest recipe in the world. Its so easy in fact that its barely even a recipe. You pretty much just melt chocolate and then sprinkle some goodies on top and call it a day. Done in a matter of minutes.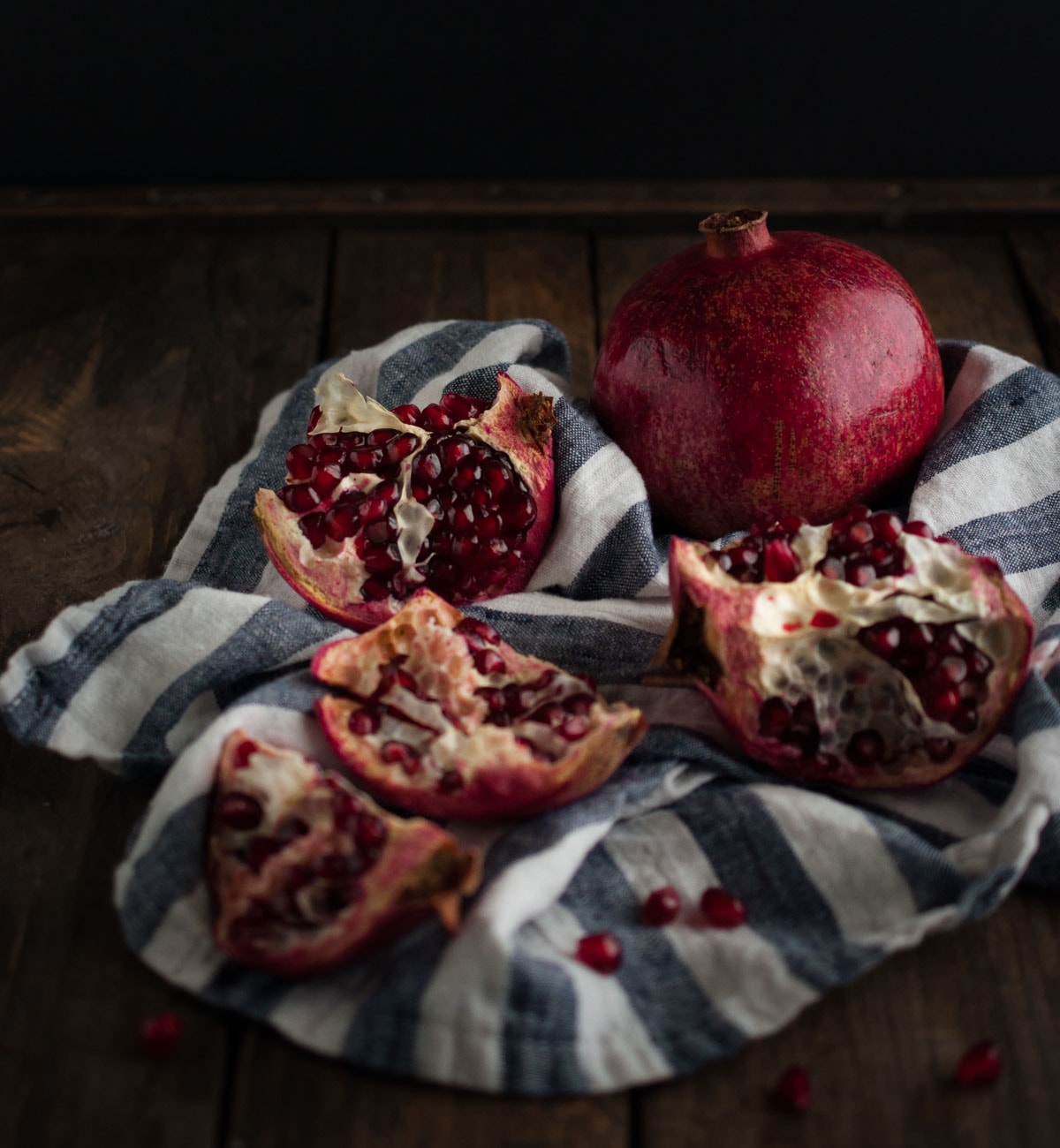 These dark chocolate pomegranate bites have become a go-to treat around here. Beings that they are basically just straight chocolate with a few enhancements, they certainly aren't a low-cal snack.
That being said, one of these is about 90 calories so if you're looking for a portion controlled chocolate that isn't full of high fructose corn syrup or other junk, we've got you covered.
If you can get away with just eating one that is. I have not been able to accomplish that myself, but I have high hopes for you.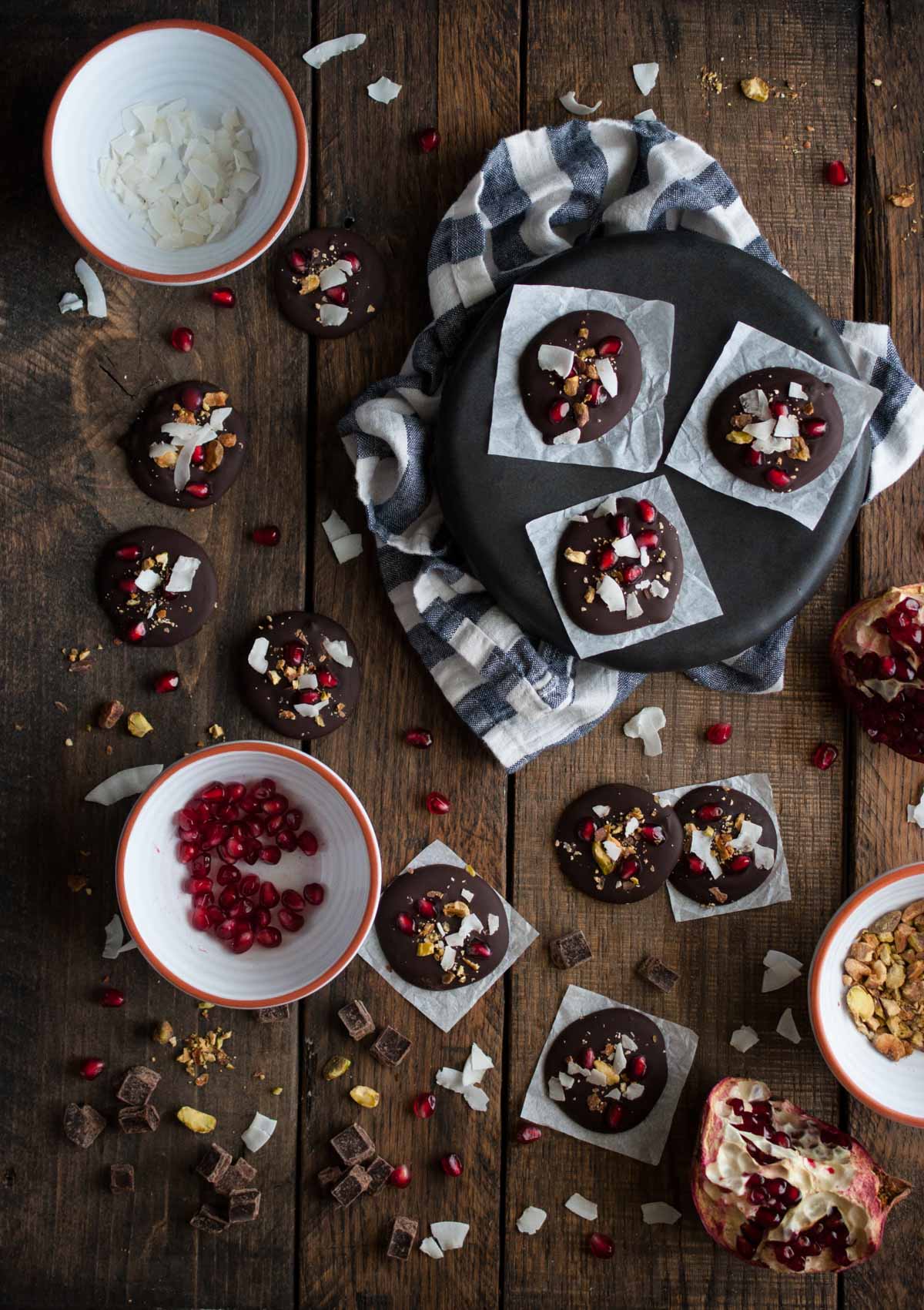 I don't know what it is about this season that makes me crave sweets like a rabid fruit bat but its hitting me hard this year! And even more so with the snowy weather we've been having.
For those of you who aren't familiar with Portland, it really doesn't snow much here. When it does snow, we have a mass shut down of the city. A few snowflakes and school is cancelled and highways shut down. I kid you not, I-5 was a parking lot Wednesday night. People abandoned their cars in the middle of the freeway and started walking. There were pileups at the bottom of every hill. I witnessed eight accidents happen right in front of me. Kids were stranded at school overnight because the buses and/or their parents couldn't make it in to pick them up. Its a real shit show.
As an Alaska native it seems downright absurd, but after living here for over a decade, I've come to realize that this city and its inhabitants are not built for snow. They just can't hang.
To put it in perspective for you, it took me two and a half hours to do a commute that normally takes thirty minutes. It took every bit of side-street maneuvering I had in me to make it home at all.
Snowmageddon strikes Portland again and shows no mercy.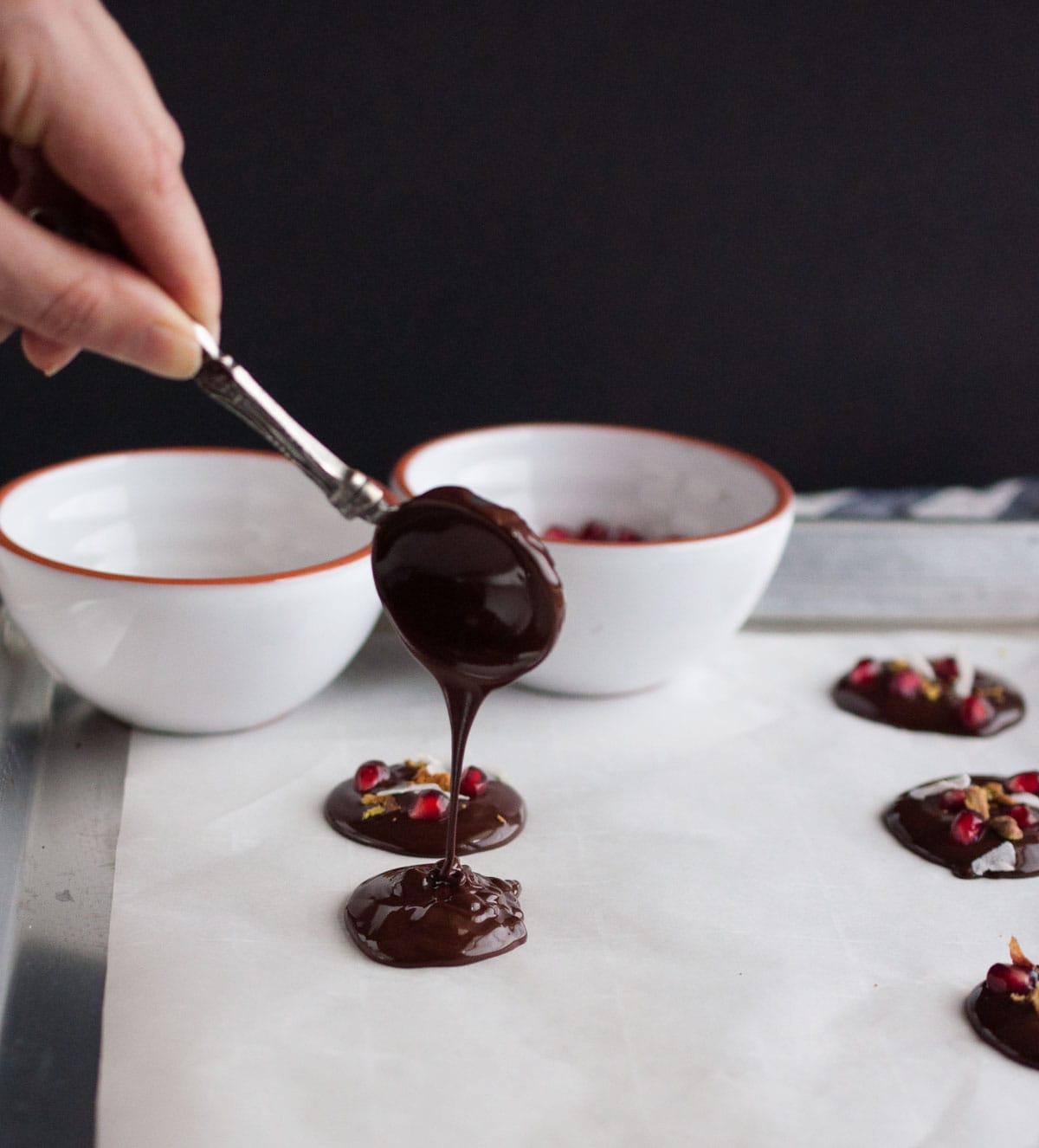 Soooo with all that craziness, here I was trapped in doors with time on my hands craving sweets like no other. I had a pomegranate and some pantry staples on hand and within 20 minutes, magic had happened.
Normally I'm not a fruit and chocolate kind of girl, but I've been warming up to it. These dark chocolate pomegranate bites are perfect for anyone that is on the fence about this combo. They're like your gateway into fruity chocolates.
And by no means am I recommending that you dive face first into mystery boxes of fruit flavored chocolates after this. Those little boxes of disgustingness are not for the faint of heart and I wouldn't wish them on anyone, especially not you.
But, if you're opposed to the whole idea of fruit and chocolate together like I was, these dark chocolate pomegranate bites might be just the thing to open your eyes up to the possibilities.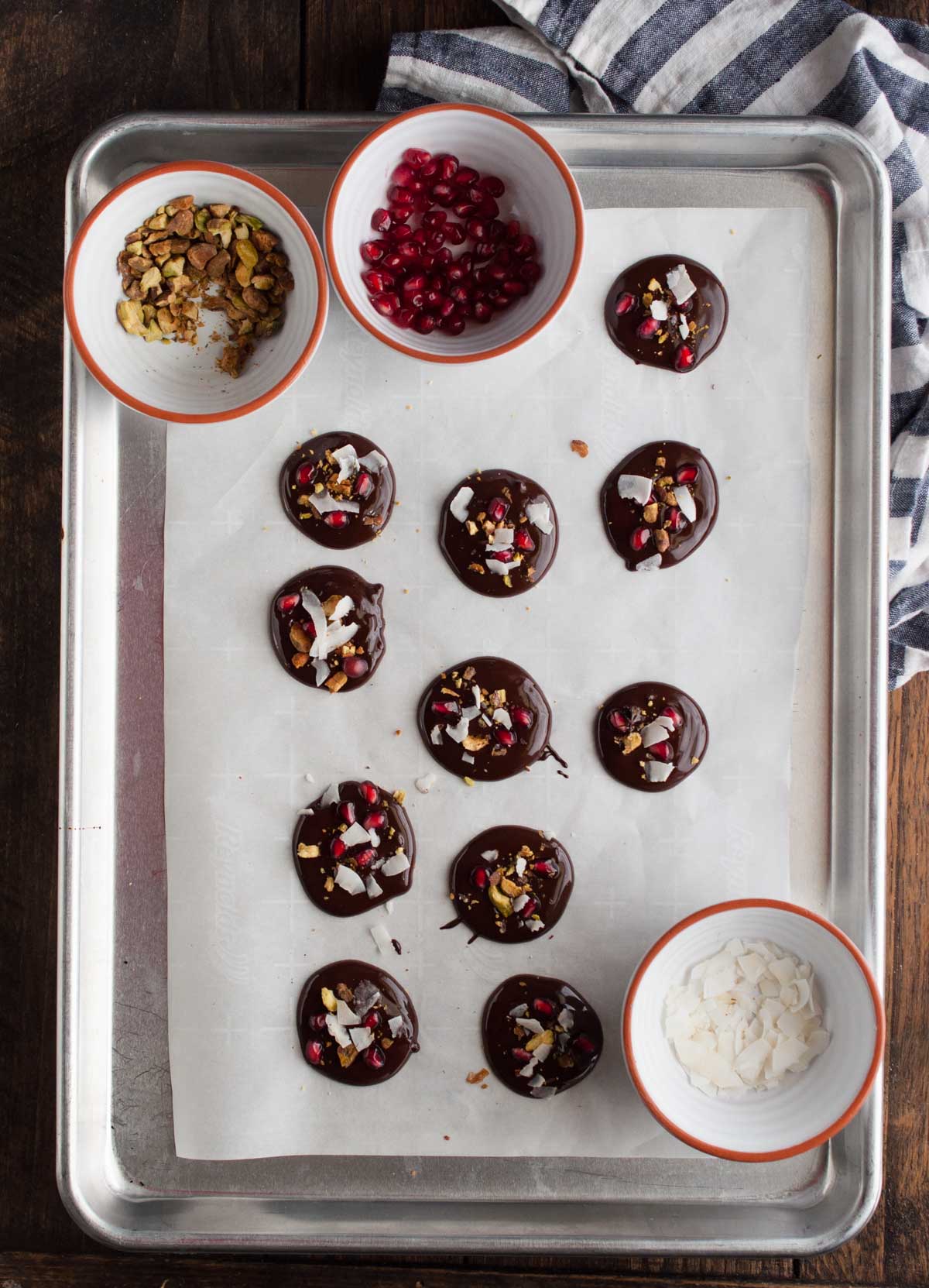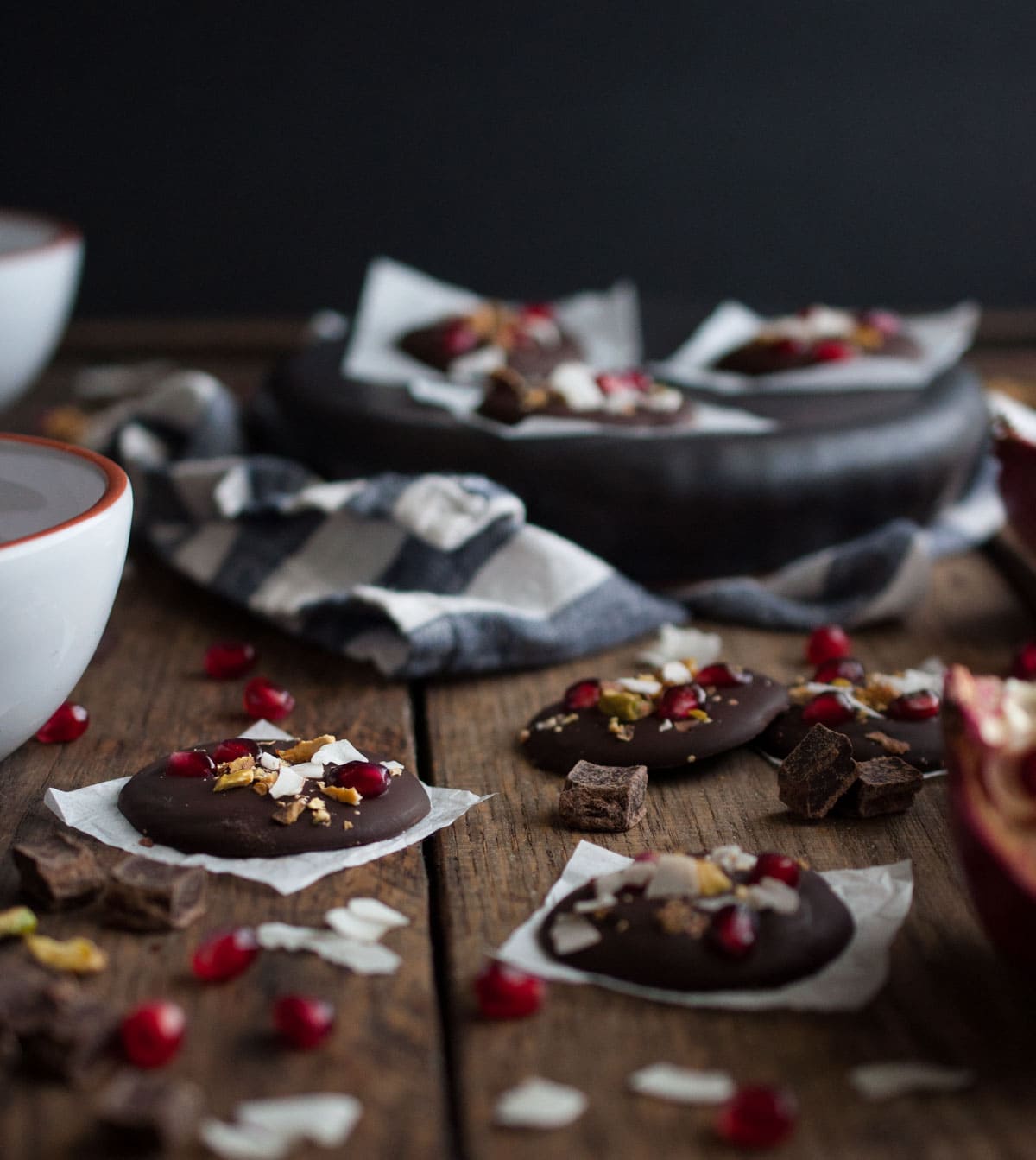 The recipe is written for a very small batch since its just my husband and I munching these down. I recommend doubling it though if you're planning on sharing at all. They go fast and you'll wish you'd made more. Trust me on this one.
The first time I made these, we downed them in two days… yes, there are still only two of us. If you're not a heathen and they can last longer in your house, keep them in the fridge so the chocolate will stay hard and the pomegranate will stay fresh.
I used 67% cacao chocolate chunks from Whole Foods 365 brand but any good dark chocolate will do. This bag of chocolate from Amazon looks like a good bulk option. As long as the chocolate tastes good on its own, it will taste good in this.
If you're still on the fence about the fruit/chocolate combo but want something nutty, try my holiday spiced pecans or cocoa dusted almonds. Or if you want to go the candy route, I have a chocolate coconut ball and an avocado chocolate truffle recipe that are pretty spectacular. As far as standard christmas cookies go, these coconut flour shortbread cookies are a tasty twist on the classic.
Regardless of your sweet choice, treat yourself to something this season. Santa would want it that way.
Dark chocolate pomegranate bites are a simple tasty treat to eat or give as Christmas gifts. Made to satisfy a sweet tooth for under 100 calories!
Ingredients
2 cups chocolate chunks (65 – 85% cacao)
1/4 cup pomegranate arils
1/4 cup roasted salted pistachios, lightly crushed
1/4 cup shredded unsweetened coconut or coconut flakes
Instructions
Lay a piece of wax or parchment paper down on a baking sheet.

Slowly heat chocolate in a double boiler on the stovetop over low heat, stirring often.*

When chocolate is fully melted, use a tablespoon to scoop up chocolate and drop onto lined baking sheet to create round chocolate circles.

While chocolate is still warm, sprinkle pomegranate arils, pistachio, and coconut on top. Repeat until all ingredients are gone.

Let the chocolates cool for about an hour until set. Store in the refrigerator for up to a week.
Notes
*If you don't have a double boiler, place a rimmed bowl into a saucepan that has an inch or two of water in it so that the bottom of the bowl is a few inches above the water. Heat chocolate in the bowl.
Nutrition
Calories: 97kcal | Carbohydrates: 8g | Protein: 1g | Fat: 6g | Saturated Fat: 3g | Sodium: 1mg | Potassium: 102mg | Fiber: 1g | Sugar: 5g | Vitamin A: 10IU | Vitamin C: 0.2mg | Calcium: 10mg | Iron: 1mg