Rosemary grapefruit mocktail / spritzer that's perfectly refreshing on warm summer days where water just doesn't cut it! You can easily make this a cocktail by adding vodka or gin too!
I like booze. There I said it. I'm a grown adult and can enjoy a good cocktail, glass of wine, beer, whatever libation strikes my mood really. Buttt – being pregnant last year really turned me onto the world of mocktails. I really wanted to feel like my normal self when we had friends over for dinner and drinks so, I started making myself alcohol free concoctions like this one.
I experimented with all kinds of juices and mixtures but kept coming back to this for its interesting mix of flavors, low calories, and overall refreshing taste. Cardamom and salt really pull through in making this a taste tantalizing beverage that feels like an indulgent cocktail.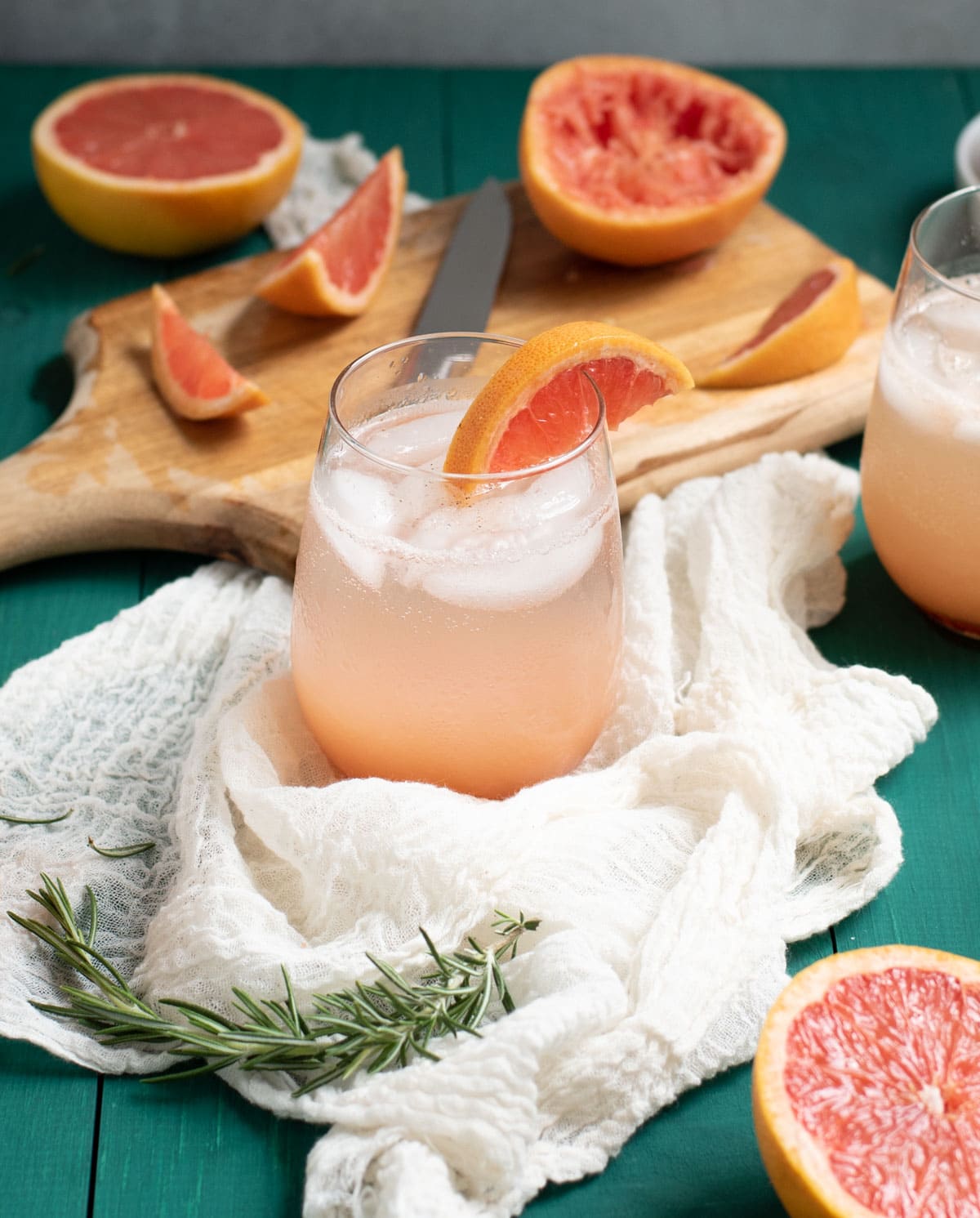 I'm not normally one to count calories (especially pregnant!), but I like putting back liquids, booze-free or not, and having them be on the lighter side just means I can drink more of them. While counting calories regularly is no way to live in my opinion, it can be enlightening to actually look at the calorie load in what you're eating/drinking.
If you've never done this before, I'm sure you'll be surprised more than once by the calories in some of your favorites. It just makes you more aware so that you can start making more conscious decisions about what you choose to eat and drink. I did this with the MyFitnessPal app on my phone years ago and was astounded at how many calories I was drinking each day. I don't even drink soda and somehow drinks and smoothies were a big chunk of my daily calorie intake. This is when I started making an effort to add protein to my smoothies so they could really serve as a meal and cut back on juices. I also started really enjoying the heavy foods I was eating more since I knew how much of a treat and splurge they were.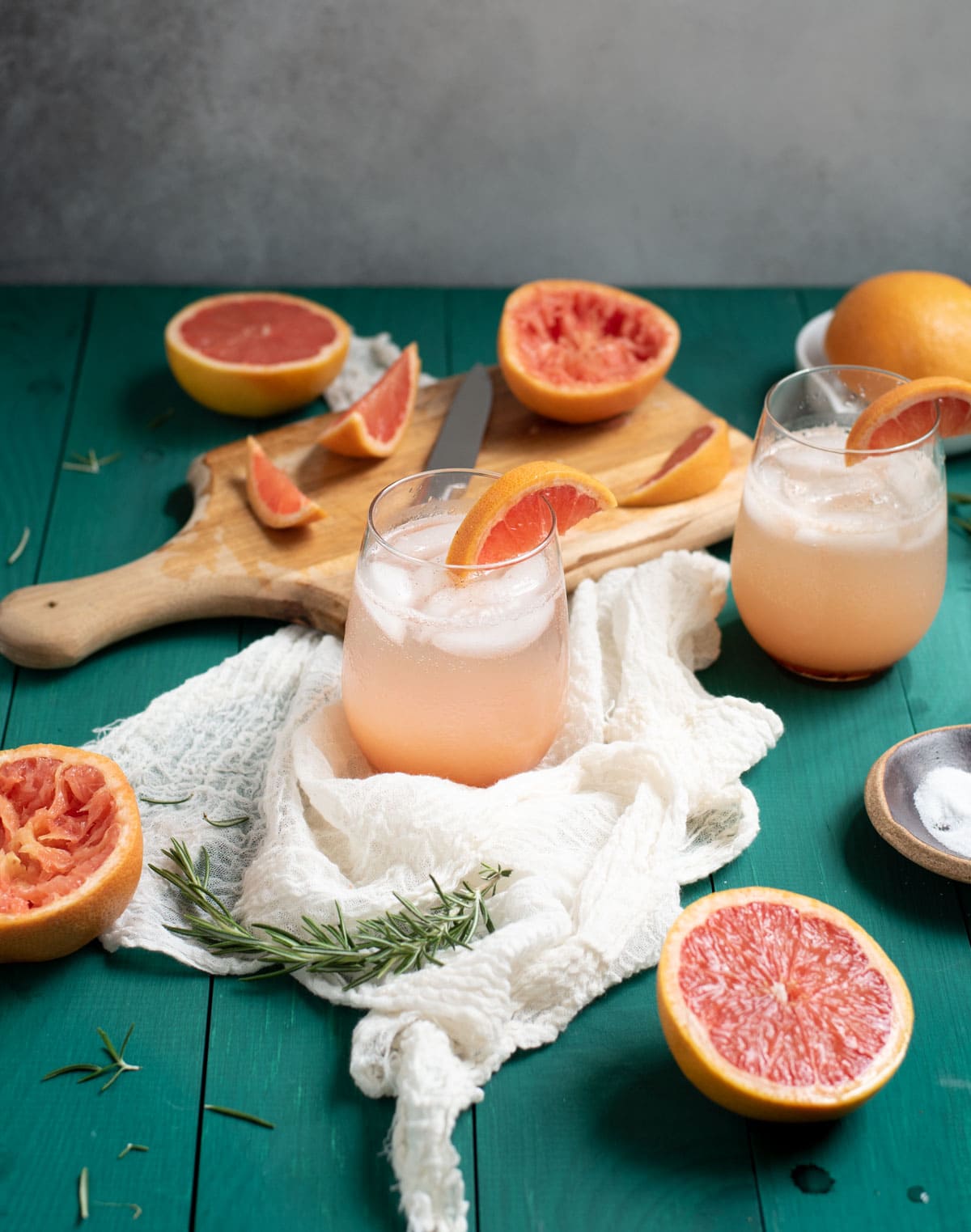 Anyhoo, I didn't start this post intending to go on a calorie tangent so I'll get back to the grapefruit mocktails at hand. While its true, they're low in calories, tasty, and refreshing, with the perfect tart to sweet ratio – they're also super easy to make.
No shaker or drink strainer needed and you don't even really need to measure as you start dumping things into your glass. you won't get any rewards for preciseness here since the drink is truly pretty forgiving.
As I shared on my instagram stories, my sweet little babe kept interrupting this photoshoot for snuggles. I didn't realize until much later that I forgot to put both the rosemary sprig and the straws into these drinks before snapping a few pics! My palm may have smacked my forehead a few times on that one. Sorry for the slip because these items are necessary.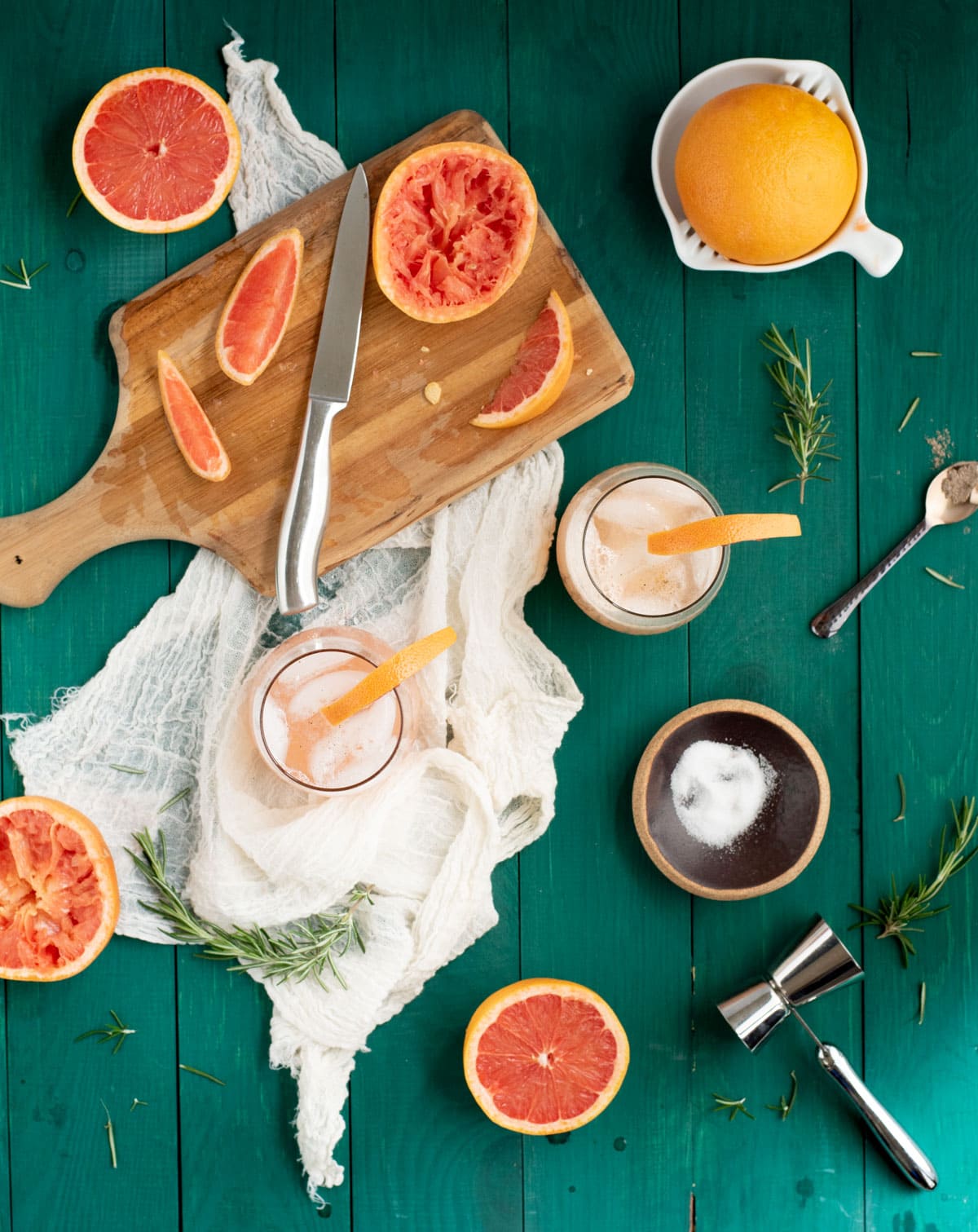 Why the rosemary? Well, you can certainly leave it out, no harm no foul, but it adds an earthy, herbal twist to an otherwise already delightful cocktail that I really enjoy.
The stir stick or straw is needed because the agave syrup will settle as you sip and you'll need to mix it back in a few times. This is the price you pay for not having to use a cocktail shaker and strainer my friends. Less dishes = the need to stir your drink. But, a straw does the trick and doubles as, well, a straw, so you're serving two purposes if you go that route.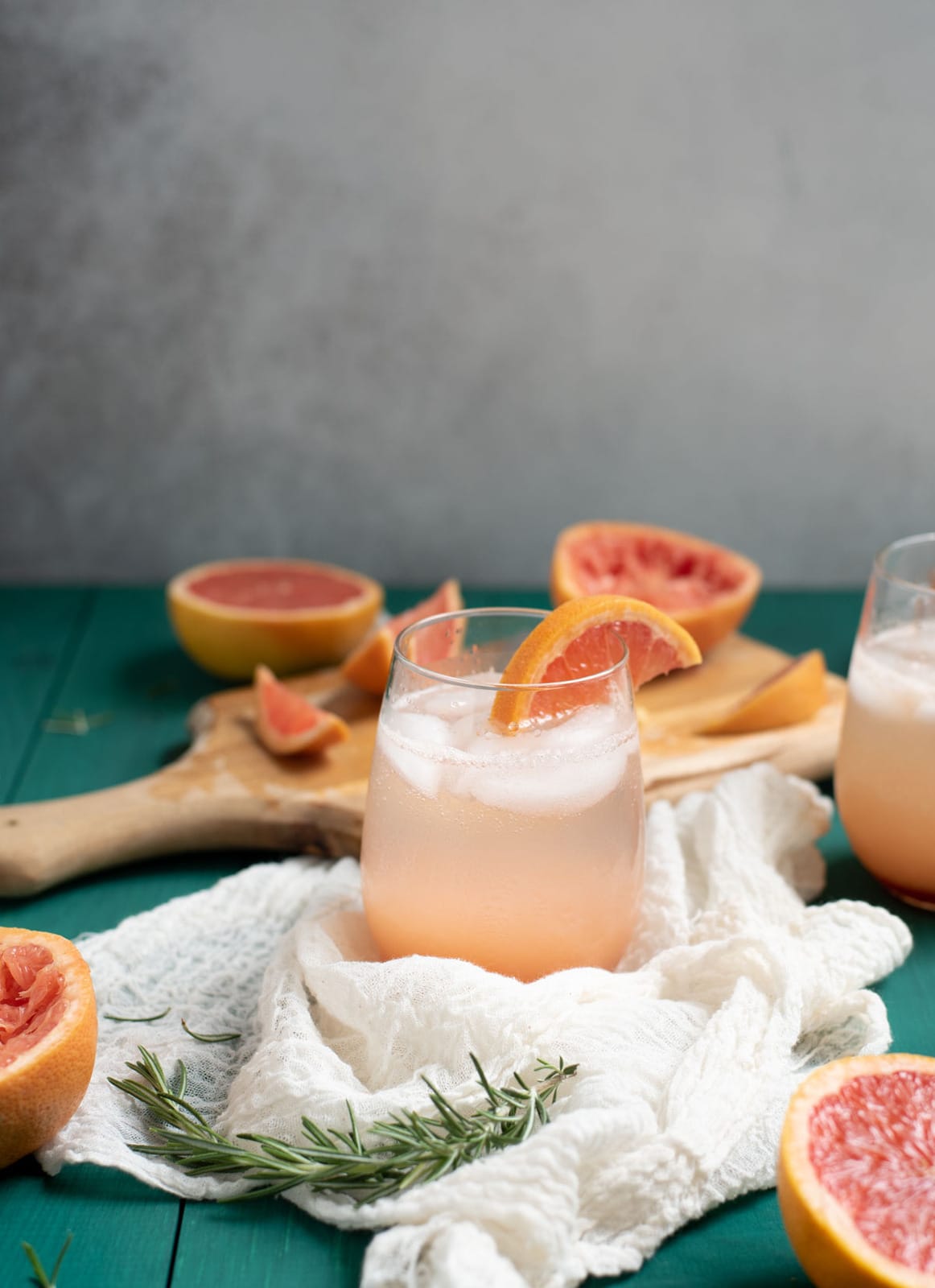 And the one ingredient of this rosemary grapefruit mocktail that we haven't touched on… the grapefruit! Grapefruit is full of vitamin C and other immunity boosting macronutrients. You might think you've survived the cold and flu season intact, but summer colds are no joke! And who wants to be stuck sniffling in the heat? Not I.
Research has found tons of other benefits from grapefruit too that make this a super food whether its been given that hokey title or not.
Also, we haven't really talked about the liquid that rounds out this grapefruit mocktail. I know everyone and their mom is drinking Le Croix these days, but there are tons of brands making sparkling water drinks that are absolutely wonderful! They're completely calorie free and just as beneficial as drinking water.
I got my sparkling water fetish in Italy last summer. I used to always ask for still water and then decided to try the bubbles one time and never looked back. I am a water pounding fiend and still love my plain 'ol water, but its fun to switch it up from time to time. There's something about those bubbles that just feels like a treat.
While this is technically a grapefruit mocktail recipe, as with most non-alcoholic drinks, you can add vodka or your liquor of choice to this drink to spice things up. I certainly won't judge you one bit for it. I think we can all agree that some days call for something a touch stronger.
Rosemary grapefruit mocktail / spritzer that's perfectly refreshing on warm summer days where water just doesn't cut it! You can easily make this a cocktail by adding vodka or gin too!
Ingredients
4 oz. fresh squeezed grapefruit juice (about 1 grapefruit)
1/4 - 1/2 oz. agave nectar (1/2 - 1 Tbsp.)
2-4 oz. sparkling water (citrus flavor preferred but any kind is fine)
tiny pinch of cardamom
tiny pinch of sea salt
sprig of rosemary
ice cubes
Instructions
Add ice cubes to a medium-sized glass.

Pour grapefruit juice, agave nectar, and sparkling water in over ice cubes.

Add cardamom and salt (a literal tiny pinch, not a baker's pinch!) and stir to dissolve agave nectar and mix spices in.

Add rosemary sprig, garnish with a slice of grapefruit if desired, and serve right away. Recipe can easily be multiplied to make multiple drinks or even a pitcher full.
Notes
*Nutrition facts are based on using 1/2 Tbsp. agave nectar. 
Nutrition
Calories: 52kcal | Carbohydrates: 12g | Sodium: 2mg | Potassium: 183mg | Sugar: 12g | Vitamin C: 30.5mg | Iron: 0.5mg