Teriyaki noodles made quick and easy in just 20 minutes with sweet homemade teriyaki sauce, veggies, green onions, and sesame seeds. You can use ramen noodles, udon noodles or even just spaghetti in this vegan friendly easy meal!
This teriyaki noodles recipe is a family favorite dish that's loaded with sweet and savory flavors. It's an Asian-inspired meal perfect for busy nights since it's ready in just 20 minutes! This easy dinner can also be eaten as a noodle bowl main dish or side dish for teriyaki chicken skewers or teriyaki salmon.
Quick and Easy Teriyaki Noodles Recipe
I love noodle-based Italian recipes like spaghetti, and I can never say no to a bowl of roasted vegetable pasta. However, I have to admit that I have a particular weakness for Asian-inspired meals, and I'm guilty of ordering takeout when life gets busy.
However, that habit isn't exactly great for my wallet or my waistline. So, I do my best to recreate the umami flavors of Asian cuisine with quick options like my miso noodles and this tasty teriyaki noodles recipe. Honestly, I think I hit the nail on the head! It's so slurpable and delicious!
Made with a homemade teriyaki sauce and healthy veggies, these teriyaki noodles are sweet, savory, and flavored with just a hint of spice. Cooked to tender perfection, they come together in a single pot and are ready in minutes for an easy meal that's sure to become a family favorite and make your tastebuds sing.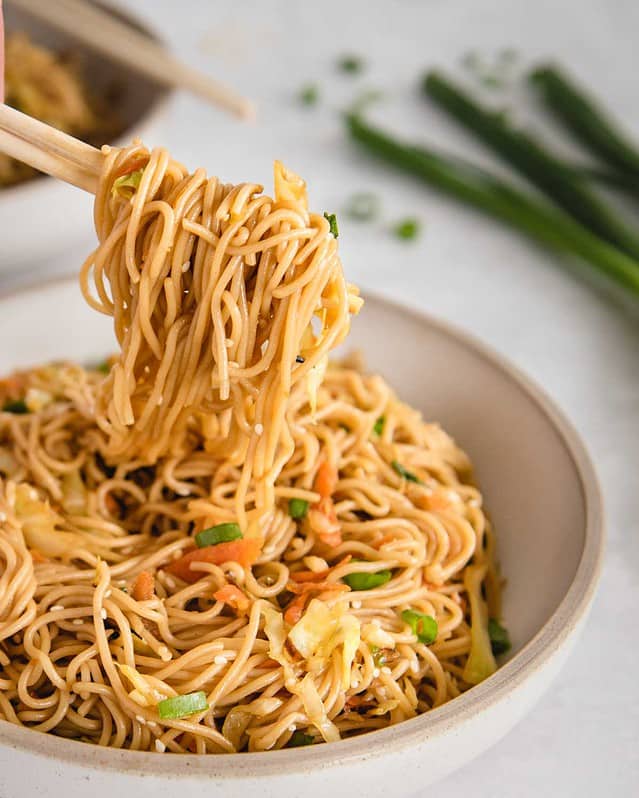 Why You'll Love These Tasty Teriyaki Noodles
Better than takeout, these teriyaki noodles offer so much to love. For instance, they're:
Easy and quick to make
Naturally vegan and vegetarian
Dairy-free
Nut-free
Gluten-free-friendly (if using GF noodles)
Works as a main dish with 13 grams of protein on its own
Great as a side dish pairing with your favorite protein source
Full of fresh vegetables
Great to make ahead of time since it tastes good the next day
Made with no artificial flavors, preservatives, or MSG
Ingredients
In addition to being easy, delicious, and nutritious, this teriyaki noodles recipe features simple ingredients and a homemade teriyaki sauce. I listed the exact items I include below and provide notes on what kind of noodles to use. You'll also find substitutes to make this recipe affordable and approachable with items you can purchase at your local grocery store.
Here's what you'll need:
For the teriyaki noodles
Oil – I prefer to use avocado oil to sauté the veggies without impacting their taste. I tested it with sesame oil and it overpowered the rest of the flavors. Another neutral oil with a high smoke point would work too though.
Fresh veggies – Shredded cabbage and shredded, peeled carrots add a bit of crunch, color, and tons of nutrients to these Japanese teriyaki noodles. If you can't find cabbage, use a pack of coleslaw mix, and discard the sauce packet that comes with it.
Noodles – I used Lotus Foods brown rice noodles in the pictures since they cook fast and are naturally gluten-free. I tested the recipe with other kinds too though and you can substitute udon noodles, soba noodles, spaghetti noodles, lo mein noodles, rice noodles, angel hair pasta, or whatever type of noodle you like best. You can even use gluten-free varieties if needed. Just be sure to follow the package instructions, and cook accordingly, starting earlier if your noodles need more cook time.
Garnishes – Technically optional but highly recommended, sesame seeds, crisp green onion, and chili crisp add extra crunch and flavor.
For the homemade teriyaki sauce
Low-sodium soy sauce – use a base of soy sauce (or tarmari for gluten free) form the signature flavor of the sweet teriyaki sauce, adding extra depth and an umami taste. You could substitute coconut aminos as well but may need to season the noodles with salt at the end of cooking as it tends to have a sweeter taste.
Arrowroot powder – this is used to create a slurry mixture, thickening the homemade teriyaki sauce and allowing it to cling to the noodles and veggies. You can substitute cornstarch easily. You could experiment with other arrowroot substitutes if you'd like but I've only tested with arrowroot and cornstarch. It will still be okay if left out but sauce will not cling to the noodles as much which impacts the overall taste.
Rice vinegar – just a dash helps brighten the flavors, creating a well-rounded sauce.
Mirin – a type of rice wine, mirin is common in Japanese cuisine and has a sweet, tangy flavor that pairs well with the saltiness of the soy sauce. Dry sherry or sweet marsala wine are great alternative options if you cannot find mirin.
Sugar – coconut sugar or brown sugar help sweeten the sauce while keeping it moist. I tested it with honey and it wasn't as good as using granular sugar but could work in a pinch.
Garlic – I like to use pre-minced garlic to save time in recipes like this.
Ginger – you can usually find pre-minced or grated ginger in the refrigerated section of your local grocery store. Or, buy a small knob, and grate or mince it yourself.
Sesame oil – a staple in Asian-inspired meals, this fragrant oil adds an irresistible complimentary nutty flavor to the teriyaki sauce.
Sriracha hot sauce – use as little or as much as you'd like to suit your flavor preferences.
How to Make Easy Teriyaki Noodles
This Asian-inspired meal is an easy dinner recipe or side dish that will become a new staple in your lineup. Cooked in a single pot, this stir fry recipe is virtually fail proof so you can nail it the first time. Here are the basic steps:
Prepare the homemade teriyaki sauce. Whisk the arrowroot with cold water until fully dissolved (can make a cornstarch slurry instead if preferred).
Make sauce. Add the remaining sauce ingredients, stirring to combine.

Cook the noodles. Bring a large pot of water to a boil, and add the noodles. Cook them to al dente according to the package directions. Once tender, drain them in a strainer. If using rice noodles, run cold water over them quickly while in strainer or they'll be starchy.

Stir fry the fresh veggies. Heat the sesame oil in a large pan over medium-high heat. Add the cabbage and carrots. Cook until tender, stirring occasionally.

Combine the stir-fry ingredients. Give the sweet teriyaki sauce one last stir in case anything settled to the bottom, and pour it over the veggies. Add the noodles, and continue to cook until the sauce begins to bubble and thicken.

Garnish. Remove the pan from the heat, and add a sprinkle of sesame seeds, green onions, or chili crisp. Finally, prepare yourself a big teriyaki noodle bowl, and dig in while it's warm!

Recipe Notes and Pro-Tips
As with all my great recipe ideas, this teriyaki noodles recipe worked amazingly the first time. Kidding! It has been tested, re-tested, and tested again in order to get the flavor combination and cooking method exactly right.
As you might expect, with all that cooking, I came up with a few tips and tricks along the way. Lucky for you, I'm revealing them all so you can be guaranteed success with these Japanese teriyaki noodles!
Recipe Tips
Be careful not to overcook the noodles! As mentioned, you'll want to follow the package instructions for whichever noodles you choose. However, it's crucial to cook them al dente. You want them to be just slightly underdone. This will keep the noodles from getting mushy once they're added to the pan and helps them absorb the sweet teriyaki sauce.
Rinse the noodles, as necessary. Some noodles, like rice noodles or spaghetti noodles, should be rinsed immediately after cooking. This helps remove some of the excess starch and prevents them from clumping together when added to the stir-fry mixture.
Remove the pan from the heat immediately. As soon as the sauce has thickened, you'll want to pull your pan from the heat to prevent the veggies and noodles from overcooking.
Use prepared ingredients. If you really want to minimize prep time, make it in just 15 minutes, using a pre-packaged bag of coleslaw cabbage and carrots, pre-jarred garlic and ginger.
Variations
One of my favorite things about these tasty teriyaki noodles is how versatile they can be! For simplicity's sake, I kept the ingredient list fairly short, but feel free to mix and match different items. You can add extra healthy veggies and protein to bulk up these noodles and turn it into a more filling main dish.
For instance, bell peppers, snow peas, water chestnuts, mushrooms, bok choy, teriyaki chicken, teriyaki shrimp, ground turkey, scrambled eggs, and tofu all make a great addition to this Japanese teriyaki noodles recipe. Then, if you want to amp up the heat, try including a dash of hot sauce or a sprinkle of red pepper flakes.
How to Store and Reheat
These easy teriyaki noodles are best eaten fresh while they're still warm. However, if you have leftovers, allow them to cool completely before transferring them to an airtight container. They will stay fresh in the fridge for up to 3 days.
When you're ready to eat, you can enjoy leftover teriyaki noodles cold or warm. If eating cold, you can sometimes taste the starchiness of the arrowroot, but it disappears when the noodles are warm! To heat them back up, place them in the microwave or in a pan on the stovetop over medium heat just until they're heated through. Add a few drops of water while heating if the noodles are too dry.
FAQ
Are these homemade teriyaki noodles spicy?
With the inclusion of garlic chili sauce or sriracha, this recipe packs a little bit of heat, but you can easily make it more or less spicy to suit your flavor preferences. If in doubt, you can leave it out and let everyone adjust to their own spice preference.
What is teriyaki?
Teriyaki is a Japanese cooking technique that translates to mean "glossy broil". Traditionally, it involves grilling foods with a glaze of soy sauce and sake or mirin. However, in Western Japanese cooking such as that in America, the word teriyaki is often used to describe a marinade or sauce.
Teriyaki noodles made quick and easy in just 20 minutes with sweet homemade teriyaki sauce, veggies, green onions, and sesame seeds.
Equipment
1 Large pot for noodles

1 Small bowl

1 spatula for sauteéing
Ingredients
1 Tablespoon avocado oil
3 cups shredded cabbage
3 peeled and shredded carrots about 1 cup
10 ounces noodles ramen, spaghetti, rice noodles or whatever you prefer
Teriyaki sauce
1/3 cup soy sauce or tamari
1 teaspoons arrowroot powder*
1/3 cup sliced green onion 4-5 stalks
2 Tablespoons rice vinegar
2 Tablespoons mirin
3 Tablespoons coconut sugar or brown sugar
2 teaspoon minced garlic
2 teaspoon minced or grated ginger
1 teaspoon sesame oil or toasted sesame oil
½ – 1 teaspoon chili garlic sauce or siracha add more or less based on your spice preference
Garnishes (optional)
Additional sliced green onion
Instructions
Bring a pot of water to a boil over high heat.

While water is coming to a boil, in a small bowl mix arrowroot with 2 Tablespoons cold water until dissolved to make a slurry.

Add the rest of the sauce ingredients and stir until blended together.

Add noodles to pot of boiling water and cook according to package directions al dente (cook time will depend on noodles used).* When noodles are done cooking, drain in a strainer.

Heat avocado oil in a separate pan over medium-high heat. Add cabbage and carrot and allow to cook for 4-5 minutes until cabbage has started to wilt and become tender.

Stir teriyaki sauce one last time and then dump sauce and noodles into the pan with cabbage and stir until sauce starts to bubble and thicken (about 2 minutes).

Remove from heat and garnish noodles with sesame seeds, additional green onion, chili crisp oil or other preferred garnishes and serve right away.
Notes
Packaged coleslaw veggie mix can be substituted for the chopped cabbage and carrot.
Replace arrowroot with cornstarch in slurry if preferred using 3/4 teaspoon cornstarch instead of a full teaspoon.
Ramen will take just 3 minutes and spaghetti will take 8-12 minutes so if using longer cooking noodles, start sautéing the vegetables before the noodles start cooking to time it more appropriately.
I used brown rice ramen noodles since they cook fast but any noodle should work. Be sure to follow package directions. A quick rinse briefly after cooking can help remove starchiness before adding noodles to pan with veggies and sauce.
Store leftovers in an airtight container for up to 3 days. Best eaten fresh but leftovers are fine warm or cold. Reheat in microwave or on a pan on the stovetop over low heat. Add a few drops of water while heating if the noodles are too dry.
Nutrition
Calories: 407kcal | Carbohydrates: 76g | Protein: 13g | Fat: 6g | Saturated Fat: 1g | Polyunsaturated Fat: 2g | Monounsaturated Fat: 3g | Sodium: 926mg | Potassium: 507mg | Fiber: 5g | Sugar: 14g | Vitamin A: 7778IU | Vitamin C: 24mg | Calcium: 77mg | Iron: 2mg