Easy arugula walnut pesto is the perfect sauce for pasta, gnocchi, sandwiches or anything else you can think of, and it only takes 10 minutes to make!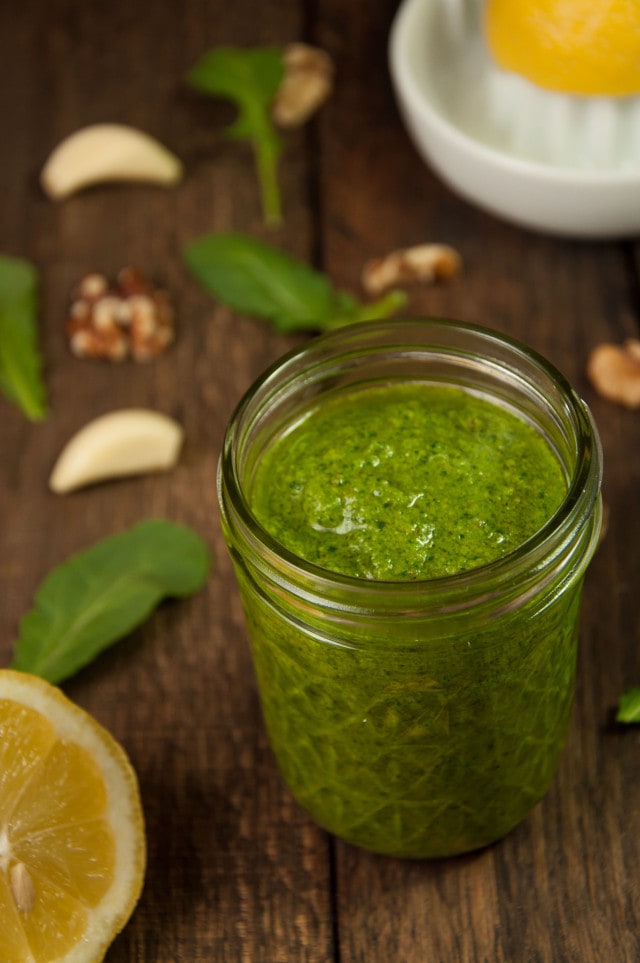 Pesto has got to be one of the most brilliantly delicious sauces of all time. It isn't exactly leading the pack in healthiness since olive oil is the main ingredient, but a little bit can go a long way, which makes pesto an excellent addition to all kinds of recipes. I make this arugula walnut pesto all the time and even freeze it in an ice cube tray to pull out and use whenever I need a little pesto kick.
Basil pesto certainly has its place, but arugula walnut pesto is a nice change from the usual. The arugula gives it a nice peppery kick which the earthy walnuts complement perfectly.
When adding the ingredients to the blender, you've got to pack the arugula in there. If its loosely packed, you'll need more like 3-4 cups. Toasting the walnuts isn't necessarily needed, but its oh so good and totally worth the extra few minutes it takes. You can even toast nuts by putting the walnuts in a cup in the microwave for a minute or so. Doesn't get easier than that. Use fresh garlic too, by all means. That pre-minced stuff is great for a lot of purposes, but this isn't one of them.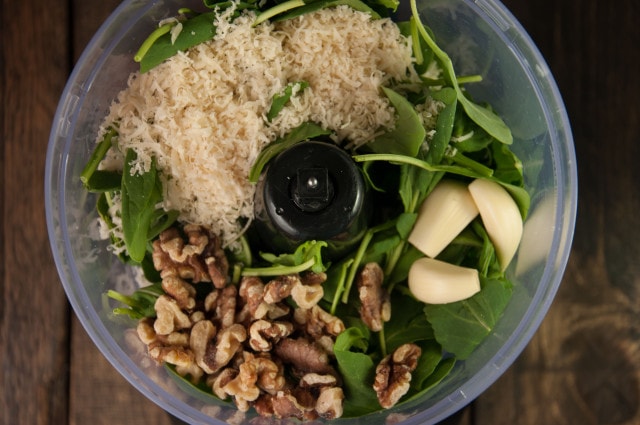 My food processor is an older Hamilton Beach model, but if I were going to get another one, I think I would go this
route. The blades on mine are starting to get pretty dull so that wish might have to become a reality pretty dang soon.
Is anyone else out there as obsessed with kitchen appliances as I am? Its seriously starting to become a problem. My husband was haggling with me over throwing dishes out the other day and I know the appliances are next. He offered to get a stain out of a shirt for me if I would throw out 5 dishes. Somehow I overlooked the fact that he has no laundry skills whatsoever and negotiated him down to 2 plates and a sauce. Somehow I still didn't feel good about the deal. Its only a matter of time before he finds me in a corner stroking the blender and calling it "my precious." Seriously.
So aside from being a borderline kitchen hoarder, I'm totally obsessed with any and all kinds of sauce lately. I've been saucing it up and slathering everything in pesto, salsa, and all kinds of condiments. Just can't get enough of the stuff. Expect many more sauces to be popping up soon!
Easy arugula walnut pesto is the perfect sauce for pasta, gnocchi, sandwiches or anything else you can think of, and it only takes 10 minutes to make!
Ingredients
2 packed cups arugula (3-4 cups if loosely packed)
1/3 cup walnuts (lightly toasted)
2 - 4 garlic cloves
1 Tbsp. lemon juice
1/3 cup grated parmesan*
Salt and pepper
½ cup olive oil
Instructions
Blend first 5 ingredients in a food processor or blender until smooth, only using 2 garlic cloves. Slowly pour in olive oil while processing. Season to taste with salt and pepper and add more garlic if needed. Will keep for about a week in the fridge.
Notes
*If not using the full amount within a week, pesto can be preserved by freezing in ice cube trays. If you plan to freeze, it is best to omit the cheese and add fresh after thawing.
Nutrition
Calories: 173kcal | Carbohydrates: 2g | Protein: 3g | Fat: 18g | Saturated Fat: 3g | Cholesterol: 4mg | Sodium: 65mg | Potassium: 36mg | Fiber: 1g | Sugar: 1g | Vitamin A: 50IU | Vitamin C: 1.4mg | Calcium: 55mg | Iron: 0.3mg