These watermelon feta mint skewers are refreshing as is, but the tangy balsamic glaze makes this healthy appetizer absolutely delicious!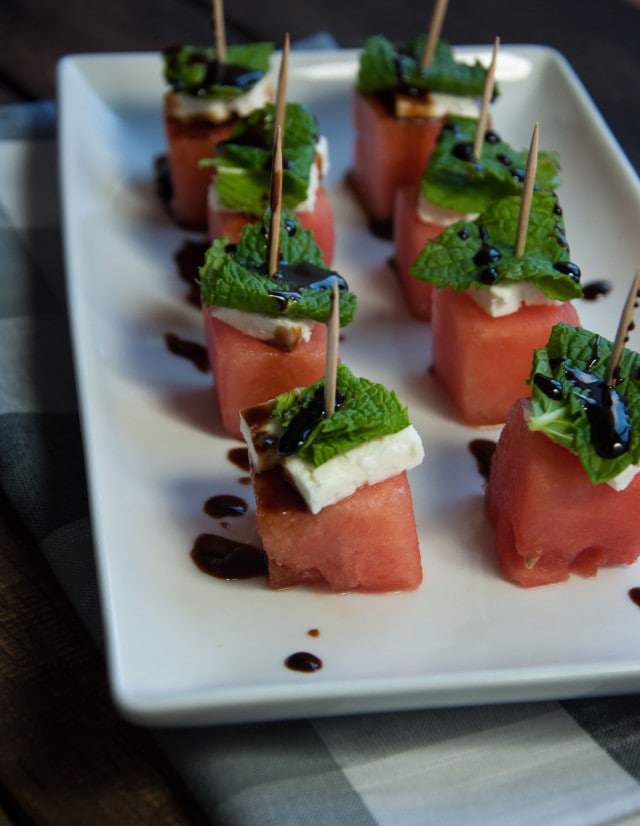 I have to say that one of my absolute favorite parts about summer is all the fruit. Fruit, fruit everywhere! I freakin' love it. Needless to say, I've been eating my weight in fruit these last few weeks and am on the verge of going into a sugar-induced full-on frenzy at any given moment. Its just bound to happen eventually. And since I also love cheese, I just had to salt these sugary watermelon cubes up with some feta and a healthy dose of balsamic. The mint adds a refreshing burst of flavor that ties the bite-sized morsel together for total yum factor. Watermelon feta is an absolute summer must.
I originally planned to make these for a BBQ the night my mom got into town two weekends ago, but as usual, I also planned on making a dozen other things so these watermelon feta wonders never actually made it out to the table. At least with my family I know I'm in good company and they aren't phased by my undying need for the elaborate. They know that pretty much any time they come over, I'll be lurking in the kitchen for at least a good half hour after they show up. Thanks for putting up with me y'all... My aunt threw a BBQ for my dad's b-day a few days ago and I see where I get it from because she goes all out when it comes to food and parties! It was a fabulous foodie extravaganza with pulled pork, tasty salads, good beer, and great company. Both of my parents have been on a health kick and have lost a lot of weight. They live overseas and only come over once or twice a year so it was a shock seeing the new, thinner version of my dad for the first time since January. And my mom is leaner than me these days! They look fantastic and seem so energized and youthful. Makes my heart happy to see my family getting healthier and happier.
So, about these watermelon cubes already. Oh yum. Where to even start with these. I know I say this recipe serves 4, which means everyone gets about three cubes. That serving size is appropriate for a dinner party as a little hor`derve, but if you're making it just for yourself or to share with your significant other, go ahead and do yourself a favor and double it... and then eat it all yourself. Okay, okay, maybe that's obsessive. You probably don't need to double it, but don't feel bad splitting a single batch between two people. They're pretty light and if you try to make anything less than a full 12 watermelon feta skewers you'll be kicking yourself when you're licking up the crumbs after devouring them in record time. Teddy and I put down 12 of these as a late night snack in about 10 minutes flat and were completely satisfied. If we were having company though, I probably would have doubled it.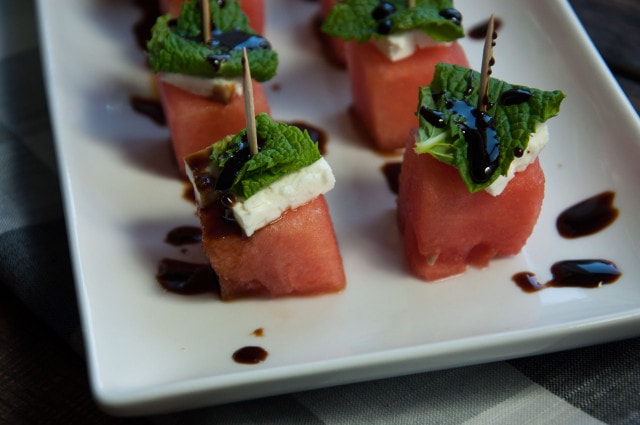 I always feel the need to say in any recipe with balsamic vinegar - don't use the cheap stuff! That crap can ruin a perfectly good recipe and leave you with a tart, un-tasty mess. Just don't do it. Has anyone tried those pre-made bottled balsamic glazes? I have been really tempted to order one to see if they live up to the hype. I've had my eye on this Trader Joe's version
for a while now, but this other one
seems to have rave reviews too. I'm torn. If you have tried any store bought balsamic glazes before, please advise on this tough decision! For now though, just make these fabulous watermelon feta mint skewers with whatever glaze you want and let me know what you think. This is the first of many fruit recipes I'll be sharing over the summer so prepare yourself for fruit-tastic-ness.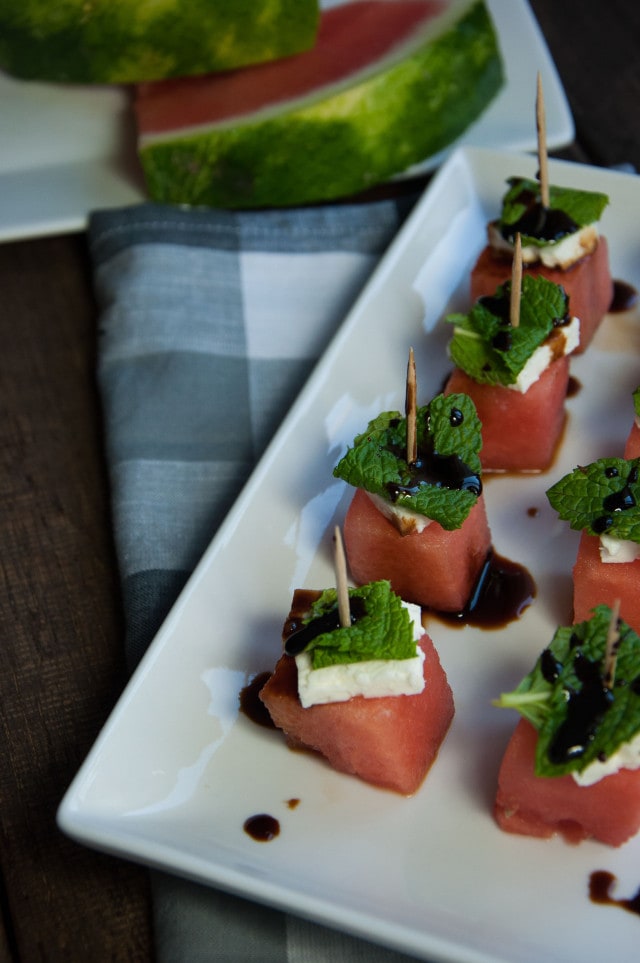 Watermelon Feta Mint Skewers with Balsamic Glaze
These watermelon feta mint skewers are refreshing as is, but the tangy balsamic glaze makes this healthy appetizer absolutely delicious!
Ingredients
12 1-

inch

square seedless watermelon cubes

2

oz.

fresh solid sheep milk feta cut into cubes

12

mint leaves

1/4

cup

high quality balsamic vinegar

1

Tbsp.

packed brown sugar

12

toothpicks
Instructions
Place feta squares on top of watermelon cubes. Skewer a mint leaf with a toothpick and poke through feta and watermelon. Repeat for remaining cubes.

Heat balsamic vinegar and brown sugar over medium-high heat in a small sauce pan until it starts to simmer. Stir continuously while simmering for approximately 5 minutes until sauce has reduced almost in half.

Remove from heat and let sit for 1-2 minutes (do not let the glaze sit longer or it will become too thick!). Spoon glaze over prepared watermelon, feta, mint skewers and serve right away.
Nutrition
Calories:
70
kcal
|
Carbohydrates:
8
g
|
Protein:
2
g
|
Fat:
3
g
|
Saturated Fat:
2
g
|
Cholesterol:
13
mg
|
Sodium:
164
mg
|
Potassium:
44
mg
|
Fiber:
1
g
|
Sugar:
7
g
|
Vitamin A:
235
IU
|
Vitamin C:
1.7
mg
|
Calcium:
85
mg
|
Iron:
0.4
mg
Did you make the recipe? I love seeing your creations!
To be featured tag @FeastingNotFasting on Instagram and use the hashtag #FeastingNotFasting - please leave a star rating below too! ★★★★★