I admit, I am looooong overdue in posting this recipe for butternut squash enchiladas. I apologize sincerely, I have really been holding out on you, but I promise it wasn't intentional. Either way – I am sharing it now and its a winner!
These enchiladas are so packed with flavor that even the heartiest of meat lovers won't notice they're vegetarian. A fight for the last one almost broke out and it was shaping up to be a WWF throw down like no other. Luckily we avoided world war three by splitting it. Crisis averted.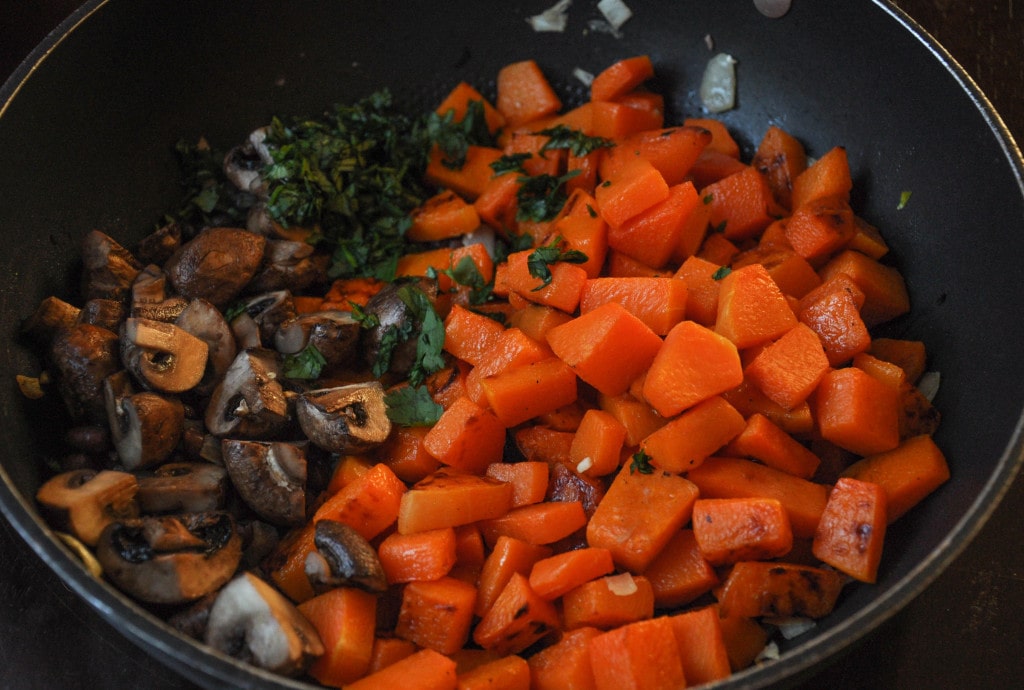 Not only were these the best enchiladas we have ever had, but they're full of nutrition to boot. Each serving has 331% of your daily value of vitamin A, 45% of your recommended calcium, 69% vitamin C, and 63% of your daily iron requirement. Whaaat? How could something so delicious be so nutritious?
Butternut squash is the real deal folks. Squash is low in calories and full of vitamins which makes it is a great addition to all kinds of recipes.
I used to be scared of cooking squash because the peeling process was such a pain. Then I got a tip to run hot water over the squash or put it in the oven for a few minutes before peeling with a sharp knife. That little pro tip made a WORLD of difference and now I sneak squash into all kinds of recipes.
As with any enchilada recipe, these butternut squash enchiladas take a little extra time to make, but the end result is worth a little extra effort. I highly recommend making red enchilada sauce instead of using the canned stuff. It really only takes a few extra minutes and adds so much extra flavor that canned sauce just can't compete with.
You can easily make these butternut squash enchiladas gluten free by using gluten free tortillas if needed.
Although there are a few steps needed to prepare this enchilada dish, once its in the oven, you can pour yourself a glass of wine and relax while you wait to enjoy the fruits of your labor.
Topping with fresh avocado, cilantro, and cotija cheese isn't entirely necessary, but really takes it to that next level.
Put these butternut squash enchiladas on the menu this week and you won't regret it. Just keep in mind that you may want to double the recipe to avoid a battle when it comes down to the last serving. Consider yourself warned…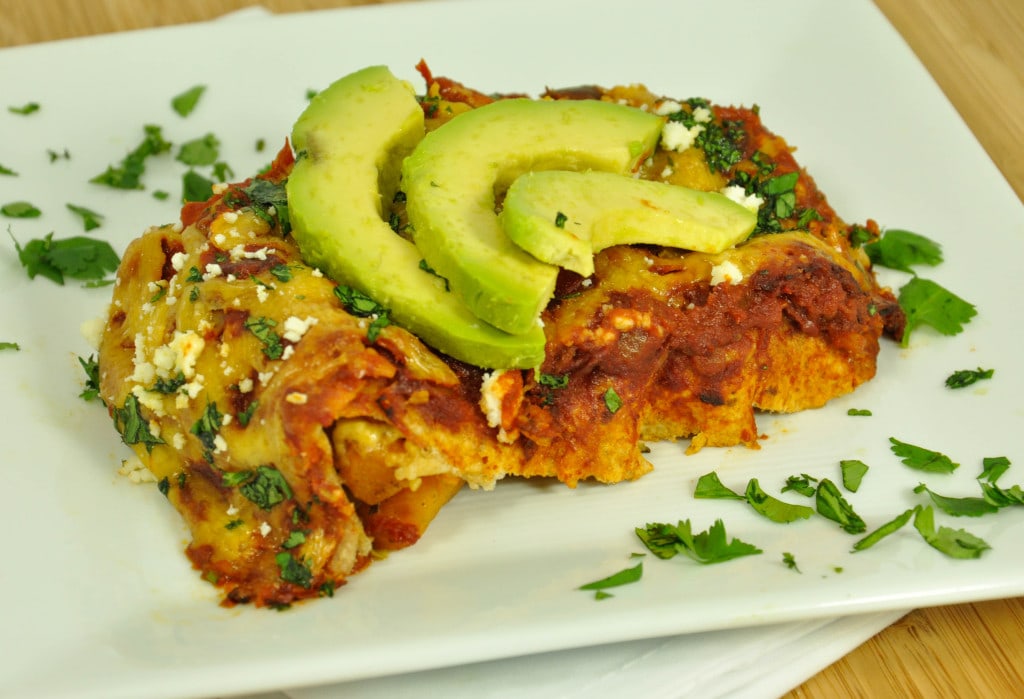 Delicious butternut squash enchiladas with black beans and red enchilada sauce are stuffed with nutrition rich vegetables and topped with avocado and cheese.
Ingredients
2 - 2/12 lb. butternut squash (skinned and diced into 1/2 inch cubes)
1 lb. mushrooms (washed and halved)
2 Tbsp. olive oil
1 tsp. salt
1/4 tsp. pepper
1 small onion (chopped)
1 tsp. minced garlic
1 jalapeño (finely chopped and seeds removed)
2 cans black beans (rinsed)
1/4 cup chopped cilantro (plus additional for garnish)
1 tsp. cumin
1 tsp. chili powder
1 tsp. lime
1.5 cup grated cheddar cheese
6 whole wheat tortillas
1.5 cups enchilada sauce canned or homemade
Instructions
Preheat oven to 425°F (218°C). Rub butternut squash and mushrooms with 1 Tbsp. oil and sprinkle with 1/2 tsp. salt. Roast squash and mushrooms 20 minutes. Pull pan from oven and remove mushroom and set aside. Stir squash and roast 15 minutes longer or until squash are browned and fully cooked.

While squash and mushrooms are roasting, heat remaining tablespoon oil in large pan. Add onion and sauté for several minutes. Add garlic and jalapeño and sauté several more minutes until both start to brown.

Add black beans, cilantro, cumin, chili powder, lime juice, remaining salt, roasted squash and mushrooms. Stir over medium heat for 2-3 minutes. Turn oven temperature down to 375 degrees F.

Ladle a thin layer of enchilada sauce into an 11x7" casserole dish.

Microwave tortillas on high heat for 30 seconds to soften (you may want to only microwave 3 tortillas at a time so that they stay warm and don't break while preparing them).

Spoon 1 - 1.5 cups of veggie mixture into each tortilla along with 1 Tbsp. of cheese and fold bottom side lengthwise to seal. Place sealed side down into casserole dish.

Ladle remaining sauce over enchiladas and top with cheese. Bake for 15 - 20 minutes or until cheese is melted. Garnish with remaining cilantro. Other possible toppings include green onion, cotija cheese, tomato, and avocado. Enjoy!
Nutrition
Calories: 549kcal | Carbohydrates: 76g | Protein: 25g | Fat: 19g | Saturated Fat: 8g | Cholesterol: 30mg | Sodium: 1871mg | Potassium: 1339mg | Fiber: 19g | Sugar: 12g | Vitamin A: 18420IU | Vitamin C: 45.8mg | Calcium: 431mg | Iron: 6.6mg