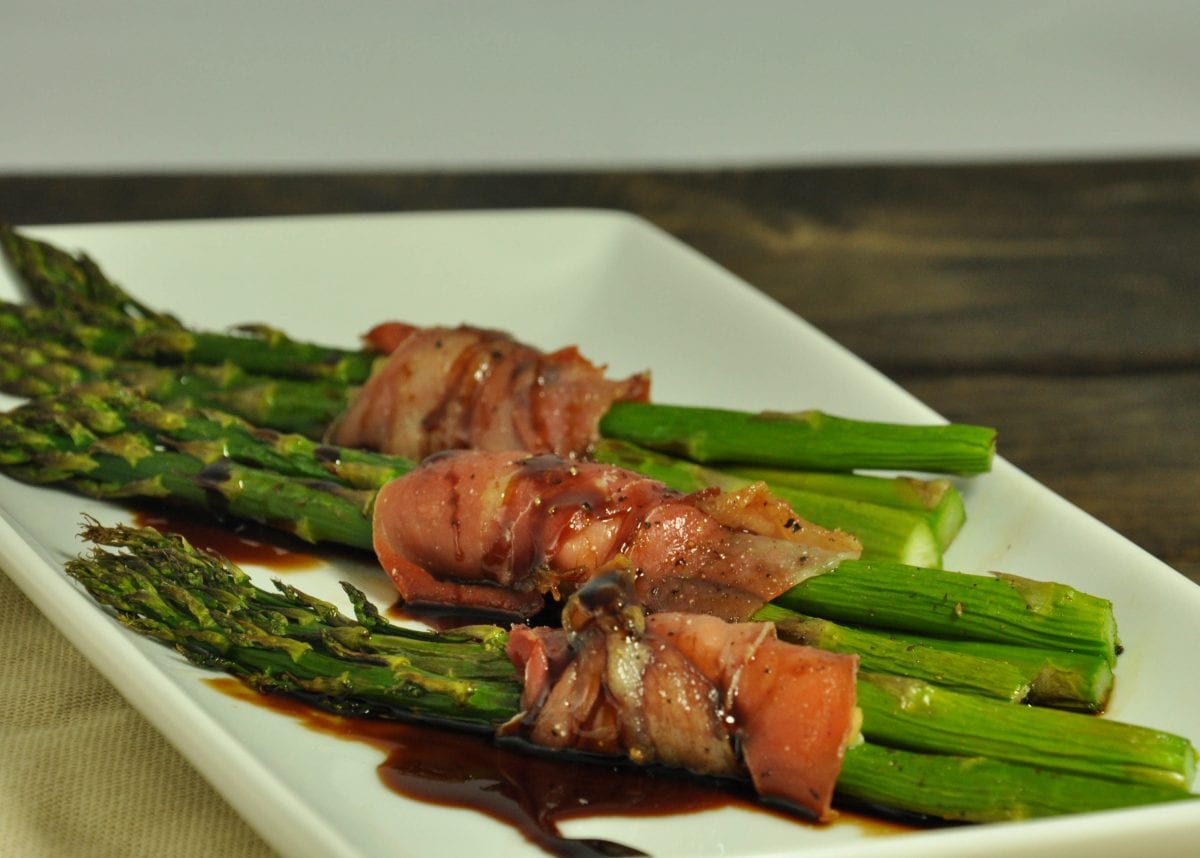 Prosciutto wrapped asparagus is the quintessential "easy appetizer" and most of us have probably encountered this combo at one time or another. Yes, its great and all… but what if you add cheese? Garlic and herb cheese to be exact. And what if you add a balsamic glaze?
Well, I'll tell you what happens – it will blow your mind and your life will never be the same! Overly dramatic? Yeah, maybe a *wee* bit. In full disclosure, it may not actually be life changing, but this prosciutto wrapped asparagus is a definite must try.
Prosciutto is really a healthier choice when it comes to charcuterie meats too. Using Laughing Cow or another creamy style of cheese adds a punch of flavor without many extra calories, making this a pretty light and healthy appetizer.
I have made this several times and somehow the number of asparagus ends up being a perfect ratio for the amount of prosciutto in a 3 oz. package every time. I'm sure this won't always be the case, but if you choose medium sized asparagus spears – not too thin, not too thick – you should get about 12 prosciutto wrapped asparagus bundles total.
I think the size of the asparagus is important for this recipe. If your asparagus is on the plumper side, you may have to blanch for 30 seconds before roasting. I found this out the hard way by burning the prosciutto to a crisp on a batch where large asparagus spears just weren't roasting fast enough to catch up. Lesson learned (and passed on).
You'll be amazed at how fast these prosciutto wrapped asparagus bundles come together too. Since the glaze is made while the asparagus is roasting, it only takes about 20 minutes to make a batch of these from start to finish.
This dressed up version of prosciutto wrapped asparagus aims to impress and delivers on all levels. The crunch of the asparagus pairs exceptionally with the melted cheese, crispy prosciutto, and sweet, tangy glaze. Next time you need to whip together a quick hors d'oeuvre, keep this recipe in mind. Bon appétit!
Prosciutto wrapped asparagus with balsamic glaze is the perfect appetizer with a delicious combination of salty, sweet, light and tasty
Ingredients
1 bunch asparagus (approx. 1 lb., medium sized stalks)
6 thin slices prosciutto (halved lengthwise)
2 wedges garlic and herb Laughing Cow cheese (or other garlic or onion flavored cream cheese)
1/2 cup balsamic vinegar
2 Tbsp. brown sugar
Olive oil cooking spray
Fresh cracked black pepper
Instructions
Preheat oven to 425°F (218°C). Cut 1-2 inches off of the bottom of each asparagus stalk.

Lay 3 asparagus spears on to of a halved slice of prosciutto. Add approximately 1/2 teaspoon of laughing cow cheese. Roll prosciutto around asparagus and cheese to create a bundle. Place bundled asparagus on baking sheet. Repeat with remaining prosciutto, asparagus, and cheese.

Spray asparagus bundles lightly with cooking spray. Sprinkle with small amount of fresh cracked black pepper. Bake in preheated oven for 10-15 minutes, until asparagus spears are fully cooked.

While asparagus bundles are baking, heat balsamic and brown sugar in a small sauce pan over medium-high heat. Bring to a simmer and continue stirring until vinegar reduces (5-10 minutes). Remove from heat and set sauce aside for 3-5 minutes.*

After removing asparagus bundles from oven, place on serving plate and drizzle with balsamic vinegar glaze.
Notes
* The glaze should have the consistency of maple syrup. Do not let glaze sit for longer than 10 minutes or it will be too thick to drizzle. Not letting it sit long enough though will result in the glaze being too runny. The best method is to test the thickness of the glaze before drizzling to make sure it is the right consistency.
Nutrition
Serving: 6g | Calories: 86kcal | Carbohydrates: 11g | Protein: 3g | Fat: 3g | Saturated Fat: 1g | Cholesterol: 5mg | Sodium: 61mg | Potassium: 199mg | Fiber: 2g | Sugar: 9g | Vitamin A: 570IU | Vitamin C: 4.2mg | Calcium: 28mg | Iron: 1.8mg