This satisfying ooey gooey cheesy potato skillet is the ultimate comfort food made lighter with sweet potato, red pepper, mushrooms, and fresh herbs.
So helloooo – it's been a while! Has it really been over a month since I posted on here last? Life has been so crazy busy, I completely lost track. So much has happened over the last month. The last part of summer went from being so insanely busy at work, nearing my breaking point, to relaxing in the tropics with the fam. I figured after my month long hiatus, I should stop holding out on you and share some downhome cooking like this cheesy potato skillet.
The cheesiness is unreal. It melts perfectly over the top of this veggie medley with just enough cheese to add flavor without packing on the fat and calories. You can easily leave out the sausage without missing a beat, but the veggies are oh so necessary. Using sweet potato, mushrooms, and bell pepper ups the Vitamin A and C content enough to nearly meet your daily requirements, while adding a depth of flavor and texture that makes this one heck of a satisfying fall meal. Luckily, you can switch them up a bit if you're more in the mood for zucchini, carrots, broccoli, or just about anything along those lines. Quantities are pretty flexible too so if you have an extra potato or some other random veggie that you need to get rid of, just throw it on in this potato skillet.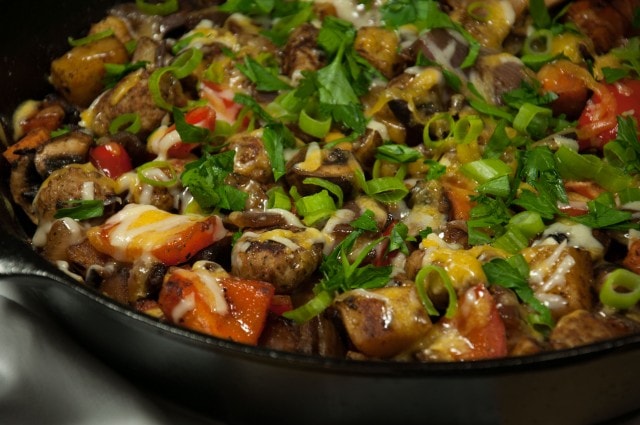 Leftovers are great for breakfast too! Just throw a poached egg on top of the reheated potato skillet or mix in scrambled eggs and you've got a tasty breakfast dish in minutes. It is so effortlessly delicious that I've never had complaints about having the same thing two meals in a row either, so hopefully this sneaky breakfast tactic works just as well for you as it does for me.
Can we talk equipment here for a minute too? I have been gradually phasing out my non-stick cookware since I figure I've probably dosed myself with enough chemicals to put down a small animal at this point. Although it takes a little time to get used to, cast-iron is my new fav by far. This cast-iron skillet
from Lodge is phenomenal, and you can't beat the price. In addition to not adding harmful chemicals to my food, its fun to cook with and makes me fall all old fashioned and rustic, which is always plus.
Now, since pictures speak louder than words, check out the cheesey goodness up in this skillet…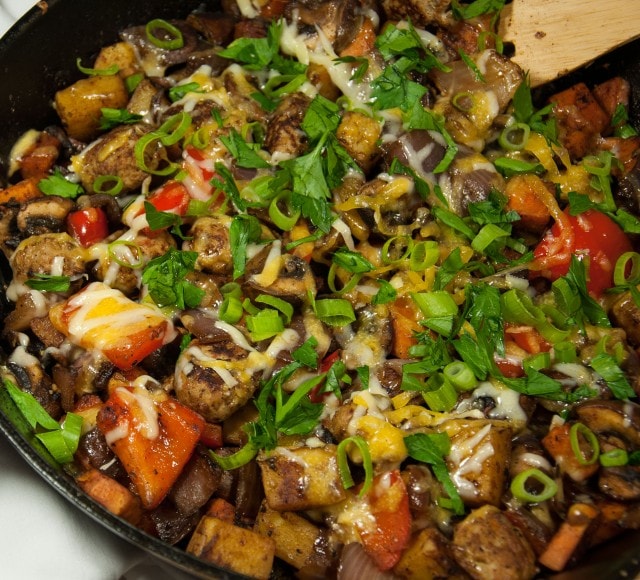 Hungry yet?
This satisfying ooey gooey cheesy potato skillet is the ultimate comfort food made lighter with sweet potato, red pepper, mushrooms, and fresh herbs.
Ingredients
1 large yellow potato
1 medium sized sweet potato
1 bell pepper
1 medium sized red onion
1 lb. mushrooms
3 chicken sausage links
1 tsp. minced garlic
2 Tbsp. coconut oil
1/4 cup dry white wine
1/4 tsp. cumin
1/4 tsp. paprika
1/4 tsp. salt
1/4 tsp. black pepper
1/2 cup cheddar cheese (grated)
Green onion and parsley for garnish
Instructions
Cut potatoes, bell pepper, onion, and sausage into half inch pieces. Quarter mushrooms (if large, cut into 6 pieces).

Cook sausage pieces over medium heat in a large skillet. Remove and set aside. Melt oil in same skillet over medium-high heat. Add onion, bell pepper, and potatoes. Cook for 7-8 minutes until vegetables are starting to brown.

Add white wine to deglaze pan and scrape off pieces that are stuck to bottom and sides. Add mushrooms and garlic and continue cooking until potatoes are tender (7-8 minutes). Add Sausage back in and stir. Top with grated cheese, and if desired, green onion and parsley.
Nutrition
Calories: 363kcal | Carbohydrates: 24g | Protein: 19g | Fat: 22g | Saturated Fat: 11g | Cholesterol: 60mg | Sodium: 891mg | Potassium: 773mg | Fiber: 4g | Sugar: 7g | Vitamin A: 6060IU | Vitamin C: 49.3mg | Calcium: 137mg | Iron: 3.2mg
Me and my little sis joined my parents in Vietnam a few weeks ago for some epic travelling and now are relaxing with them back at their place in Seoul, South Korea for a few more days before making the trek home. With family on four different continents right now, our people are all over the place. Just visiting family takes me and the husband across the globe about once a year.
I'm not complaining by any means, I'm lovin' every minute of it. There's something about being exposed to different cultures that just puts things in perspective in a way that never fails to amaze me. Getting to experience this with my parents and little sister, Lindsey, only makes this trip that much more amazing. You only get so many opportunities to spend time with family (when they're half way across the world especially!), and I'm so happy that we all got to do this together. Thanks mom and dad for bringing us on this adventure with you! I'll share some pictures soon so you can follow our journey and get some travel pointers in case you ever find yourself in this part of the world.
The only thing that would make this trip better is having my main squeeze here with me too. Miss that guy. That and not being sick. I came down with a wicked cold this week that seemed to peak on my birthday yesterday. Yes, I'm 29 now. WTF. Seriously where did the years go?!?! Being with good company made the day a blast though regardless of the sniffles, watery eyes, and rapid aging. Thanks for putting up with me all these years y'all. 🙂