Filling vegan gluten free oatmeal cookies are so chewy and delicious that you'd never know they're free of added sugar and packed with flax and heart healthy oats!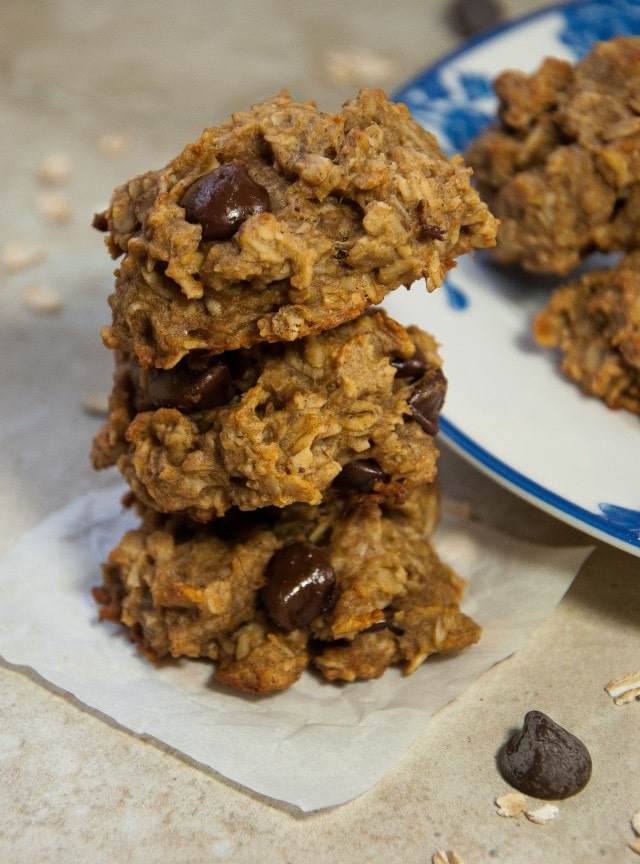 Yum. That's all I have to say about these gluten free oatmeal cookies. Well, actually, since I'm me and just can't shut up about food, I've got plenty of words to say about them. With a wholesome, peanutty flavor and just the right amount of chocolate to add a twinge of decadence, these are the perfect whole food snack to satisfy that mid-afternoon tummy rumble and keep you full until dinner. Each cookie packs 2.3 grams of fiber and 3.4 grams of protein in just over 100 calories, making this a much smarter choice than the sugar-laden snacks you find at coffee shops and bakeries. With natural sweetness coming from bananas and a touch of chocolate, you might even forget how healthy they are altogether. Maybe.
This past week has been a little rough adjusting back to normal life after a few weeks of exotic travels. Vietnam was awesome. More to come on that in a later post. Seoul was great catching up with family and just getting some down time. Luckily, I've been able to ease back into things slowly this week. Other than an intense work presentation early in the week, things have been pretty mellow around here. I have gotten so used to eating out that getting back into my kitchen routine has been sloooow. And by that, I mean, I haven't cooked anything all week. This cookie recipe is actually from before I left on vacation, an oldie but goodie.
Just because its an older recipe does not mean that it isn't a winner. As you probably know by now, I love using banana in my cookies. Its the perfect sweetener/ binder/ replacement for everything unhealthy. Using oats makes it easy to skip the flour too. With the limited amount of chocolate chips in this recipe, you can easily grab a couple for a quick breakfast on the run.
The batter is dense which helps the cookies maintain their shape while baking. From what I've seen, keeping that mound shape helps flour-less cookies stay moist and tasty instead of becoming dried out and brittle. No one likes healthy cookies where the "healthy" overtakes the "cookie," and you can barely choke down a bite even after downing all the liquids you can find. I repeat – NO ONE LIKES THIS. So lets make an agreement not to eat that crap ok? Eat these instead.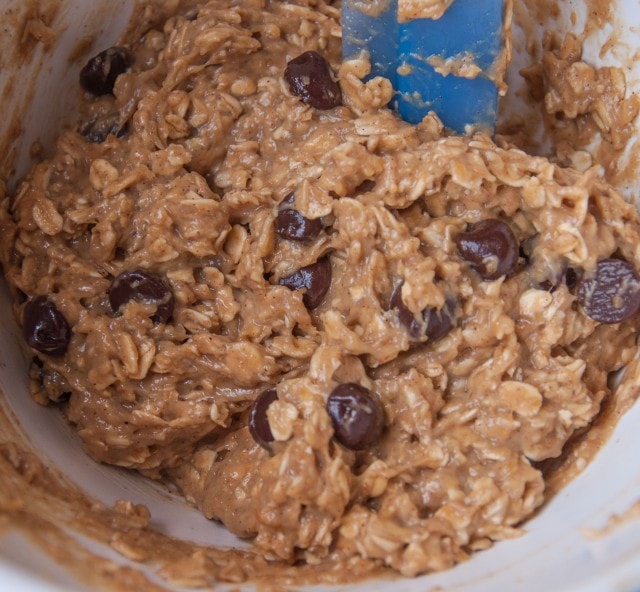 Its true that these cookies won't taste like a normal chocolate chip peanut butter cookie made with white flour and white sugar. I'm not going to lie to you on that. But can you eat those for breakfast? Well, I know you can, but should you? Think of these more as baked oatmeal nuggets than a rich, sugary desert cookie. Looking at the ingredient list you can feel good about eating them any time of day. These cookies are naturally gluten free and substituting cocoa nibs or using vegan chocolate chips makes them dairy free too.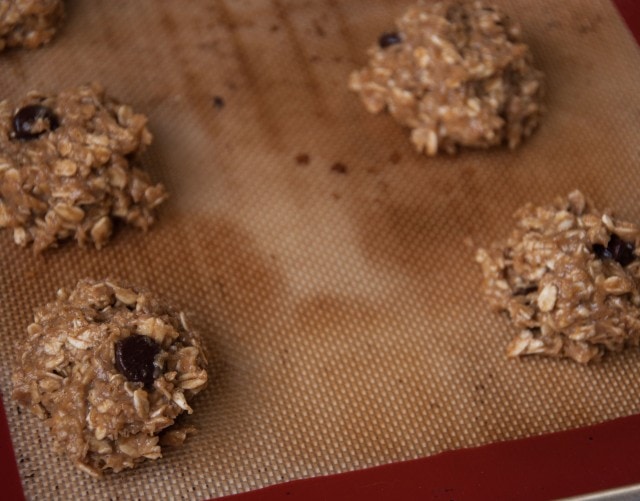 You'll be sold after the first hearty bite.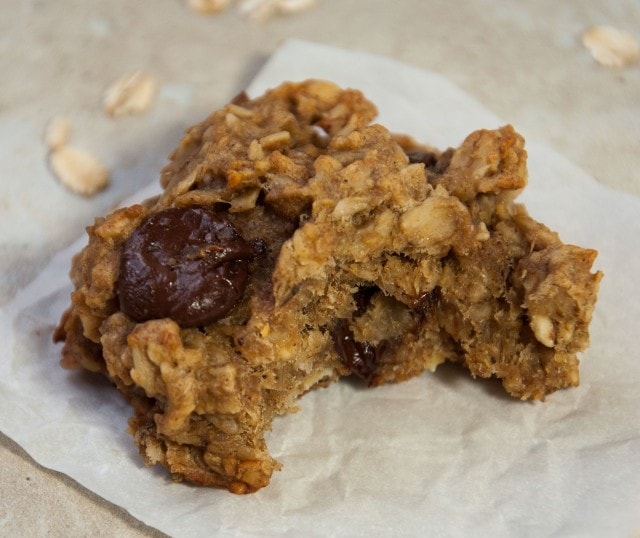 So what are you waiting for? Get baking!
Filling vegan gluten free oatmeal cookies are so chewy and delicious that you'd never know they're free of added sugar and packed with flax and heart healthy oats!
Ingredients
1 cup rolled oats (old fashioned)
3 Tbsp. flax meal
1/3 cup peanut butter
2 mashed ripe spotted bananas
1/2 tsp. cinnamon
1 tsp. vanilla extract
2 Tbsp. chocolate chips or cocoa nibs
Instructions
Preheat oven to 350°F (176°C).

Mix all ingredients together using a hand mixer until combined. Stir in chocolate chips. Drop dough into small globs on a lined cookie sheet.

Bake for 12 - 15 minutes until starting to brown - do not over bake! Cookies will keep for 2-3 days in an airtight container at room temperature.
Notes
* Individually wrapped cookies will keep in the refrigerator for several weeks. Frozen cookies take about 2 hours to defrost at room temperature.
Nutrition
Calories: 119kcal | Carbohydrates: 13g | Protein: 4g | Fat: 6g | Saturated Fat: 1g | Cholesterol: 1mg | Sodium: 36mg | Potassium: 171mg | Fiber: 3g | Sugar: 5g | Vitamin A: 20IU | Vitamin C: 1.7mg | Calcium: 22mg | Iron: 0.7mg