Easy chicken paprikash soup is bound to be your new go to favorite! Its full of rich comforting flavor, creamy, and more filling than your standard classic soup recipe. This chicken paprika soup is loaded with veggies too so its as healthy as it is delicious!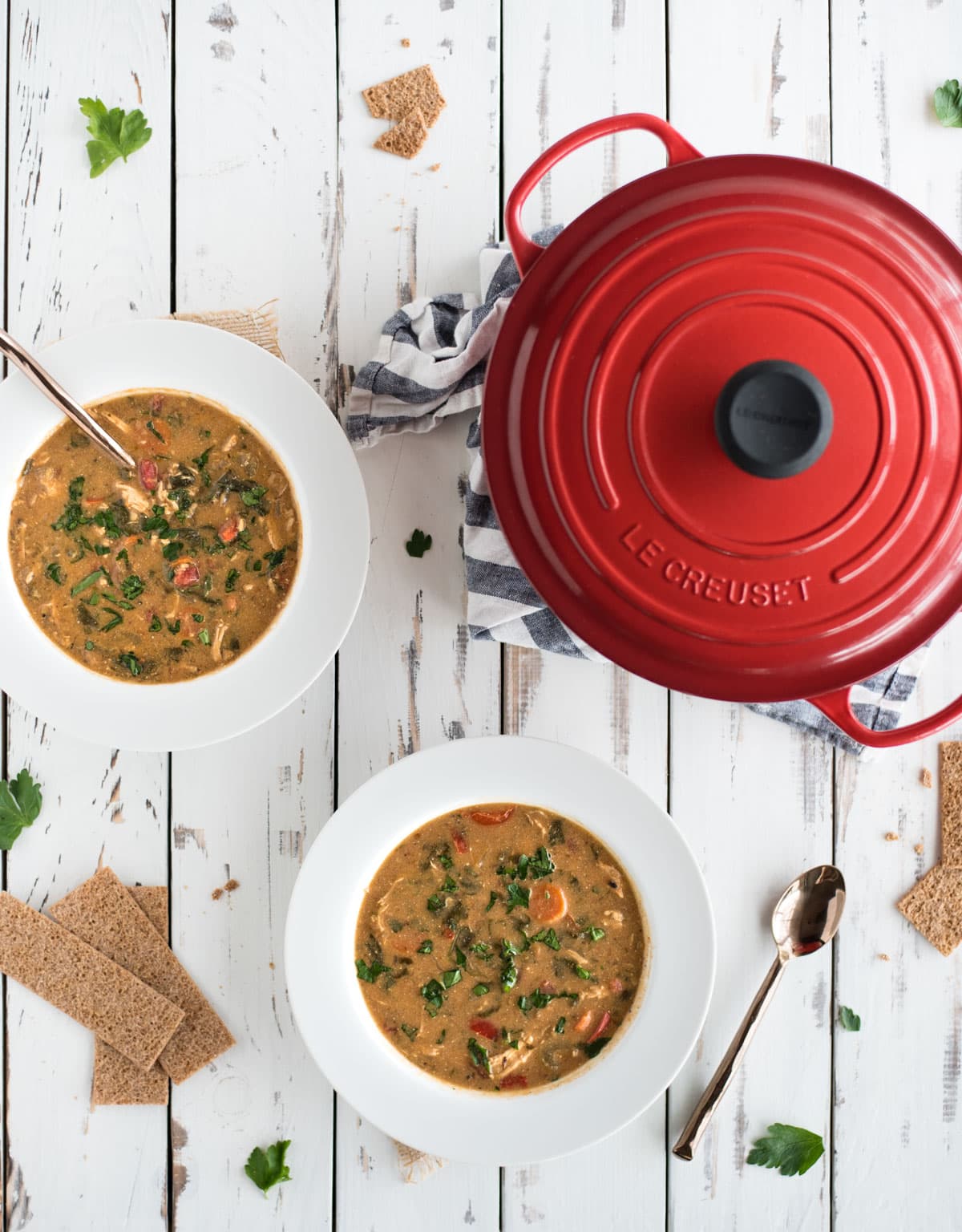 Happy Friday to you! My Friday is being spent sniffling away and popping cough drops. So far, the baby hasn't gotten it, but the rest of us are down for the count. Sooo, soup is definitely on our minds. This chicken paprikash soup in particular.
I have been making a variation of this soup for years now. When I worked a block away from an Elephant's Deli downtown, I would make the trek over to get their Mama Leone's soup about once a week. I did this for the seven years I worked there which added up to being a lot of soup.
Luckily, I found a similar recipe online around that time and have adjusted it over the years into the recipe I'm sharing with you now. The original recipe is made with heavy cream but I used sour cream instead. Sour cream isn't exactly the epitome of health food but it is lighter than the original and makes the soup thicker and more filling so you're satisfied with less of it. I tried yogurt once but it just wasn't the same. I also added in a slew of veggies and tweaked the seasonings to fit our preferences. The end result is so satisfying and delicious! You're going to love this one.
If you're still not convinced to try this chicken paprikash soup out, know that its not just me that sings its praises. Pretty much everyone that I've served this soup to has asked for the recipe. The heavy paprika flavor and overall creaminess make it uniquely different than your standard chicken soup, while still maintaining that comforting quality that makes us all crave it on cold winter days.
I'm not going to all out guarantee that it will cure your cold, but it will at least make the sickness more bearable. It must be eaten alongside some good quality trash TV for this to work though. Its an absolute necessity to pair the two together, not optional in the slightest.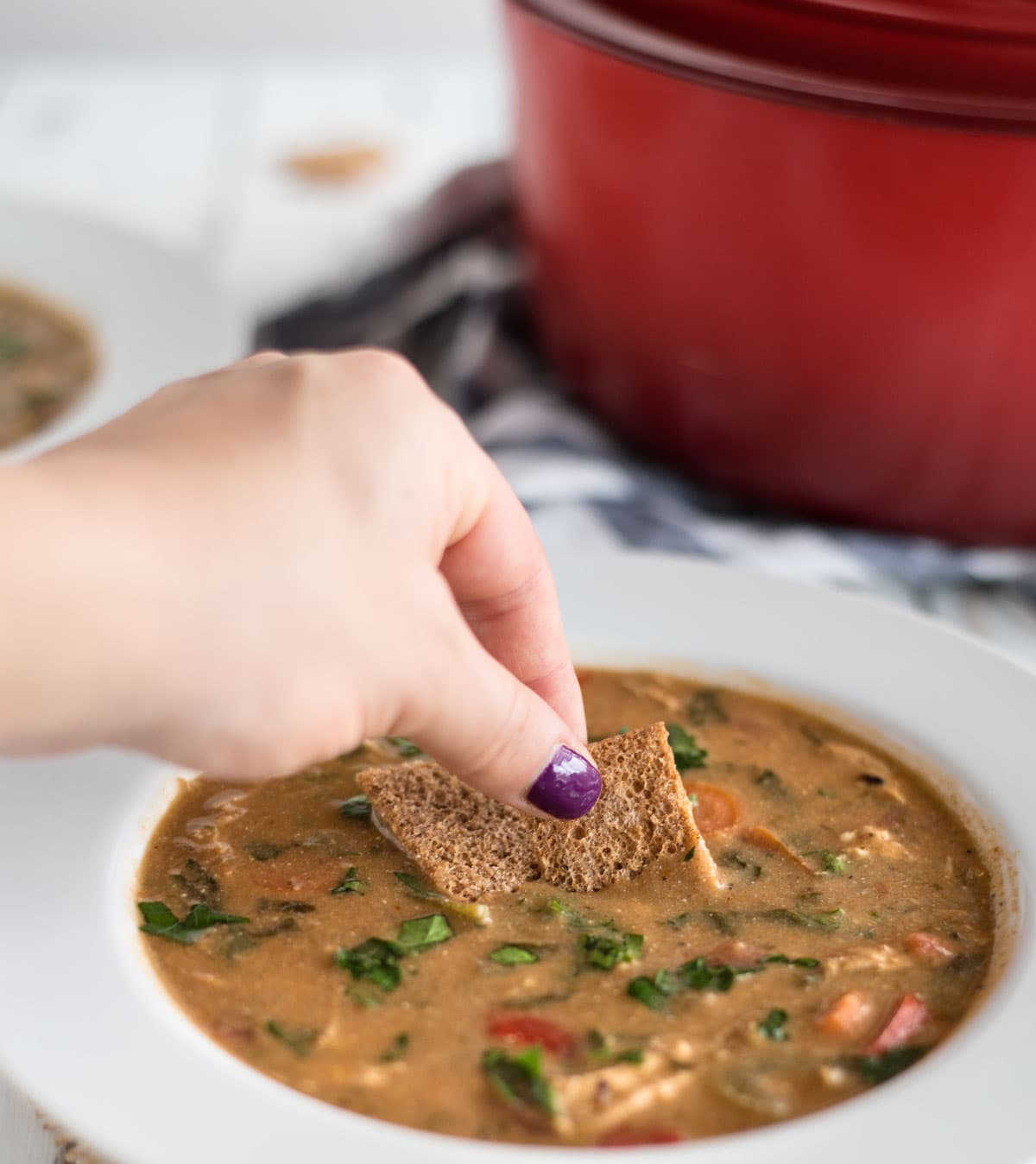 If you've never had chicken paprika soup and are wondering if you'll like it, bite the bullet and give it a try. Its pretty easy to make and, as with all soup recipes, is easily adaptable to your preferences (i.e. whatever veggies you have lurking in the back of your fridge).
Got a few potatoes? Throw 'em in. Don't have parsley? Leave it out. Don't have sour cream but have half and half? Use it! As long as you get the basics right, you can modify to fit your needs. I've added tons of extra veggies and thickened it up more like a stew before which was delicious.
Normally, chicken paprikash soup comes to be when we have leftovers from a whole chicken, either roasted myself or store bought. You can easily bake a few chicken breasts to use instead but having that roasted dark/light meat combo really adds a whole new depth of flavor. Plus it makes you feel like an all out kitchen goddess, which is always nice. You know, the kind of goddess that gets elbow deep in chicken carcasses? That kind.
When using a leftover whole chicken, I remove all of the meat I can from the bones and then boil them with some veggies to make my own stock. Then, you drain and discard those veggies and bones and have the best bone marrow chicken stock you can get. To make this even easier and avoid waste, I keep a baggie in my freezer for veggie scraps (onion peels, carrot tops, bell pepper stems, etc.) and then dump those in the stock pot when the time comes.
I'm sure you've heard all the hype about bone marrow lately. If you haven't, its one of the new health food holy grails and you really should get with the program and add it to your diet. Unless you're vegetarian, but if that's the case, I'm assuming you skipped over this chicken paprikash soup recipe to begin with, right? I'd hope so or you'll be cringing at all this talk of carcasses! Eek.
Whether you're suffering alongside me with a cold or just want a comforting pot of soup for the weekend, I really hope you try this one out!
Easy chicken paprikash soup is bound to be your new go to favorite! Its full of rich comforting flavor, creamy, and more filling than your standard classic soup recipe. This chicken paprika soup is loaded with veggies too so its as healthy as it is delicious!
Ingredients
2 Tbsp. butter
1/2 cup white whole wheat flour
1 large onion, diced
2 red bell peppers, diced
4 stalks of celery, sliced
6 large carrots, peeled and sliced
1 Tbsp. minced garlic
1/2 tsp. dried tarragon
1/2 tsp. dried oregano
1 Tbsp. sweet Hungarian paprika
1/2 tsp. black pepper
2 tsp. salt (adjust to taste, depends on saltiness of broth used)
8 cups low-sodium chicken stock or broth
1 can diced tomatoes (14.5 oz)
3 cups cooked chicken torn into bite sized pieces*
1/2 cup sour cream
3 Tbsp. chopped parsley
3 cups baby spinach, roughly chopped
Instructions
Heat butter in a large stockpot over medium heat. Sauté the onion, red pepper, celery, and carrot for 8-9 minutes until vegetables are starting to brown and onions are translucent.


Add the garlic, tarragon, oregano, paprika salt and pepper. Cook, stirring, for 3 or 4 minutes until aromatic.


Add flour and stir until absorbed to make a roux. Slowly whisk in 1 cup of chicken broth. Add 1 more cup and whisk in before slowly pouring in the remaining chicken broth and tomatoes.


Increase heat to high and bring to a boil.


Add the sour cream and stir to dissolve. Add chicken, reduce heat and simmer for 10 minutes.


Remove from heat and add spinach and parsley. Garnish individual bowls with parsley if desired when serving.
Notes
*A rotisserie chicken can be used or you can create your own. To do this, preheat the oven to 400° F. Rub two chicken breasts with oil and then season with salt and pepper. Bake chicken for 15 to 20 minutes until cooked through. Let cool enough to handle and then roughly shred with two forks into bite sized pieces.
**Recipe adapted from Spark People Mama Leone's Soup
Nutrition
Calories: 245kcal | Carbohydrates: 21g | Protein: 21g | Fat: 9g | Saturated Fat: 4g | Cholesterol: 53mg | Sodium: 328mg | Potassium: 987mg | Fiber: 5g | Sugar: 6g | Vitamin A: 11370IU | Vitamin C: 59.2mg | Calcium: 115mg | Iron: 3.1mg