Creamy, delicious, and filling, this African peanut soup is brimming with rich full-bodied flavor and each serving contains a significant source of Vitamins A and C to boot.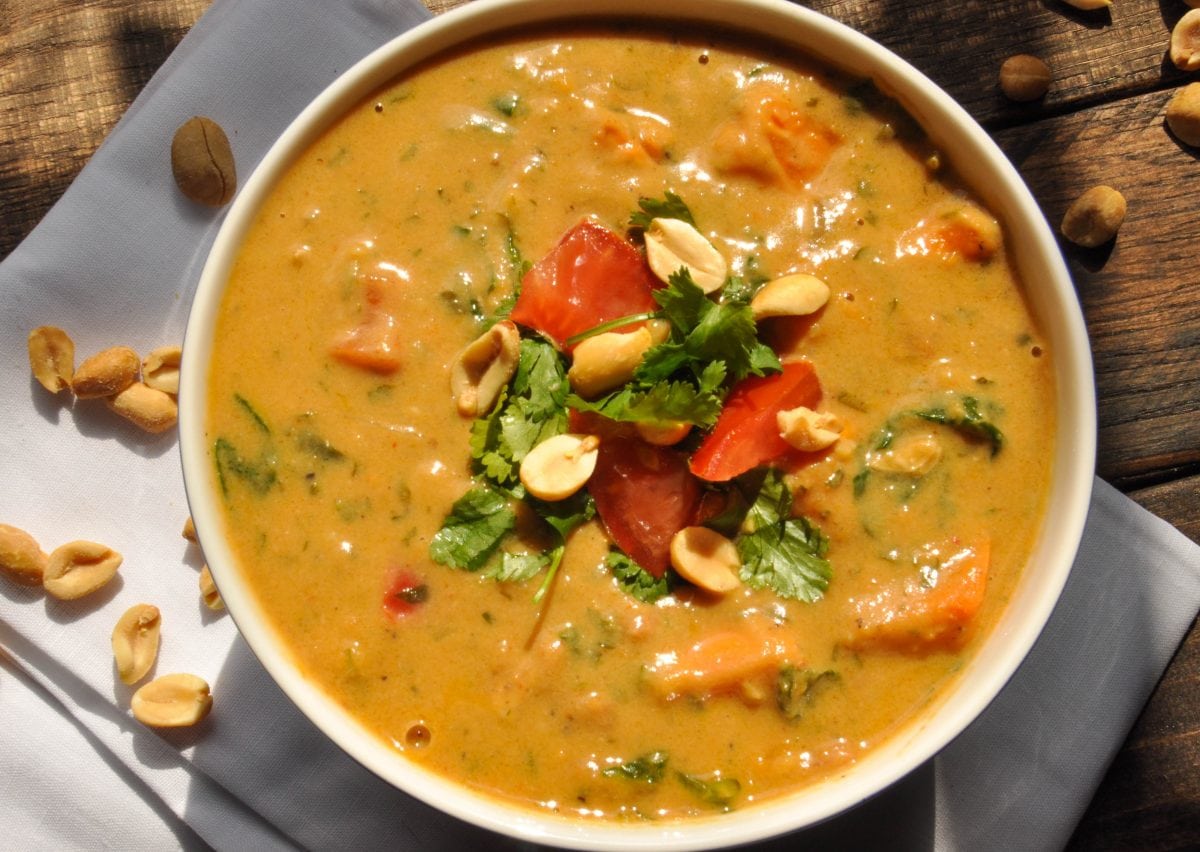 Leave it to me to post a soup recipe on the first day of nice sunny weather we have had in months. Even if it doesn't end up being soup weather this week, you'll definitely want to put this one on the meal plan soon. Maybe serve it with salad as a compromise to this bi-polar spring weather.
I have been wanting to make this African peanut soup recipe for years. For once I'm not even exaggerating, it has literally been yeeeears. I had it somewhere at a restaurant (that I can't even remember the name of now) and that creamy, liquefied peanut buttery flavor hasn't left my mind since. This soup reminds me a little bit of Thai peanut sauce or massaman curry, but with a whole new set of seasoning that comes into play.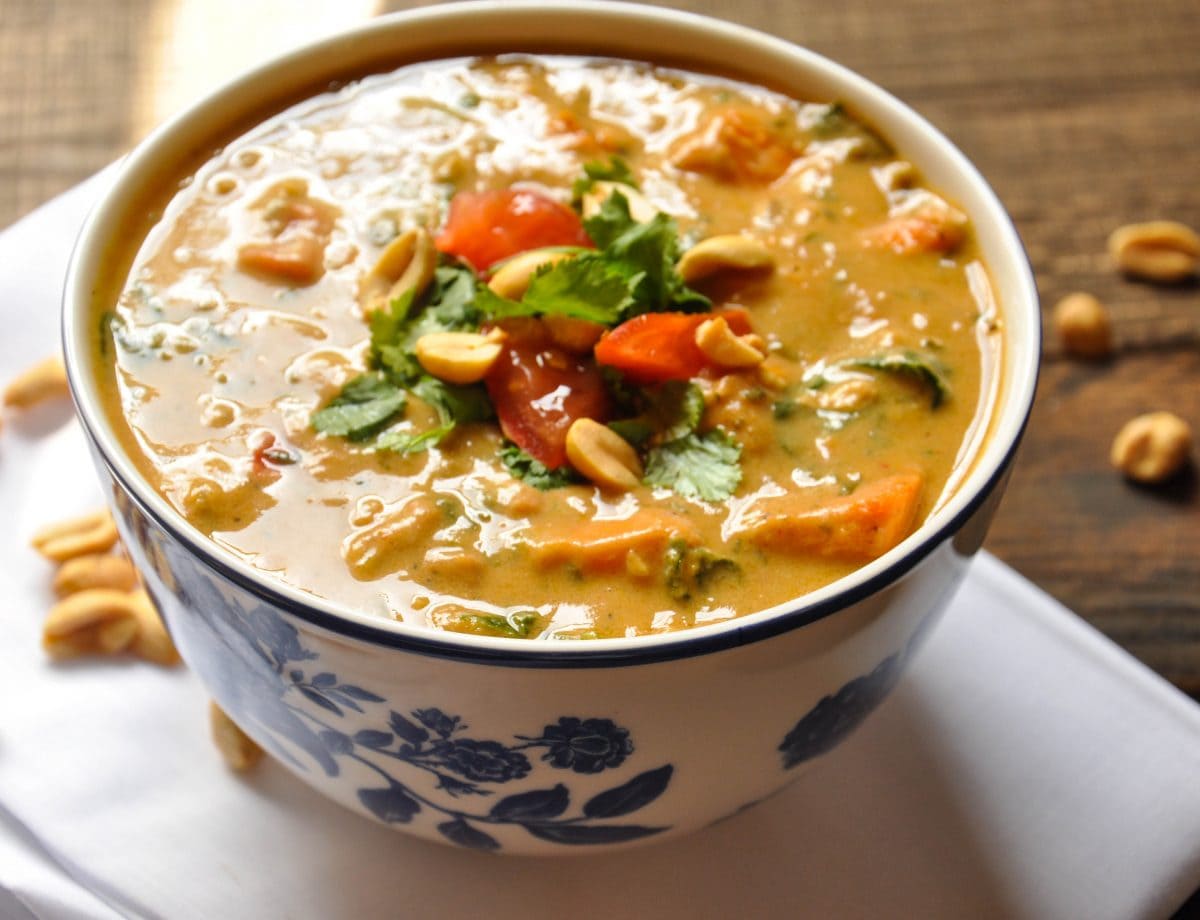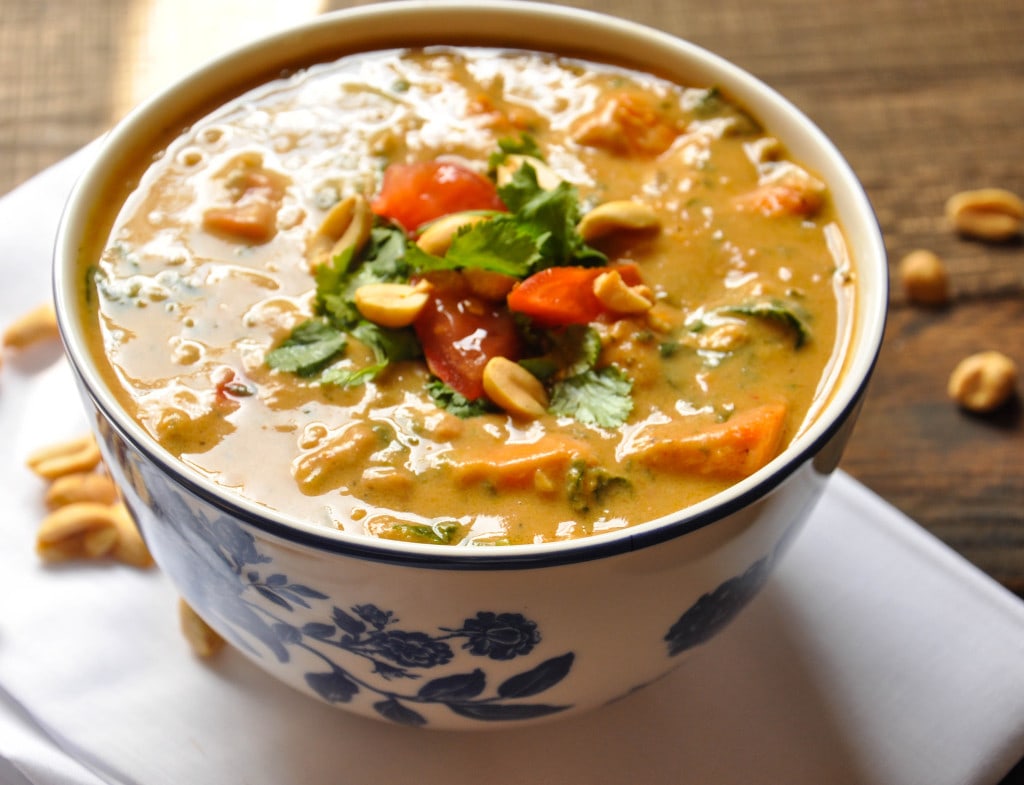 I love how thick and filling this African peanut soup is. In Africa they actually serve it over rice so it essentially ends up being more like a curry than a soup. I tried it both ways, with and without rice, and couldn't decide which I liked better. Soup, stew, curry - however you want to eat it, I'm sure you won't be disappointed.
The recipe I created uses chicken but I think you could probably replace the chicken with a little tofu and use vegetable broth if you want to make this vegetarian or vegan without compromising flavor. The peanut butter and peanuts give a protein kick too which helps to create the hearty, filling factor I usually look for in a soup like this. This makes it an ideal comfort food, perfect for cold, rainy days. Or sunny days if accompanied by a salad (as we agreed upon earlier).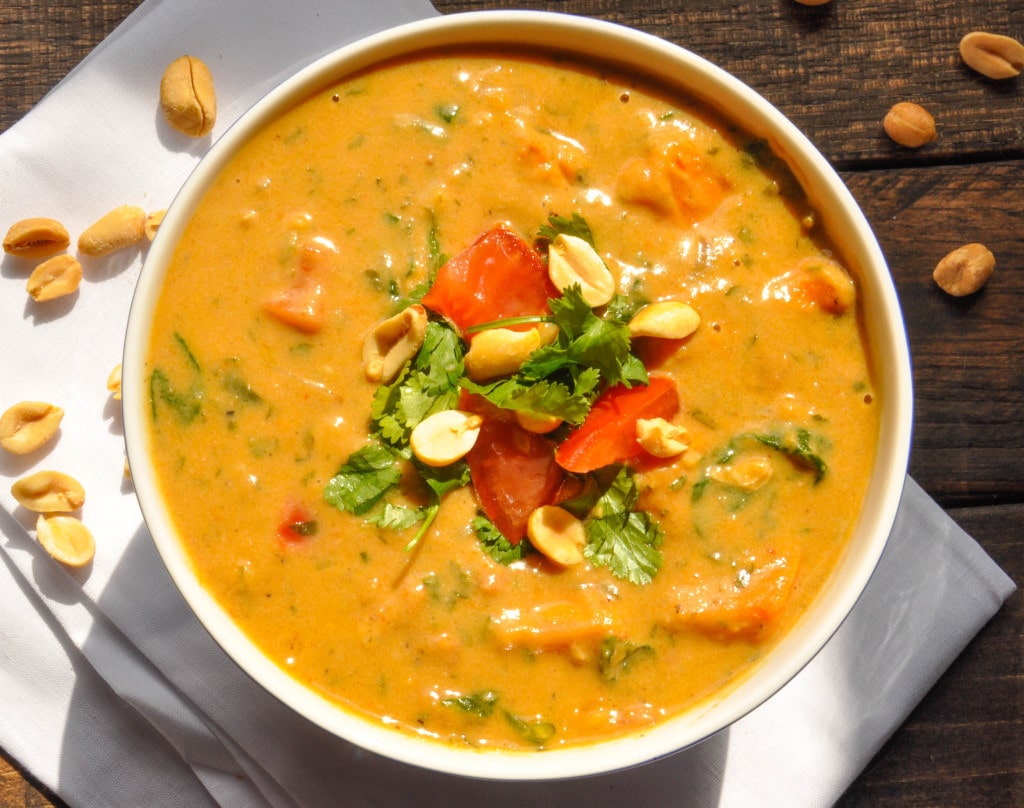 Although the name conjures exotic mental images, you'll probably find all of the spices you need are already in your spice cabinet. If you're in doubt, take my word for it on this one. Its worth making and your taste testers will love you for it. This African peanut soup got the "this is the best soup you've ever made" label from the husband (who doesn't throw that around often and does not like peanut butter).
African Peanut Soup
Creamy, delicious, and filling, this African peanut soup is brimming with rich full-bodied flavor and each serving contains a significant source of Vitamins A and C to boot.
Ingredients
1

chicken breast

(cut into 1/2 inch pieces)

1

Tbsp.

Coconut Oil

2

Tbsp.

minced ginger

1

medium onion

(chopped)

1

red pepper

(seeds removed and chopped)

2

jalapeños

(seeds removed and minced)

1

Tbsp.

minced garlic

1

Tbsp.

dried ground coriander

2

tsp.

ground cumin

1

large sweet potato

(approximately 1.5lbs., peeled and cut into half inch pieces(

1

cup

chopped tomato

1

quart

chicken broth

3/4

cup

peanut butter

3

cups

handfuls fresh baby spinach

½

cup

chopped fresh cilantro

½

cup

roasted peanuts

Salt and fresh cracked pepper to taste
Instructions
Melt coconut oil in a large pot over medium-high heat. Cook chicken for 5-6 minutes until starting to brown on all sides. Remove and set aside.

Sauté onion and red pepper for 2 minutes until starting to soften. Add jalapeño, garlic, ginger, coriander and cumin and continue cooking 2-3 minutes.

Add sweet potato, tomato, and broth. Lower heat and simmer for 15-20 minutes. Stir in peanut butter and chicken and simmer another 15 minutes. Add peanuts, spinach, cilantro, and season with salt and pepper to taste.
Nutrition
Serving:
6
g
|
Calories:
397
kcal
|
Carbohydrates:
23
g
|
Protein:
23
g
|
Fat:
27
g
|
Saturated Fat:
7
g
|
Cholesterol:
24
mg
|
Sodium:
910
mg
|
Potassium:
979
mg
|
Fiber:
7
g
|
Sugar:
7
g
|
Vitamin A:
5320
IU
|
Vitamin C:
54
mg
|
Calcium:
113
mg
|
Iron:
3.9
mg
Did you make the recipe? I love seeing your creations!
To be featured tag @FeastingNotFasting on Instagram and use the hashtag #FeastingNotFasting - please leave a star rating below too! ★★★★★