Banana almond butter muffins are made without wheat or refined sugar by using healthy ingredients like oat flour, honey, yogurt, and flax meal. All of this good stuff and they still have a great texture, are high in protein and absolutely delicious!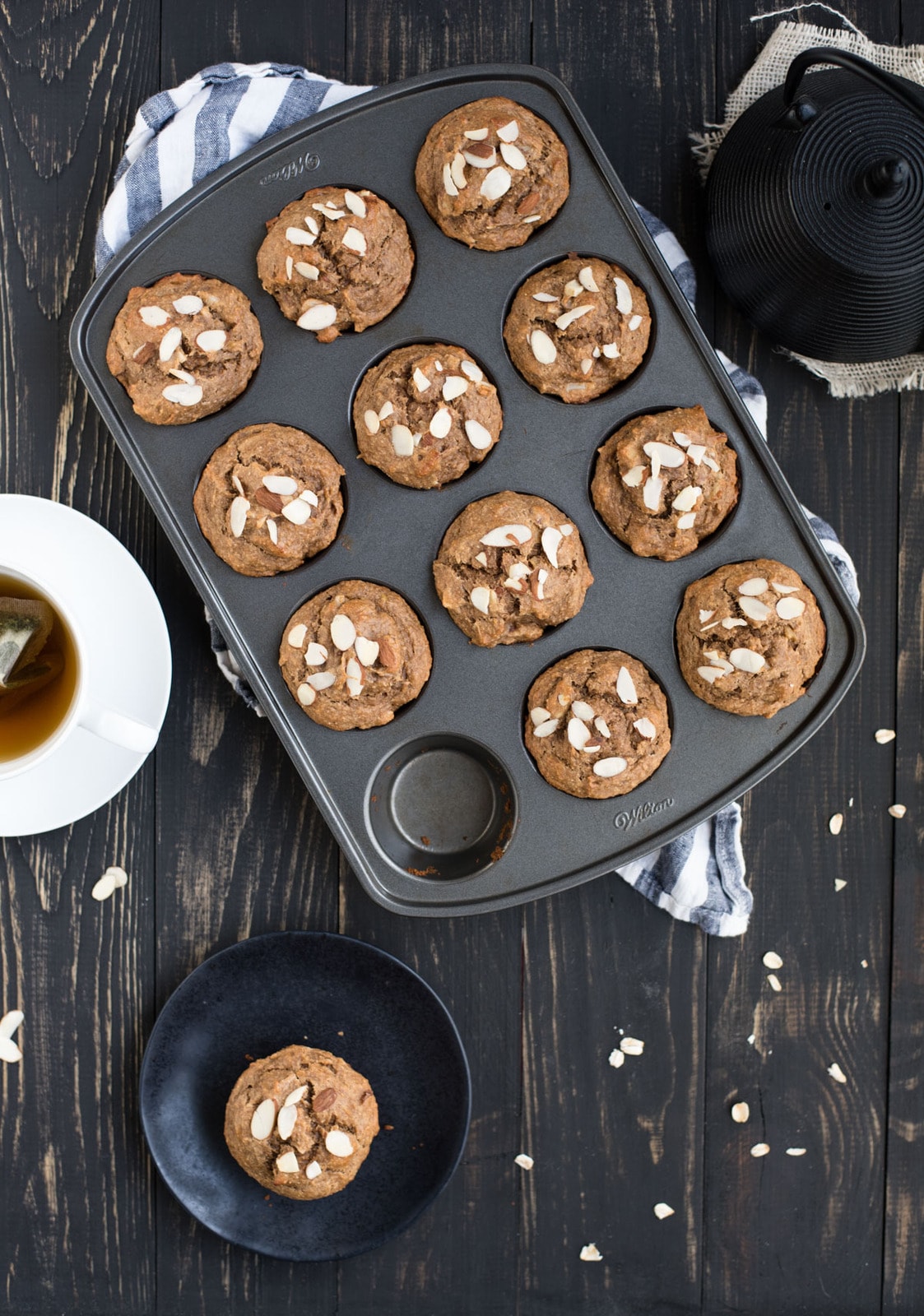 Let me just start off with saying that these almond butter muffins are LEGIT. When paired with your morning coffee, they're near perfection. Being made from oat flour, flax and having 9 grams of protein makes these almond butter muffins healthy and filling enough to eat for breakfast, and best of all – they'll actually satisfy that morning sweet carb craving! Hallelujah.
I can't be the only one that craves carbs in the AM. I don't know what it is but I just love a good bready breakfast. I normally choose some kind of egg dish when I go out to brunch but on regular 'ol weekdays, I gravitate toward carbs. Be it granola, avocado toast, overnight oats, or healthy almond butter muffins like this. Get me some carbs stat… or I get cranky.
This is the primary reason I turn my nose up at all of the low-carb diets. Def not on board with the new keto craze. Just isn't my thing. My brain functions better when I have good quality complex carbs in my diet. That being said – these almond butter muffins don't have any flour in them! Yup, just oats ground up into oat flour.
Oat flour has been my go to wheat flour replacement for a while now. It all started with my popular peanut butter banana muffins and I've since branched out into a carrot variety, chocolate peanut butter cupcakes, and now these almond butter muffins. To say I'm an oat flour lover is probably an understatement at this point.
For good reason though! Oats are high in fiber, protein, and various nutrients and have been proven to lower bad cholesterol. You've probably seen oat commercials highlighting how they're heart healthy. Would the quakers lie? Well, maybe, but not about this. Oats are your heart's best friend.
This recipe takes a few steps since you have to grind the oats… OR you can buy already made oat flour like a boss. Ever since Vitamix entered my life, I grind everything and anything I can, but when I had my old crappy blender, I usually just bought stuff like this. Do whatever works for you though. Its super simple to make oat flour yourself, but if you don't feel up to the task, you don't have to.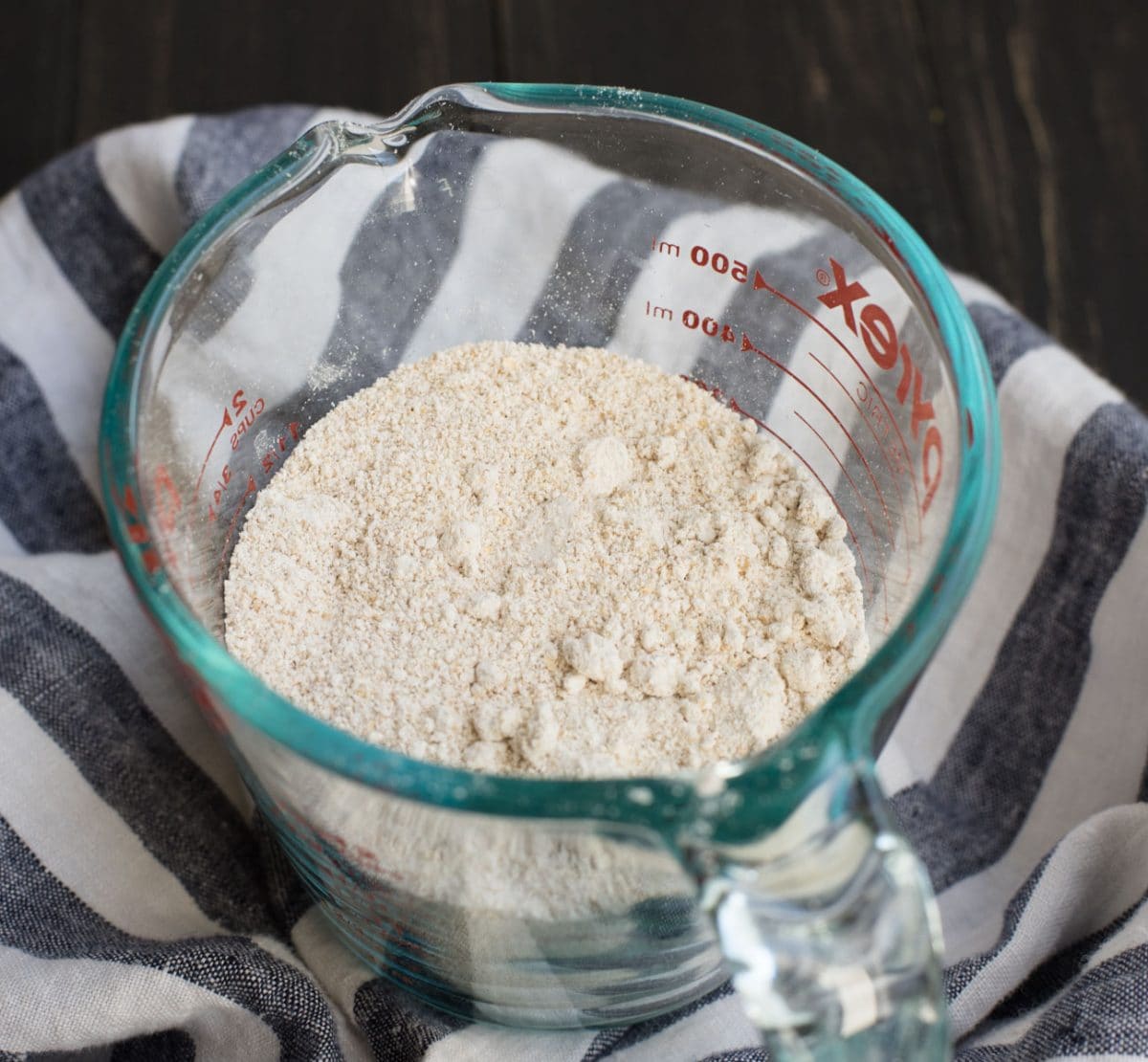 The batter for these almond butter muffins is thick and if you're a regular muffin baker, you'll be surprised at how full the muffin cups get. Just trust me on this. They'll be big dense muffins, but that's how they're filling enough to only need one for breakfast! The texture is just as good as regular flour too. I added xanthan gum to mine to make the texture even smoother but that step isn't necessary at all. If you're using gluten-free oats, definitely add it, but otherwise, the texture is fine without it.
If you're wondering what the heck xanthan gum is and/or have questions about whether its healthy or not that you don't care to look into, just leave it out. Xanthun gum is a binding agent that is used in gluten free baking a lot. I like using it in baking and think its pretty harmless but its certainly not necessary. The muffins are just a touch more crumbly without it.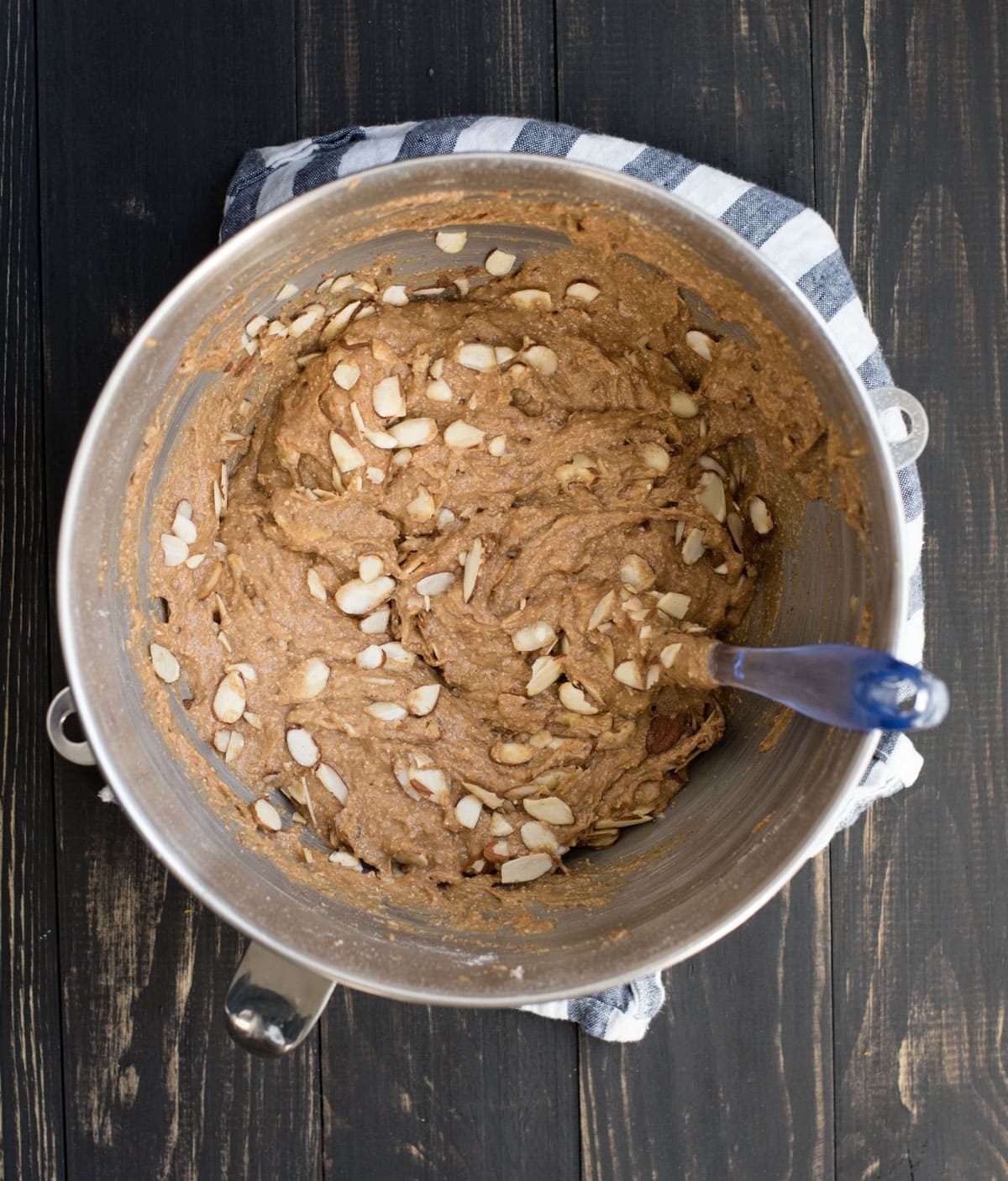 Here's a before and after baking pic of the almond butter muffins so that you can have proof that there isn't too much batter in each of those muffin cups. It seems like its too much, but it just makes for some plump muffins.
You don't have to get all cutesy and put the almonds on top but why not? It only takes a minute and spruces up the look of them so that they look as good as they taste.
Also, these muffins freeze well! A lot of people prep freezer meals prior to having a baby and I tried but was pretty haggard there toward the end of my pregnancy and barely squeaked a couple of quick recipes out. Luckily, these muffins made the cut so I had a freezer stash and could bust one out in those early, sleep deprived days with baby Stella where I couldn't manage to even toast a piece of bread for the life of me.
I wrapped each one in saran wrap and then froze them in an airtight container. I reheated for about 45 seconds in the microwave but the amount of time needed will vary based on how powerful your microwave is. Might take some trial and error to find the sweet spot, but I've got faith your microwave will pull through.
Having muffins on hand is a new must in my book and I recommend you do the same. Healthy freezer muffins are where its at.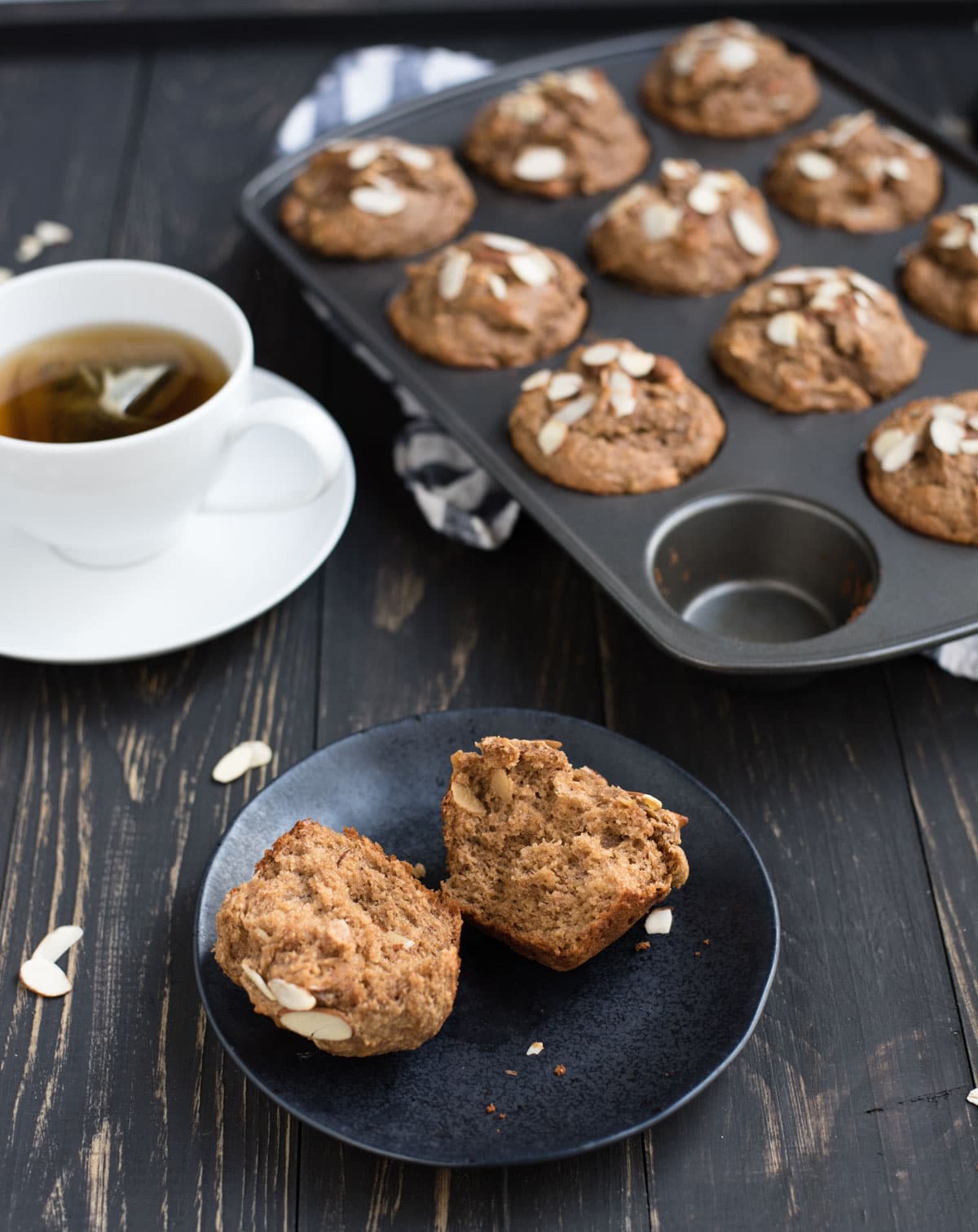 Banana almond butter muffins are made without wheat or refined sugar by using healthy ingredients like oat flour, honey, yogurt, and flax meal. All of this good stuff and they still have a great texture, are high in protein and absolutely delicious!
Ingredients
1 cup mashed ripe banana (about 3 bananas)
1 cup creamy natural almond butter
1/3 cup honey
2 tsp. vanilla extract
2 eggs
1/2 cup plain yogurt
1 tsp. cinnamon
1/2 tsp. salt
1 tsp. baking soda
1/2 tsp. baking powder
1 1/2 cups oat flour (grind 1 3/4 cup oats in a food processor or blender)*
1/4 cup ground flax meal
1/2 tsp. xanthan gum (optional)
cooking spray or muffin wrappers
3/4 cup sliced or slivered almonds (reserve 1/4 cup to sprinkle on top if desired)
Instructions
Preheat oven to 350° F.

Add mashed banana, almond butter, honey, vanilla, eggs, and yogurt to a bowl and mix well. Make sure to use a full cup of banana.


Add cinnamon, salt, baking soda, baking powder, oat flour, flax meal, almonds, and xanthan gum (if using) to mixing bowl with wet ingredients and mix until just combined.

Spray muffin tin with cooking spray or line with muffin liners.

Fill each prepared muffin tin cup with batter. Sprinkle 1/4 cup of the slivered almonds on top if desired.

Bake for 20 minutes or until a toothpick inserted into the center coms out mostly clean. Be careful not to over bake!

Remove from oven and let cool in pan for 10 minutes before removing and cooling before eating.

Notes
*If making oat flour in a blender, other ingredients can be added after and blender pulsed to mix all together without dirtying another bowl. 
Nutrition
Calories: 306kcal | Carbohydrates: 28g | Protein: 10g | Fat: 19g | Saturated Fat: 2g | Cholesterol: 29mg | Sodium: 219mg | Potassium: 382mg | Fiber: 6g | Sugar: 11g | Vitamin A: 58IU | Vitamin C: 1mg | Calcium: 136mg | Iron: 2mg