Hearty and healthy, this chipotle sweet potato soup packs a punch of flavor and nutrition with corn, poblano pepper, cilantro, and a touch of bacon.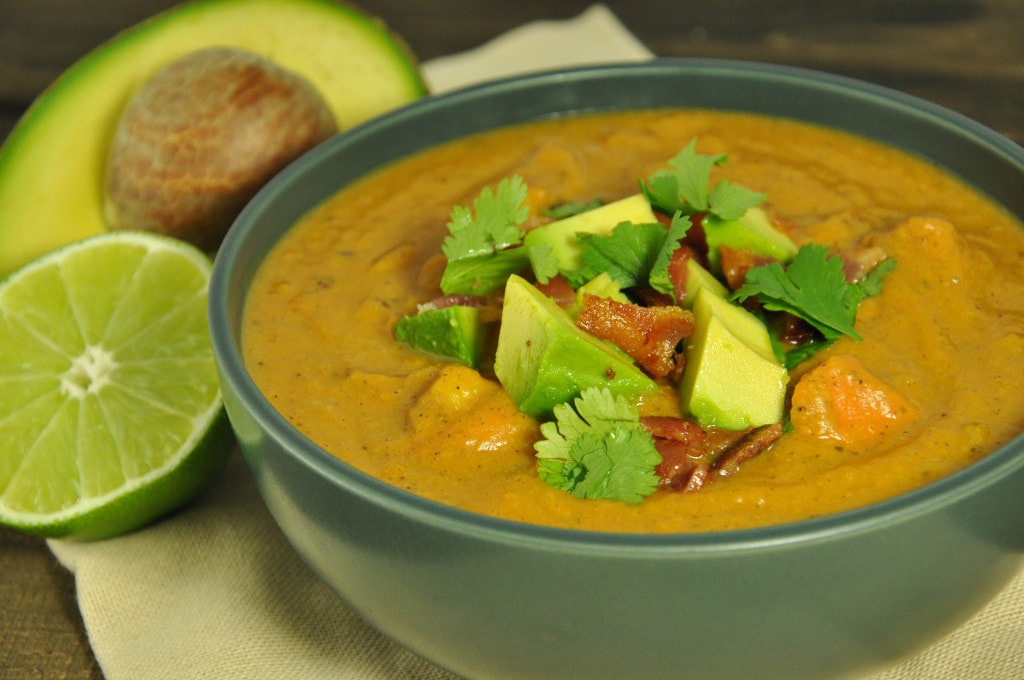 And the sweet potato obsession continues! I am excited to share this recipe with you all and hope you share my enthusiasm for sweet potatoes (especially since about half the recipes I post seem to use them in one way or another). Before winter ends altogether, I figured I could squeeze one more soup recipe in and have one last excuse to use sweet potatoes, because clearly I'm obsessed.
If you're over soups and root vegetables for the year, this sweet potato soup might not be for you, but for those of us in areas where winter lingers and seems to never want to leave *ahem, Portland* – this is the perfect dinner for you. Its simple, quick, and can easily be made vegetarian or vegan. This sweet potato soup was taste tested by a few different picky eaters and all gave it a big thumbs up making this one tried and true. The chipotle and lime punch up the sweetness of the potatoes and bacon adds that extra level of salty-savory goodness for a full palate pleasing experience.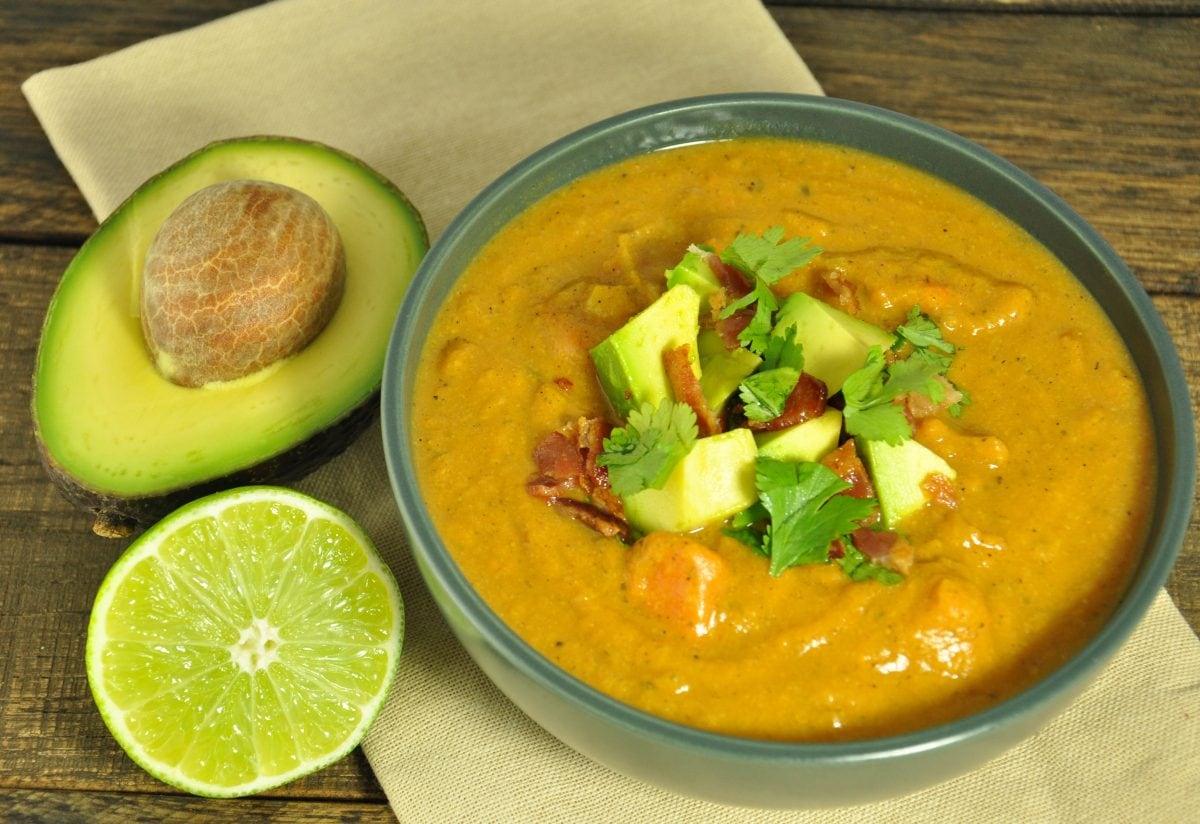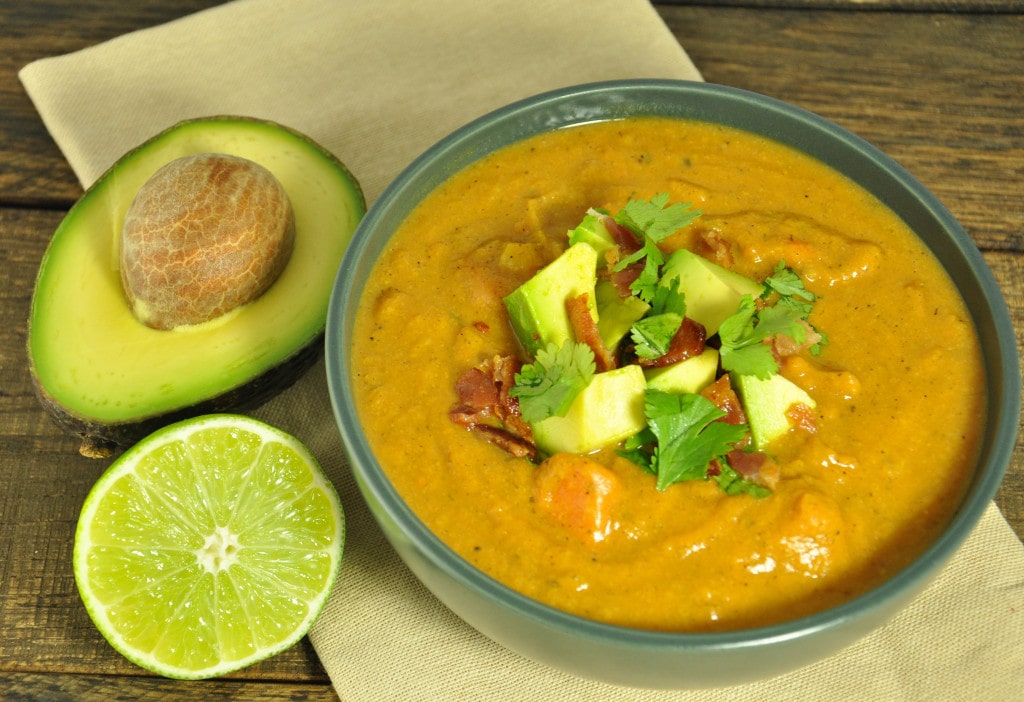 The first time I made this creamy stew it was completely vegetarian. Although he's normally pretty good about eating my veggie-based concoctions, on this particular evening, the husband was hungrily lurking in the kitchen complaining about the lack of meat. His worries vanished the second he tasted this sweet potato soup… and then he must have forgotten again when he went back for seconds.
The second time I made it, I added bacon to thwart any negative feedback from meat lovin' taste testers, but the recipe was still absolutely delicious without it. Next time I make this sweet potato soup, I might even omit the bacon again and add some black beans to up the protein level. Its a flexible recipe and I encourage you to play around with the ingredients to fit your needs on this one.
That being said, one thing to watch out for is the pungency of your spices. Chili powder is one of those ingredients that tends to loose potency over time so just understand that if you're using an older spice, you may need to add more of it to get the same affect.
Hearty and healthy, this chipotle sweet potato soup packs a punch of flavor and nutrition with corn, poblano pepper, cilantro, and a touch of bacon.
Ingredients
4 strips bacon
2 jalapeño peppers de-seeded and chopped (option: omit and use more hot sauce instead)
1 poblano pepper (de-seeded and chopped)
1 medium sized onion (chopped)
1 tsp. minced garlic
1/2 tsp. ground cumin
1 tsp. chipotle chili powder
1 large sweet potato (peeled and cubed)
4 cups chicken or vegetable broth
2 bay leaves
1 cup milk
1 cup frozen corn
1 tsp. salt (if using low-sodium broth, less salt if using regular)
1/8 tsp. black pepper
1 tsp. hot sauce )adjust based on desired level of spice)
Juice of one lime
1 Tbsp. chopped fresh cilantro
1 small avocado diced (for garnish)
1/2 cup plain yogurt or sour cream (for garnish)
Instructions
Fry bacon in a large pot over medium-high heat until cooked. Remove and set aside.

Add onion, poblano, jalapeño, and garlic and sauté 3-5 minutes until onion is starting to brown. Add cumin and chipotle chili powder and cook a minute longer. Add sweet potato, bay leaves, and broth. Cover and simmer approximately 20 minutes.

Add milk and corn. Stir and simmer an additional 15-20 minutes or until sweet potatoes are soft (time will vary depending on size of sweet potato pieces).

Remove bay leaves. Use an emulsion blender to blend the soup inside the pot or remove and blend in a blender until smooth.*

Add remaining ingredients, adjusting salt, pepper, and hot sauce levels to taste.

Garnish with avocado, yogurt and cilantro and serve.
Notes
*If you would like to have large pieces of sweet potato and corn pieces in the soup, remove 1/3 of the soup and set aside before blending.
Nutrition
Calories: 224kcal | Carbohydrates: 23g | Protein: 6g | Fat: 13g | Saturated Fat: 4g | Cholesterol: 16mg | Sodium: 1123mg | Potassium: 540mg | Fiber: 5g | Sugar: 7g | Vitamin A: 4075IU | Vitamin C: 30.2mg | Calcium: 94mg | Iron: 1.1mg