Crisp, tasty roasted sugar snap peas are the perfect savory snack to satisfy that salty craving in a healthy way.
There is something about relaxing TV nights that makes me crave salty snacks like no other. I'm talking about the types of foods that pack a satisfying punch of flavor that you can munch on continuously while zoning out for the evening. I know this goes against every diet recommendation out there that says that you're supposed to savor food without distraction, but sometimes… well, sometimes I just don't care.
I'm always on the hunt for healthy snack foods to fulfill my TV watching nosh needs and am excited to be adding a new option to my grub down repertoire – sugar snap peas! I don't know why it took me so long to start roasting these green crunchy little gems since I roast every other veggie in sight on a regular basis. Now that I'm on board with it though, there's no going back and these are on the menu at least once a week.
A full pound of sugar snap peas *should* be enough for four to snack on, but I can seriously down a full pound by myself. When the husband chips in on the effort, we demolish a batch of these in ten minutes flat. They are really that good.
Roasted sugar snap peas are such a quick snack too. The first few times I made them, removing the end and stringy part was kind of a hassle.
Then I learned how to remove the string the right way, but I normally just use my fingers instead of a knife. Then, a few weeks ago I found a pre-packaged kind that already has the string removed! I was so excited I think I audibly yelled "hallelujah" out loud in the grocery store without even realizing it. I may have startled a few fellow shoppers in the snap pea department, but this find was totally worth the brief awkward moment that followed. Even if you can't find the pre-prepped kind, removing the string from a pound of sugar snap peas can be done in about five minutes once you get the hang of it.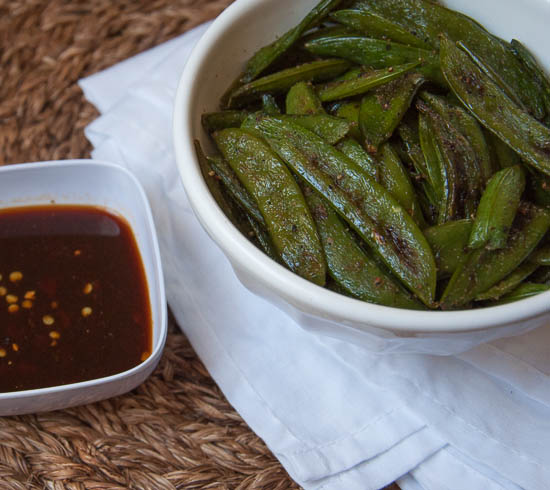 Of course, to make these the ultimate TV watching side-kick, a good dipping sauce is a must. I have tried various sauces, and this recipe is my overall favorite to date. The flavor is great and it makes way more sauce than you'll be able to use so you can save the rest and reheat it the next day with another batch of snap peas.
For the spice, I use chili garlic sauce, but sriracha or another Asian hot sauce works just fine too. If you like your food on the tamer side, just scale down the hot sauce to your liking and leave the cayenne out of the rub.
If you haven't already fallen in love with roasted sugar snap peas, please do yourself a favor and add them to your grocery list this week. Then, after you've fallen head over heals for this light and tasty snack, you'll find sugar snap peas start adding themselves to the shopping list each week . 🙂
Crisp, tasty roasted sugar snap peas are the perfect savory snack to satisfy that salty craving in a healthy way.
Ingredients
1 lb. sugar snap peas (ends and string removed from each)
1 tsp. olive or coconut oil
1/4 tsp. black pepper
1/2 tsp. garlic powder
1/2 tsp. onion powder
1/8 tsp. cayenne pepper
salt to taste (about 1 tsp.)
Dipping Sauce
1/4 cup low sodium soy sauce
1/2 tsp olive oil
1/2 tsp. minced garlic
1/2 tsp. minced fresh ginger
1/2 Tbsp. hoisin sauce
1 tsp. honey
1 tsp. apple cider vinegar (or white distilled or rice wine vinegar)
1 tsp. chili paste (or to taste)
1/2 tsp. corn starch
1/3 cup cold water
Instructions
Preheat oven to 450°F (232°C).

Toss sugar snap peas in oil to coat. Add seasoning and toss. Spread out on lined baking sheet. Roast for 10 - 15 minutes, stirring once, until sugar snap peas are roasted and starting to brown.

While sugar snap peas are roasting, mix corn starch and cold water. Mix all other dipping sauce ingredients together in a small sauce pan over medium-high heat. Add cornstarch water mixture and heat until sauce starts simmering. Simmer for 1 minute while whisking and then remove sauce from heat.
Nutrition
Calories: 90kcal | Carbohydrates: 14g | Protein: 4g | Fat: 2g | Saturated Fat: 1g | Cholesterol: 1mg | Sodium: 568mg | Potassium: 255mg | Fiber: 3g | Sugar: 7g | Vitamin A: 1295IU | Vitamin C: 68.1mg | Calcium: 51mg | Iron: 2.7mg
These nutrition facts assume you will consume all the sauce (which you won't) so don't be afraid of that crazy high sodium number.