Curry lentil soup that's chock-full of healthy yet delicious ingredients that meld together into a comforting, fulfilling, nutritious meal.
With summer right around the corner, I wanted to get one last soup recipe out. I can't wait for summer but am going to miss my winter soup habit oh so much. Its almost impossible to make a bad soup in my opinion. It isn't like seasoning meat or baking where you've got to cross your fingers and hope for the best when you're experimenting. Oh no, with soup you just adjust as you go.
This vegetarian / vegan curry lentil soup is no different. The first time I made it was just as good as the second. The technique was improved, but flavor was excellent both times. If things don't taste quite right, its within your power to change it. Just add seasonings slowly and taste as you go. There's no way to screw this one up.
In addition to tasting fabulous, this plant based soup is absolutely filled to the brim with veggies and other good for you ingredients. Curry has been linked to health benefits for arthritis, dementia, and even stroke victims. Kale and carrots speak for themselves on the health food front.
Lentils though, my friend, lentils are where its at. They're an excellent source of plant based protein with tons of other lesser known nutrients hiding in each tiny little legume.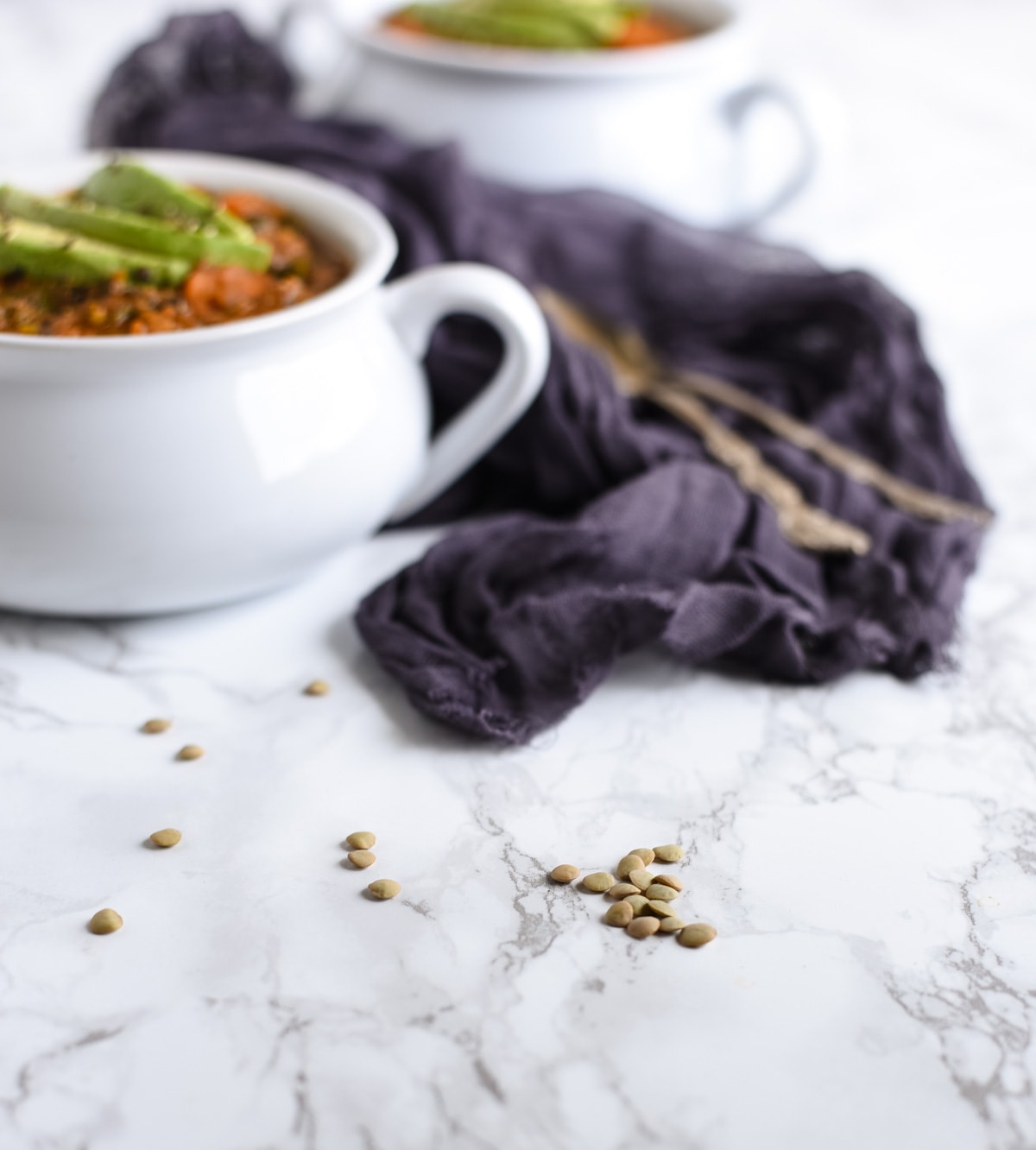 If you're not a lentil fan, you definitely should reconsider. Lentils are the king of folate with significant sources of fiber, protein, iron, and a slew of other essential vitamins and nutrients too. Folate is a pregnancy vitamin must so I've been overloading on folate rich foods like lentils, beans, and avocado.
With all of the prenatals I've been downing, its a relief to sub in a soup or other folate loaded meals from time to time.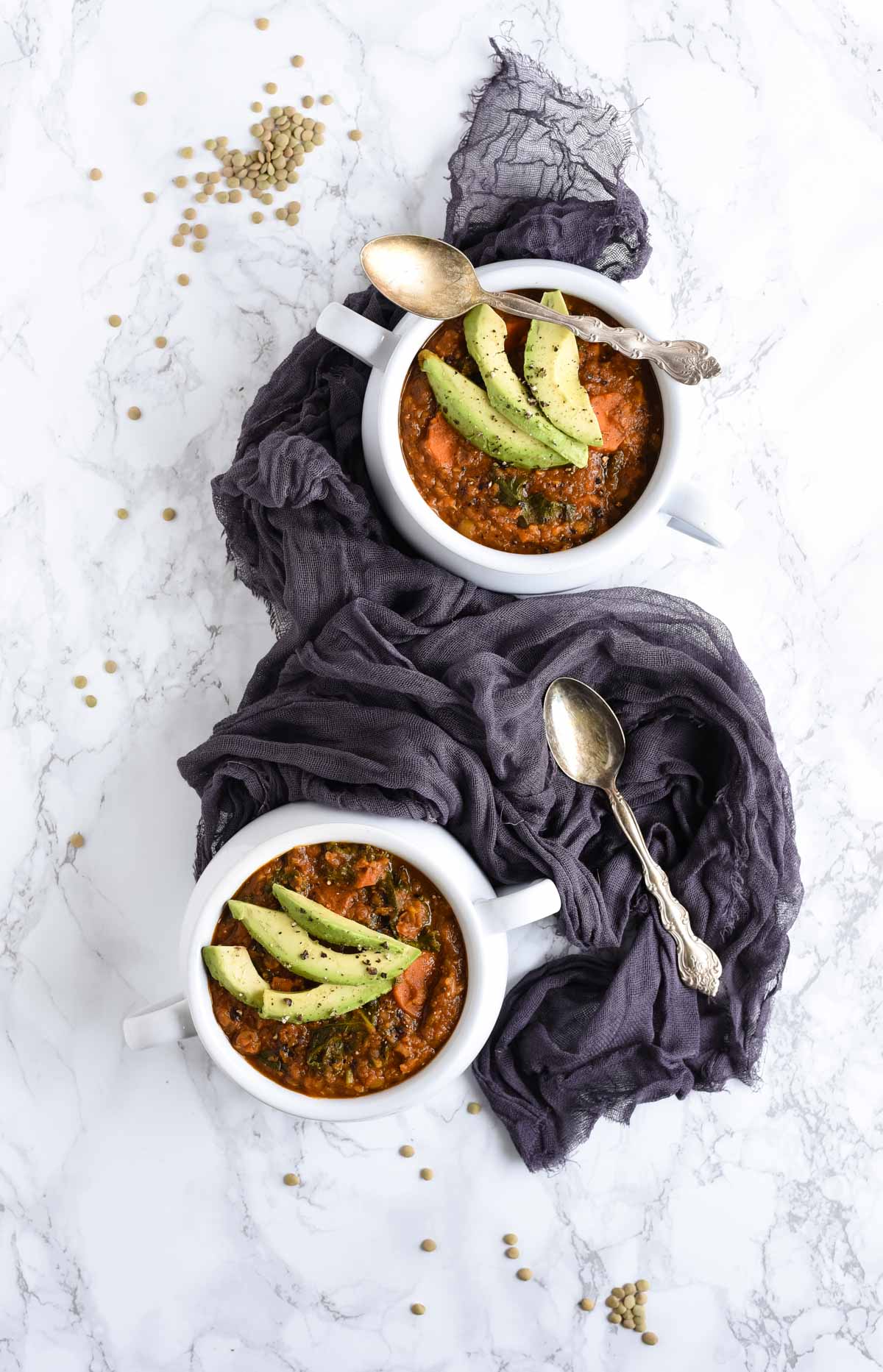 The only real craving I've been having is for fruit and carbs.
Must. Eat. All. The. Carbs.
But if you balance all the bread and pasta with nutritious dinners like this curry lentil soup, whats the harm? I mean come on, its basically begging to be served with a big, fat slice of bread. And the avocado topping? Gah! Why have I never thought to put avocado on lentil soup before! Its sooo good.
I had a few avocados I had to use up and spied them just as I was spooning the soup into bowls. You can go without, but its really a match made in heaven.
I know I've shared a red lentil curry recipe but this is the first FNF green lentil recipe I've shared with you. My version is largely based on Cookie and Kate's lentil soup which is excellent as is, but I really think the additions I've made with coconut milk, more spices, and the avocado topping take it to a whole new unique level.
If you haven't checked out her blog, you probably should. Cookie is her dog kitchen helper, which those of you that have heard me rave about mine, know that I'm all about letting my main four-legged squeeze in the kitchen.
He started jumping up on chairs at the kitchen table a while back and I know its poor form for a pooch but its so stinkin cute, I don't have the heart to stop it. If we're sitting around sipping wine and chatting withe friends, its more than likely that Bern-dog is in one of the seats, following the conversation with his eyes like he knows what exactly what's being said. Seriously love that pup. I mean who couldn't love this mug?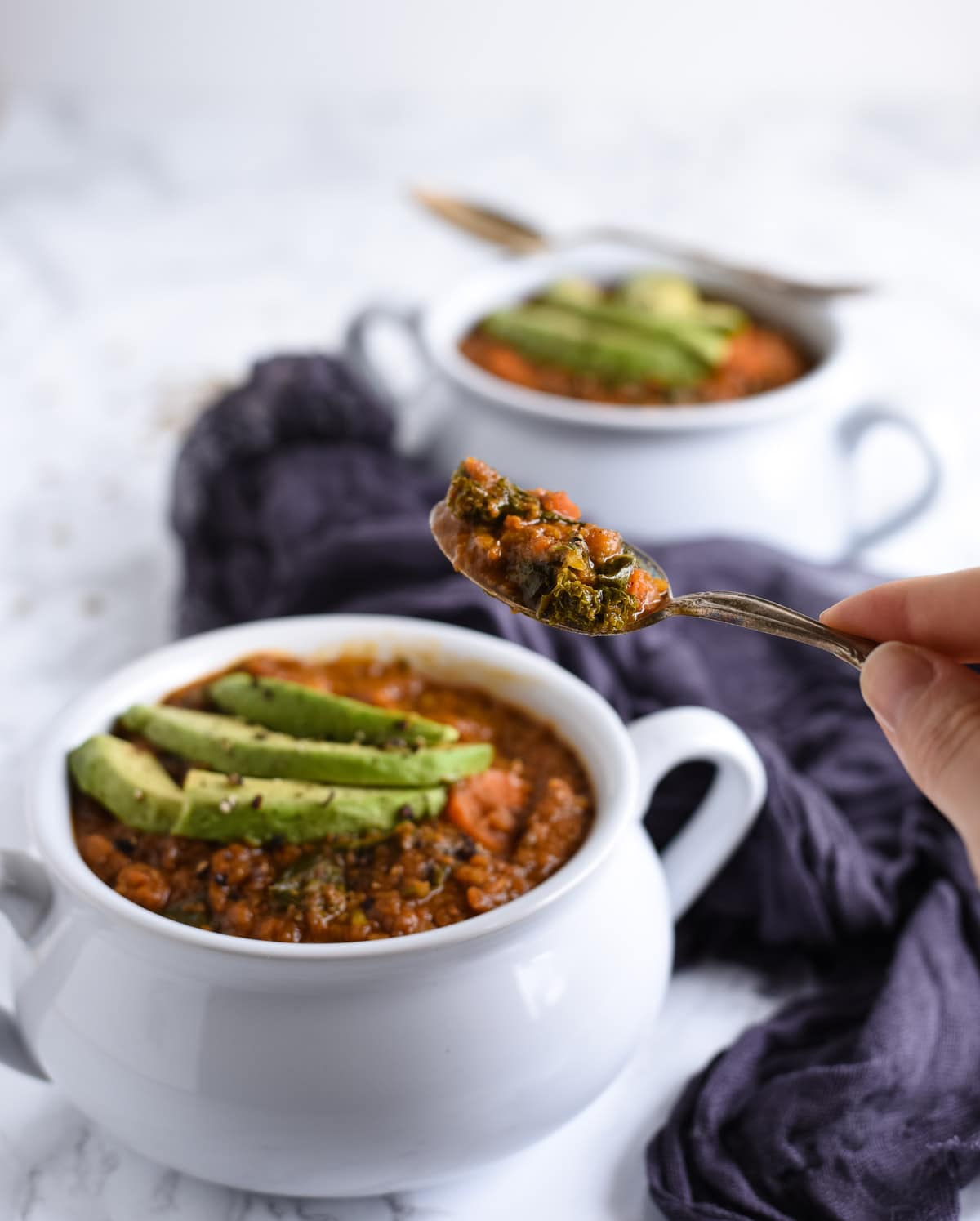 Well, I thought I could go a whole recipe without going off course, but it appears to be near impossible for my rambling mind. It started off strong with curry lentil soup talk but as soon as I mentioned folate, that lead to pregnancy, and then here we are talking about dogs in kitchens. Oh my, how quickly it all unravels.
In respect for your time this lovely Sunday morning, I'll leave it at that. Enjoy the rest of the weekend and the recipe!
Curry lentil soup that's chock-full of healthy yet delicious ingredients that meld together into a comforting, fulfilling, nutritious meal.
Ingredients
1 1/2 cup green lentils
2 Tbsp. avocado oil can use olive or other oil
1 large onion chopped
4 large carrots peeled and sliced into 1/8" rounds
2 tsp. minced garlic
2 tsp. ground cumin
1 tsp. turmeric
1 1/2 tsp. curry powder
1/2 tsp. herbs de provence can sub for another herb like thyme if needed
1 tsp. salt
1/2 tsp. black pepper
1 pinch cayenne pepper to taste
28 oz. can crushed tomatoes
4 cups low-sodium vegetable broth
13.5 oz. can of coconut milk lite is fine
6 cups chopped kale center stems removed; about 1 bunch of kale
1 Tbsp. apple cider vinegar
1 avocado optional
Instructions
Rinse lentils and pick out any hard or discolored ones and discard. Let rinsed lentils sit.

Add oil to a large pot and warm over medium heat. Add onion and cook for 4-5 minutes until onion starts to soften. Add garlic, carrots, cumin, turmeric, curry powder, herbs de provence, salt, pepper, and cayenne and stir another minute until spices are aromatic and well mixed in.


Pour in diced tomatoes, vegetable broth and lentils. Increase heat to high and bring to a boil. Reduce heat, partially cover, and let simmer for 30 - 35 minutes until lentils are cooked through but still holding shape.


Add coconut milk and stir to mix in.

Use a stick blender to blend a small amount of the soup to thicken. If you do not have a stick blender, remove 2-3 cups of the soup and place in a blender, blend, and then pour back into pot.

Add kale and and apple cider vinegar and cook for about 4-5 minutes longer until greens are soft.

Season with additional salt and pepper if desired. Ladle into bowls and top with sliced avocado to garnish if desired.


Soup will keep in the refrigerator for 4-5 days and freezes well in airtight containers for up to three months.
Nutrition
Calories: 433kcal | Carbohydrates: 57g | Protein: 18g | Fat: 16g | Saturated Fat: 5g | Sodium: 1236mg | Potassium: 1541mg | Fiber: 20g | Sugar: 11g | Vitamin A: 14205IU | Vitamin C: 102.5mg | Calcium: 218mg | Iron: 8.3mg