Peanut butter energy bites filled with super foods like oats, flax, hemp hearts, and chia seeds. This leaves room for chocolate chips and honey!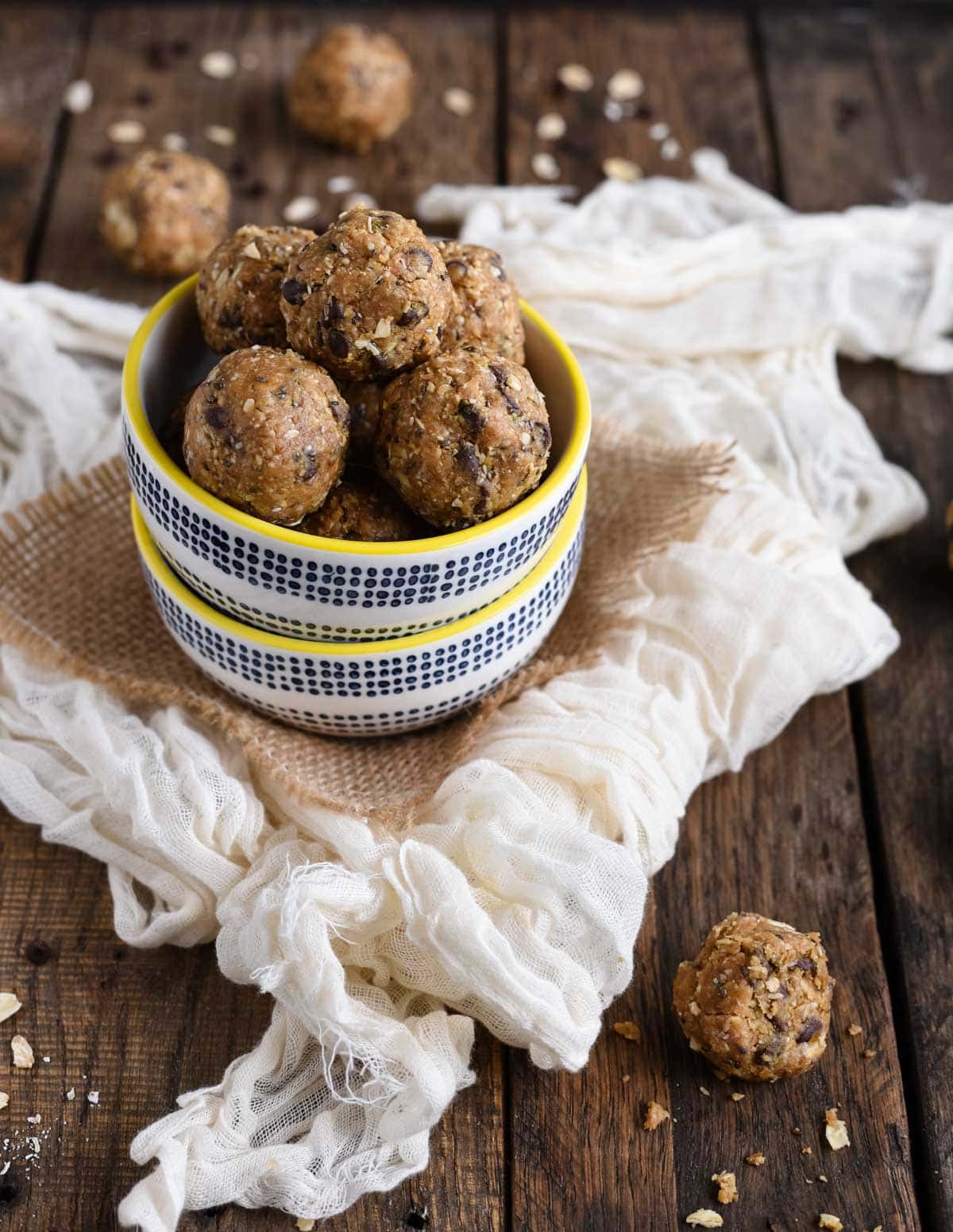 Happy Mother's Day to all of the wonderful mothers, moms to be, and those of you wishing to be mommies! As always, I wish my mom wasn't an ocean away but I'm happy to have her for a few weeks this summer. We'll celebrate when you get here momala. 😉
This Mother's Day is particularly special because its my first in the mom-to be club! The latest edition to FNF comes this November and we couldn't be more thrilled! We had our first ultrasound (where it didn't look like a peanut) on Friday and were in awe of this new little life. So special to see him/her bouncing around and looking happy and healthy. With the crazy trip my life has been so far, I am beyond excited for this new adventure.
And more breaking news – my sister, Linds, had a beautiful baby boy yesterday!! So little FNF peanut will be born with a best friend already waiting. Please hold while I emotionally loose it for a minute… okay I'm back. Tissues disposed of.
Well, I know most of you are here for the food so I won't dwell on this, but wanted to take a minute to share that tid bit of exciting news. Speaking of peanuts, let's talk about these peanut butter energy bites shall we?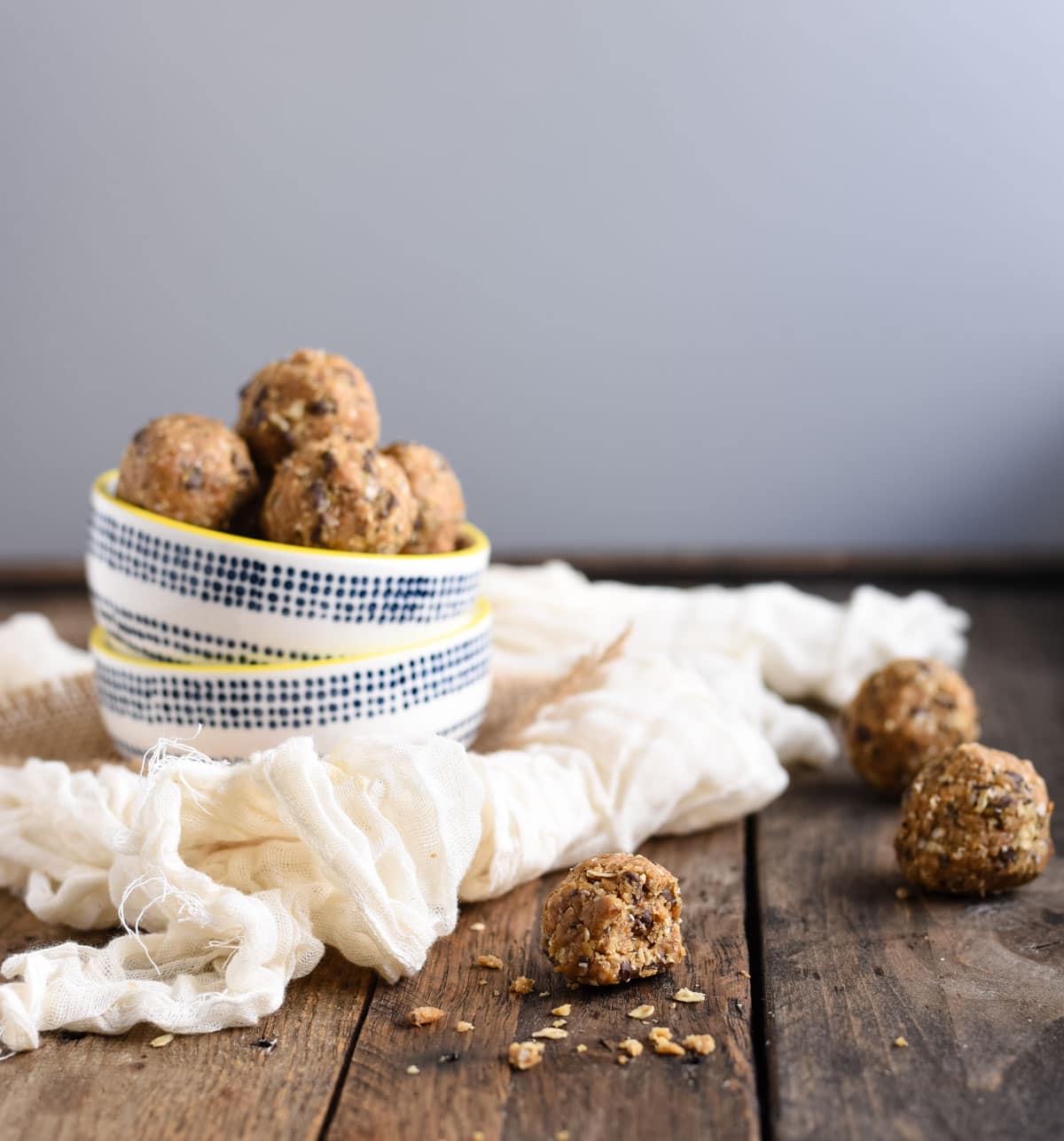 First and foremost they are delicious. Second, these pictures and the recipe is eerily similar to the peanut butter protein balls I shared a long time ago. I must have had that recipe in mind when I whipped these up because the pics are almost identical. I am so predictable! Blaming it on the pregnancy brain.
The recipe is quite different though because these have goodies like honey instead of dates and no protein powder! They both have similar levels of protein, but in this recipe, the protein all comes from the peanut butter, hemp hearts, chia, flax, oats, and other nutritious stuff. Which do I like better? It just depends on what you're going for.
Both are delicious and simple as can be. The other has a touch more sugar and is gooey because of the dates. These peanut butter energy bites have less moisture and are heartier since they have all those seeds in there. I'd call this the super food twin to the other recipe.
Just go with whichever ingredients sound best to you though – they're both good!
Don't those blender steps make it look easy? When you go to roll into balls, you've really got to mash it together because it'll be a bit crumbly. The warmth from your hands will help with this though and once you do the first two, you'll be on a roll.
Your hands will look like you just went through the energy ball version of a tough mudder when you're done, but that's nothing a little soap and water can't fix.
I know the recipe says to refrigerate for a while and I definitely recommend this because it helps the energy bites stick together, but you can taste test. I pretty much always pop a ball in my mouth before the plate makes its way to the fridge.
And for those of you that haven't experienced peanut butter energy bites (or any energy bites for that matter) this is pretty much the best snack ever! First, they're easily portable in a small tupperware container. Second, they're full of healthy ingredients and protein in a tiny portion size! Third, they're sweet enough to satisfy a craving that would've left you munching cookies if you didn't have these on hand.
Oh, and fourth, as you saw before, they're super easy to make. I bet kiddos would love to help roll these into balls too. I haven't tested this theory but could see it being a win. Then when they're begging for that elephant ear at the zoo, you can bust the energy balls out and be super mom and they'll love them since they helped make them.
Or… maybe I've got a lot to learn about this mom stuff and they'll have a melt down anyways. I don't know, but I do know that I have melt downs at times without food so having healthy snacks on hand is essential.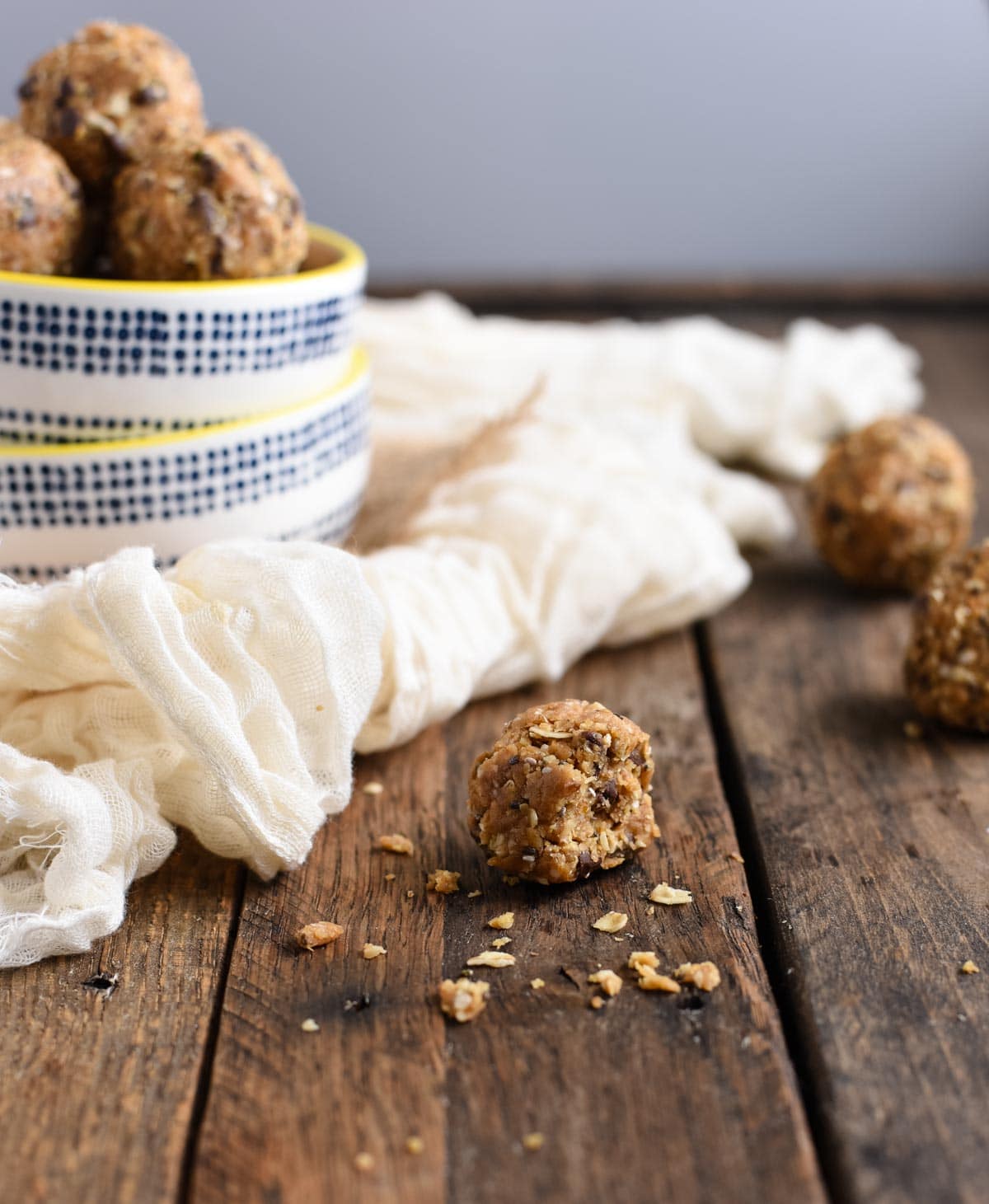 Peanut butter energy bites filled with super foods like oats, flax, hemp hearts, and chia seeds. This leaves room for chocolate chips and honey!
Instructions
Add peanut butter, honey, and vanilla to a food processor and pulse until mixed.

Add remaining ingredients and pulse several times to mix without breaking the oats down too much. Scrape the sides of the food processor between pulses.

Roll into one-inch balls and place each ball on a small baking sheet, lined with parchment paper.

Place baking sheet in the refrigerator for about half hour to allow balls to firm up.

Keep in a sealed container in the refrigerator for up to a week.
Nutrition
Serving: 1ball | Calories: 136kcal | Carbohydrates: 11g | Protein: 4g | Fat: 8g | Saturated Fat: 1g | Sodium: 41mg | Potassium: 115mg | Fiber: 2g | Sugar: 5g | Vitamin A: 20IU | Calcium: 32mg | Iron: 1mg
What are your Mother's Day plans?
Also, anyone else pregnant out there? I'd love to hear from you! 🙂