Endives are the fancy way to do salad! They're loaded with Vitamin A and pairing with grapefruit, feta, and pecans makes for a fresh, healthy appetizer.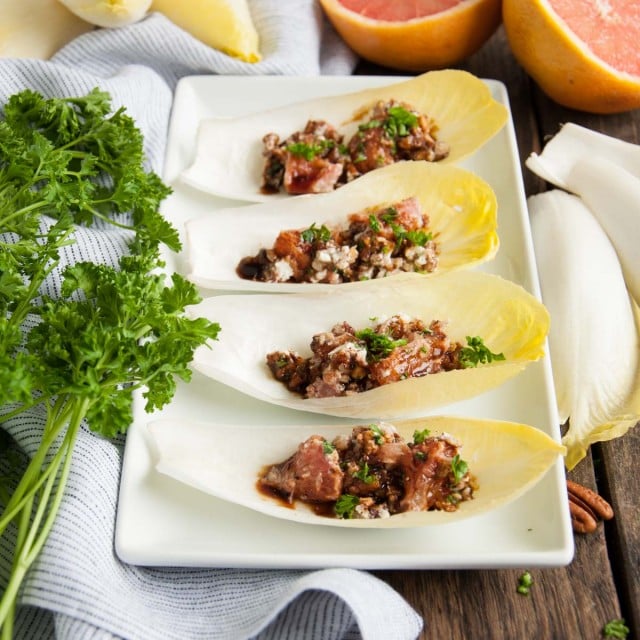 Irregardless of their crispness and peppery flavor, endives have never really been on my vegetable radar. Finding new veggies to love is always fun though and I'm happy to report that these crunchy lettuce-like greens made the cut. Its a good thing too because they're jam-packed with nutrients, particularly Vitamins A and K.
They have a fair amount of folate too so these would be a good snack for all the pregnant ladies out there who are downing their fair share via prenatal vitamins. Supplement that pill by munching on endives!
Endives have a unique, mild flavor that is slightly bitter (but not in a bad way) with a wee bit of sweetness. This makes them perfect for recipes that combine complementary flavors full of salty, nutty, and tangy ingredients. Aside from the flavor, the way Belgian endives are shaped makes them perfect for loading up with tasty goodies.
Feta, pecans, honey and balsamic vinegar are all part of the flavor combo I used, but you can switch up the ingredients to match your preferences. I based this recipe off of this version that uses goat cheese, oranges, and chives instead – yum!
Whatever combo you roll with, just don't forgo the balsamic! Use the good stuff and DO NOT skip this step. The sauce is where its at in this recipe and really ties this wide spectrum of flavors together.
I use Costco's Kirkland brand, which is great. If you don't have a Costco membership, I know they sell it on amazon too. There are tons of other great brands out there, just please don't buy a $3 bottle at the grocery store. That stuff will turn you off to balsamic vinegar altogether before you even get a chance to become as obsessed with it as I am. I swear its a healthy obsession.
Unlike my obsession for pugs. Don't even get me started on those flat little smooshy faces… <insert gaga heart eyes emoji, yup, you know the one>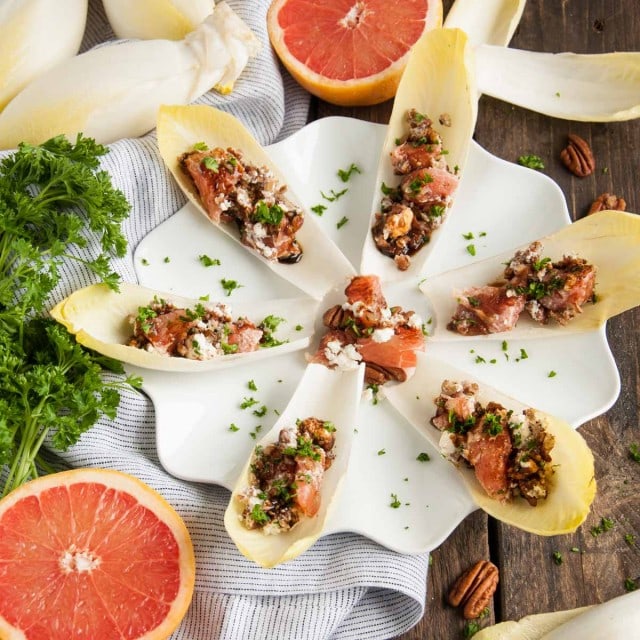 With all of the summer parties and BBQs coming up, I wanted to share a recipe with all of you that's a bit different, refreshing, and oven-free. These endives come together in no time at all so, not only will you keep the house cool, but you'll also have more time to hang out and enjoy the sun, friends, and all that makes up epic summa time chillin. Welcome summer. Its been waaay too long!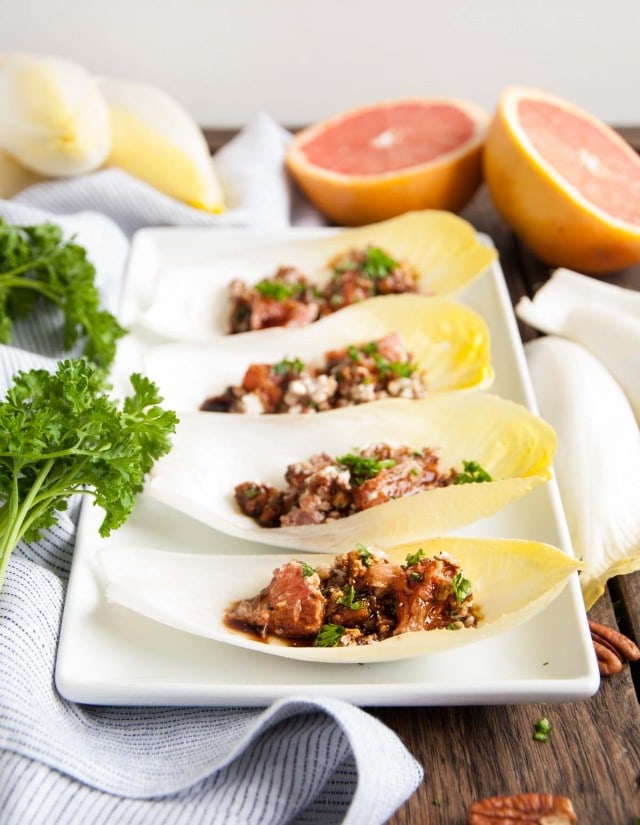 Are endives a new food for you too? How do you eat them?
Endives are the fancy way to do salad! They're loaded with Vitamin A and pairing with grapefruit, feta, and pecans makes for a fresh, healthy appetizer.
Ingredients
3 Belgian endive heads (outer leaves removed and separated)*
1 small grapefruit (peeled and sectioned, with each section cut into thirds)
1/2 cup pecans
1/2 cup feta
1/3 cup balsamic vinegar
2 Tbsp. honey
3 Tbsp. fresh squeezed grapefruit juice (I reserved a few sections of the grapefruit for this)
2 Tbsp. parsley
Fresh cracked pepper
Instructions
Heat pecans in a small pan over medium-low heat for 3-4 minutes, stirring regularly until they start to smell toasty (do not turn your back on them, they toast quickly!).

Coarsely chop the toasted pecans.

In a small bowl, combine pecans, grapefruit pieces, feta, and 1 tablespoon of the parsley.

Add the balsamic vinegar, honey, and grapefruit juice to the pan that you cooked the nuts in and heat over medium-low setting, stirring while the sauce simmers.

Heat for 5-8 minutes until reduced. The sauce should be the consistency of maple syrup - thickened, but still pourable.

While reducing the sauce, add a small spoonful of the grapefruit/feta mixture to each prepared and separated endive leaf.

The sauce will thicken quickly so do not let it sit for more than 2 minutes before spooning a small amount of the sauce over the filling in each endive leaf.

Sprinkle with remaining parsley and fresh cracked black pepper. Serve immediately.
Notes
*save the inner parts to toss with your favorite salad!
** Endives and filling can be prepared an hour or two ahead of time, but the sauce has to be made right before serving.
Nutrition
Calories: 58kcal | Carbohydrates: 6g | Protein: 1g | Fat: 3g | Saturated Fat: 1g | Cholesterol: 4mg | Sodium: 59mg | Potassium: 83mg | Fiber: 1g | Sugar: 4g | Vitamin A: 375IU | Vitamin C: 8.8mg | Calcium: 37mg | Iron: 0.3mg
Nutrition facts are per each individual appetizer.