These shredded chicken enchiladas are so insanely delicious! Peppers, chicken, cheese, sour cream and homemade sauce unite in this tasty main dish.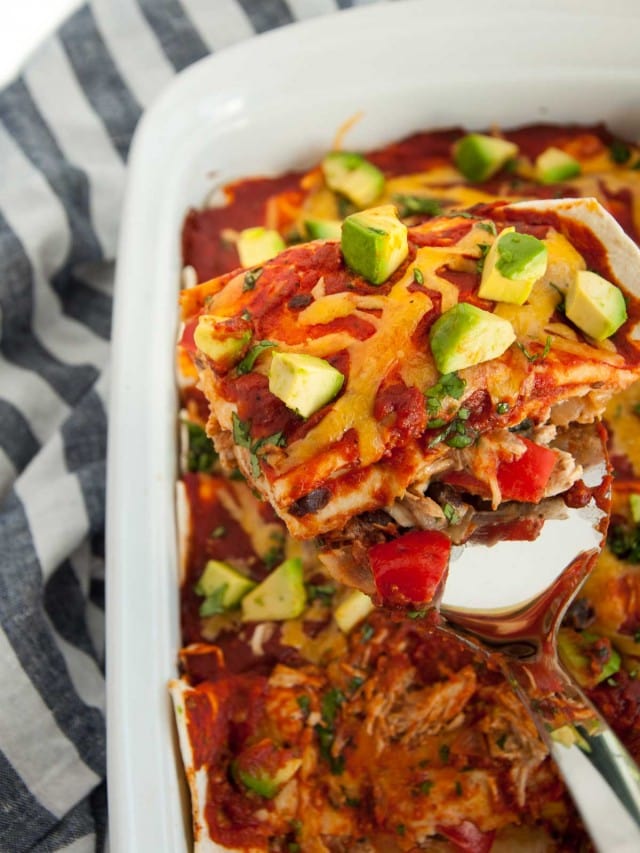 I'm going to start off by quoting my husband, "this might be the best meal I've ever had." Boom. Done. Shredded chicken enchiladas for the win! Between the two of us, a batch of enchiladas can't survive more than 24 hours in this house. Its just not even a possibility.
Knowing this, I sent half of my last batch home with my sister to keep us from demolishing them in one sitting. The look of horror on the husband's face as he witnessed this transaction was priceless. Sorry love…
I'm a die-hard enchilada lover so calling these my favorite is a pretty bold statement. I love my roasted butternut squash enchiladas and in flavor they're about tied, but since you have to roast the veggies first, I get a little impatient waiting. I think the reason I love both of these recipes so much is due to the best red enchilada sauce recipe that you'll ever try. It can't be beat. Sooo much better than the canned stuff.
It takes a little longer to make the sauce from scratch, but since you're going to the trouble anyways, you might as well double, triple, or quadruple the recipe and freeze each batch separately so that all you have to do is defrost each time an enchilada craving takes over.
No matter what recipe you follow, making enchiladas is a multi-step process and taking this step out can save tons of time in future meal prep. Trust me, you'll thank yourself later.
The assembly process itself is really pretty easy though. Toss some cheese into a tortilla, add filling, roll and plunk down into a casserole dish. Putting enchilada sauce on the bottom of the dish first keeps the tortillas from sticking.
From here, repeat until you the dish is full and you're out of tortillas. You'll probably have to cram the last two in with a little overlap. Its all good though. Once you cover it all in sauce and cheese, you can't even tell the difference. Another reason I love enchiladas.
These shredded chicken enchiladas are so insanely delicious! Peppers, chicken, cheese, sour cream and homemade sauce unite in this tasty main dish.
Ingredients
1 red enchilada sauce recipe
1 T coconut oil
1 medium yellow onion (chopped)
1 poblano pepper (seeded and chopped)
1 red pepper (seeded and chopped)
1 1/2 lbs. chicken breast (2 large or 3 small)
15 oz. can black beans (drained and rinsed)
2 cups grated cheddar cheese
8 large flour tortillas (10" each)
1 tsp. cumin
1/2 cup sour cream
1/2 cup salsa
salt and pepper
Cilantro and avocado for garnish
Instructions
Preheat oven to 350°F (176°C).

Heat 1/2 Tbsp. coconut oil in a skillet. Add chopped onion and peppers and sauté 4-5 minutes on medium-high heat until onions are translucent and peppers are starting to get brown spots. Remove peppers and onions to a large bowl and set aside.

Flatten chicken breasts by either slicing in half long-ways or by pounding the thickest parts with a meat pounder or wooden spoon. Season chicken breasts with salt and pepper.

Melt remaining 1/2 Tbsp. coconut oil in the same pan that was used for the onions and peppers. Add chicken breasts to pan and cook for 5-7 minutes over medium heat.

Flip and cook for 5-7 minutes longer until chicken is cooked through but still tender. Remove from stove and shred using two forks.

Add shredded chicken, black beans, cumin, sour cream, and salsa to bowl with the onions and peppers. Stir to combine. Season to taste with salt and pepper.

Briefly warm the tortillas by either placing in the microwave for 30 seconds or the oven for 2 minutes. Meanwhile, spoon about 1/4 to 1/3 cup of enchilada sauce into a 9 X 13" casserole dish.

Add 1 - 1.5 Tbsp. of cheese to a tortilla and top with about 1/2 cup of chicken mixture. Fold one side over the other as shown in the pictures. Place seam side down in prepared baking dish. Repeat with remaining tortillas.

Spoon remaining enchilada sauce over the rolled tortillas and top with remaining cheese. Bake for 20 - 30 minutes until cheese is melted and the middle is warm.
Nutrition
Calories: 421kcal | Carbohydrates: 33g | Protein: 33g | Fat: 17g | Saturated Fat: 9g | Cholesterol: 89mg | Sodium: 1180mg | Potassium: 717mg | Fiber: 6g | Sugar: 7g | Vitamin A: 1245IU | Vitamin C: 35.7mg | Calcium: 294mg | Iron: 3.4mg
As I was wrapping up this post, I heard the sad news that a dear, sweet soul that has been battling stomach cancer for the last three months is now gone. I saw her in January and she looked perfectly healthy and a month later was told that she had six months to live. I can't even imagine the emotions and pain she went through in getting a death sentence at 34.
For those of you that didn't know her, well, you missed out. Her optimism, charisma, and bubbly personality were infectious. Seeing the out pouring of love she got over the last few months is a testimony to the beautiful life she lived and what an impression she left on everyone she met.
I know, this is a heavy topic to share at the end of an enchilada recipe, but hear me out. You never know how much time you have left in this world and at some point, you won't have time left to do all of the things you want to. Life isn't something off in the distant future, its what you're doing NOW. TODAY. Make the most of the days you have and start creating the life you want to live now, before its too late.