This Greek quinoa salad is filling, full of fresh flavors, and packed with nutrients with only 241 calories and over 8 grams of protein per serving.
This salad has my name written all over it. Its packed with ALL my favorite goodies from kalamatas to cucumbers to feta (a.k.a. the yum trifecta). The lemony sauce adds just the right balance of zest to this veggie filled medley, while keeping it light and fresh tasting. I made this Greek quinoa
salad for a BBQ a few weeks ago and it got a big thumbs up from the husband. Just when I thought he might be on the brink of boycotting my quinoa obsession, he declared this the best quinoa salad I've ever made! Seriously couldn't love that guy more sometimes. Quinoa lovers of the world unite.
I think what made this dish so tasty was cooking the quinoa in broth. I had some veggie broth I wanted to use up so I figured I would take it up a notch and low and behold, it did the trick. The result was OMG amazing! I ate this for lunch two days in a row (and maybe a few bites with breakfast… don't judge) and still wasn't sick of it. The broth just adds that extra level of flavor that you can't quite put your finger on. Then combined with all the super delish add-ins and sauce, its a little slice of Greek nirvana.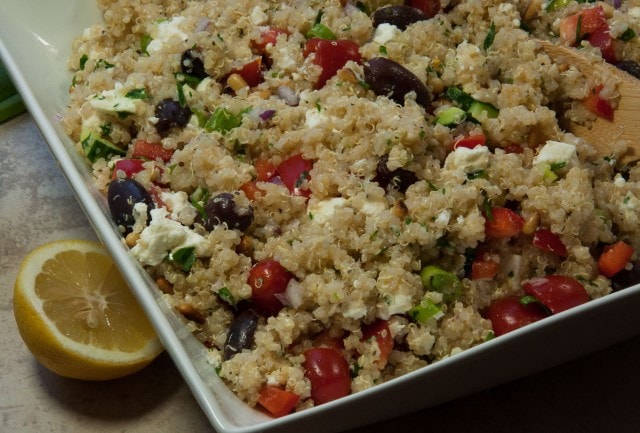 I just can't even control myself around sides like this. And can't we all agree that the sides are really the best part of a BBQ anyways? Sure, main dishes are great, but my plate is normally about 90% sides at any given time with maybe a little taster of meat or whatever else. Saving more for you meat lovers I guess. Cause I'm nice like that and all.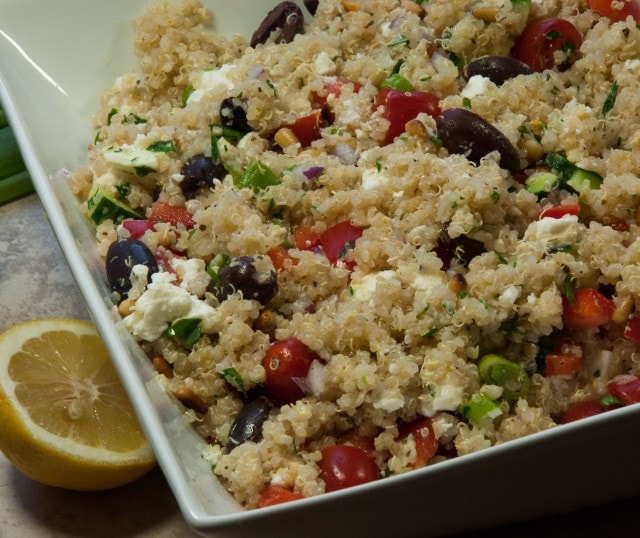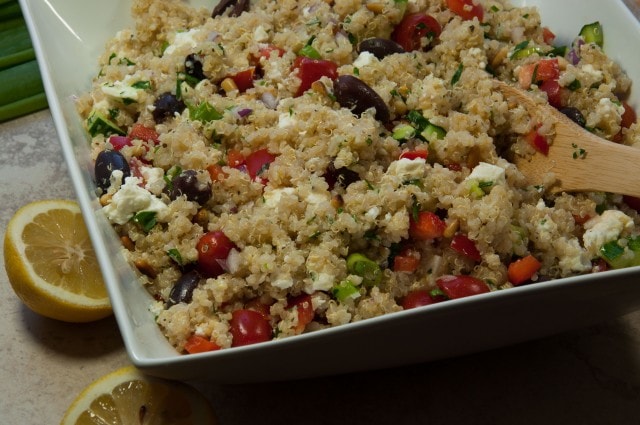 This Greek quinoa salad is filling, full of fresh flavors, and packed with nutrients with only 241 calories and over 8 grams of protein per serving.
Ingredients
1.5 cups uncooked quinoa
3 cups vegetable (or chicken broth)
1 red pepper (chopped into 1/4 inch pieces)
1 cup cucumber (chopped into 1/4 inch pieces)
1 cup cherry tomatoes (halved)
1/4 cup finely chopped red onion
2 Tbsp. parsley (chopped)
1/4 cup olive oil
1 tsp. minced garlic
2 Tbsp. fresh lemon juice
2 Tbsp. apple cider vinegar
1/2 tsp. dried basil (or 2 Tbsp. fresh, chopped)
1/4 tsp. dried oregano
1/4 tsp. salt
1/4 tsp. fresh cracked pepper
1/2 cup crumbled feta
1 cup pitted halved Kalamata olives
1/3 cup toasted pine nuts (optional)
Instructions
Cook quinoa in broth according to package instructions.

Meanwhile, mix dressing by adding olive oil, garlic, lemon juice, vinegar, dried herbs, salt, and pepper to a blender and pulsing to emulsify.

Toss cooked quinoa with vegetables and parsley and refrigerate for at least one hour to over night. Add feta and olives right before serving.
Nutrition
Calories: 325kcal | Carbohydrates: 35g | Protein: 10g | Fat: 18g | Saturated Fat: 3g | Cholesterol: 8mg | Sodium: 467mg | Potassium: 501mg | Fiber: 7g | Sugar: 2g | Vitamin A: 4450IU | Vitamin C: 37.8mg | Calcium: 106mg | Iron: 3.4mg
So, this past week was the first of many work trips I'm taking this fall. I'm scheduled to be working remotely and staying in hotels for 3-4 days per week, pretty much every week from now through early December… and have been intensely dreading it. Seriously, I've been such a big baby whiner about it all, so focused on all of the negative aspects of being away from home for this long, all the pressure, and all the responsibility. I've let this dark cloud take over and, needless to say, it has really put a damper on my summer.
So, anyways, after all this whining, I have to admit… the trip was actually fun! Not all the time, but there were some good moments. I know there are plenty of trips ahead that will be more stressful, but this was a little reminder to focus on the positive instead of the worst case scenario. Sure, it was hard and exhausting at times, but it was full of good times too. You have a limited amount of time so why not enjoy it wherever you can and remember not to take life too seriously. Sometimes you have to work your ass off to get the job done, but other times, winding down and taking time for that second martini is important too. Cherish the good times and power through the bad.