These delicious turkey meatballs make a tasty appetizer that can even be used as a main course for a quick weeknight meal.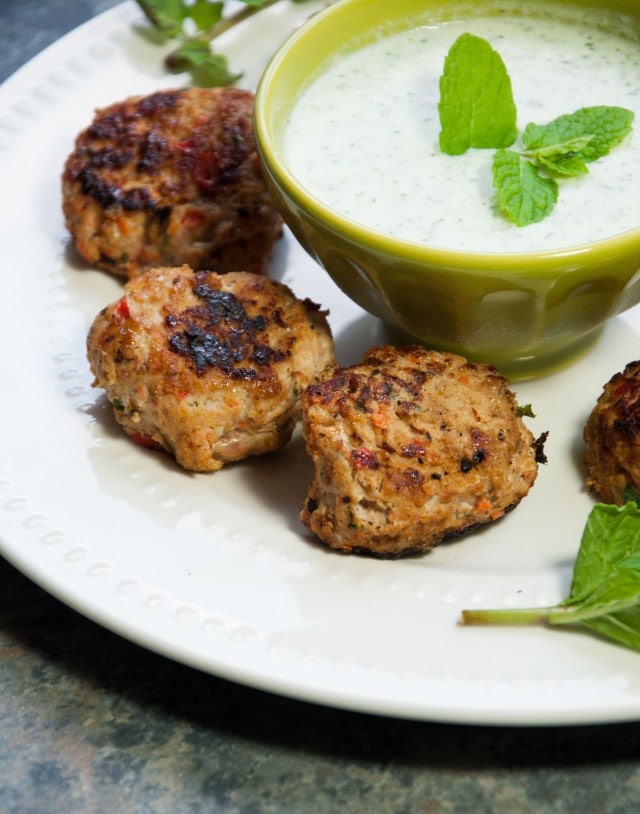 I've had a mint obsession lately. I've made five recipes with mint already this month and its only the 18th! I just love the refreshing, perky flavor it gives, especially paired with tangy tastes, like this tzatziki-like dipping sauce. Consider yourself warned – there are more mint recipes to come…
These Greek turkey meatballs came into existence one night when I was in an overly snacky mood. We had been out every night that week with birthday parties, baby showers, BBQs, and were filled to the brim with social activity and in need of a veg on the couch kind of night. I know snacking in front of the TV isn't really the epitome of health conscious eating, but sometimes its just so stress relieving. Add a glass of wine, and that makes for a good time if you ask me. What can I say, I'm easy to please.
I was planning on making a few other snacks, but wanted something hearty and meaty. I eat so many meatless meals these days that when the craving for meat hits, its strong and cannot be ignored. Plus, when paired with veggie-based snacks like these snap peas and these asparagus bundles, you have yourself a full-on snack attack of a meal.
So, I busted out my little mini chopper and pulsed away until I had a plethora of meaty, veggie-filled little nuggets to satisfy even the hungriest snacker. It all came together pretty quickly too, because you can prep the dipping sauce while the turkey meatballs are cooking, and then, voila, its all done at the same time like magic. I like magic.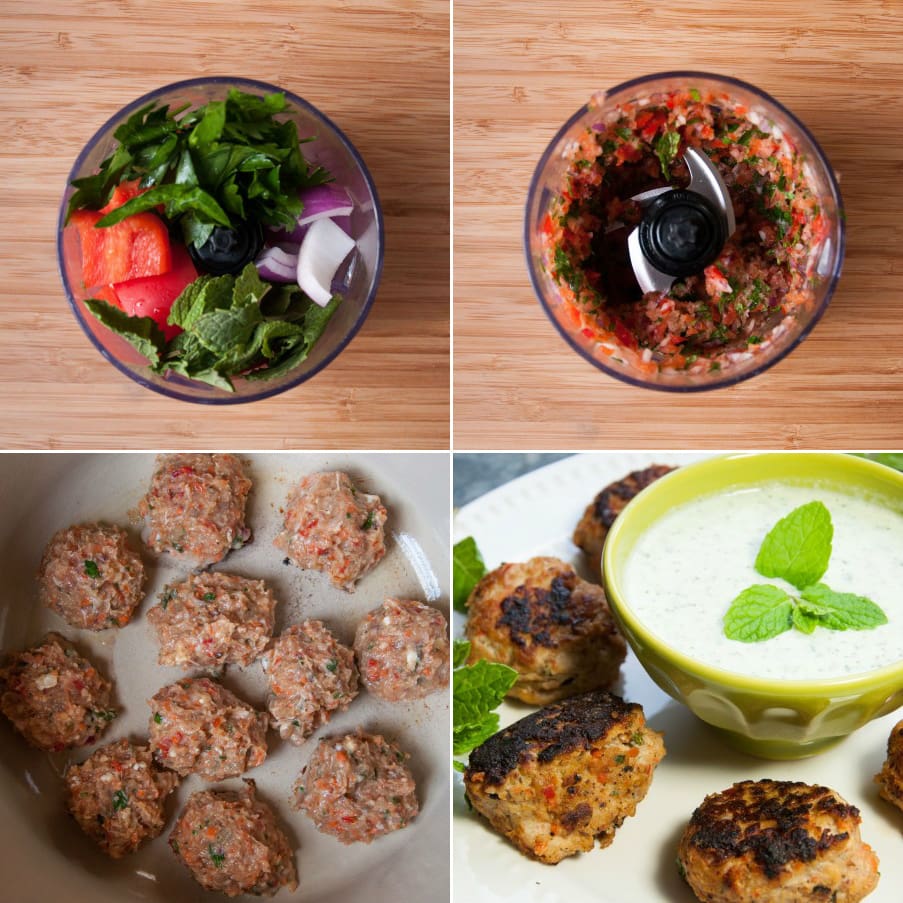 As you can see in the pictures, some of these little guys turned out a little on the charred side. While not so photogenic, they were absolutely delicious. I think that layer of extra flavor actually added to the deliciousness. I'm one of those weirdos that likes a good blackened exterior though so if you haven't come over to the dark side yet, just watch them carefully so they don't burn.
And the mint sauce? Ahh! Don't even get me started on that! It is so tasty. Just make sure to use full fat yogurt or you will end up with a runny mess. I used non-fat this time and it turned out runny, but I've made the sauce before with regular yogurt and it turned out fine. Plus, using that same mini-prep attachment to my Ninja
meant I only had to actually wash it once – double bonus for us lazy folks!
I added chicken sausage into this recipe too because I had it on hand, but you could easily use all turkey and I'm sure they would still be absolutely delicious. Fresh basil would be fantastic in this too. My basil plant decided to die a while back though so I went with what I had, parsley and mint, and the flavors complemented each other perfectly. Both the sauce and the turkey meatballs would be fantastic in a pita too with some tabouli. Total yum.
So next time you're in a snacky mood and thinking of ordering pizza, pull up this turkey meatball recipe instead and get cookin!
These delicious turkey meatballs make a tasty appetizer that can even be used as a main course for a quick weeknight meal.
Ingredients
Meatballs
1 lb. ground turkey
2 chicken sausage links (I used garlic and herb seasoned)
1 1/2 tsp. minced garlic
1/2 cup chopped onion
1/2 cup loose parsley leaves (NOT chopped)
1/2 cup loose mint leaves, stems removed (NOT chopped)
3/4 tsp. salt
1 egg beaten
1/2 cup bread crumbs
1/2 red bell pepper (seeds removed and roughly chopped)
1 carrot (peeled, and cut into pieces)
1/2 tsp. black pepper
1/2 tsp. dried basil
1/2 cup fresh feta
2 Tbsp. peanut oil
Dipping Sauce
1/2 cup Greek yogurt (use full fat, non-fat will be too runny)
1/2 cup loosely packed mint leaves (not chopped)
1/2 cup fresh feta
1 1/2 tsp. lemon juice
1/4 tsp. salt (or to taste)
1/3 cup roughly chopped cucumber
1 tsp. minced garlic
Instructions
Meatballs
Add onion, herbs, bell pepper, and carrot to a food processor and pulse to chop. If not using pre-minced garlic, include that in food processor as well.

Mix minced vegetables and herbs with meat and other remaining meatball ingredients.

Add oil to a large skillet and heat oil over low-medium heat. Roll meat mixture into 1" balls and drop them into skillet. Cook for 2-3 minutes on each side, until fully cooked in middle. Either use two pans or work in batches and add all meatballs back to pan at the end to re-heat.
Dipping Sauce
Add all ingredients to a food processor or blender and pulse to chop and combine. DO NOT use non-fat yogurt or your sauce will be runny! Adjust salt level to preference.
Nutrition
Calories: 331kcal | Carbohydrates: 15g | Protein: 30g | Fat: 17g | Saturated Fat: 6g | Cholesterol: 112mg | Sodium: 1019mg | Potassium: 426mg | Fiber: 2g | Sugar: 4g | Vitamin A: 2590IU | Vitamin C: 18.4mg | Calcium: 202mg | Iron: 2.4mg