These healthy carrot muffins are made with oat flour, applesauce, honey, coconut oil and a tasty mix of spices that will remind you of carrot cake!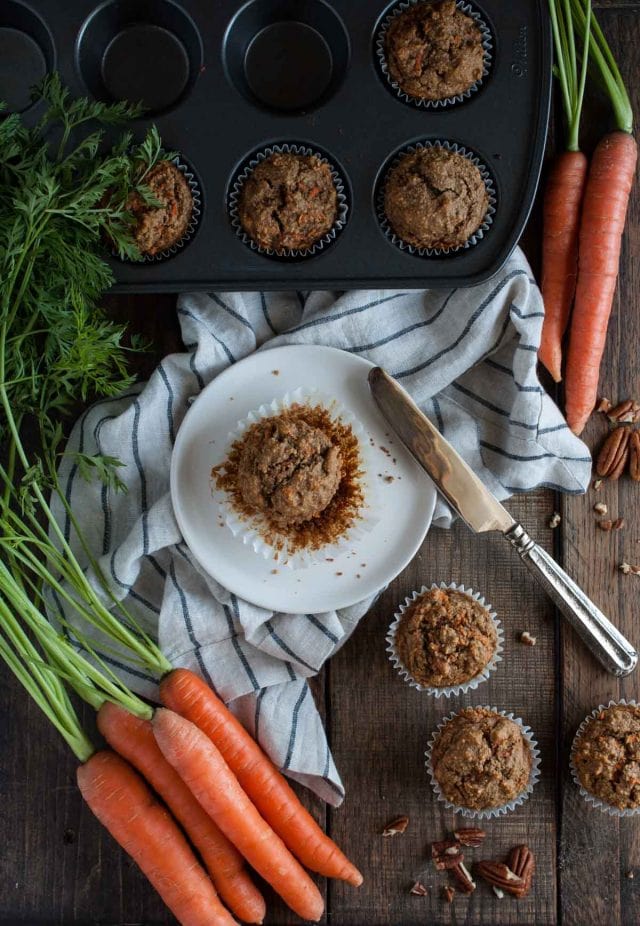 Oh yum, more muffins! These ones are so dang good too. Nice and spice filled with a crunch from nutty pecans. They're about as healthy as a bowl of oatmeal too. Yup, for reals. I don't know about you, but I'd take a muffin over oatmeal any day.
These healthy carrot muffins have a lot going for them. Between being naturally gluten free (if you use gluten free oats) and full of good for you stuff, there's no denying that these should be part of your regular breakfast regimen. And if you're vegan, this recipe can work out just fine for you with two easy substitutions.
For the rest of us without dietary restrictions, you'll be happy to hear that the ingredients will rock your socks in the health department. I'm not going to lie, they do taste hearty, not like your standard white flour muffin that are essentially a cupcake without frosting. BUT, don't click away! They're still absolutely delicious!
There can be middle ground between cardboardy crap muffins and sugar laden diabetes creating cupcake muffins.
Eating healthy doesn't have to (and shouldn't!) taste bad. Sub out the bad with the good without sacrificing flavor. In this day and age, we have so many healthy options, there's really no reason not to.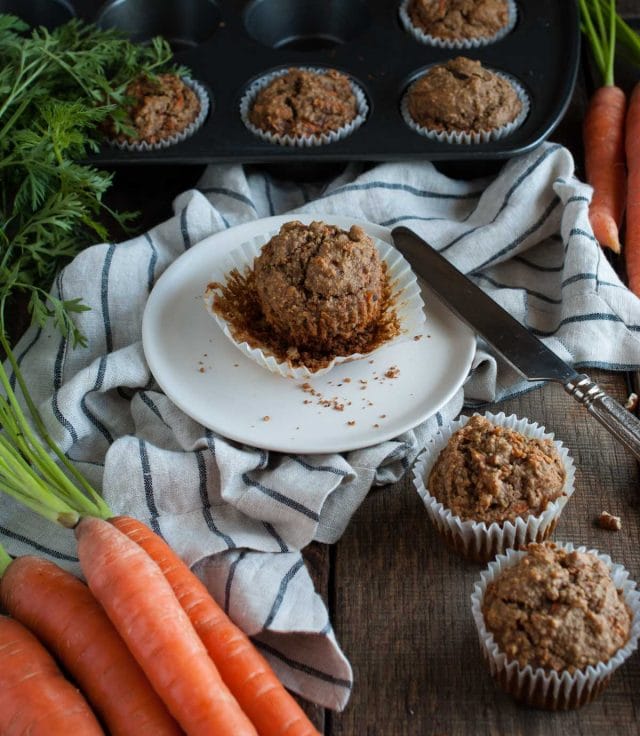 Speaking of good for you ingredients, these healthy carrot muffins are absolutely loaded with them. Carrot being the obvious (duh), but beyond that, we've got oats, which are known as the heart health superstar. Your body needs carbs to function properly. Make 'em count.
Applesauce helps add moisture to these healthy carrot muffins in one of the best ways possible. Last year I had a stockpile of homemade applesauce that I canned myself during a serious Martha Stewart inspired canning phase. I'm missing the boat on that this year though and just used store bought applesauce. I love buying those little 4 oz. containers because its just the right amount for a recipe like this.
All that being said, you can sub with yogurt if you don't have applesauce on hand. No problem. In fact, the texture is really great with yogurt so if you're not dairy free, feel free to give that a go.
And there's no added sugar in these tasty little creations. It's honey all the waaaay baby. As with anything, moderation is key. I mean, it's still sugar folks. Honey is lower on the glycemic index than sugar is though and contains all kinds of minerals and B vitamins. If you're eating sugar, might as well get something out of it, eh?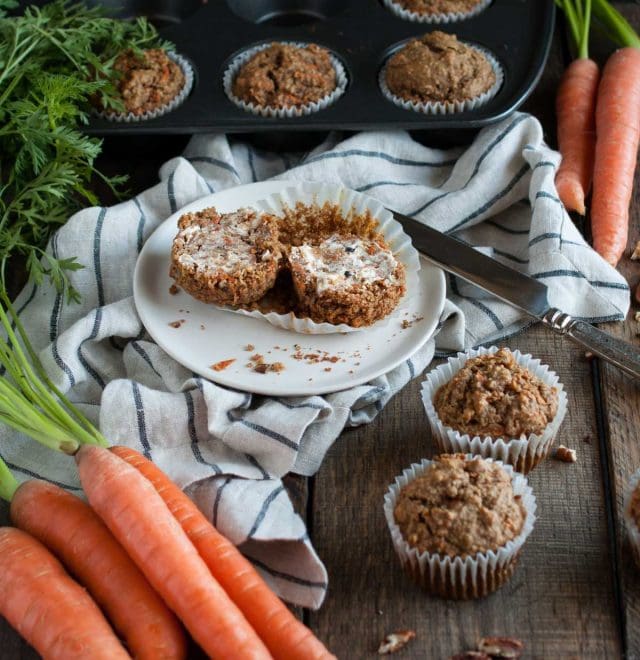 Next we've got coconut oil. Well, where to even start on this miracle shiz. Coconut oil is one of my favorite kitchen (and skin care!) items. Period.
If you're stuck in the 90's and haven't heard the news – fat is good for you! Round of applause for whatever scientist figured that out. Seriously, I'd send them a fruit basket in thanks if I could get the proper address. Caveat – it's got to be the right kind of fat. Luckily, coconut oil fits the bill. Same as the sugar, don't go crazy, moderation is key here.
Aannnd, the best part of the fat revolution butter is okay too! Butter from grass fed cows is full of omegas and can be just fine in small doses.
I know this is a polarizing topic for many reasons, so everyone has to make their own decision on dairy. My take is similar to my take on meat. Limit the quantity and prioritize quality. I love a good cheese board as much as the next girl, but I'm an animal lover at heart and this topic has weighed heavily on my soul for a while now.
I can't abide by animals having to live horrific lives for me to be able to munch cheese to my heart's content. The source is important. I'm in the process of making some pretty serious changes to how I consume animal products. More on that another day though.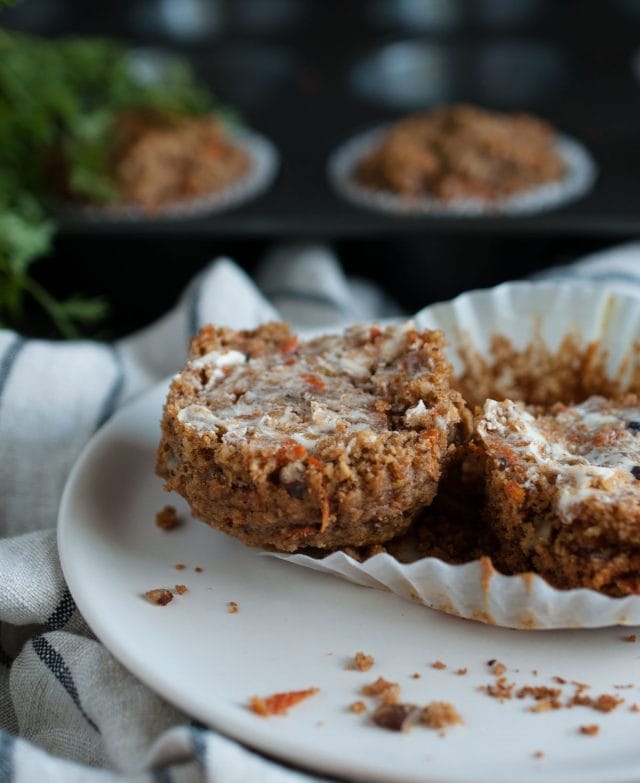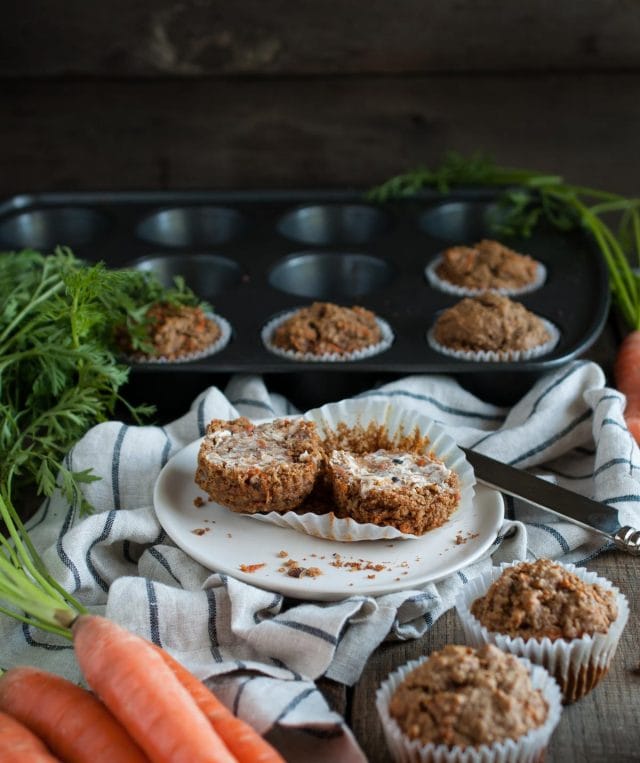 So ingredients aside, back to the muffins themselves. Have you tried making oat flour yet? If not, do it!!! Its so incredibly easy. I don't even have a fancy blender (although I lust over them), and just make oat flour in my crappy old $40 Ninja. Hey, it works just fine.
No judgements on the blender you use, just do it. Nike style.
I made cupcakes out of oat flour a while back. Chocolate peanut butter cupcakes. Gawwwd, they were so damn good! These are a little heartier due to the carrot and pecans, but it's a similar concept really. Oat flour is where its at.
And predictably, this marks the point in the photo shoot where I couldn't resist taking a bite. This eventually happens with ALL food photos I take. You may have noticed this by now…
I just couldn't help myself. I was starving and the muffins were taunting me from behind the camera. Then the butter went on and lawwwd have mercy! It was all I could do to take a few snaps before caving in and destroying one of them. At least I took a couple of pictures along the way, bite after bite, crumb after crumb.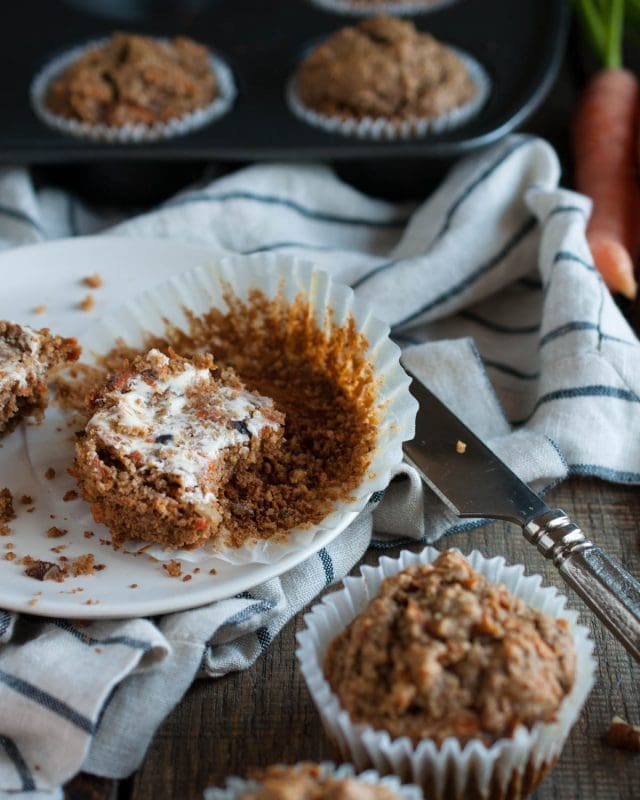 I know this isn't really a fall recipe, but can we call it one since the carrots are orange? Good, glad you're letting me have that one. Here's an awesome 'fall' soup recipe while we're on the same page with carrots. I am working on some actual legitimate fall recipes for you so there's definitely more to come on that note.
Bring on the pumpkin!
These healthy carrot muffins are made with oat flour, applesauce, honey, coconut oil and a tasty mix of spices that will remind you of carrot cake!
Ingredients
2 ½ cups rolled oats (use gluten free oats if needed)
1 tsp. baking soda
1 tsp. baking powder
¼ tsp. salt
1 ½ tsp. cinnamon
¼ cup melted coconut oil
½ cup applesauce (yogurt can be used instead)
1/3 cup honey
2 tsp. vanilla
1 egg*
1 cup grated carrot
1/3 cup chopped pecans
Instructions
Preheat oven to 350° Fahrenheit (177° C).

Add oats to food processor or blender and blend into a powder (its okay if it has some of the hull left in pieces, but the majority should be finely ground). Add baking soda, baking powder, salt, and cinnamon and pulse to mix in.

In a medium sized bowl, combine coconut oil, applesauce, honey, and vanilla and mix with a hand mixer. Add the egg and mix thoroughly.

Add dry ingredients from food processor into the wet ingredients and pulse hand mixer to combine (don't over mix!).

Use paper towels to squeeze excess moisture from grated carrot. Add carrot to batter. Add chopped pecans and stir several times to mix in.

Prepare muffin tin by spraying with cooking spray or lining with muffin cups. Pour batter into prepared tin, making ten muffins.

Bake for 16 – 18 minutes until cooked through and a toothpick inserted into the middle comes out clean. Let cool for 10 minutes before eating. Store in a sealed container for up to four days.
Notes
*To make vegan replace the honey with agave syrup and the egg with a flax egg. To make a flax egg, combine 1 Tbsp. flax with 3 Tbsp. water. Stir and place in the refrigerator for 15 minutes while preparing the rest of the recipe. Add to recipe in place of egg.
Nutrition
Calories: 204kcal | Carbohydrates: 27g | Protein: 3g | Fat: 9g | Saturated Fat: 5g | Cholesterol: 16mg | Sodium: 200mg | Potassium: 199mg | Fiber: 3g | Sugar: 11g | Vitamin A: 2160IU | Vitamin C: 0.9mg | Calcium: 49mg | Iron: 1.2mg