Roasted spaghetti squash is the perfect low carb pasta substitute with five times less calories, a smooth buttery flavor, and endless ideas for toppings.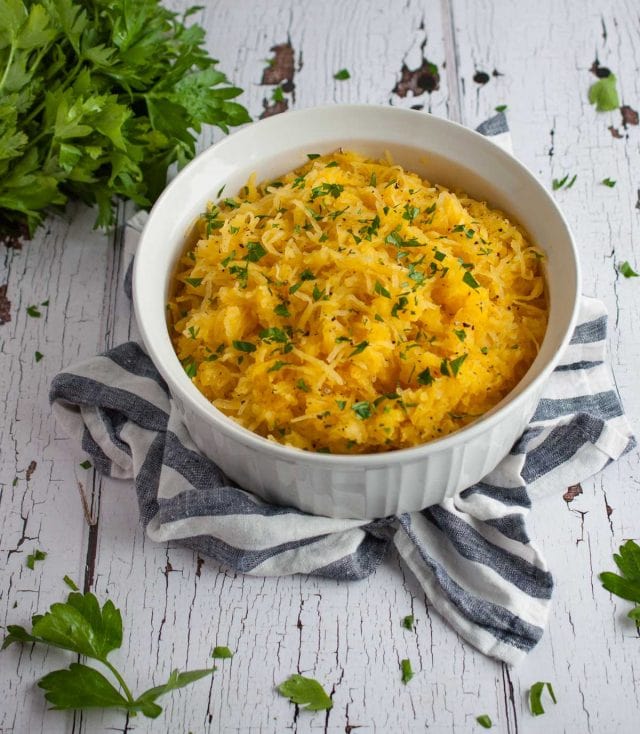 It all starts with an unassuming yellow squash. One that you might have walked right by at the grocery store not even knowing what lurked within. If you're new to this incredible veggie, be prepared to fall head over heals in love. Its tasty and so incredibly versatile!
This roasted spaghetti squash is made to be topped with sauce and treated like spaghetti. It has a light buttery taste and moderately crunchy texture that make it perfectly delicious on its own, sauce free. It only has 20% of the calories that a bowl of pasta does though so drizzling sauce all over is a prettttty enticing option.
Its practically begging for my homemade red turkey pasta sauce, this romesco sauce, or this walnut arugula pesto. YUM.
We have been making spaghetti squash for years now and I assumed the world has been too. Then at work a few weeks ago, someone asked what my leftover lunch was. I was stunned that they weren't in on the spaghetti squash secret, or that it even was a secret in the first place.
Its easy to forget that just because I love a food doesn't mean that someone else even knows it exists. That's when I decided it was about time I did a post on this king of veggies. Gotta spread the word.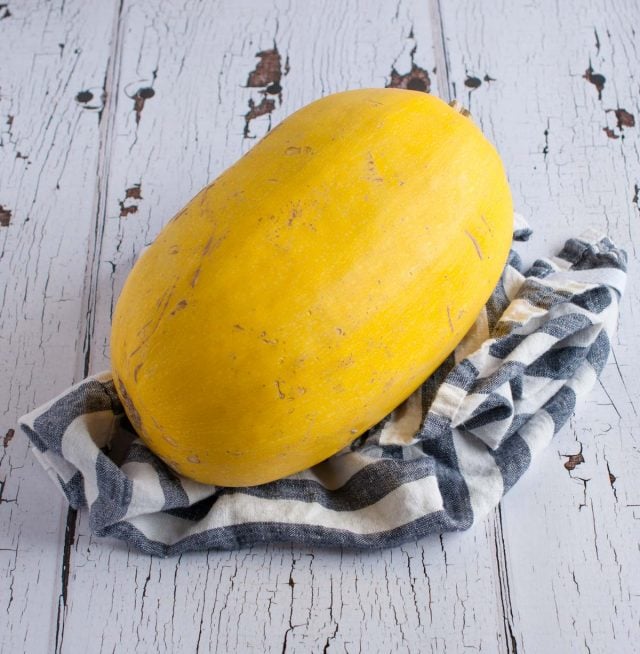 As with any winter squash, step one is scooping out the innards. Even when you cut the sucker open you can't really tell what it will be like after baking. It's a little stringy, but the strands don't separate as easy as they do when they're cooked.
Cutting it in half can be a challenge so use a sharp knife, anchor it firmly with one hand, and be careful! Spaghetti squash are slippery and hard to cut through. I wish I knew a trick to pass along, but it really just takes a bit of practice.
Once you have it in two pieces, scoop that junk out and toss it. Or, clean and roast them like pumpkin seeds for a little snack on the side. I hate the whole process of cleaning the slime off the seeds so I normally scoop it directly into my compost bin. When I get my act together I'll get back to roasting them though. Promise.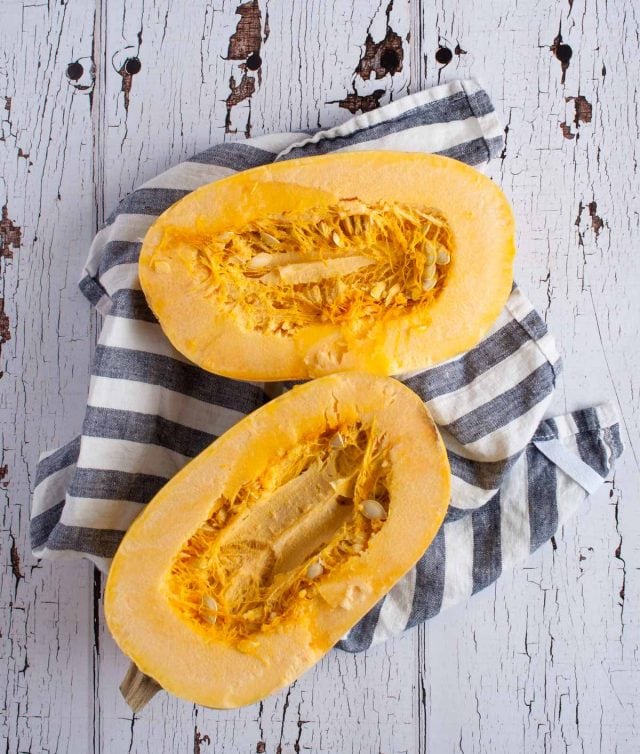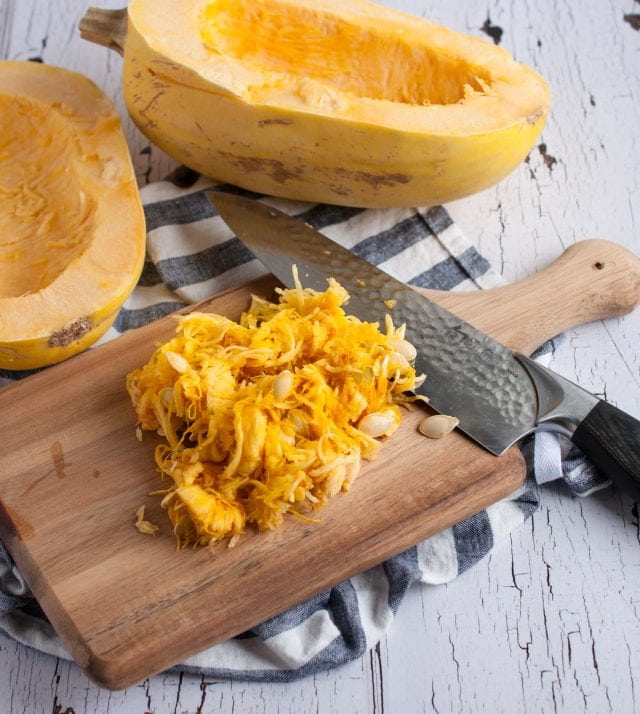 From here, I normally bake cut side down with a little bit of water in the bottom of the pan. Some people bake it cut side up and rub the cut parts with oil first. I just think it comes out more tender using the water method. The water helps the squash steam while it roasts.
If I were you and just getting started on the roasted spaghetti squash train, I'd try both ways and then roll with whichever way you like best. I've got faith you'll agree with me and be a water roaster through and through. 😉
Once the squash is roasted, use a fork or two to shred the strands. Watch out when you flip them over or you'll get a spaghetti squash face steaming that is pretty unpleasant. Not exactly spa quality if ya know what I mean.
Not as bad as the chicken steam experience I had last night, but still an unpleasant steaming none the less. Lesson here – just flip it over on the side that is not facing you and take a step back. Done and done. No steam to the dome piece.
Look at those strands! See why they call it spaghetti squash now?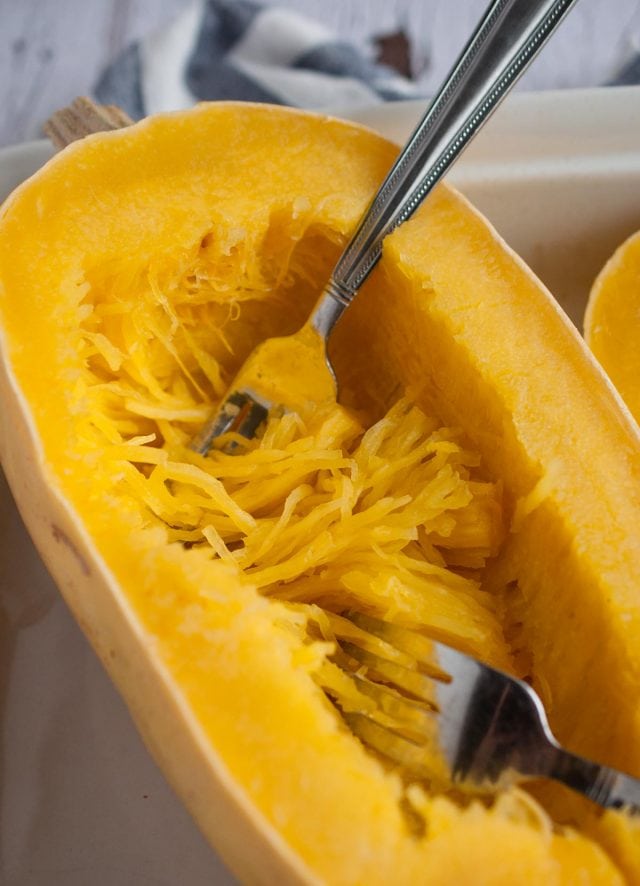 One unpictured step that I'd like to mention. Roasted spaghetti squash has a lot of water contained in it. Its a veggie and that's normal. Even though it's normal, that doesn't mean we want that wateriness to get all mixed up in our sauce.
I like to scoop the spaghetti strands out into a strainer before putting them in a bowl. This allows the excess water to drain out so that the sauce you choose coats the "noodles" just perfectly.
If you skip this step, thats cool, just don't say I didn't warn you.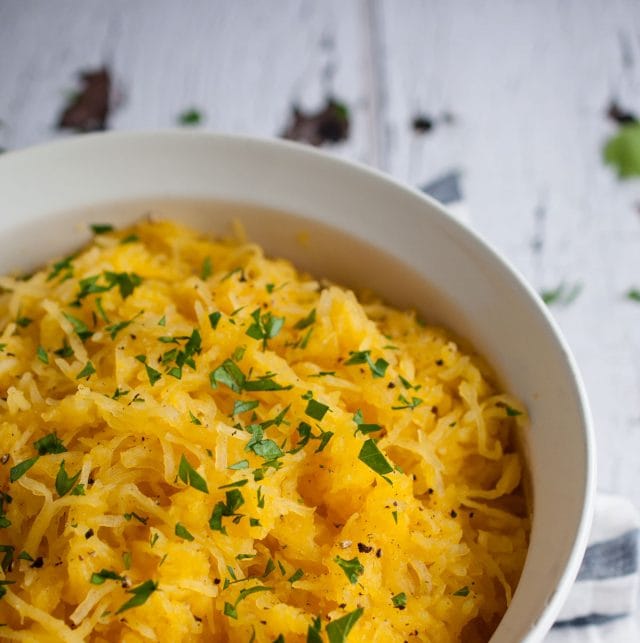 From here, season with salt and pepper and either top with sauce or serve as is. If you're serving as is, a little bit of butter, oil, and parmesan will go a loooong way. Its tasty, but can use some perking up if it's standing on its own.
One other thing to note – kids seem to love this stuff! Once its topped in sauce, they don't seem to notice the difference. At least the ones I've witnessed eating it don't. Just a tip to the parents out there with picky eaters.
So, this doesn't mean you'll never make pasta again, but roasted spaghetti squash is definitely a fun and healthy alternative. Try it with your favorite sauce today!
Roasted spaghetti squash is the perfect low carb pasta substitute with five times less calories, a smooth buttery flavor, and endless ideas for toppings.
Ingredients
1 spaghetti squash (about 5 lbs.)
½ tsp. salt
¼ tsp. black pepper
Instructions
Preheat to 400° F (205° C).

Use a sharp knife to cut squash in half lengthways. Use a spoon to scoop out the seeds and stringy center part around the seeds. Discard the seeds or roast them like you would pumpkin seeds.

Place the squash, cut side down, in a rimmed baking dish. Add 1/8 to ¼ inch of water to the dish to help the squash steam while baking.

Place squash in oven and cook for 40 – 50 minutes (exact time will depend on the size of the squash). To tell whether the squash is done, try piercing the skin with a fork. You should be able to easily poke the fork through the skin.

Remove cooked squash from oven. Flip squash halves over with a kitchen towel and let sit for about 5 - 10 minutes until steam has subsided and they are cool enough to handle.

Use a fork to separate the inside stringy part of the squash. Let the separated squash noodles sit in a colander over the sink for a few minutes to let the excess water drain.

Put squash strands into a serving bowl. Season with salt and pepper and toss to coat. Either eat as is or top with your favorite pasta sauce, butter, grated parmesan, and/ or chopped parsley.
Nutrition
Calories: 60kcal | Carbohydrates: 13g | Protein: 1g | Fat: 1g | Sodium: 223mg | Potassium: 208mg | Fiber: 2g | Sugar: 5g | Vitamin A: 230IU | Vitamin C: 4mg | Calcium: 44mg | Iron: 0.6mg