Rosemary pomegranate mimosas encapture the essence of relaxed holiday gatherings where festive simplicity leaves more time to enjoy with family and friends.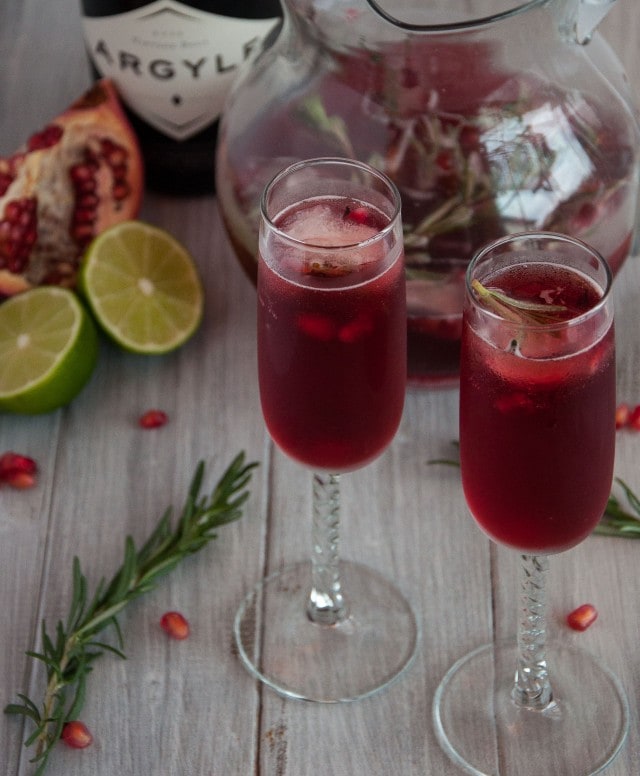 Mimosas: the socially acceptable day drink. Its not often that I drink before noon, but when I do, mimosas are normally the culprit. There's something so inherently festive and fun about champagne. Just pop the cork and pour out bubbles of awesomeness. Although the standard OJ classic will always hold its place as a brunch favorite, pom-rosemary is a a close runner up this time of year. Both tart and sweet at the same time with a refreshing herbal undertone, these simple cocktails will be a breakfast staple for holiday brunches and christmas mornings at my house for years to come .
Aside from the deliciousness, pomegranate juice is also super healthy. Pomegranate juice has of antioxidants and the fruit has earned 'super food' status in recent years. It is known to lower cholesterol as well, which has become an issue for the husband recently. The champagne *might* cancel out the health benefits, but at least you're at zero instead of a negative right? Precisely my thinking.
And speaking of champagne, this champagne from Argyle Winery is off the hook! So crisp and bubbly. Argyle is located in Dundee, Oregon about forty minutes outside of Portland (conveniently, about 5 minutes from my sister's house). It is a staple for winery tours and I highly recommend stopping in if you are ever in the area. I plan to do a post on my fav wineries sometime soon to share with anyone who finds themselves in the Willamette Valley area in need of some good tasting recommendations. I love good wine but, as a casual wino, tasting room ambiance is also key in having a good time on a tasting tour. The Oregon Willamette Valley has plenty of fantastic wineries – so many in fact that planning a tour can be a daunting task. Luckily, its one I'd love to help you with.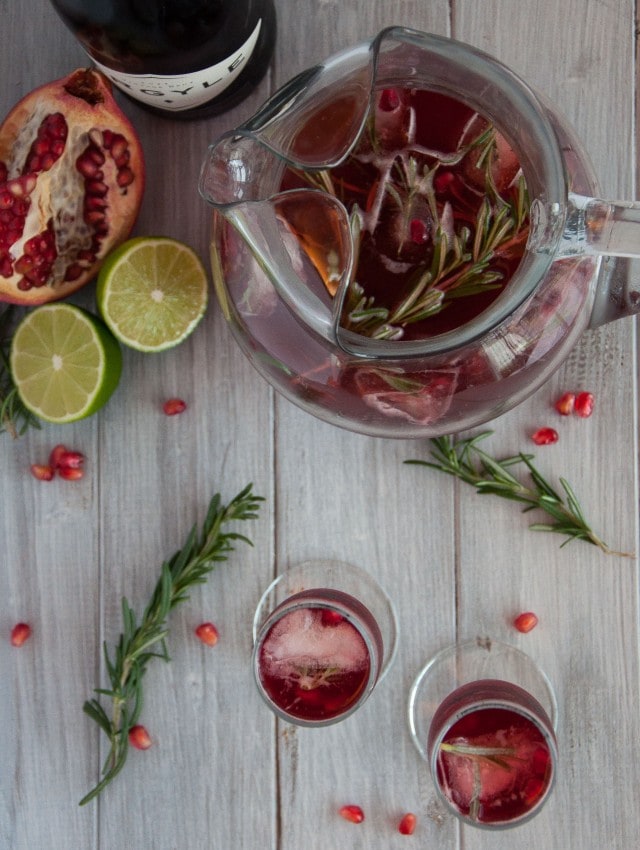 Anyways – back to the booze at hand – mimosas! Infusing with sprigs of rosemary adds an air of freshness, not just in taste, but also in color. Seriously, look at those fun colors. They scream Christmas and holiday goodness, which I've got nothing but love for. I meant to post this before Christmas for you, but figure you can serve these on New Year's day morning as you're nursing your hangover seizing the day and starting your New Year's resolutions.
The ice cubes add to the prettiness of these flavor-packed holiday cocktails. They're also somewhat strategic because the rosemary and pom arils are then locked in ice instead of floating around in your drink being obnoxious at every sip. Brilliant, eh? I'd like to think so. When water is added to the ice cube tray, some of the pomegranate arils will float to the surface and some won't, which is fine. Also, don't worry if the rosemary is popping out of the water when you put the tray in the freezer. This is hard to control and I think it adds to the overall prettiness of the cubes overall in the end.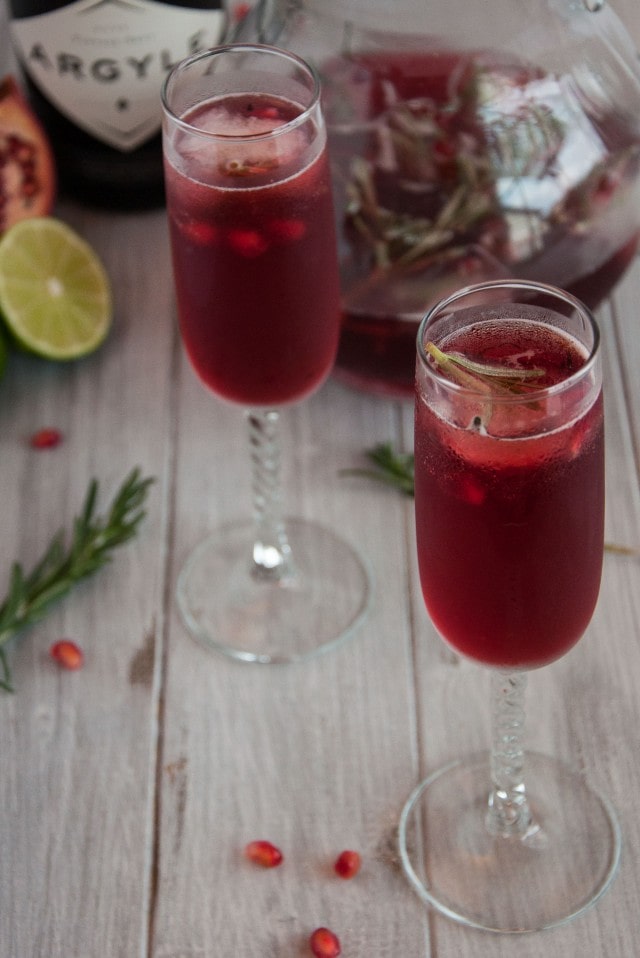 After kicking off the day with festive mimosas, the rest of our Christmas was a blur, in the best possible way. We had a mellow morning, just the three of us (the dog counts!) and had friends and family over for an epic fondue night. Its our third year doing fondue on Christmas – and I mean the full three courses – and I can't imagine doing anything else now. Here's a picture of the desert tower of goodies. Yup, definitely a nice grand finale to a Christmas season full of decadence.
Its such a perfect activity for Christmas because it can simmer in the background and people can wander over and munch whenever they want to. Although this year has been full of all kinds of awesome, I have to say, I'm ready for a new year. I hope you all had a very merry Christmas and I wish you all a happy new year!
Rosemary pomegranate mimosas encapture the essence of relaxed holiday gatherings where festive simplicity leaves more time to enjoy time with family and friends.
Ingredients
Ice Cubes
1/4 cup pomegranate arils
2 - 3 sprigs rosemary cut into 1/2" pieces
Mimosas
1 bottle champagne 750 ml
16 oz. pure pomegranate juice
3 sprigs rosemary
Juice of 1 lime 1 - 2 Tbsp.
1 Tbsp. sugar
Instructions
For ice cubes, place 4 -5 pomegranate arils and a 1/2-inch piece of rosemary sprig into each ice cube mold. Fill ice cube tray with water and place in freezer for at least 6 hours until frozen solid.

Whisk sugar into lime juice to dissolve. Mix champagne, lime/sugar mix, pomegranate juice, and rosemary sprigs in a pitcher (can also be added to individual glasses. Let sit for five minutes before adding ice cubes, stirring, and pouring into champagne flutes. Individual mimosas can be mixed in each glass separately instead of using a pitcher if desired.
Nutrition
Calories: 89kcal | Carbohydrates: 11g | Protein: 1g | Fat: 1g | Saturated Fat: 1g | Sodium: 12mg | Potassium: 216mg | Fiber: 1g | Sugar: 11g | Vitamin A: 20IU | Vitamin C: 0.7mg | Calcium: 17mg | Iron: 0.5mg