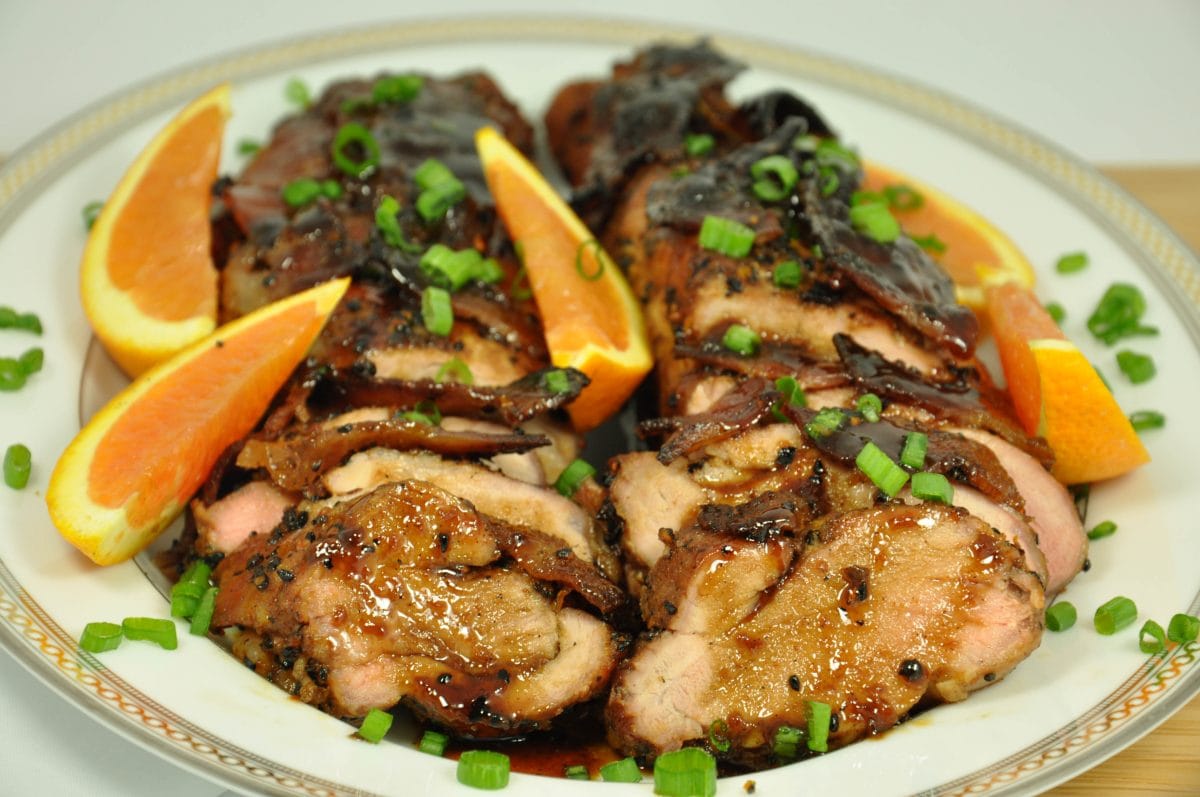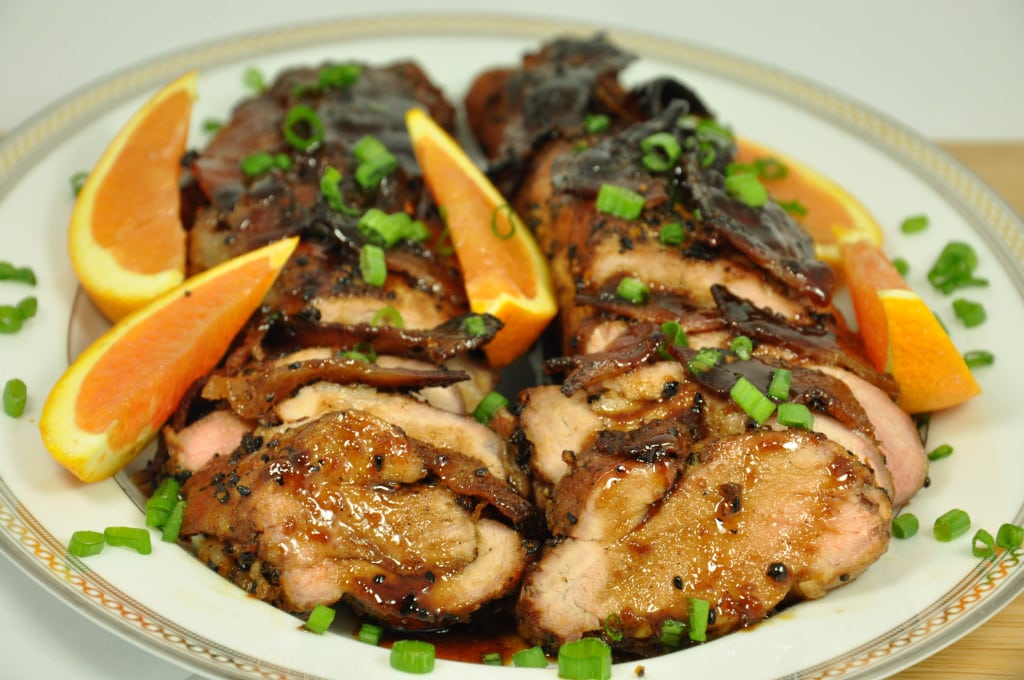 I know I have already posted a pork recipe once this week, but I can't help posting another. This Jamaican jerk pork tenderloin just turned out so well that I have to share it! This idea started with seeing a few recipes for bacon wrapped tenderloin. I was intrigued… then I remembered a sinfully delicious recipe I learned from a friend a few years back for meat candy (bacon wrapped little smokes dredged in brown sugar) and a light bulb went off.
Let's face it, brown sugar and bacon are strangely just meant to go together, a match made in heaven. Both ingredients manage to do just fine on their own, but when they come together, its in your face like, "WOW, where have you been all my life?!?!" Existing here in plain site but not together? The nerve!
This Jamaican jerk pork tenderloin is the grown up, sophisticated, main dish version of meat candy. Plus, using it as more of a garnish instead of the main recipe keeps it light and healthy.
I just realized that I've gotten hung up talking about just two of the ingredients for this Jamaican jerk pork tenderloin and haven't even gotten to the best part. As if brown sugar and bacon weren't enough on their own, a rub down in Jamaican jerk seasoning and orange zest takes it to a delightful new level by adding a bit of tartness and spice. I used a store bought Jamaican jerk blend, but found a recipe online for making your own too.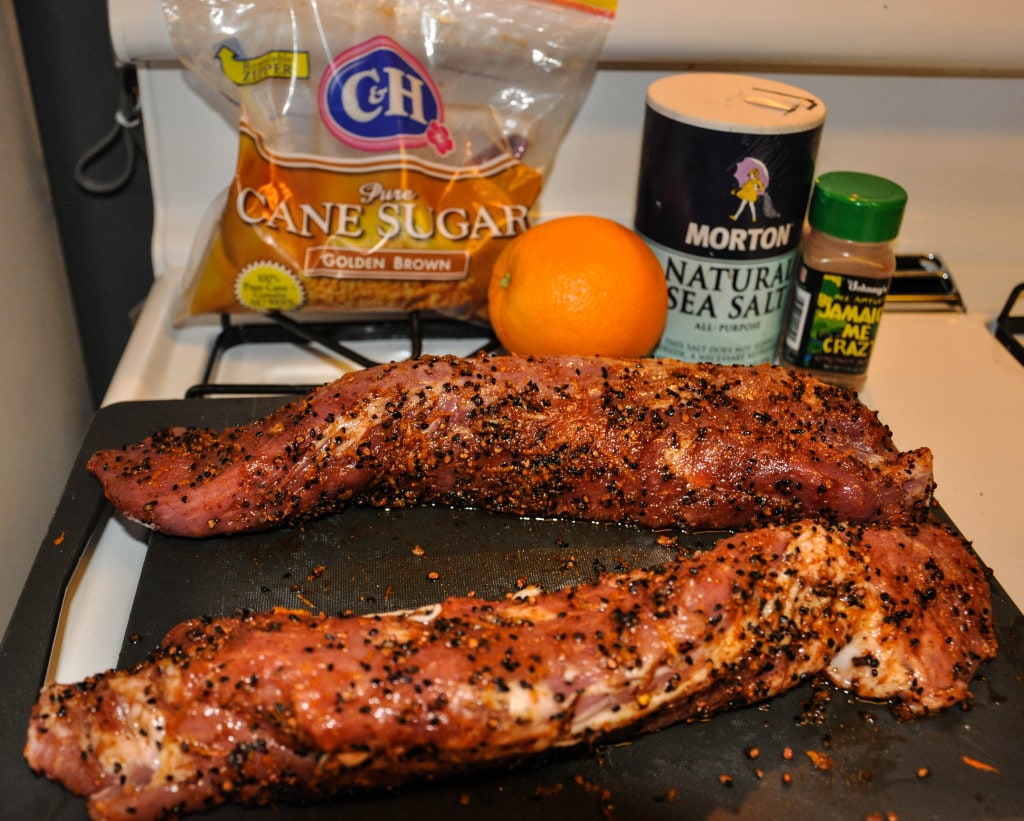 Topping in brown sugar dredged bacon is really the icing on the cake. Literally, it gives it that sweet, melt in your mouth factor. Tenderloin is a very low-fat cut of pork so the bacon actually plays a double role in keeping the tenderloin from drying out in the oven.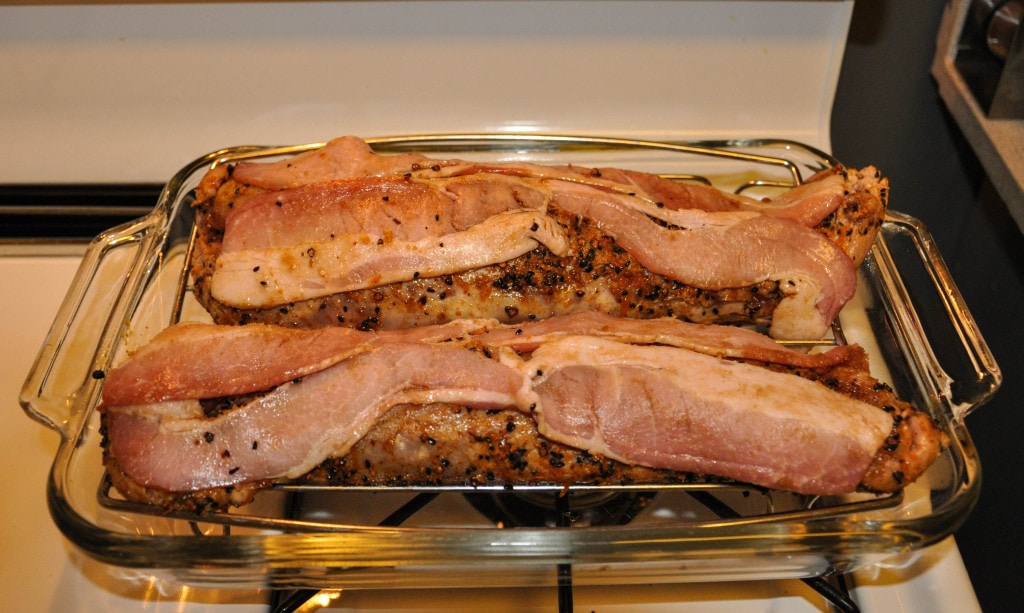 Now to top it all off (as if it weren't enough already)- a brown sugar glaze to elevate the Jamaican jerk pork tenderloin from sheer heaven to an explosion of deliciousness that can't even be described in words.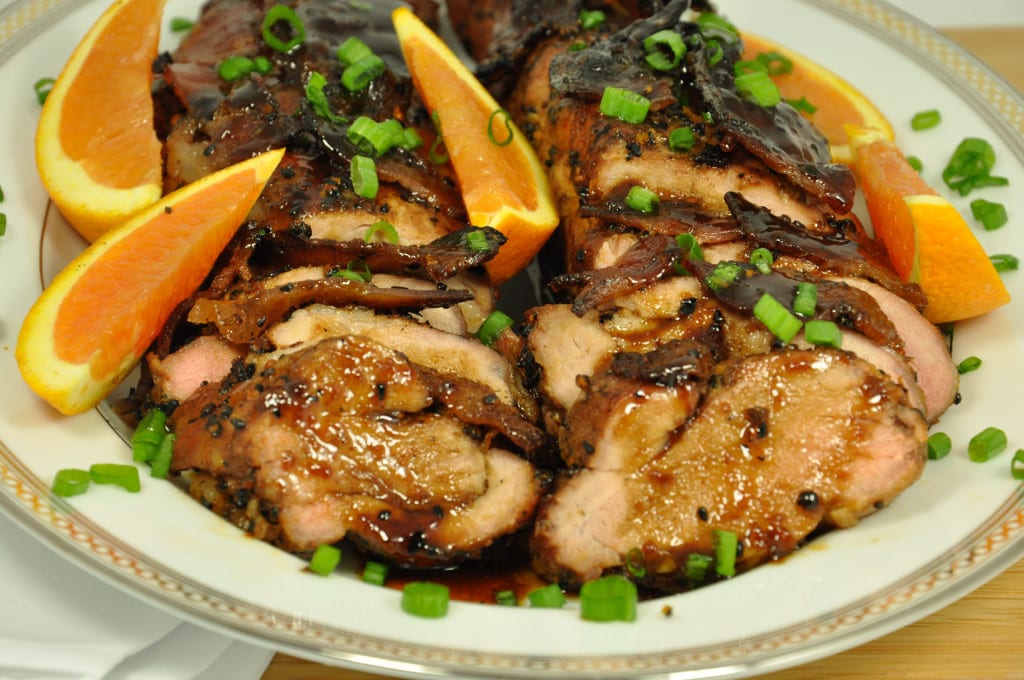 Want to know the best part? This Jamaican jerk pork tenderloin really was pretty easy to put together. It looks time consuming and labor intensive but after popping those little pork roasts in the oven after less than 10 minutes of prep work, you have a good half hour of downtime before you need to start making the glaze. You can use this time to prep a side dish or two. I think this recipe would be a fantastic side if you replaced the lemon with orange juice. Oh yeah, definitely trying that soon and I promise to report back with the verdict. Enjoy and let me know how you liked it!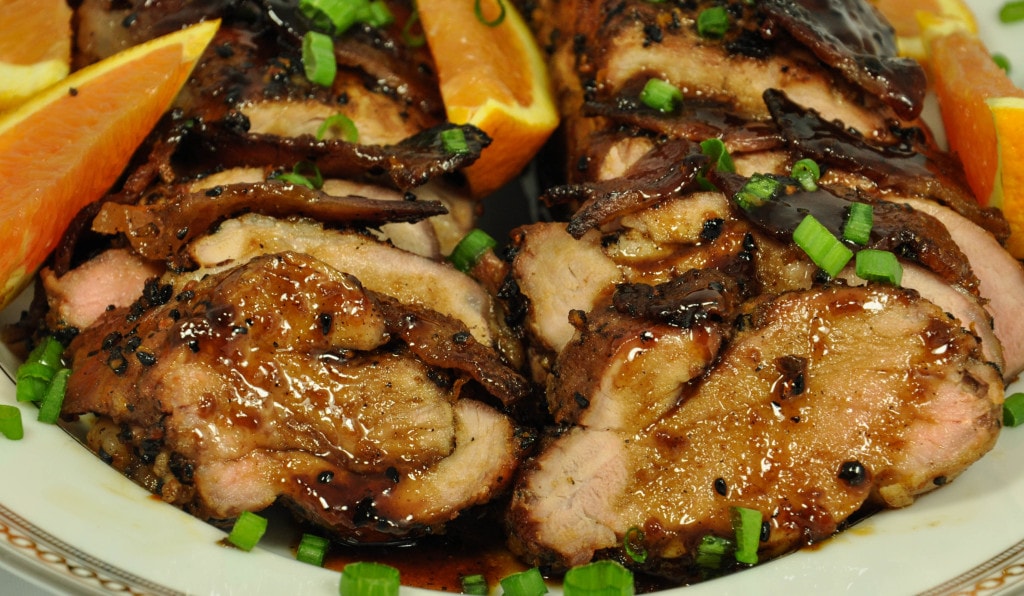 Juicy oven roasted Jamaican jerk pork tenderloin with complementary flavors of bacon and orange with a brown sugar glaze.
Ingredients
Rub
1 Tbsp. brown sugar
2 Tbsp. Jamaican jerk seasoning
1 tsp. salt
1/4 tsp. black pepper
1 T orange zest
Instructions
Preheat oven to 375°F (190°C). In a small bowl combine 2 Tbsp. brown sugar, Jamaican jerk seasoning, salt, pepper, and orange zest. Rub tenderloins with seasoning mixture.

Heat olive oil in a skillet over high heat and when hot add tenderloins. Sear each side for 1 minute, until lightly browned. Remove tenderloins from skillet and put in roasting pan.

Dredge bacon in 1 Tbsp. brown sugar and top each tenderloin with 2 pieces of bacon. Add pan to pre-heated oven and roast for 20-30 minutes until a meat thermometer inserted into the roast reads 150 degrees F, then remove from oven.

Half way through the pork's roasting time, deglaze skillet that pork was seared in with vinegar over medium heat. add dijon, orange juice, and brown sugar and simmer for about 3 minutes until sauce starts to reduce.

Spoon sauce over roasts and broil roasts on low for 2-5 minutes to crisp bacon and raise temperature to 155 - 160 degrees. Crack the oven door open while broiling and watch to prevent tenderloins from burning.

Remove pork from oven and let sit 10 minutes before carving to allow pork to fully cook and flavors to meld.
Nutrition
Calories: 546kcal | Carbohydrates: 24g | Protein: 73g | Fat: 16g | Saturated Fat: 5g | Cholesterol: 231mg | Sodium: 608mg | Potassium: 1411mg | Fiber: 1g | Sugar: 23g | Vitamin C: 2.6mg | Calcium: 36mg | Iron: 3.5mg