This vegetarian roasted vegetable pasta is divine in its simplicity & full of light, garlic lemon flavor with over 20 grams of protein per generous serving.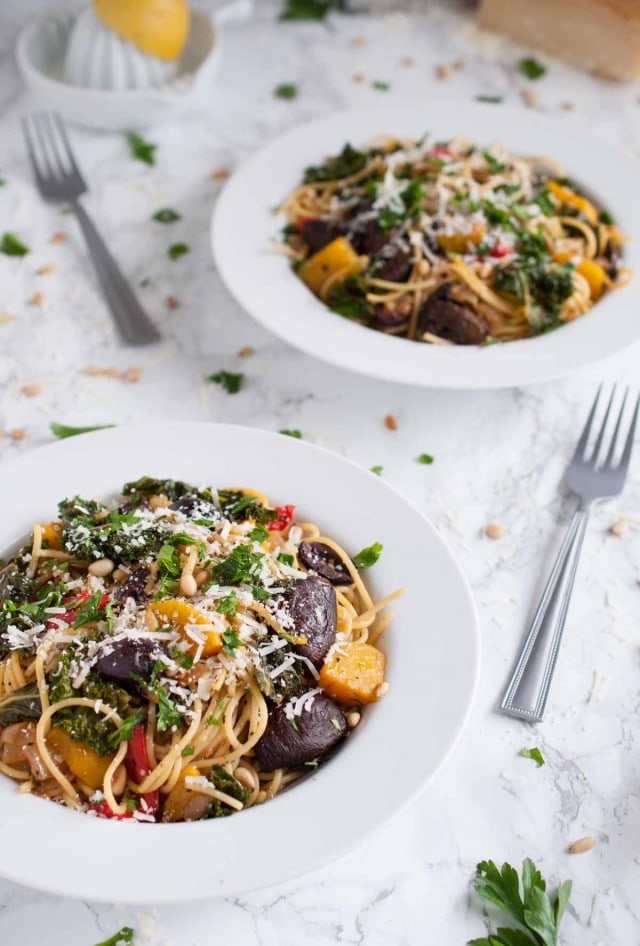 What a whirlwind of a week. And its only hump day! Oh my.
First, I apologize for my absenteeism and for holding out on sharing this roasted vegetable pasta with you. I've started this post a few times this week and just haven't been able to get words on the page. I've been torn on what to say and how much to share. My instinct is to pretend all is well and skip right to the pasta, but we're all friends so here goes it.
While I have been MIA both for the past few days, I have been slowly getting my act together after a crazy series of events. I started a new job last week (woohoo!), but amidst all that excitement, I had reoccurring pain at night that I brushed off thinking it was nothing. Maybe just nerves or a stomach bug?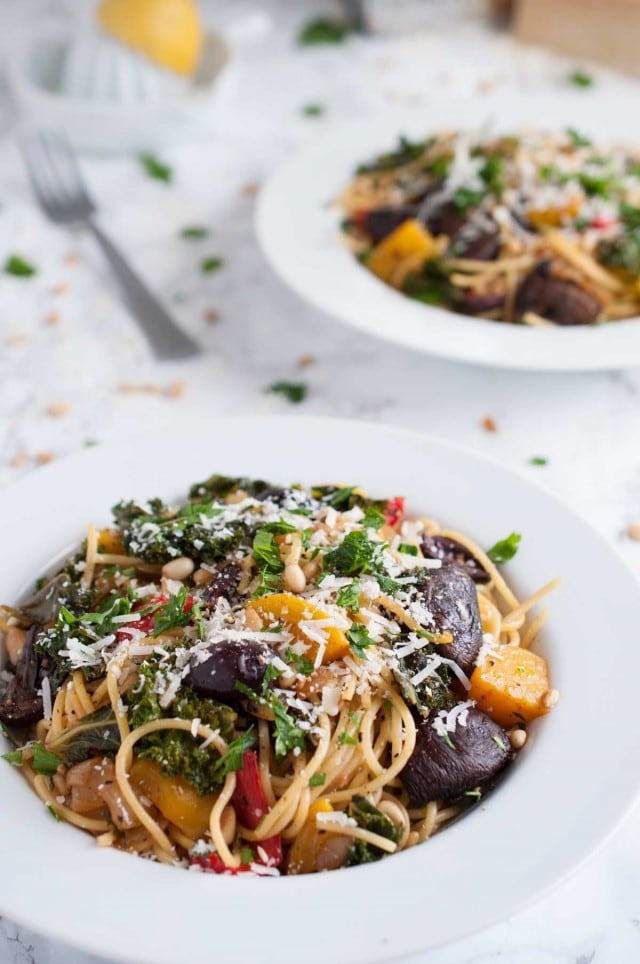 Then, a routine Dr. appointment on Friday landed me in the emergency room and then on a surgical table I've been in a doped up state of relaxed delirium for the past few days and am just emerging from the fog and getting back to real life.
I've been contemplating whether or not to share details of this publicly, and at this point, I figure what's the point of having a platform like this if I can't get down to a level of vulnerability that can actually help someone.
We're all looking for answers, comfort, something that helps in whatever issue we're dealing with. Sometimes its as simple as a recipe to use up those lemons in the fridge. Other times we struggle with questions beneath the surface that are more difficult. Today, I want to focus on the latter. Screw the lemons.
For those of you who just come for the food – here's another photo for ya. Please just scroll ahead to the recipe, no offense taken. I promise. 🙂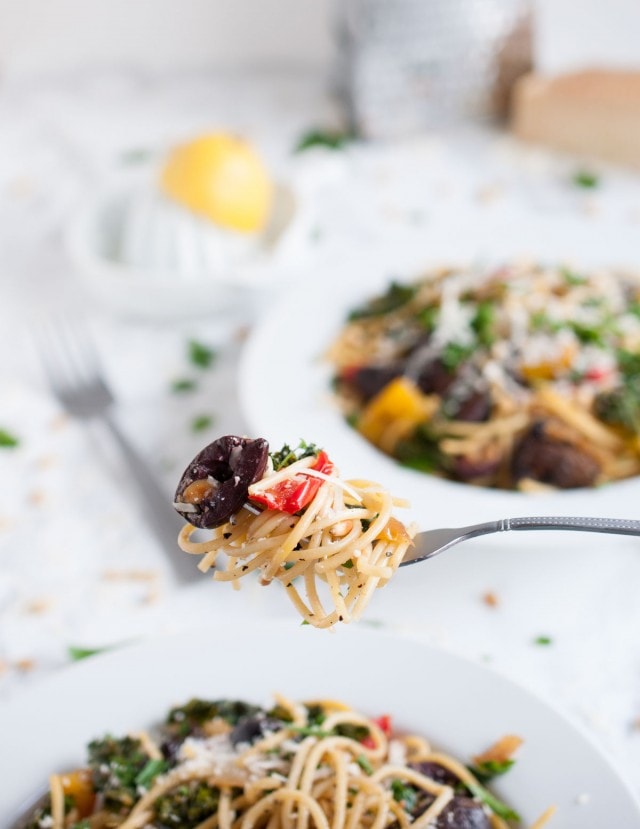 In summary, this week I am down a fallopian tube and a pregnancy but have gained a new lease on my life. And I've never been so appreciative to simply have that.
After being told that I miscarried two months ago, I have had some unexplained pain and bleeding that I wrote off as part of the miscarriage process. It turns out, it was actually a misdiagnosed ectopic pregnancy and the little dude kept on growing in my right fallopian tube. It got so big, the outer layer of the tube started to rupture and bleed and removing it immediately became critical.
This is actually pretty common and can be life threatening if you don't catch it before it ruptures. Many women just go about their day ignoring their pain without knowing the risks.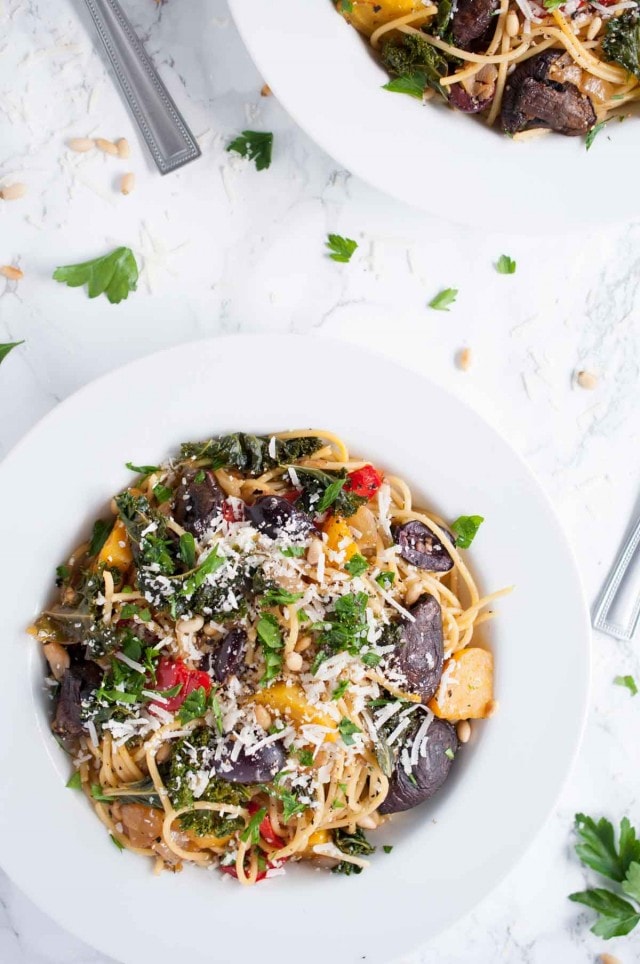 It was scary and painful… but I feel so damn lucky. Lucky to be here and lucky to have the body that I do. It only got to that point because I chose not to listen to it. Your body speaks to you and trying to be tough and stifle the pain doesn't hurt anyone but yourself. Just because you have the strength to tolerate it does not mean it should be ignored.
So, my message to all you ladies (and gentlemen) out there – listen to your pain! Have faith in yourself and the messages your body sends you. You only get one. Remember to treat it well. If you feel that something isn't right, trust yourself, and get help.
Now – on to pasta okay? Enough heavy sh*t for a Wednesday.
With kicking off this new job, I've been thinking about healthy meatless recipes that will reheat well for lunches. As you probably know, pasta leftovers are absolutely perfect for reheating. A quick zap in the microwave and its like a gourmet chef just tossed it together fresh just for you. With this roasted vegetable pasta you get the same great caramelized flavor, with just a little less crunch on day two. The roasting is where its at!
And who says pasta can't be healthy? It totally can! The main trick is to ditch the heavy sauces and choose veggies as main ingredients.
TONS of veggies. In this recipe, roasting them brings out such rich flavor that you don't even miss the meat. The veggies and pine nuts add enough protein that you'll be full for hours. I normally use whole wheat pasta but there are all kinds of gluten free options these days that can make it workable with any diet restrictions (umm, hello quinoa pasta!).
If you're dairy free, try using vegan parmesan on this. I haven't tried this recipe yet, but have heard its great!
You can switch up the veggies you use too. This roasted vegetable pasta recipe has my favorite combo, but you can swap with whatever you think will taste good together. Broccolini would be a nice addition. Whatever fits your fancy.
Here's a picture of some kale for you. In case you weren't sure what chopped kale looked like…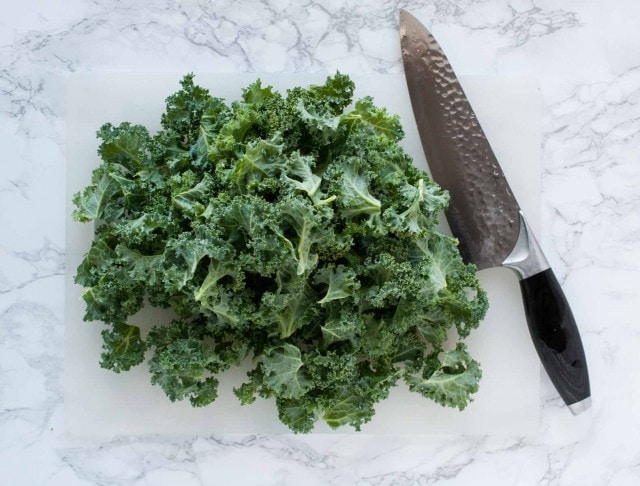 One unique twist in this recipe that distinguishes it from other roasted vegetable pasta recipes is the extra flavor added at this step! Adding a splash of balsamic vinegar adds a subtle depth that harmonizes everything else in the dish. Plus, its deglazes the pan so you can get all those tasty onion and garlic bits off the bottom.
The kale bites become little bombs of flavor in the final dish. It's still pretty mild, but just enough tang that you take notice.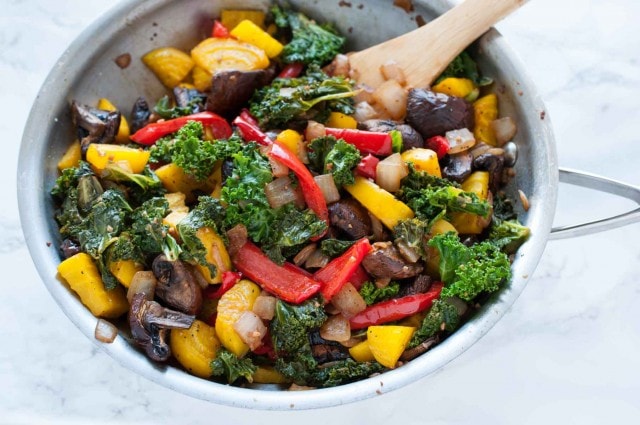 Toss parmesan, olives, lemon juice, and toasted pine nuts in and you've got yourself a solid entrée. To keep it light, adding a splash of the cooking water back in keeps the pasta moist without needing oil. Season with salt and fresh cracked pepper and the flavors all come together seamlessly.
Now, here's a photo series to convince you to make this recipe.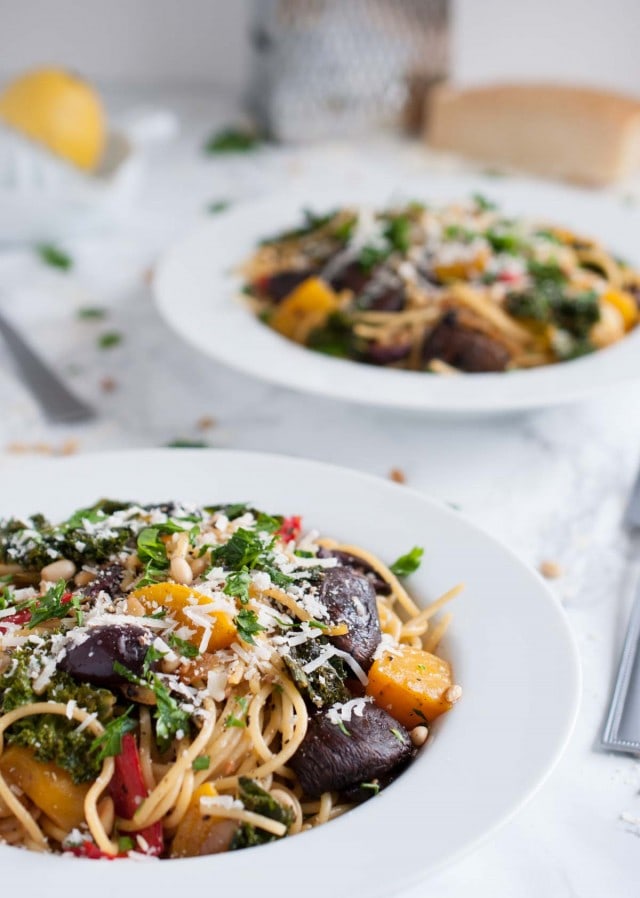 This vegetarian roasted vegetable pasta is divine in its simplicity & full of light, garlic lemon flavor with over 20 grams of protein per generous serving.
Ingredients
12 oz. spaghetti or angel hair pasta
3 golden beets, sliced
1 red pepper, sliced
1/2 lb. mushrooms, halved
2 Tbsp. olive oil
1 medium onion, diced
1 Tsp. garlic
5 kale leaves, torn into bite sized pieces
1 1/2 Tbsp. balsamic vinegar
1/2 cup kalamata olives, halved
1/4 cup pine nuts, toasted*
1/2 cup parmesan, grated
2 Tbsp. lemon juice
Salt and pepper
Instructions
Preheat oven to 425° F (218° C).

Rub beets, red pepper, and mushrooms with 1 Tbsp. oil. Sprinkle with salt and pepper. Place in oven and bake for 40 minutes, flipping vegetables half way through.

During the last 20 minutes of the vegetables cook time, start heating a salted pot of boiling water. Cook pasta al dente according to package directions. Reserve about 1/2 cup of the hot water that pasta was cooked in.

While pasta is cooking, in a separate sauce pan, heat 1 Tbsp. olive oil over medium heat.

Add onion and sauté for 2-3 minutes, until translucent. Add garlic and cook another 1-2 minutes, until fragrant.

Add balsamic vinegar and deglaze pan by scraping up any stuck onions. Add kale and sauté 2-3 minutes to wilt. Season with salt and pepper.

Toss pasta with roasted vegetables, sautéed kale, kalamata olives, pine nuts, lemon juice, and season with salt and fresh cracked pepper.

Use cooking water to re-moisten pasta (I used about 1/4 cup). Top with grated parmesan and serve.
Notes
*To toast pine nuts, heat them in a small dry skillet over low-medium heat for 5-10 minutes until just starting to brown. They burn easily so stir often and don't leave unattended.
This recipe is highly inspired by this recipe for Farfalle with Golden Beets and Pine Nuts on Epicurious, submitted by Jeanne Thiel Kelley.
Nutrition
Calories: 381kcal | Carbohydrates: 51g | Protein: 13g | Fat: 14g | Saturated Fat: 2g | Cholesterol: 7mg | Sodium: 324mg | Potassium: 450mg | Fiber: 3g | Sugar: 5g | Vitamin A: 1685IU | Vitamin C: 41.7mg | Calcium: 131mg | Iron: 1.7mg