Crockpot chicken tacos are made with minimal ingredients and cooked in the crockpot for the easiest weeknight meal you'll ever make! Tender, juicy, and full of flavor, the shredded chicken taco meat is perfect for stuffing in tortillas, sprinkling over nachos, and more. Start a batch in just a few minutes for a satisfying dinner the whole family will love.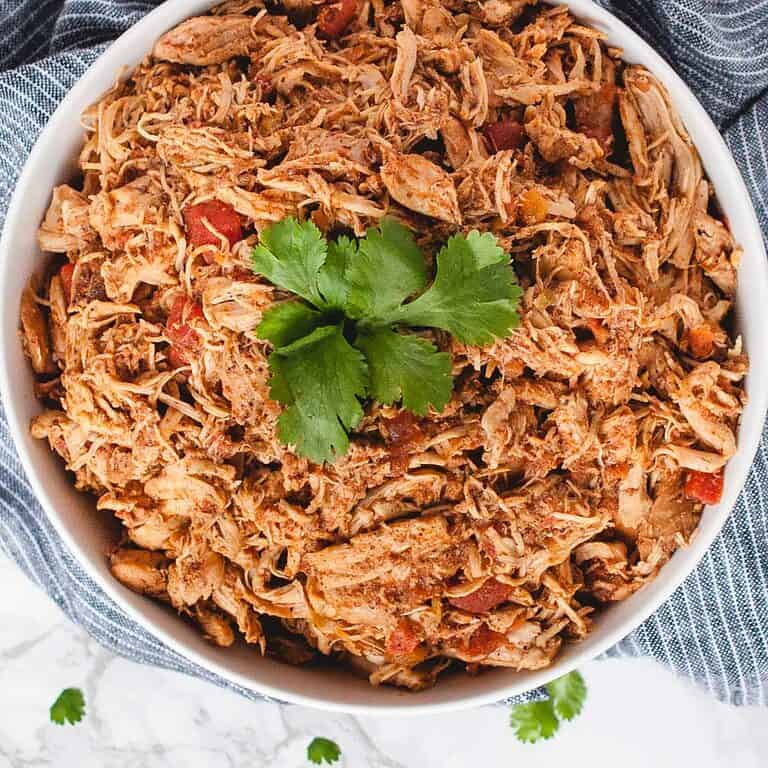 Fact: chicken tacos taste better shredded. It's just the way it is. Shredding means that every little strand soaks up as much flavor as physically possible. And, what could be better than getting all that flavor for under five minutes of prep work? Not much I tell you, not much.
Crockpot Chicken Tacos to the Rescue
Do you have tried and true go-to meals you come back to again and again? You know, the ones that are easy to make, so tasty the whole family will actually be excited to eat, and are always a safe bet when feeding a crowd. Yeah, those. In my home, they take the form of homemade spaghetti, beef stroganoff,and my personal favorite, these crockpot chicken tacos!
When I tell you this recipe is a lifesaver, I mean it. In fact, I rely on it so much, I find myself making it at least once a month and always have leftovers stashed away in the fridge or freezer for easy meals in a pinch. After all, you never know when the craving for a taco salad or warm chicken quesadilla is gonna strike!
Thanks to the use of my beloved crockpot, the only thing this recipe requires you to do is dump the ingredients in. Then, come back to shred the chicken just before serving, and dig in.
It doesn't get any easier than that! Not to mention, these tacos are super forgiving. I say this because I once forgot to set my crockpot before hosting dinner…Taco Tuesday dinner to be exact. Luckily, these tacos came through for me cooking in just 2 hours. What I thought was going to be a night of takeout and disappointment turned out to be a huge success! I prefer low and slow but quick works in a pinch.
Whether you're cooking in a rush or are a little more prepared, one bite of freshly made tacos, and I'm sure that you'll agree that this is one recipe you need in your arsenal.
What's the Difference Between a Crockpot and a Slow Cooker?
Often used interchangeably, crockpots and slow cookers are not *quite* the same things. The most notable difference is in the way the heat is distributed.
The heating element on slow cookers is sometimes located at the bottom while crockpots are heated from all sides. This means that some slow cookers take longer to warm and cook foods slightly differently when compared to crockpots. That being said, most modern slow cookers are built like crockpot with heated sides and work the same way. Either appliance can be used for this shredded chicken taco recipe, and your dinner will taste great.
I used a Hamilton Beach crockpot with heating elements below and in the sides.. If you're using a slow cooker, just make sure to allow more time for the taco meat to cook.
Simple Ingredients
Chicken – Chicken breasts or thighs are fine here. Thighs are best to lock in moisture and impart extra flavor into the dish, but you can use what you prefer. I highly recommend taking the time to trim off any excess fat.
Spices – A combination of cumin, salt, pepper, chili powder, garlic powder, onion powder, paprika, and oregano adds warm flavor and just a bit of heat. Personally, I tend to keep a big batch of my own chicken taco seasoning on hand for easy cooking!
Salsa – Used to lock in moisture and provide even more flavor taking your tacos from good to great. I typically opt for a medium salsa for a bit of heat without overpowering the other ingredients. However, if spice isn't your thing, use a mild salsa instead.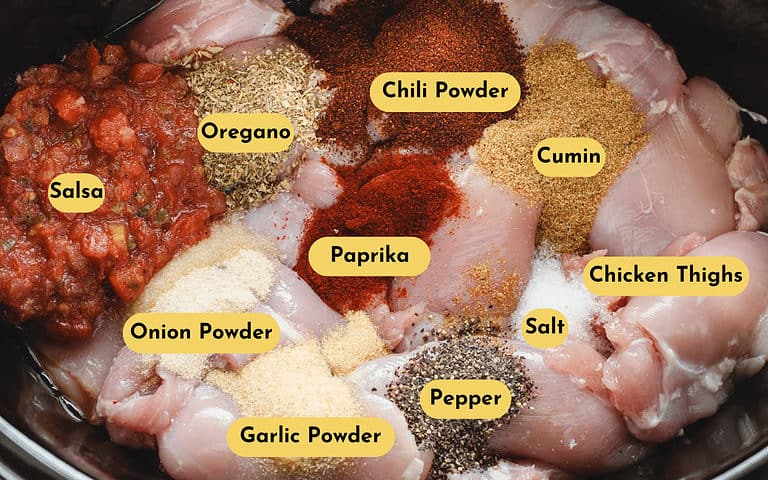 How to make it
The only things you'll need for this recipe is a crockpot and two forks. No, really! Just dump everything in, set it to the cook setting and come back later. Here are the basic steps to make the recipe:
Trim any excess fat off chicken, and layer the chicken thighs or breasts in the bottom of your crockpot.
Sprinkle the seasonings on top followed by the salsa, and stir to evenly coat the chicken.

Cover and cook on high for 2-3 hours or low for 6-7 hours.
Shred the chicken, serve in taco shells with all your favorite toppings, and enjoy!
How to Shred Chicken Taco Meat
The easiest way to shred your cooked chicken is with two forks. Just place the tongs in the center, and pull them apart in opposite directions to shred the chicken in the crockpot. Then, repeat this step until all of the chicken has been shredded.
I have also heard of using a hand mixer to shred chicken in a large bowl. That sounds a bit messy to me, but by all means, go for it, and good luck!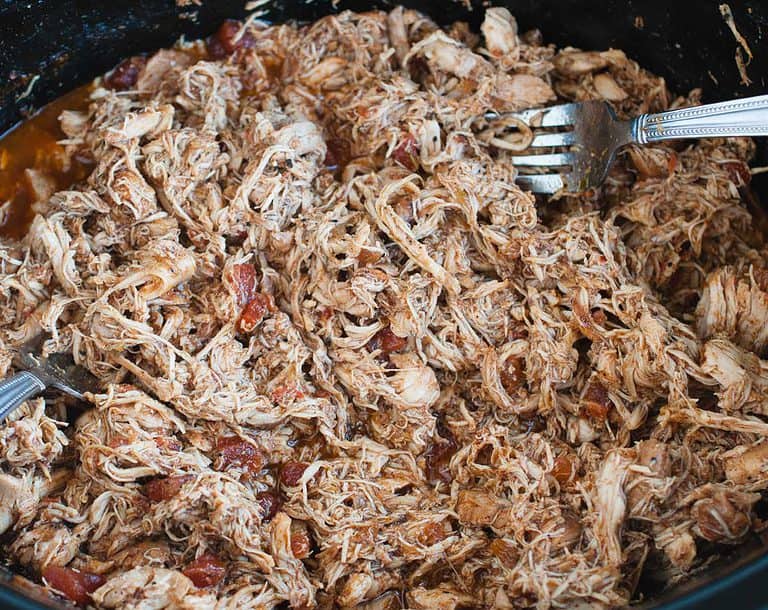 Taco Topping Ideas
The only thing better than a freshly made chicken taco is one that has been loaded up with all the best fixings. Some of my favorites include:
Shredded cheese
Cilantro
Guacamole
Lettuce
Sour cream
Serving Suggestions
Honestly, these crockpot chicken tacos are super filling all on their own. However, if you want to go all out and serve them up with sides, try pairing them with Mexican bean dip, chips and guac or cilantro lime salad.
More Ways to Use Pulled Chicken Taco Meat
If you aren't in the mood for tacos (can't relate), there are tons of ways you can serve this shredded chicken or use up the leftovers.
I make this recipe regularly and normally do a double batch. This way I can separate and freeze it into individual containers that I can pull out every time I get a taco craving.
Here are some ideas to get you thinking beyond the taco:
topping nachos
served on a salad
stuffed in a cheesy quesadilla
rolled in chicken enchiladas
layered in an easy chicken enchilada casserole
folded in SW style omelets
piled on top of baked potatoes
tucked into lettuce wraps for a low-carb taco option
Can you put frozen chicken in the crockpot?
According to the USDA, you are not supposed to cook frozen meat in a crockpot or slow cooker to avoid the risk of foodborne illness. That being said, I and many others do it all the time. Just add an extra hour or so to the cook time.
Can I make crockpot shredded chicken tacos ahead of time?
Yes! When placed in an airtight container, leftovers will stay fresh in the fridge for up to 3-4 days. Reheating in the microwave works best for maintaining moisture. It also will keep in the freezer for up to 4 months. To defrost, thaw in the fridge overnight and warm it up in the microwave prior to eating.
Can I use chicken breasts instead of thighs?
I prefer using thighs because they have a ton of flavor and don't dry out in the crockpot. However, if you prefer, breasts can be used in their place.
More Taco-Inspired Recipes
If you're like me and can't get enough tacos, you won't want to miss these:
Here's a close up of all that spicy goodness. That's the flavor just waiting to happen. Yum.
If you aren't a spice lover, you can tone it down by using a mild salsa and chili powder. Its up to you. Normally when I eat chicken tacos like this, I like a hint of heat but don't want it to be overpowering so I go with a medium salsa. Then again, that's just me.
The final (and arguably most fun) step is shredding. You've got to get in there with a couple of forks and just go to town. There's no real technique here other than shredding until you have nice thin strands.
Before you start shredding, it will look like there is an insane amount of liquid but don't drain it! The shredded chicken will soak that back up. That's what makes it super moist and juicy.
The easiest meal you'll ever make, crock pot chicken tacos are tender, juicy, and made with minimal ingredients for the best dump and go meal!
Equipment
1

Crockpot (slow cooker can be used if cooking times are increased)
Instructions
Place chicken thighs in crock pot.

Sprinkle seasonings on top of chicken and stir to coat.

Cook in crock pot for 2-3 hours on high or 6-7 hours on low heat. Exact cooking time will vary based on your crockpot model.

Use two forks to shred chicken. Serve with other taco fixings or use meat in other recipes.
Notes
This recipes makes about four cups of shredded taco meat. 1 serving is approximately 1/2 cup of taco meat.
When placed in an airtight container, leftovers will stay fresh in the fridge for up to 3-4 days.
The taco meat can be frozen in freezer safe tightly sealing containers for up to 4 months. When you are ready to use, let chicken thaw in the refrigerator overnight, and warm it up in the microwave prior to eating.
While thighs maintain moisture better, chicken breasts can be used instead of thighs if desired.
If you make this recipe often, the spices can be substituted with my chicken taco seasoning blend. To make this even easier, make a large batch of the seasoning blend and use 4 Tablespoons for 3 lbs. of chicken (or 4 teaspoons per lb.).
Nutrition
Calories: 233kcal | Carbohydrates: 6g | Protein: 34g | Fat: 8g | Saturated Fat: 2g | Polyunsaturated Fat: 2g | Monounsaturated Fat: 3g | Trans Fat: 0.03g | Cholesterol: 162mg | Sodium: 652mg | Potassium: 616mg | Fiber: 2g | Sugar: 2g | Vitamin A: 1350IU | Vitamin C: 1mg | Calcium: 61mg | Iron: 3mg
Originally published in 2016. Post updated May 9, 2019 for content and again on November 21, 2022 for content and formatting.