Rustic galette made with whole wheat flour, leeks, mushrooms and kale is the ultimate veggie packed comfort food.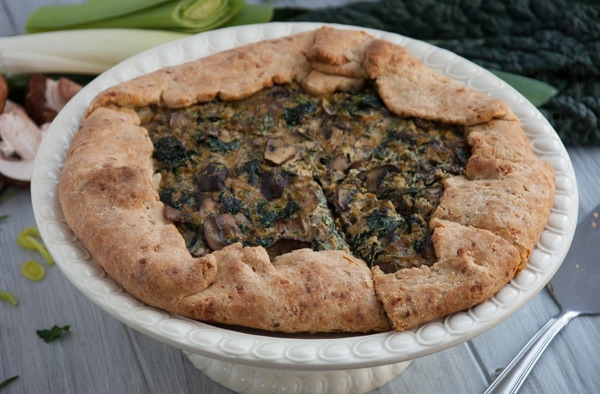 I'm not sure which is my favorite part of pastries – the flaky crust or the filling. Luckily, with this galette recipe I don't have to choose and neither do you. Today, my friends, you really can have it all. The crust has a wholesome rustiness from using 100% whole wheat pastry flour while the savory inside is full of the best of the veggie world, mushrooms, kale, and leeks. All of this wrapped up in one delicious package.
I'm not sure what it is about them, but leeks always seems like such a sophisticated alternative to onion. Like the sassy, dressed up older cousin of the onion and garlic family. Maybe its because of their prevalence in French cuisine, which is without a doubt the 'fancy food' capital of the world. They taste like a combo of onion and garlic making them a perfect ingredient in all things savory.
Between leeks and pastry crust, creating this recipe got me out of my comfort zone and into the world of fanciness. Pastry always seems so intimidating and I've shamefully relied on store bought crusts more than I'd like to admit. This was my first time making my own crust in years. Seriously, yeeeeears. And I don't think I'll ever go back…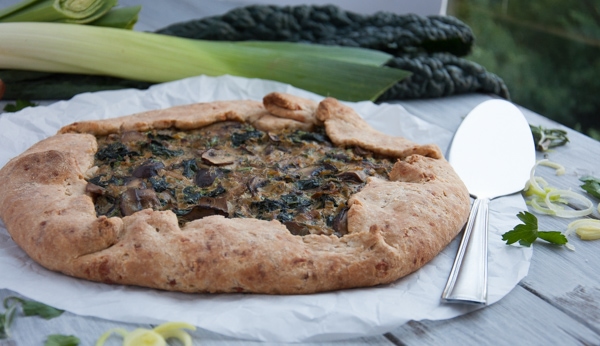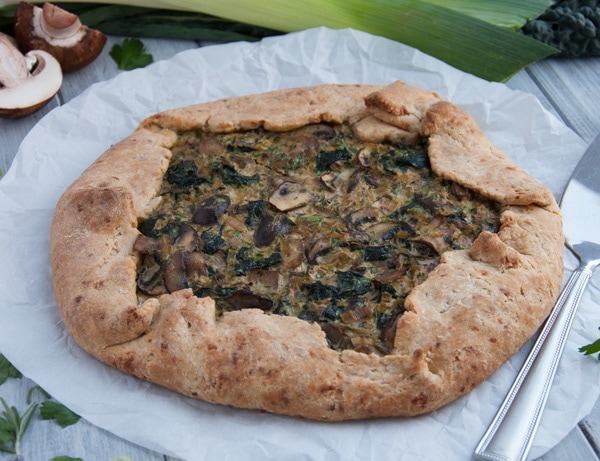 Pastry crust really isn't nearly as intimidating as it sounds. Especially when using my handy-dandy food processor
which makes this recipe easy as can be. I've been lusting over this food processor for an obscene amount of time now
, but just can't bring myself to bite the bullet and order it. Its so shiny and new and pretty. Mine is functional, but has definitely seen better days. In all fairness, I've had the thing for about 8 years and use it at least once a week so it has more than outlived my expectations.
The filling is equally easy. There are a few different steps involved so while it isn't necessarily complicated, its definitely not a quick recipe. This is the stage where all the veggies get packed in which is critical because they're the saving grace for dubbing this a 'health food' pastry. I know calling anything built on a canvas of flour and butter 'healthy' is a bit of a stretch, but we're just rolling with it on this one, okay? Okay.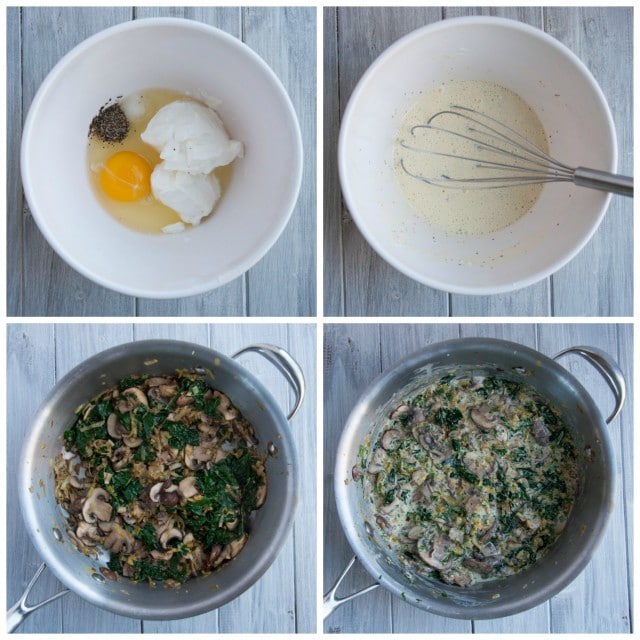 The assembly part was kinda fun. Part of the fun probably came from conquering my fear of pastry making, but all that aside, there's something rewarding about making a dish like this. Its impressive looking, it requires assembly, its an all around good time. The perfect recipe for a rainy Saturday at home. Relaxing bluesey tunes playing in the background are pretty much necessary and should probably be added to the ingredient list.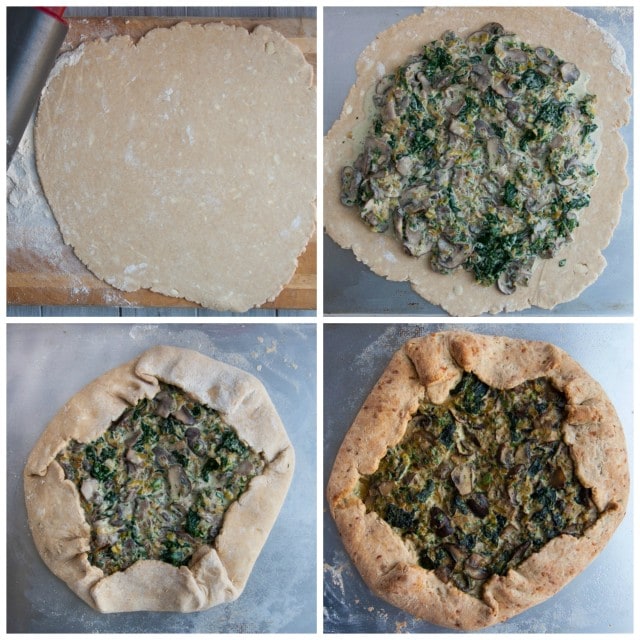 Galettes are flexible enough that they can be served as an appetizer, breakfast, dinner, or anything in between. So whatever time of day it is, serve yourself up a slice and take a minute to kick back, relax and savor the moment.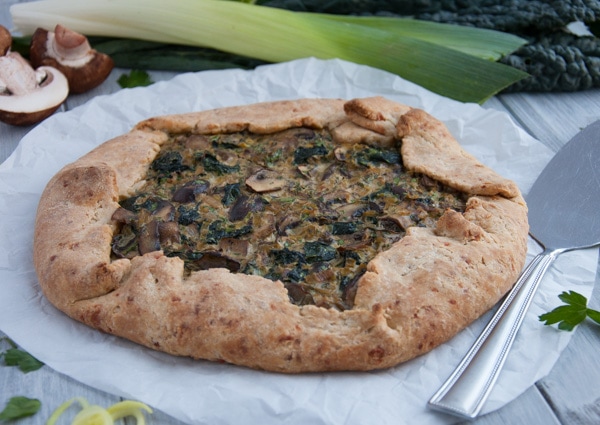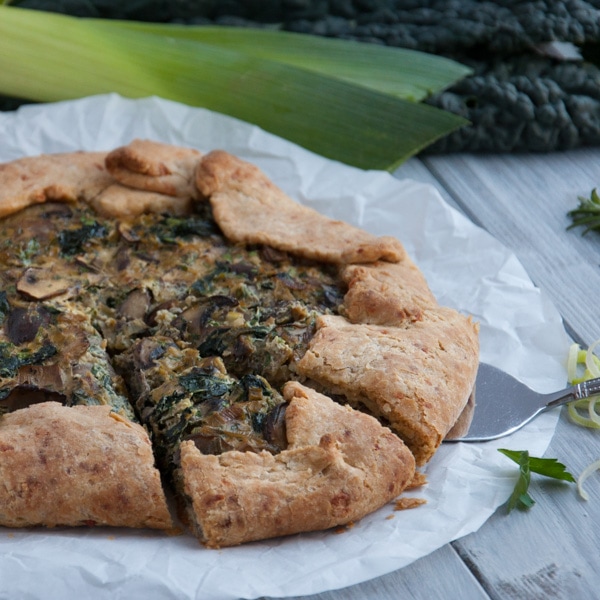 Rustic galette made with whole wheat flour, leeks, mushrooms and kale is the ultimate veggie packed comfort food.
Ingredients
Crust
1 ¼ cup whole wheat pastry flour (+ extra for dusting rolling surface)
1 tsp. baking powder
¼ tsp. salt
1/4 cup cold sour cream
1/3 cup cold butter (cubed)
1/3 cup cold milk
1/4 cup gruyere (grated)
Filling
1 Tbsp. coconut oil
2 cups leeks (white and light green parts only, sliced into thin pieces)
1 tsp. minced garlic (about one large clove)
12 oz. mushrooms (washed and sliced)
5 kale leaves (torn into 1" pieces leaving hard center stem out)
1 egg
½ cup sour cream
½ tsp. salt
¼ tsp. black pepper (freshly ground)
2 Tbsp. parsley (chopped)
1 Tbsp. fresh rosemary (chopped)
Instructions
Crust
Combine salt, flour, and baking powder in a bowl.

Puree sour cream, milk, and butter in a food processor. Add dry ingredients and gruyere and pulse briefly several times to combine. Do not overmix! Mixture will be moist and somewhat clumpy.

Remove dough and place on a flat surface dusted with flour.

Knead several times and press dough out into a round 8" circle. Sprinkle flour on top of surface and pat so that dough is not sticky. Cover with plastic wrap and refrigerate for at least 20 minutes while preparing filling.
Filling
Preheat oven to 400°F (204°C).

Heat oil over medium-high heat. Add leeks and cook for 2-3 minutes until leaks are starting to become soft. Add garlic and cook a minute longer.

Add mushrooms and cook for 4-5 minutes until mushrooms have cooked down and most of the water content has evaporated. Add kale and cook down for a minute or two until wilted. Remove from heat.

In a separate bowl, whisk the egg, sour cream, salt, and pepper together. Add this mixture to the cooked leeks and mushrooms along with the parsley, and rosemary.
Assembly
Remove the dough from the refrigerator and place on floured flat surface. Use a floured rolling pin to roll into a ¼ inch thick circle approximately 14 inches in diameter. Add filling to center of dough circle leaving a 2 inch border along the edge.

Fold the border up around the edges. Spray a baking sheet with oil and move galette onto prepared sheet. Bake for 25 – 30 minutes until crust is starting to brown. Remove from oven and let cool for 10 mins before serving.
Nutrition
Calories: 344kcal | Carbohydrates: 32g | Protein: 12g | Fat: 21g | Saturated Fat: 13g | Cholesterol: 73mg | Sodium: 416mg | Potassium: 767mg | Fiber: 4g | Sugar: 3g | Vitamin A: 6280IU | Vitamin C: 69.3mg | Calcium: 265mg | Iron: 3.2mg