This healthy pumpkin bread is made with 100% whole wheat flour and other wholesome ingredients, leaving room for topping with a zesty orange decadent glaze.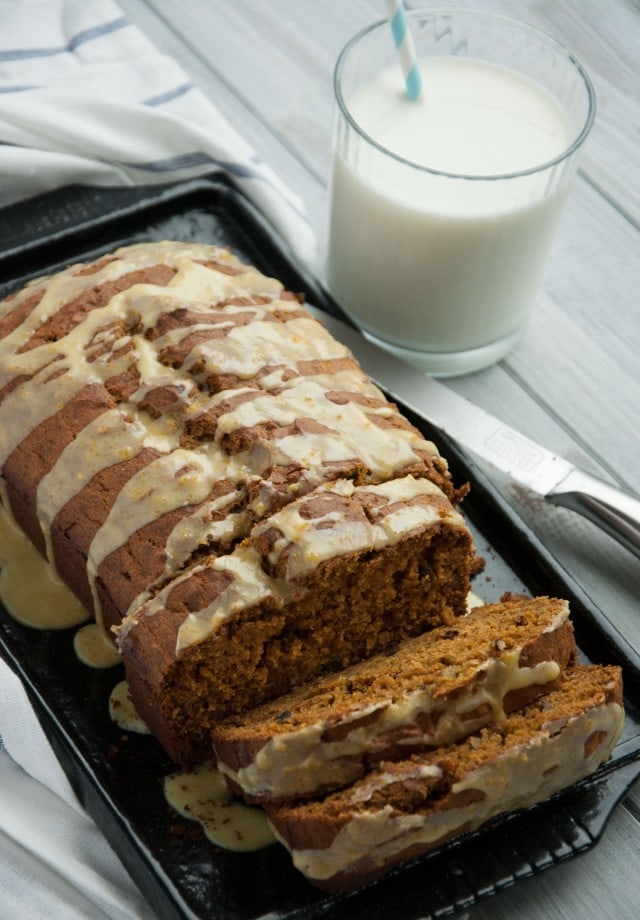 Why hello you beautiful loaf of bread you. That's my favorite way to start my morning, talking sexy to a loaf of bread. In other news – I may need to get a life. But, until that happens, I'll be sitting over here, eating healthy pumpkin bread, sippin' coffee, and lovin' every minute of it.
The first time I made this bread was a pleasant surprise. I rarely have something turn out this fabulous on the first try so, needless to say, I felt like a total champion for the day (again – I probably need to get a life). I'm sure a major contributing factor to this success was because it's a re-make of something I found on Simply Recipes, and everything she does is perfection. Seriously, EVERYTHING. This recipe uses 100% white whole wheat flour, less sugar, coconut oil, and a few other swap outs to make it more nutritious without sacrificing any flavor. And I know orange and pumpkin might sound kinda weird together, but its totally not! Its soooo much better than it sounds.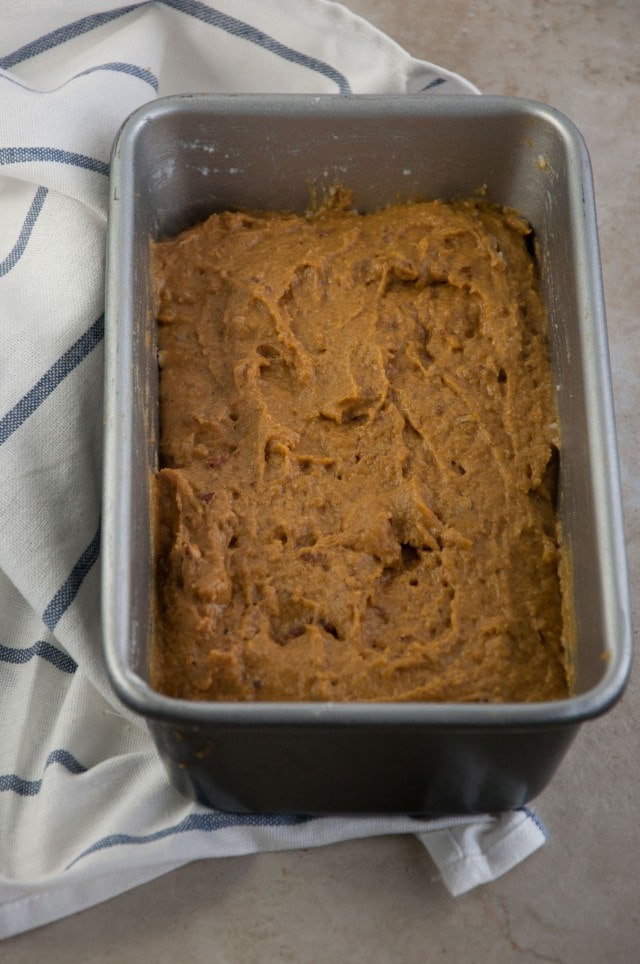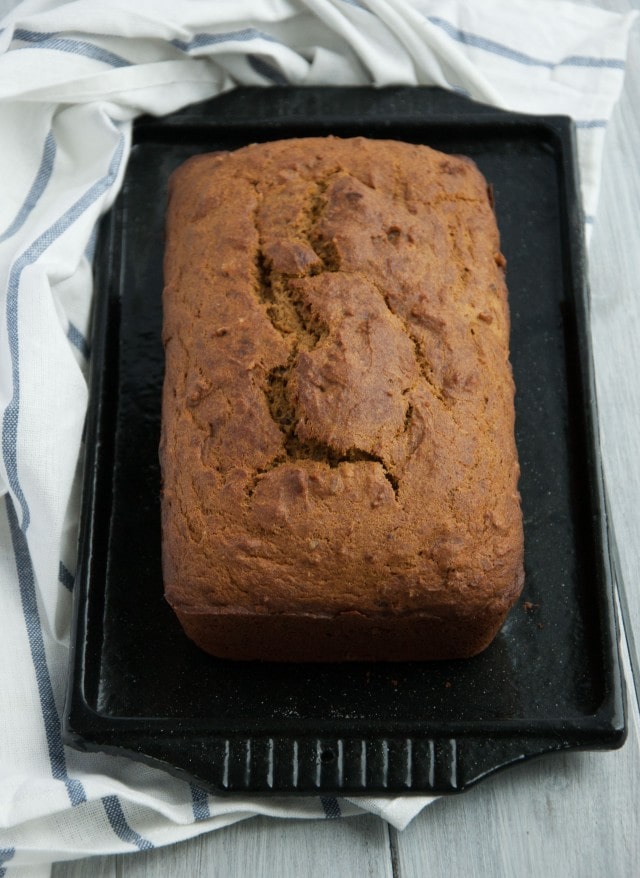 Topping with the glaze is both literally and figuratively the icing on the cake, because the bread is perfectly good on its own, but after adding glaze – WOW is all I can say. This tasty topper adds an extra 20 calories per serving, but they're the type of calories that are totally and utterly worth it. Given that and the fact that it only takes five minutes to whip up and drizzle this zesty goodness on, the glaze is a pretty necessary part of this recipe. It brings an already tasty bread to a new level of awesomeness and adds a fancy flair to both the presentation and flavor of this rich pumpkin bread.
Before you rush to the kitchen, there a are a few things I want to point out about the glaze. First, make sure to add the OJ a little bit at a time or it might end up too runny. You want it to be thinner than frosting and pourable, but not too liquidy. Shoot for the consistency of cold maple syrup and you'll be fine. Second, make sure the bread has cooled all the way or the glaze will just melt and run off. Keep those things in mind and you'll be well on your way to the tastiest healthy pumpkin bread around.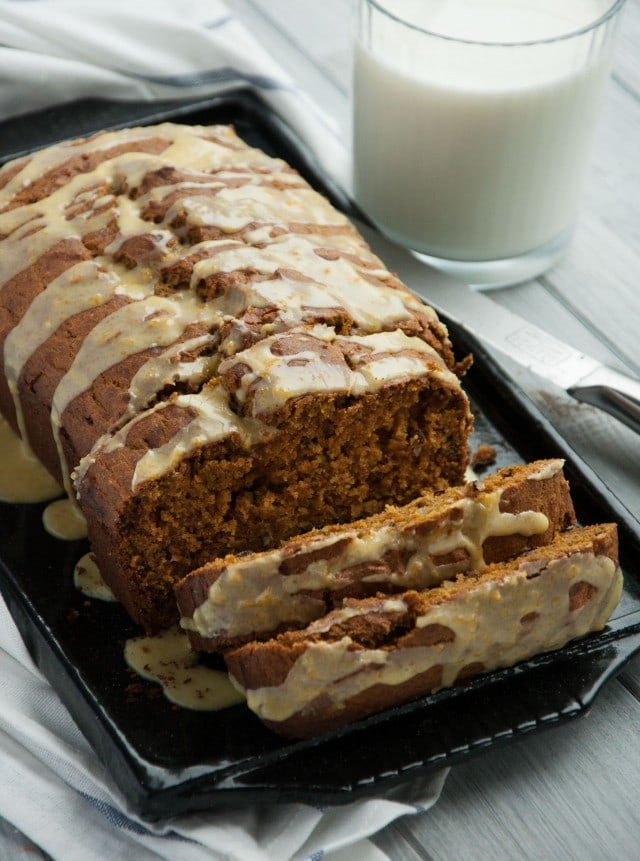 My husband was out of town the first time I made this and after seeing pictures and hearing me rave about my new favorite recipe, he has been pretty amendment that I need to make it again ASAP. Buuuut, as all of you that follow me on Instagram know, we're on a pretty hardcore health kick this week. I wouldn't necessarily call it a cleanse, but more of a jump start to getting back into healthy eating, and unfortunately this doesn't include baked goods.
With how crazy life has been over the last six months, healthy eating and working out has definitely been pretty low on the priority totem pole. With things finally slowing down a bit, I've been easing back into my old routines and am starting to feel more and more like myself. I don't have to do any work travel for two whole weeks so I'm soaking up this brief stint of normalcy while it lasts. Its so good to be home. 🙂
This healthy pumpkin bread is made with 100% whole wheat flour and other wholesome ingredients, leaving room for topping with a zesty orange decadent glaze.
Ingredients
Glaze
1/2 cup powdered sugar
1/2 - 1 Tbsp. orange juice
1 tsp. orange zest
1/4 tsp. vanilla
Instructions
Preheat oven to 350°F (176°C).

Add vinegar or lemon juice to milk and set aside while preparing the other ingredients.

Grease a bread loaf pan with coconut oil and set aside.

In a medium bowl, stir flour, salt, baking soda, and spices together. Set aside.

In a separate bowl mix sugar, eggs, and pumpkin together. Add milk and coconut oil and mix until well blended. Stir in orange zest and pecans.

Pour batter into greased baking pan and bake in preheated oven for 50 minutes to 1 hour until a toothpick inserted into the center of the loaf comes out without any batter on it. Let loaf cool in pan for 10 minutes before removing and cooling fully on a wire rack.

Once bread is fully cooled, whisk glaze ingredients together adding orange juice a little at a time until thick but still pourable. Drizzle over bread and let glaze harden for 10 - 15 minutes before slicing.
Nutrition
Calories: 212kcal | Carbohydrates: 28g | Protein: 4g | Fat: 10g | Saturated Fat: 6g | Cholesterol: 28mg | Sodium: 208mg | Potassium: 111mg | Fiber: 3g | Sugar: 15g | Vitamin A: 3225IU | Vitamin C: 3.1mg | Calcium: 40mg | Iron: 1mg