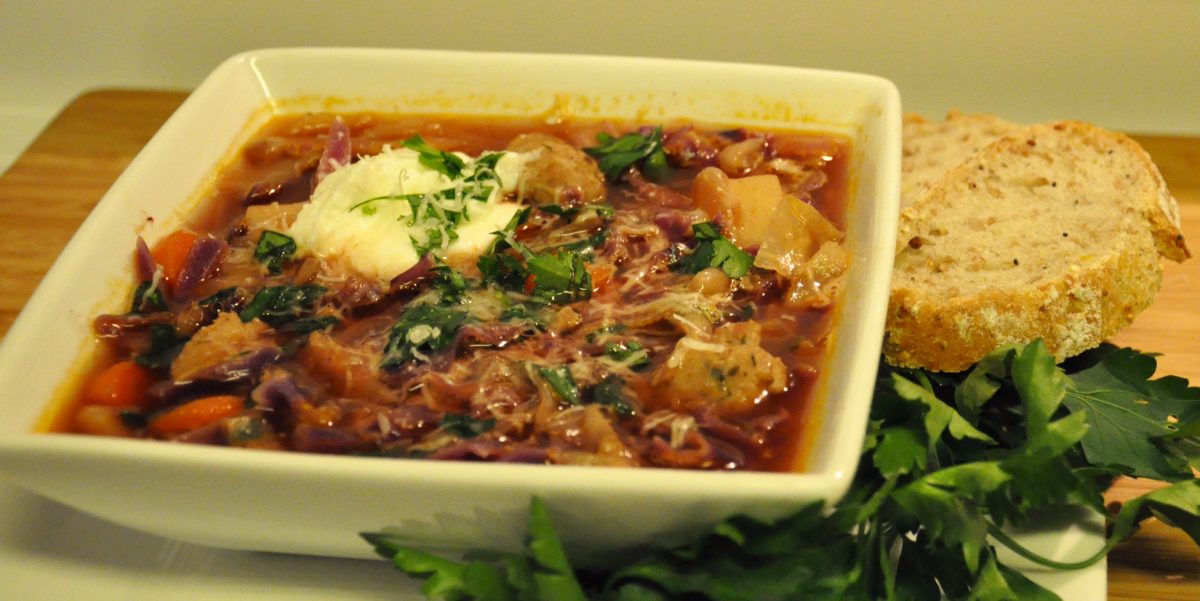 If the weather where you're at is anywhere like ours, its a perfect night for sausage cabbage soup.
What a fabulous end to the week – it's snowing in Portland! This might seem like no big deal to you Midwesterners or East Coasters that have been dumped on all winter long, but to us Pacific Northwest folks, this is a BIG deal and something to get excited about. The last time it snowed this much was my first year of partying on campus college back in 2004. When we get an inch of snow the whole city shuts down. Businesses close, kids are sent home from school, nothing functions whatsoever… and I love it.
I took Berney on a long walk since he hasn't ever even seen snow like this. I kept thinking he would get cold (I was freezing) but he kept plowing onward looking up at me with his inquisitive little pug face. Here's a picture of him looking bewildered by the winter wonderland that was once our street.
When we finally got back we were freezing and soaked. Berney got a treat and I got to work making soup. In my opinion, you really can't go wrong with soups and stews since if isn't to your liking, you can just tweak it a bit until it is. After a few tweaks here and a few tweaks there, this sausage cabbage soup turned out to be a winter vegetable winner. The ingredients were really pretty simple. Loaded with root vegetables, this sausage cabbage soup is healthy and low calorie, but still hearty enough to be a full meal. I really liked the garlic and herb chicken sausage that I got. It went seamlessly with the rest of the seasonings. I used better than bouillon as the base and for the wine I used a sauvignon blanc, but any uncooked sausage and dry wine should do. I bet it would even be good subbing in beer for the wine too. That Snapware container in the front is tomato paste that I froze a few months back when I had to open a whole can for a recipe calling for a tablespoon.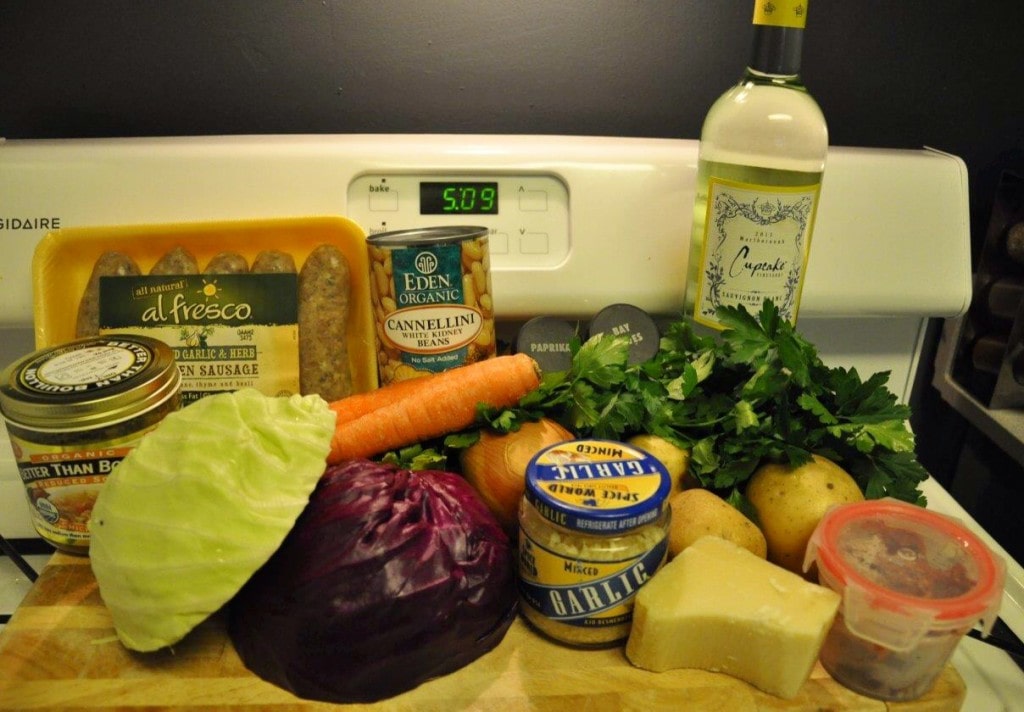 This recipe was so easy too. Chopping up a few veggies was pretty much the most time active part of it all. I used mostly red cabbage because that's what I had. I liked the purple hue it gave the soup, but if you aren't going for that, you can use regular green cabbage instead.
First the sausage casing is removed and the filling is cooked in small meatball like pieces until browned on the outside, but not fully cooked. The sausage is then set aside while the onions and garlic are sautéed with paprika which enriches the flavor of the spice. After this, the wine deglazes the pan so that the releasing the flavor of the onions and garlic that are burnt onto the pan at this point. I don't have a picture of this step, but trust me, its necessary and worth it. Next, cook down the carrots, potatoes, and cabbage for a few minutes before adding in the other liquids.
Once all liquids are added, the soup is simmered to cook all the vegetables. For the final stage, chopped parsley is added which gives the soup a fresh taste and a vibrant color. Season with salt and pepper and voila – Sausage cabbage soup! Garnish bowls with parsley, parmesan, and a dollop of plain yogurt to take it up a notch.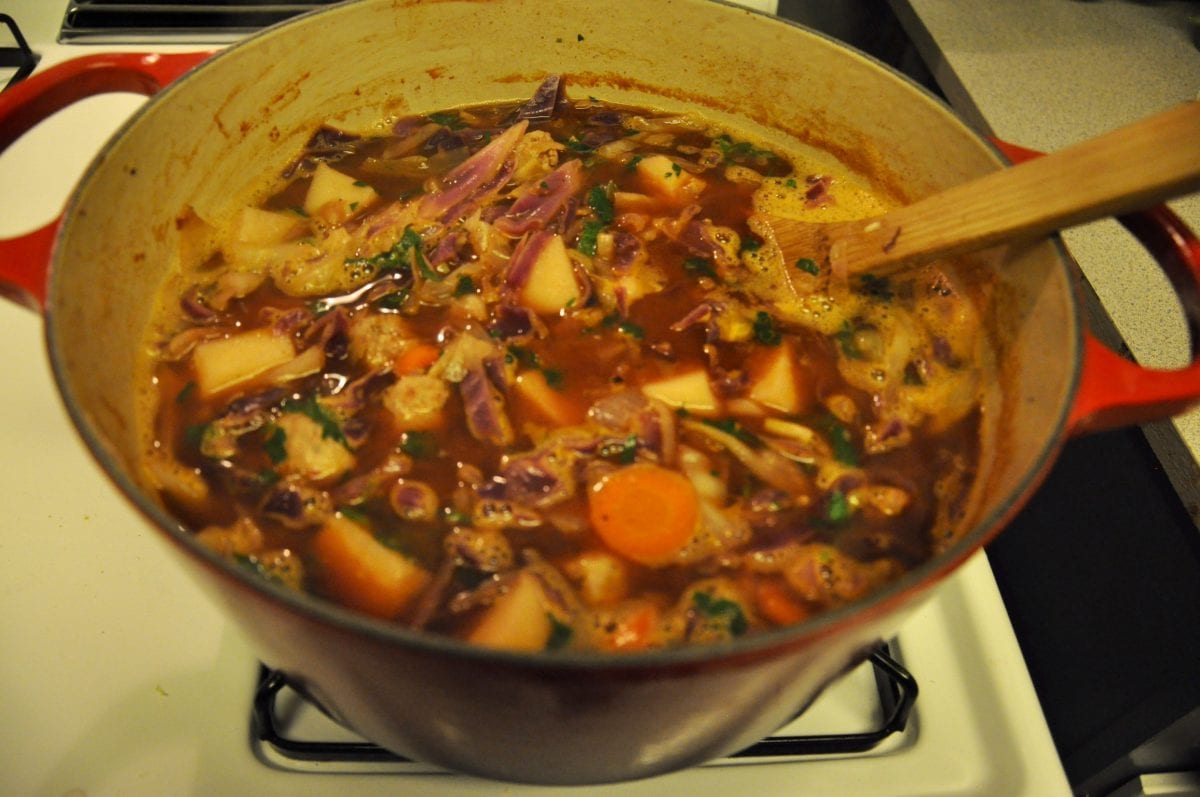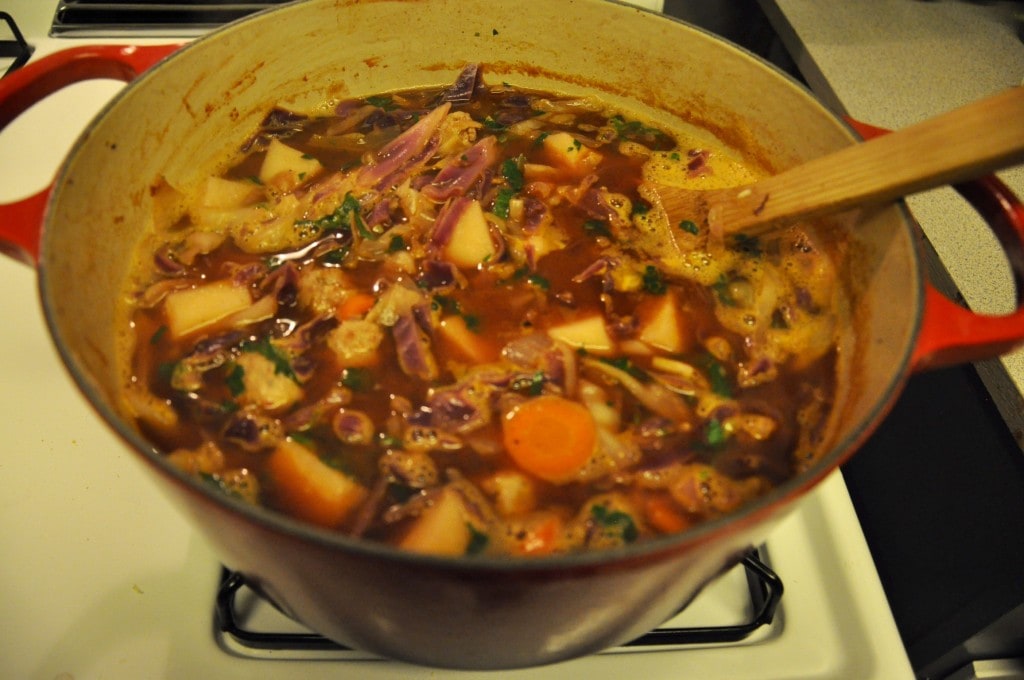 Flavorful and easy sausage cabbage soup is quick to prepare and the perfect seasonal dish for a cold winter night.
Ingredients
1 Tbsp. coconut oil
1 small onion (chopped)
1 tsp. minced garlic
1 ½ tsp. paprika
4 chicken sausage links
½ cup dry white wine
2 carrots (peeled and sliced)
2-3 Yukon gold potatoes washed and cut into one inch squares
1 small head cabbage
15 oz. can white beans (drained and rinsed)
4 cups chicken stock or broth
2 cups water
¼ cup tomato paste
3 bay leaves
½ cup chopped parsley
Salt and pepper
¼ cup parmesan
½ cup plain nonfat yogurt (optional)
Instructions
Remove sausage casing and break sausage into rough 3/4 inch meat balls. sauté the sausage pieces until browned. Remove from heat and set aside. In the same pan, add coconut oil and sauté onion for 2-3 minutes until starting to soften. Add garlic and paprika and cook a minute longer.

Add white wine and scrape pieces from bottom of pan. Add potatoes, carrots and cabbage and cook for 3-5 minutes until cabbage starts to wilt. Add broth, water, beans, tomato paste, bay leaves, and pre-browned sausage. Simmer for 20 minutes or until potatoes are tender. Season to taste with salt, pepper, and parsley.

Optional - add a dollop of nonfat yogurt and sprinkle each serving with parmesan and parsley.
Nutrition
Calories: 419kcal | Carbohydrates: 48g | Protein: 25g | Fat: 14g | Saturated Fat: 5g | Cholesterol: 48mg | Sodium: 1037mg | Potassium: 1306mg | Fiber: 11g | Sugar: 13g | Vitamin A: 4970IU | Vitamin C: 75mg | Calcium: 253mg | Iron: 6.6mg