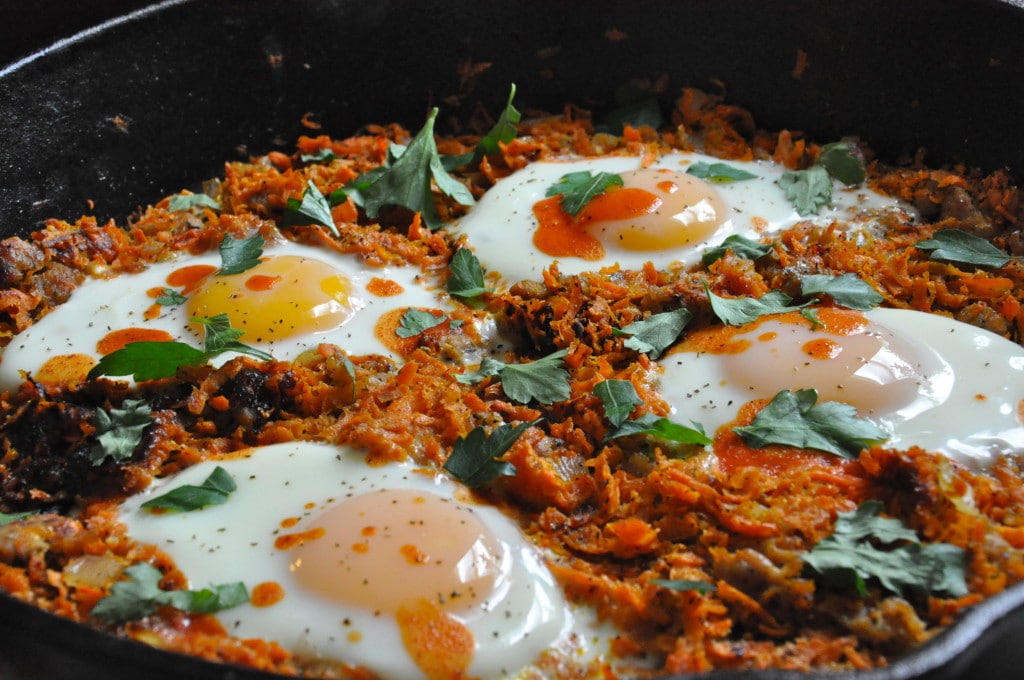 So, I hate to brag, but this sausage sweet potato hash is absolutely THE BEST breakfast I have had yet in 2014 and possibly 2013 as well. That is saying a lot since breakfast is pretty much my favorite meal of the day and I have had quite a few delicious brunches this year already. The sugary undertones of the sweet potatoes is counteracted with the savoriness of sausage and spice of hot sauce, creating a superb balance of flavors that can only be described as breakfast perfection. And with under 250 calories per serving and 180% of your recommended daily dose of vitamin A, this breakfast is just as healthy as it is tasty.
Its a pretty quick and easy one dish recipe too, especially considering how rewarding the end product is. The hardest part of this skillet breakfast is peeling and grating the sweet potato, which I recommend trying to rope the husband (or another lucky breakfast recipient) into doing for you. If you end up having to do it yourself, just consider it your arm workout for the day. If you're thinking it sounds too hard – suck it up, get to work, and trust me, you'll be glad that you did!
There are only a few ingredients and using chicken sausage makes it lighter without sacrificing any flavor. The chicken sausages I used were garlic and herb, but next time I think I'll try using a spicy chicken sausage to kick the heat level up a notch . I love starting my day off a little on the spicy side. I don't see how you could go wrong either way really.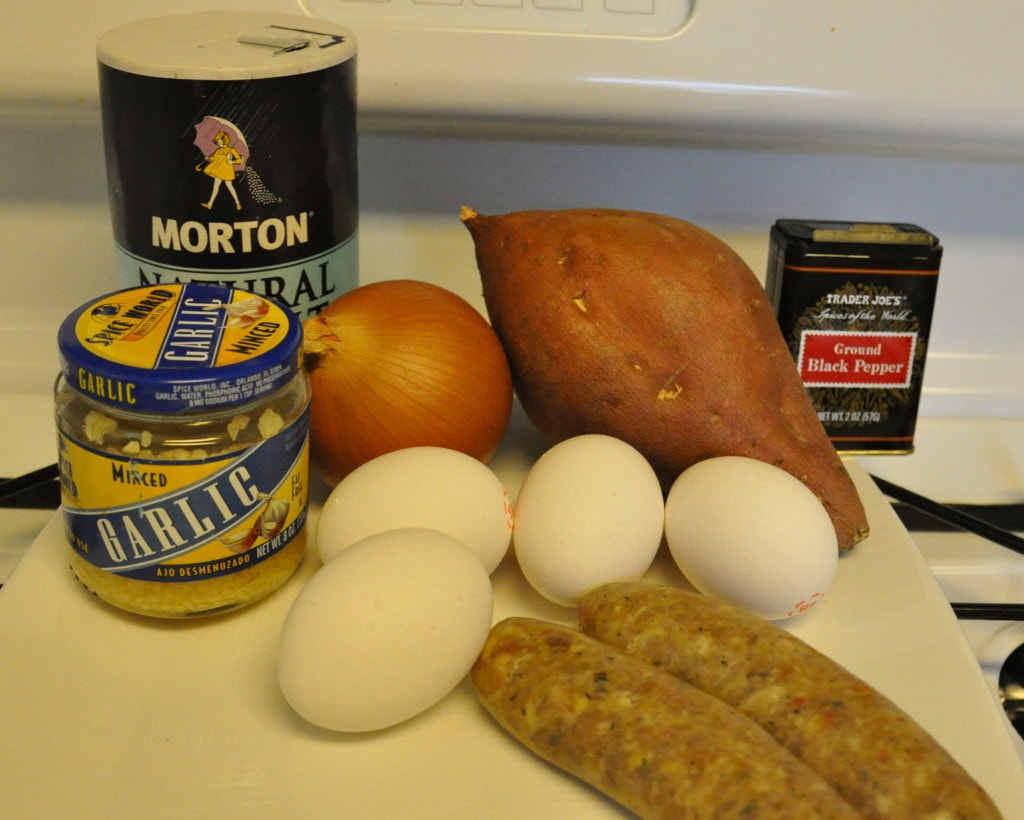 I love my hash browns crispy. It just takes it to a whole new level to get that crust of flavor on the surface of each side. To do this though, you really need to get all of the water that you can out of the potatoes. With regular potatoes I usually do this using a mesh sieve and kitchen towel, but this didn't work as well with sweet potatoes since they have less water so I ended up using paper towels. In this picture it looks like I'm delicately patting the sweet potatoes because my other hand was on my camera, but in reality I had to get in there with two hands and squeeze the ever loving life out of them until there was barely any liquid left . I think I went through ten paper towels before I thought they were dry enough to get crispy. I know this sounds like a pain, but it just takes a few minutes and a few paper towels.
Frying up the onion, garlic, and sausage takes just a few more minutes. Then after mixing in the grated sweet potato, you have to kind of scoot everything over to one side while you add in a little coconut oil before spreading it out again to cover the whole pan. This is another necessary step for that nice crispiness I already professed my undying love for.
After letting the sausage sweet potato hash mixture get all crispy for about five minutes, use a big flat spatula to break it into a few large pieces, flip each one over and then mash it all back together into one big patty.
Next, just create four indentations and drop an egg into each one. Then stick that pan in the oven and 12 minutes later you'll have a delicious healthy breakfast. Adding parsley and hot sauce are optional, but I think the hot sauce is what really tied everything together and took this recipe over the top. This could easily serve four and we were both full after just one serving…but it was so good, both me and the husband went back for seconds.
This delicious sausage sweet potato hash has a perfect blend of sweet and savory, all for under 250 calories per serving.
Ingredients
1 large sweet potato (peeled and grated)
1 medium onion chopped
1 tsp. minced garlic
2 chicken sausage links
4 eggs
2 Tbsp. coconut oil
Salt and pepper to taste
1/2 tsp. hot sauce
Instructions
Squeeze excess water out of grated sweet potato using paper towels or kitchen towels.

Preheat oven to 375°F (190°C).

In a large, oven-safe skillet saute onion and sausage over medium heat until sausage is browned. Add garlic and saute 2 more minutes. Add grated sweet potato and mix together.

Push the sausage sweet potato hash mixture to one side of the pan and add half of the coconut oil to the other side. Move the hash mixture to the oiled side of the pan and add remaining coconut oil. Spread out evenly.

Let sit for 4-5 minutes until sweet potato hash patty is browned on the bottom side. Break into four sections and flip each one over. Pat down to reform the four sections into one large patty Let sit for four minutes until underside is lightly browned.

Create 4 indentations in the hash mixture and add an egg to each one.

Bake until egg whites are set but yolks are still soft, approximately 12 minutes. Remove from oven and serve.
Nutrition
Calories: 252kcal | Carbohydrates: 12g | Protein: 13g | Fat: 18g | Saturated Fat: 9g | Cholesterol: 194mg | Sodium: 533mg | Potassium: 210mg | Fiber: 1g | Sugar: 3g | Vitamin A: 5000IU | Vitamin C: 4.3mg | Calcium: 41mg | Iron: 1.4mg