This frigid weather has me obsessed with soups lately. I just can't seem to get enough of warm drinks and foods after coming in from the bitter cold. This spinach cauliflower soup is the perfect light option to serve as an appetizer, to accompany a sandwich for lunch, or in a larger portion as a main course with a side salad and some crusty bread. And when I say this soup is light, I mean it. With only 50 calories for a 1.5 cup serving, this spinach cauliflower soup will leave you satisfied without packing on the pounds that seem to come with most winter recipes. Yes, that is not a typo – it really just has 50 calories. Convinced you need to try it yet? No? Well let me go on then.
The puréed cauliflower acts as a thickener and the addition of lemon and cayenne complement the subtle spinach flavor in a way that really adds some pep to what otherwise could be just another boring veggie-based meal. I guarantee you that this soup is anything but boring! Even as the creator of this recipe, I admit that I was a little surprised at how well the ingredients ended up coming together and couldn't stop eating of it. Luckily with under 50 calories, there's no need to limit yourself and getting seconds, or thirds (or fourths, let's be honest here) is completely acceptable.
The prep works is easy since all you really need to do is roughly break up the cauliflower into florets, chop an onion, sauté, simmer, add a few more items, and then blend. This makes this spinach cauliflower soup not only a healthy soup option, but also a quick weeknight dinner.
During the simmer stage, you have just enough time to make a side salad or get some biscuits prepped and in the oven. Even if you let the soup simmer a little longer than the recommended 20 minutes, cauliflower is pretty forgiving in this recipe since it's ultimately puréed.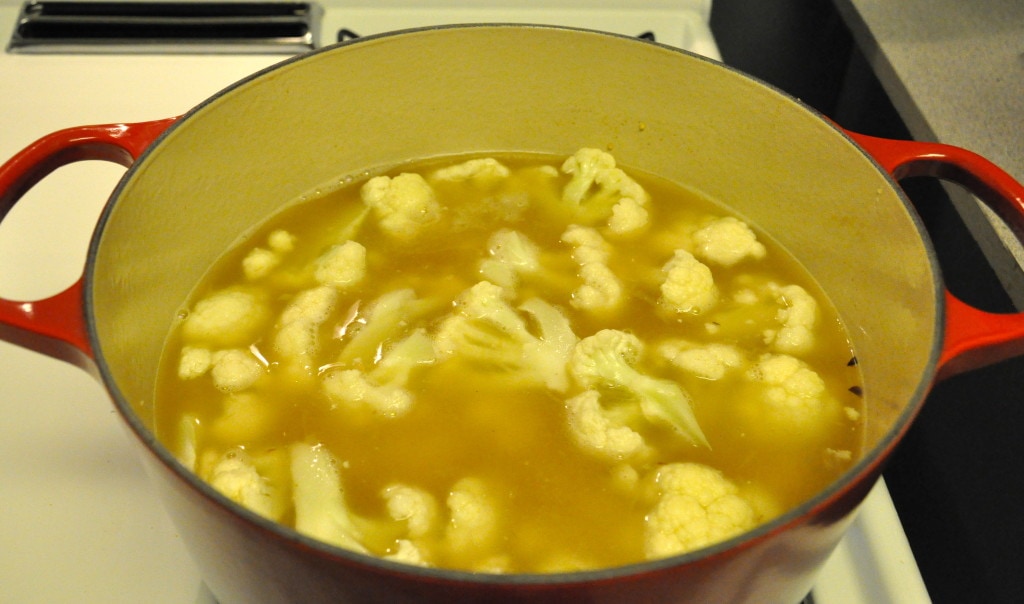 For the final step, add the remaining ingredients and blend with an immersion blender. I don't think Cuisinart still makes the model I use, but their new immersion blender looks even better and is pretty inexpensive considering how awesome this thing is.
If you don't have one though, not to worry, just pour the soup into your blender, working in batches to get it all creamy and smooth. Then combine the puréed soup back into the main pot and give it a quick stir to mix it all back up together.
See how easy that is? Now get in the kitchen and get cooking!
Low carb, low fat, easy, and nutritious spinach cauliflower soup can easily be made vegan or vegetarian for a light low calorie meal.
Ingredients
1 tsp. coconut butter
1 small onion diced
1.5 tsp. minced garlic
6 cups chicken or vegetable broth
1 head of cauliflower
4 loose cups of spinach
1/2 cup parsley
2 Tbsp. lemon juice
1/4 tsp cayenne pepper
Salt and pepper to taste *I use low-sodium broth and normally need to add 1 tsp. salt and 1/2 tsp. pepper)
Instructions
Cut cauliflower into rough florets and chop onion. Heat coconut oil in a large pot on medium heat. Add onion and sauté for 2-3 minutes until starting to turn translucent. Add garlic and sauté a minute longer.

Add cauliflower and broth and bring to a boil. Turn head down to medium-low and simmer with the lid on for 20 minutes or until cauliflower is soft. Add spinach, parsley, lemon juice, cayenne, and Purée with an immersion blender until smooth (2-3 minutes usually). Add salt and pepper to taste and adjust other seasonings (cayenne and lemon) if desired.

Garnish with parsley, a sprinkle of cayenne, olive oil, and/or hot pepper sauce if desired.
Nutrition
Calories: 57kcal | Carbohydrates: 11g | Protein: 3g | Fat: 1g | Saturated Fat: 1g | Sodium: 989mg | Potassium: 453mg | Fiber: 3g | Sugar: 5g | Vitamin A: 2830IU | Vitamin C: 62.1mg | Calcium: 54mg | Iron: 1.3mg