These brown rice sweet potato patties are enhanced by a savory tahini dipping sauce that makes them a tasty and healthy appetizer, light meal, or snack.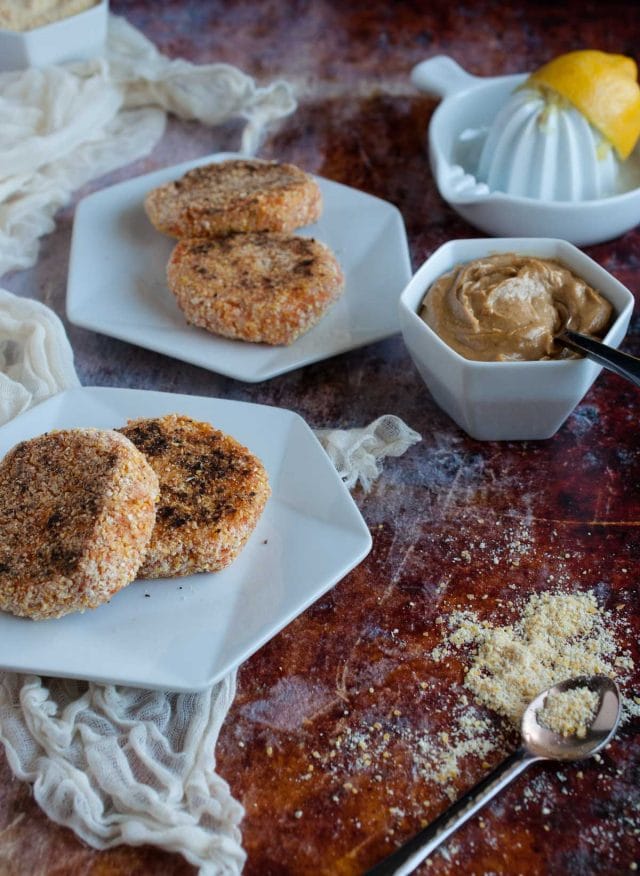 Its the time of year for sweet potatoes and my little heart is rejoicing for that simple fact. With all the politicalcraziness in our country the last few weeks and the craziness to come with the holidays upon us, its the little things that keep me sane.
Well… relatively sane.
Thanksgiving snuck up on us so I'm in the middle of a mad scramble to get ready for our annual T-day party. Years ago we started doing thanksgiving at our place for all the friends that don't have family get togethers. Even though my sisters and little bro all live pretty close, most of them have other holiday plans so we're on our own.
Somehow our friendsgiving has morphed into a huge debacle with anywhere from 12 – 25 people. Needless to say, its a boozey shit show… and I absolutely love it.
My husband (aka Turkey Ted) is attempting the illusive deep fried turkey this year. This feat has been attempted before, and every time has been a disaster of epic proportions. I could fill pages upon pages with our turkey mishaps, but I'll spare you. As a lucky charm, I ordered this hat for the occasion. Fingers crossed it'll bring the luck we need to pull this off. Gobble gobble.
Thanksgiving aside, let's get back to the present: sweet potato patties. Yum!
This recipe may sound random, and in all fairness, it kind of is, but its the best kind of random. Full of unique flavors that are fulfilling but healthy too. The sweet potato brings out the fall flair that we all crave this time of year.
The sauce compliments the sweetness of the patties and turns it into something savory and all around drool worthy. I fed these to a handful of friends that stopped by just at the right time and the recipe passed with flying colors. Tried and true baby.
If you're looking for a simple make ahead thanksgiving appetizer, these are just the thing. The sauce and sweet potato patties can be prepped ahead of time and stored in the fridge until people arrive. Just hold off on the last two steps, dusting with cornmeal and frying. Those two things need to be done right before serving.
Let's talk about the sauce for a minute. Tahini, soy sauce, and lemon are the shining stars that pack most of the flavor punch. Salty, umami, and all kinds of good.
Its thick like ranch dressing so its easily spreadable. The sweet potato patties are too delicate to dip so I normally just spread the sauce on top, like so:
Its so easy to make too. Just throw the ingredients in a food processor and pulse away. Done and done.
Once the sauce is out of the way, its patty time. I make baked sweet potatoes for dinner on the regular so I normally make this recipe when I have leftovers. Same goes for the brown rice. With a little meal planning, I can have leftovers of both at the same time, like magic.
From here, I simply just mash up some sweet potato, stir in the rice and other ingredients, and then the time consuming part is over.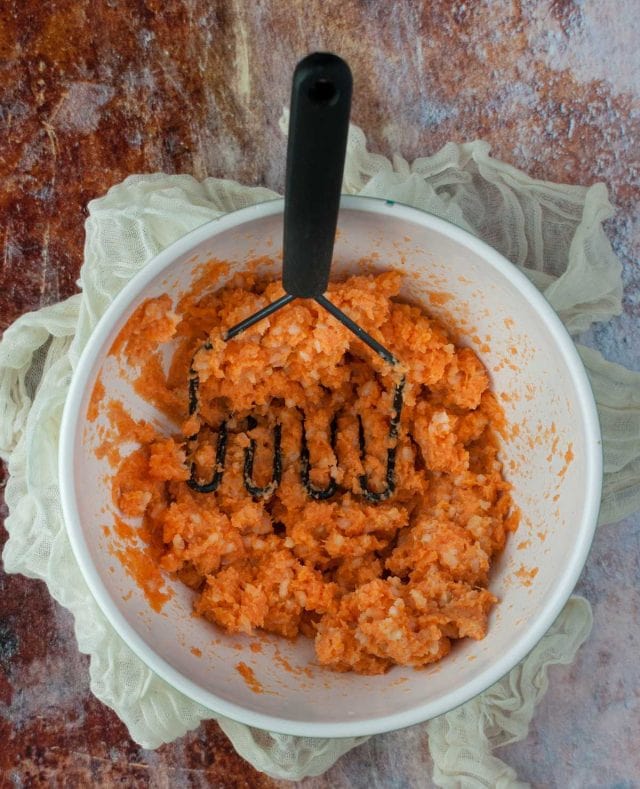 The sweet potato patties are easy to form. It'll stick to your hands, but it shouldn't be too bad. Nothing a little hand wash can't fix.
Flop them around in cornmeal, and fry those bad boys up.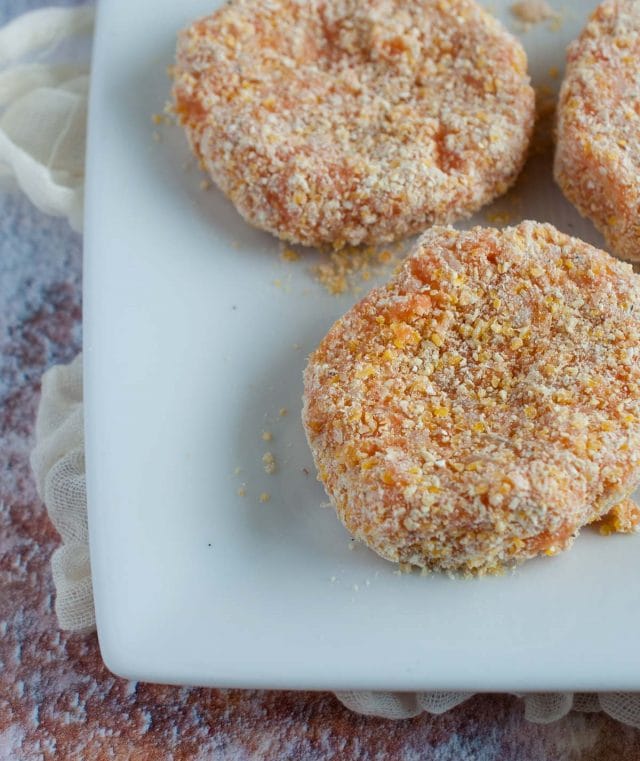 They'll look like this when they're finished. Toasty, golden, and just begging for a tasty sauce to be smothered all over. These sweet potato patties are perfect for a snack, appetizer, or even a light meal when paired with a salad or something else. They're loaded with protein (4 grams per patty), fiber, and vitamin C. The only sugar is from the sweet potatoes themselves, so this recipe is great for a low sugar diet.
All ingredients are naturally dairy free, gluten free (if using tamari), and vegan too. If you have friends with different dietary restrictions, you've found just the recipe to make them all happy. Its a pretty safe bet.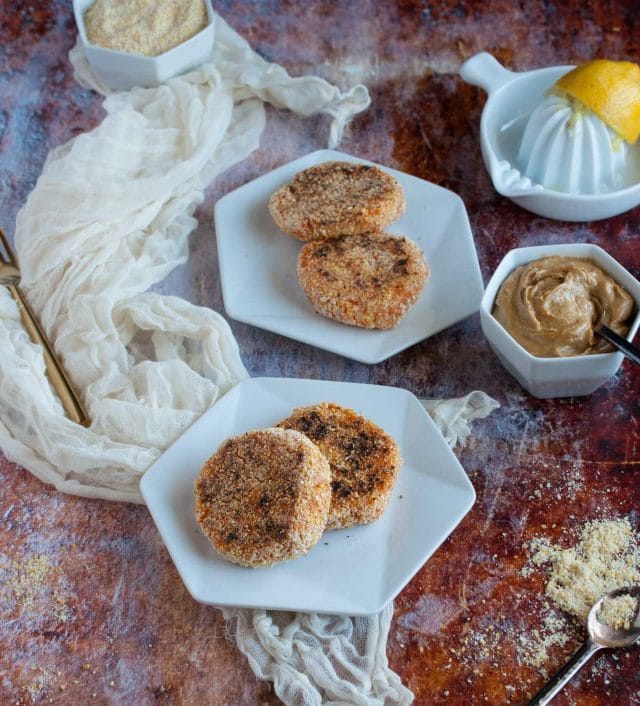 So there you have it, a tasty recipe that works for everyone. With a mouthful of this sweet-savory combo, you'll be perfectly prepped to handle the craziness of Thanksgiving (or any other day) like a champ.
Just look at that bite. Don't you want a fork full of that? Thought so.
Happy Thanksgiving friends!
These brown rice sweet potato patties are enhanced by a savory tahini dipping sauce that makes them a tasty and healthy appetizer, light meal, or snack.
Ingredients
Patties
1 large or 2 small baked sweet potatoes, skins removed and mashed * (about 2 cups)
1 cup cooked brown rice*
1 Tbsp. tahini
1 Tbsp. lemon juice
1 tsp. ground cumin
1/2 tsp. salt or more if desired
1/2 cup cornmeal
1 Tbsp. coconut oil (for frying)
Instructions
Make dipping sauce by combining all ingredients except water into a small food processor or blender. Mix well. Add water if needed to make sauce desired consistency and pulse again. It should be spreadable, but not runny, about the same texture as ketchup or other condiments. Set aside while making patties.

Combine mashed sweet potatoes, brown rice, tahini, lemon juice, cumin, and salt. Stir to mix all ingredients in evenly.

Use your hands to shape the mixture into 8 patties, about 1 inch thick and 2 inches in diameter.

Put cornmeal into a bowl. Carefully place each patty in cornmeal and flip to evenly coat both sides.

Heat 1/2 Tbsp. coconut oil on a frying pan over medium heat. When pan is hot and oil is melted, spread oil out to evenly coat the pan.

Place patties onto pan to cook. Let cook for 5-7 minutes until bottom side is golden brown. If the patties cook too fast, reduce heat. Flip and cook another 4-5 minutes on the other side. If your pan is too small, cook in two batches. Serve warm patties with sauce.
Notes
**To roast sweet potatoes, prick all over with a fork and bake at 425 degrees F for 35 - 50 minutes depending on size. Bake until the sweet potatoes are cooked through and a knife can be easily poked into the center.
** To make the recipe even simpler, you can use pre-cooked brown rice like the seeds of change microwavable packets.
Nutrition
Calories: 377kcal | Carbohydrates: 38g | Protein: 7g | Fat: 22g | Saturated Fat: 5g | Sodium: 473mg | Potassium: 319mg | Fiber: 4g | Sugar: 1g | Vitamin A: 4625IU | Vitamin C: 4.3mg | Calcium: 52mg | Iron: 2.8mg