Romesco sauce is a Spanish staple made from roasted red peppers, tomatoes, and garlic that is served over fish, pasta, spaghetti squash, or a dip for bread.
I recently heard about Romesco sauce and have been obsessed with it for weeks now. Once you branch out from the traditional red sauce there are so many incredible options out there! Break the chains and try something new.
If you don't know what this tasty, zippy sauce is, I'll sum it up for you. Its basically roasted red peppers, tomatoes, garlic, nuts, vinegar, oil, and some seasonings. Simple and full of nutrition.
It's naturally gluten free, vegan and would be paleo if it weren't for the vinegar. As I've said before, I don't follow any of these paths, but have the upmost respect for those that can stick to a particular way of eating. Power to you.
Meanwhile I'll be over here eating all the foods… like seriously, all of them.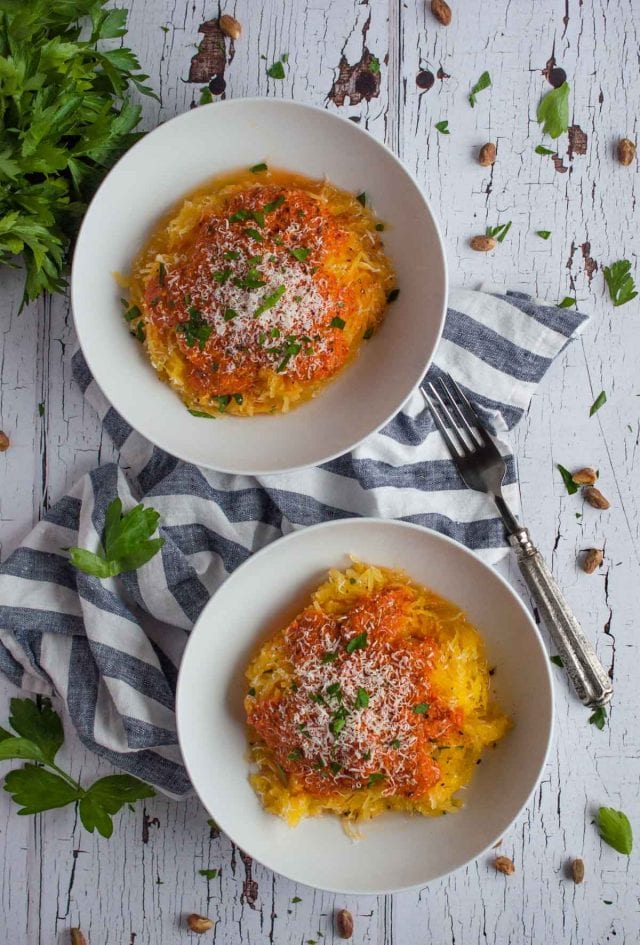 When you eat it with spaghetti squash noodles, its like heath food nirvana. You know you're eating healthy because your body doesn't feel like crap after, but it tastes so good, you don't mind one bit. Its cheater health food.
In my romesco sauce obsession, I researched its origins so I'll summarize the highlights for you. Romesco sauce hails from Spain and was traditionally a sauce served over fish. Bread is typically served with it to sop up all of the delicious extra sauce that runs off onto your plate.
Since we're all veggie enthusiasts over here though, let's agree to try it with spaghetti squash. Maybe next time we'll serve it with fish, but spaghetti squash it is today.
One of the things I love most about eating this sauce with spaghetti squash is that they can roast alongside each other so it really isn't a whole lot of extra effort or time. Whose got time for long involved recipes anyways? Certainly not this gal these days.
I admit that I miss my kitchen experimenting days where I'd make more complex dishes that take hours to put together, channeling my inner wannabe Julia Childs to the max. Frankly, I just don't have that level of effort in me these days.
My cooking philosophy has changed over the past few years so much. I still crave complex, unique flavors, but I don't want to put in a ton of work to get there. Ya feel me?
A dish like this is a little extra effort, but not a crazy amount. And the sauce keeps for a few days so you can totally make this on a Sunday and then bring it to work as lunch for the next two days.
Here's a sneak peak of the simple ingredients that go into a Romesco sauce. Easy peasy right? See those garlic cloves? They're roasted so you can slip a lot more garlic in there without the sharpness it has when its raw. Roasting brings out the best in garlic!
I guess that's not so surprising. Roasting brings out the best flavor in pretty much everything.
On a total rando note – have I mentioned that I ordered a new food processor yet? No???? Well I don't know how I refrained cause I freakin love this thing!!!! I didn't realize how old and dull my other one was until this sleek little young thang came in the mail. Best $35 ever spent.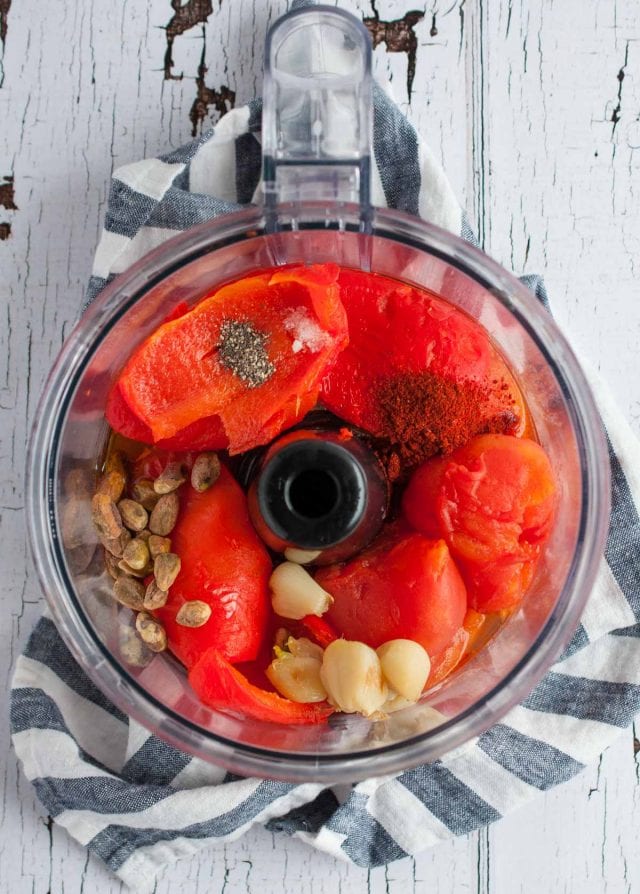 Getting back to Romesco Sauce, this is what it looks like plain, not thrown over squash noodles.
Not pictured: the crusty bread I dipped in and snacked on while prepping the spaghetti squash bowls. This would be so awesome in the middle of a cheese plate! Next time I'm going to make a little bit extra just for this purpose.
Run and hide cheeses… I'll still find you.
So there you have it ladies and gents, a simple swap for red sauce. You'll be glad you took a leap of faith and tried this tasty dish.
Romesco sauce is a Spanish staple made from roasted red peppers, tomatoes, and garlic that is served over fish, pasta, spaghetti squash, or a dip for bread.
Ingredients
2 red bell peppers, cut in half with seeds removed
10 large garlic cloves, skins left on
4 roma tomatoes
¼ cup roasted pistachios
1/4 cup red wine vinegar
1/4 cup olive oil
1 tsp. paprika
Salt and pepper to taste
Instructions
Move oven rack to middle of oven and preheat to 400° F (205° C).

Place red peppers, garlic and tomatoes on a baking sheet and bake for 40 minutes until fully roasted (may need to remove garlic early if the cloves are small).

Remove pan from oven. Use tongs to put red peppers into a paper bag to soften the skin and make it easier to remove.

When the tomatoes and garlic are cool enough to handle, peel and core tomato and peel garlic. Place in food processor along with pistachios, vinegar, oil, and paprika. Peel red pepper skins off and place in food processor as well. Mix well. Season with salt and pepper to taste and pulse to mix in.

Serve over chicken, fish, pasta or spaghetti squash, or simply use as a dipping sauce for crusty bread.
Nutrition
Calories: 167kcal | Carbohydrates: 9g | Protein: 2g | Fat: 13g | Saturated Fat: 1g | Sodium: 7mg | Potassium: 327mg | Fiber: 2g | Sugar: 3g | Vitamin A: 2415IU | Vitamin C: 69.8mg | Calcium: 28mg | Iron: 1mg