These thick, rich, delicious yogurt pancakes are a breakfast winner both in taste and nutrition, made with whole wheat flour, Greek yogurt, and blueberries.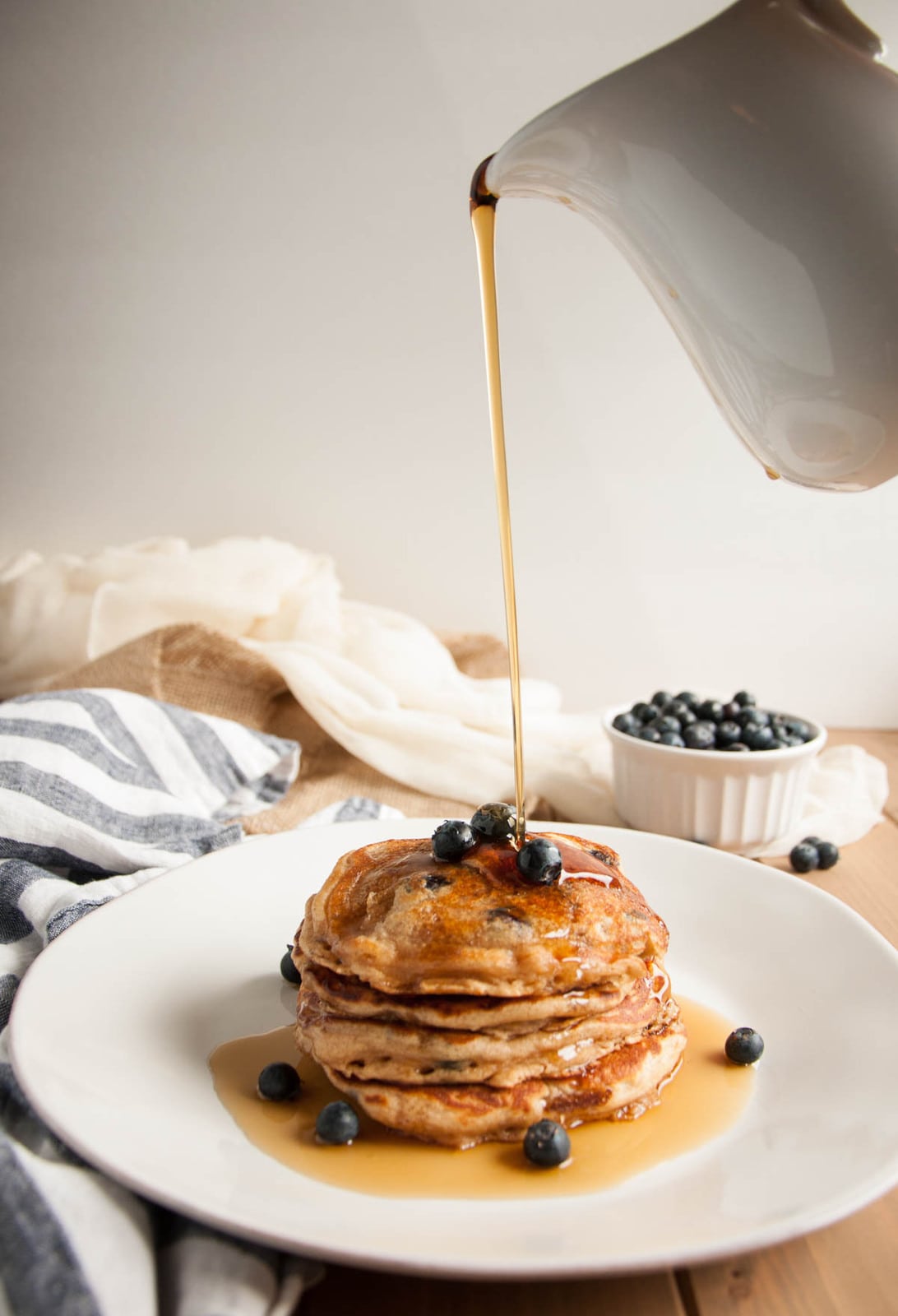 In all my days of pancake sampling, I've come to the conclusion that there are two basic types of pancakes – both equally delicious, just for different reasons. There are your typical light, airy, fluffy pancakes, which are justly the most popular since they act as sponges, soaking up all the syrupy goodness. These are perfectly wonderful for what they are.
But, then there are the other kind. The kind that are thick, dense, and heavy in the best possible way. The kind that channel divine luxury wrapped up in a single tiered stack, only acceptable for Sunday brunch where you can get away with this kind of decadence. These are what I call the 'treat yo-self' kind of pancakes. They're basically what dreams are made of.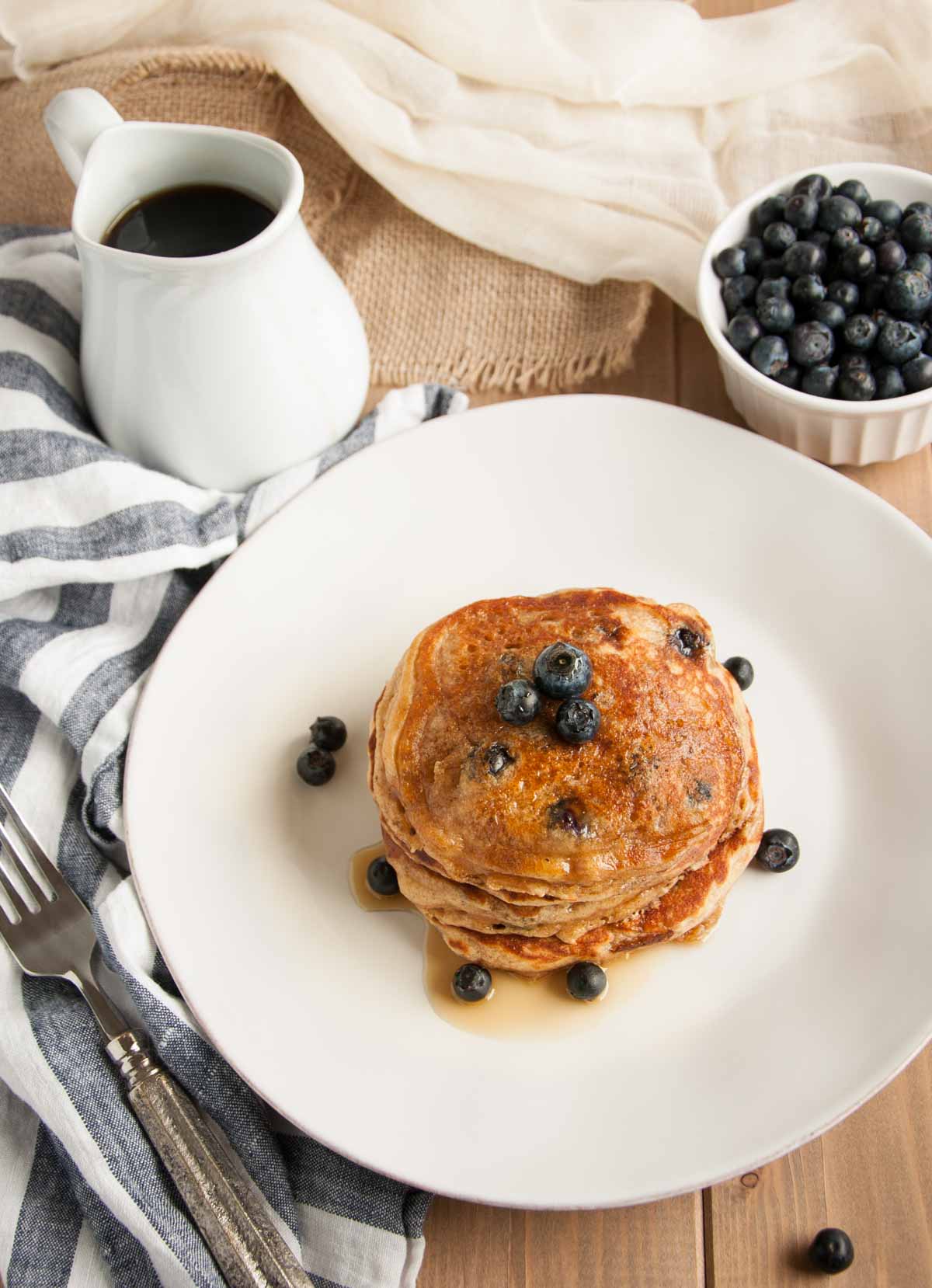 Adding syrup to the batter makes these perfectly sweet enough on their own, but obviously, they're pancakes so topping with syrup is pretty much mandatory. And speaking of syrup, a stack of these is pretty much the perfect excuse to down mapley goodness to your heart's content. Every once in a while its nice to have an excuse, am I right?
But, if you're not in the mood for excuses, a light dusting of powdered sugar is completely acceptable instead.
Using high quality maple syrup really helps too. I can't find the brand I use online (its from Costco), but something similar to this will really help with overall flavor, not to mention healthiness. Sorry Mrs. Buttersworth, but these times they are a changin. That corn syrup laden bottle just doesn't make the cut.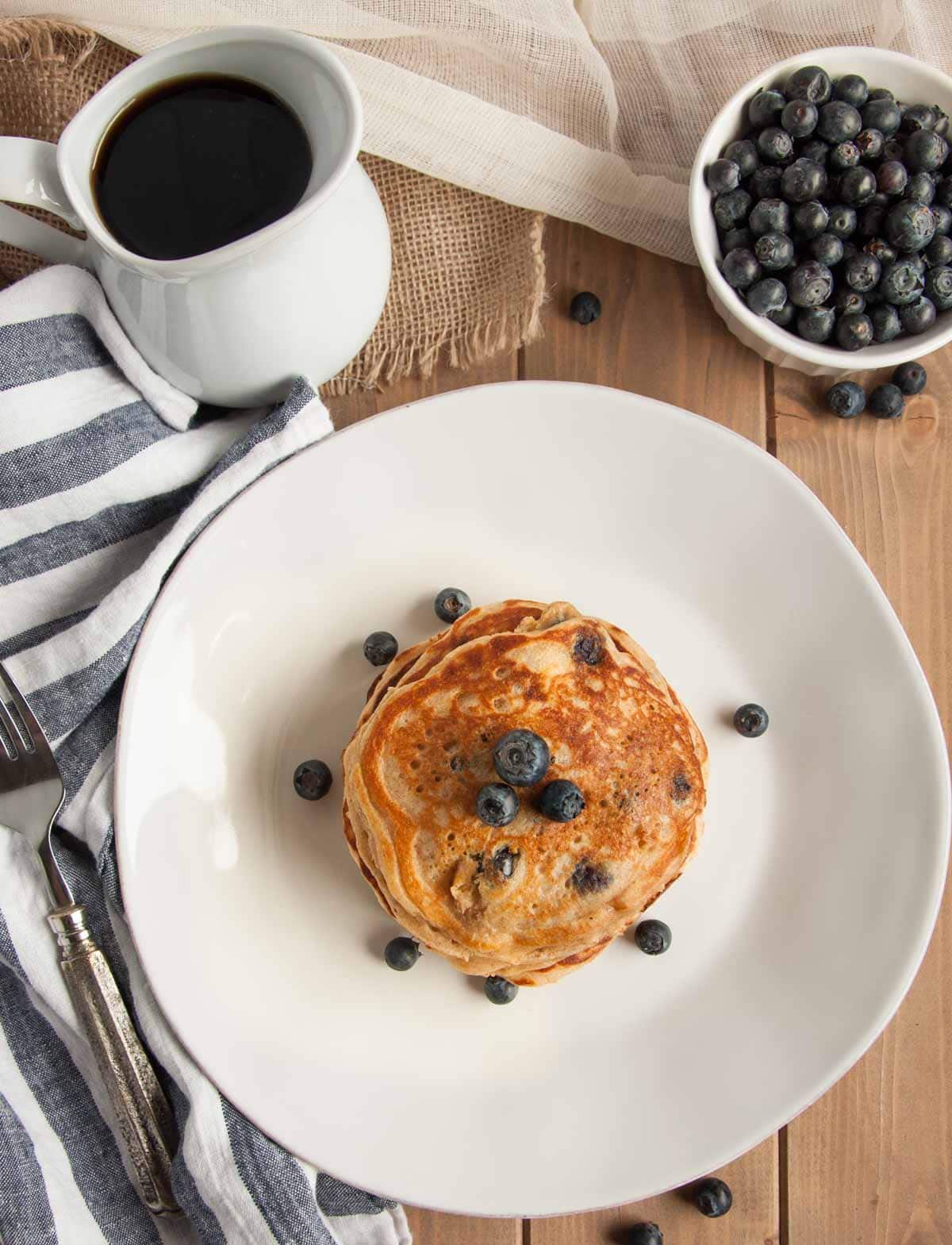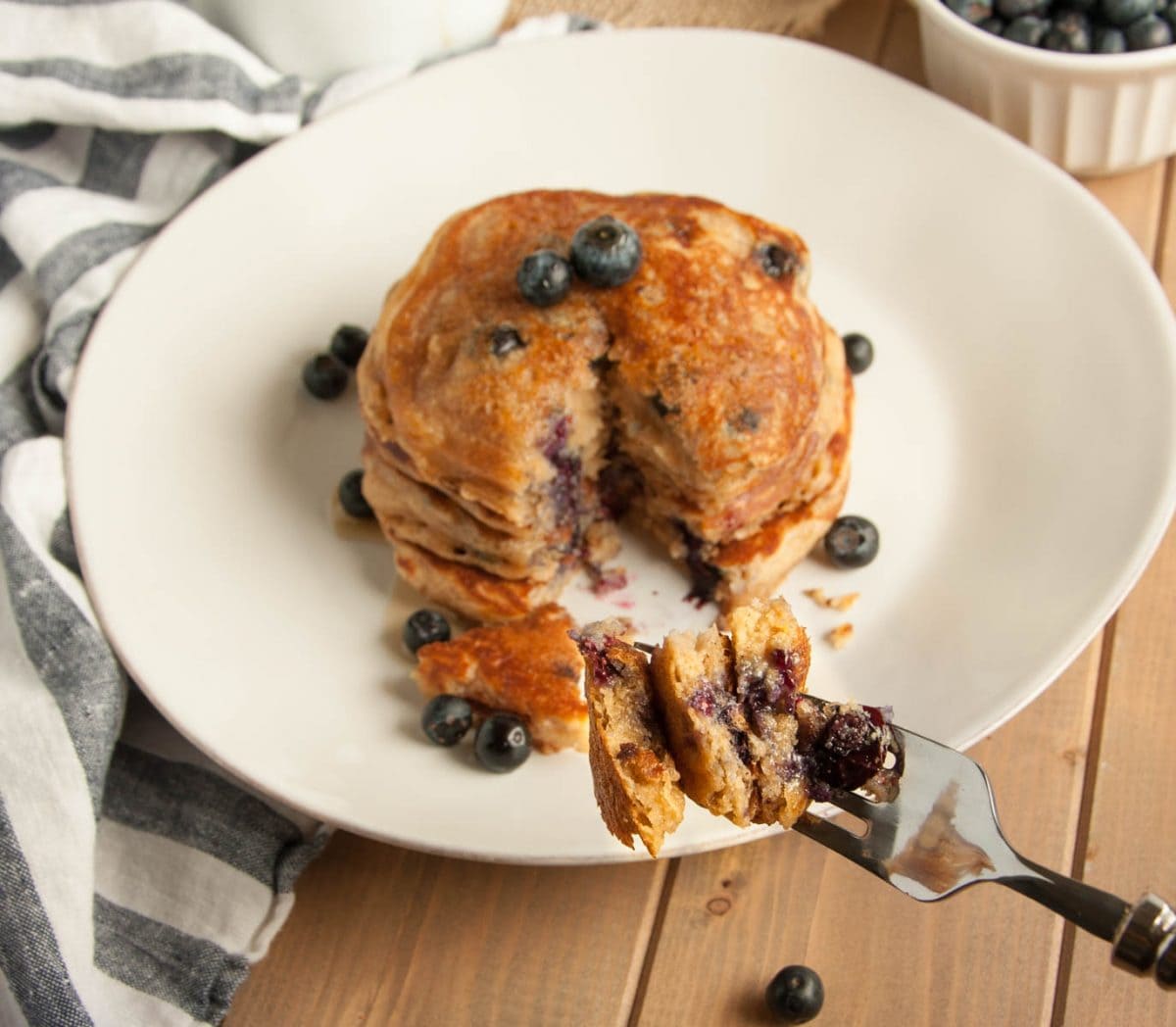 On top of taste, these yogurt pancakes are a bit healthier than your standard sweet breakfast fare. First, using white whole wheat flour adds an extra layer of vitamins and fiber, while Greek yogurt adds protein and filling staying power that most pancakes just don't give you.
Although I love a good ol' indulgent Sunday brunch, I'm not a big fan of the food coma that goes along with it. My goal is always to make the most of my weekends and typical sweet breakfast fare doesn't really give me the whole 'seize the day' motivation that I'm going for. If you're in the same boat and want something sweet that won't zap your energy, give these a try.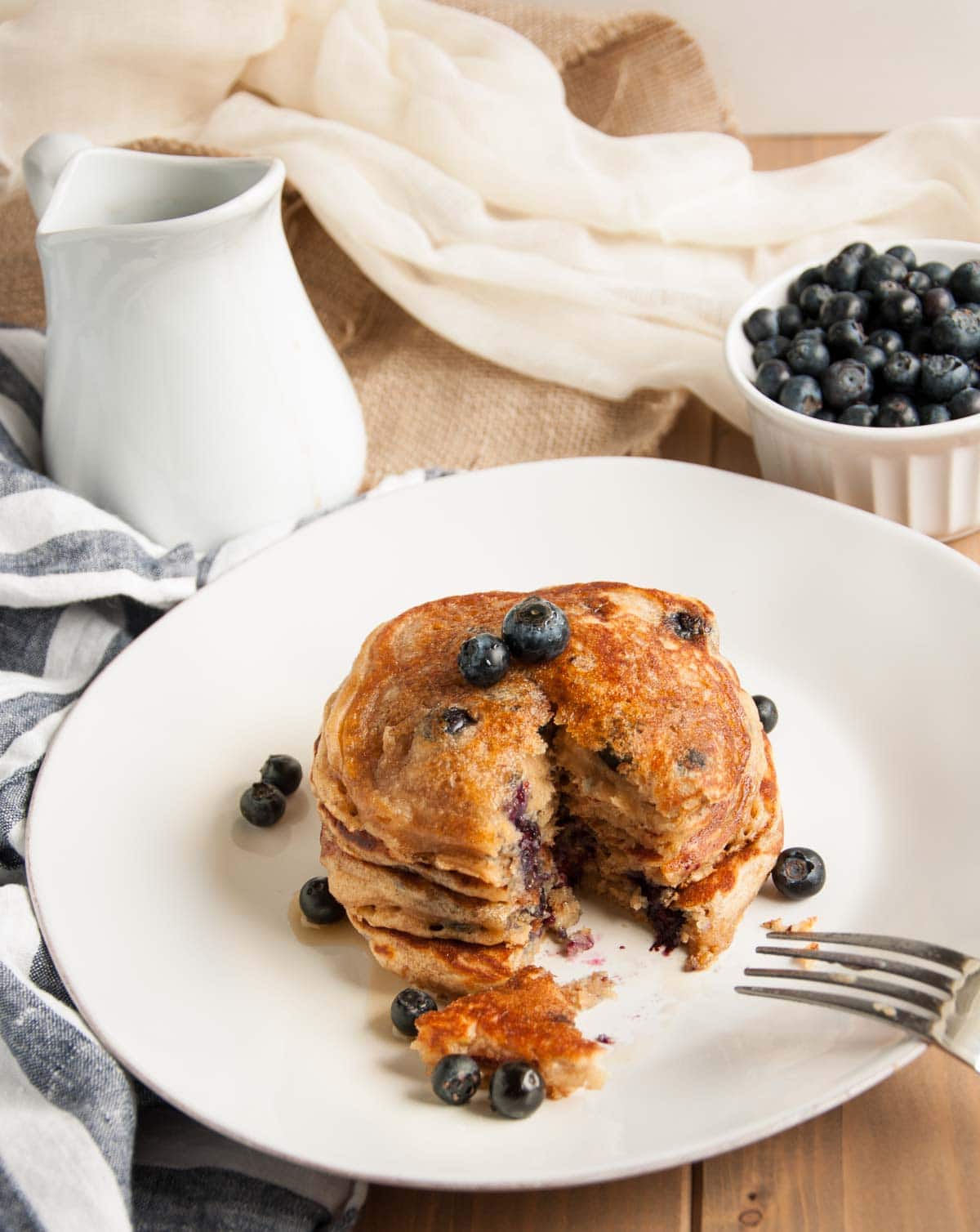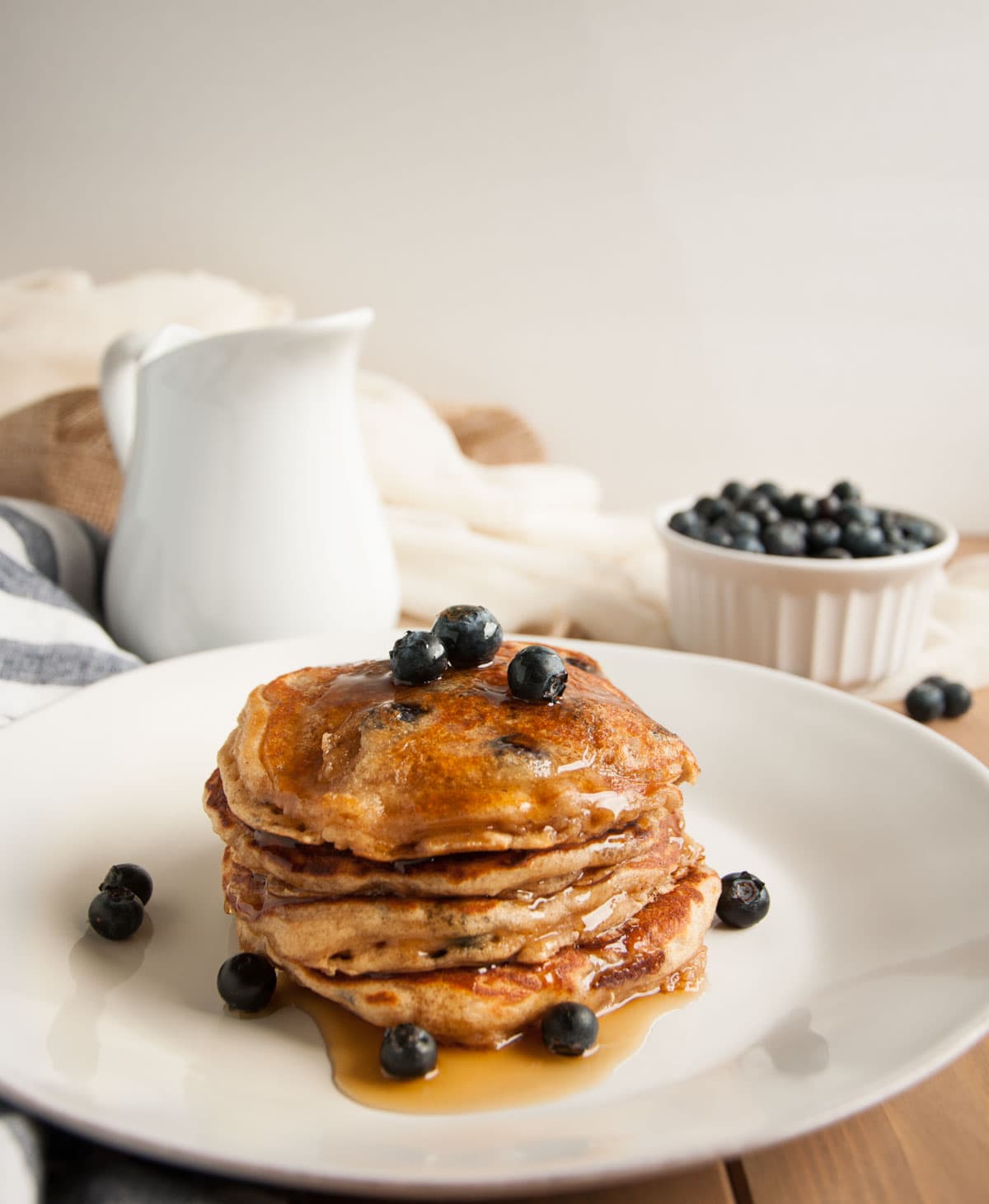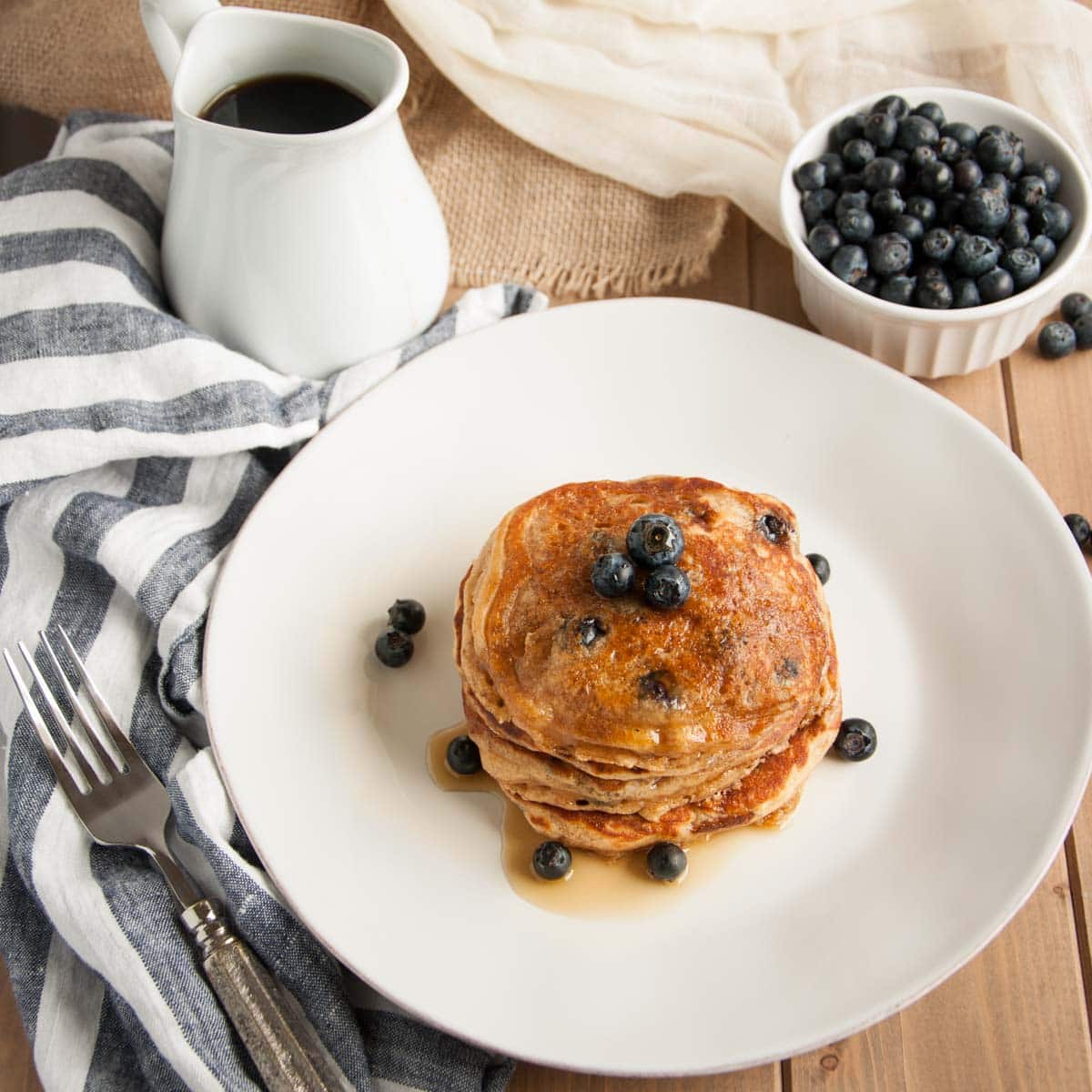 These thick, rich, delicious yogurt pancakes are a breakfast winner both in taste and nutrition, made with whole wheat flour, Greek yogurt, and blueberries.
Instructions
Mix flour, baking soda, baking powder, cinnamon, and salt together. In a separate bowl, mix yogurt, milk, maple syrup, vanilla, and 2 Tbsp. coconut oil. Add the egg to the liquid ingredients and mix thoroughly.

Stir the dry ingredients into the wet mixture and stir until just combined (don't over mix!).

Heat a skillet or griddle over medium heat. Melt coconut butter on skillet using a spatula to spread the oil.

Once skillet is hot and coconut butter is melted, spoon about 1/4 cup of pancake batter onto skillet. Repeat spooning batter until there is not any more room. Let pancakes cook for 2-3 minutes until bubbles form.

Flip and cook another 2 minutes until other side is lightly browned. Remove and set aside. Repeat with remaining batter.
Nutrition
Calories: 258kcal | Carbohydrates: 35g | Protein: 9g | Fat: 10g | Saturated Fat: 7g | Cholesterol: 45mg | Sodium: 328mg | Potassium: 293mg | Fiber: 4g | Sugar: 11g | Vitamin A: 130IU | Vitamin C: 3.5mg | Calcium: 156mg | Iron: 1.2mg
I know I'm a little late sharing this for a Father's Day brunch, but since my Dad is en route to Mexico right now, Father's Day was a little off schedule for us this year. We had a birthday/ father's day celebration on Friday night instead. There's just nothing quite like spending time with your siblings. We're all on the same track of weird and just get each other in the oddest, but most fabulous way. Its always rejuvenating to get a good dose of sister/brother time.
With my parents living overseas, time with them is scarce so we try to soak up as much of it as we can when they come back for the summer. I know I may be biassed, but my dad is truly an incredible person and an inspiration in so many ways.
With it being father's day and all, I'd like to share a bit about him for all of you that don't get to know him. Upon first meeting him, its probably clear that my dad is an accomplished and disciplined hard worker, that is full of integrity. Beyond this though, he has an adventurer's spirit and lives for experiences. I grew up traveling and doing all kinds of activities that I know most kids never get the chance to experience in a lifetime, let alone before they even hit their teens. I didn't realize until I grew up how truly lucky I am that my parent's chose to give me this gift.
In between adventures, my best memories of my dad were him singing for us, playing classic rock songs on his guitar, making up crazy bed time stories, whipping up legendary weekend brunches, playing skittle poker (the only kind an 8 year old will sit through), and all the little things that add up to a little girl knowing her dad is the best in the world.
Not many people can say their dad grew up in the jungles of Ecuador, sailed the world, flew airplanes in the Alaskan wilderness, has built houses with his own hands, can play multiple instruments, has been to more countries than he can count, has an accomplished career, and seems to be able to do anything he puts his mind to.
I'm not sure when it happens where you start seeing your parents as people. Same as yourself, just a bit older and wiser. It does happen eventually though, either gradually, or all at once, the pieces all come into place and your views shift and mature.
I could see a sense of disillusionment creep in for some, but for me, it has been nothing short of inspirational to see what my dad has done and continues to do with his life. As I grow older and more embedded in the complexities of being an adult, I realize how truly amazing it is that he has been able to accomplish everything that he has and still lives life as a doer, a dreamer, and above all, an adventurer who never settles for the status quo in life.
Happy father's day Dad! I can't wait to go on our our next big adventure together – Africa!!!
PS – if anyone could tell me where that pink fanny pack ended up, I'd be forever grateful.