In this tasty sour cherry galette, tart cherries and heart healthy almonds come together in a nutritious whole wheat and almond flour crust for a perfect healthy desert.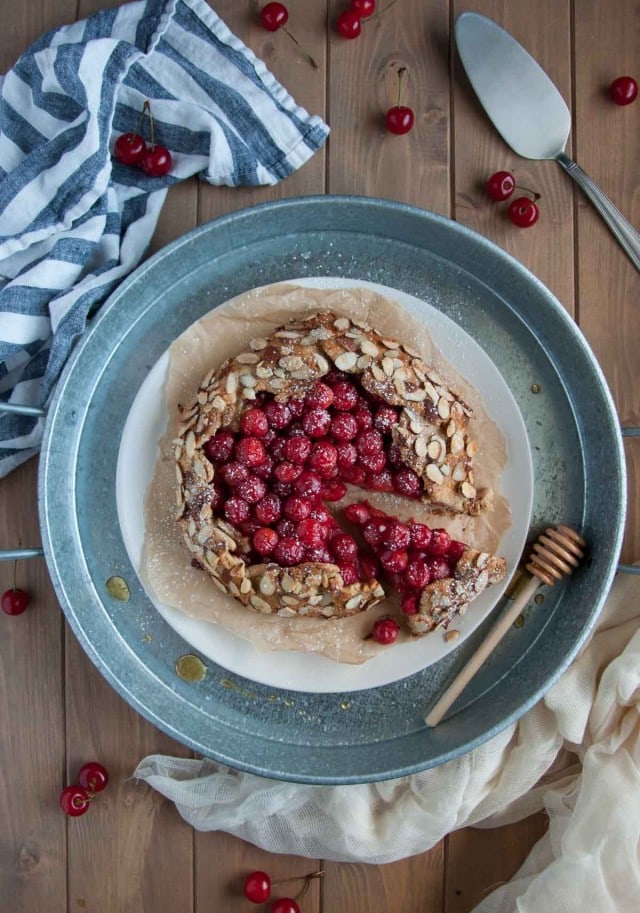 How is it fourth of July already? For the warm weather starting so early this year, this summer is going by fast! Life just seems to fly by so quickly these days. Luckily with all the fresh fruit this time of year, no matter how fast the days fly by, they'll be filled with fabulous fruity abundance.
There's nothing quite like savoring some fresh cherries in the sunshine. Am I right or am I right? And, I got introduced to a whole new kind of cherry this year – sour cherries! I've always been a sucker for sour candies and these are like the au natural version, the original sour candy. That being said, soaking these suckers in some honey makes them a bit more palatable for the non-sour lovers.
I have my wonderful uncle Bruce to thank for this recipe. He's a tree farmer and salesman so he's pretty much an expert in the fruit department. So, these cherries came from his sour cherry tree (among tons of other amazing fruit trees). So I bought a cherry pitter and got to work.
Like that other time I made a savory galette, this one came together in no time at all really. Galettes are the easy peasy kind of pastry. The kind where measurements don't have to be exact and the process can be less than precise and still create wonderful results.
After mixing the dry ingredients together, you have to cut in the butter. This creates little buttery pockets that keep the pastry crust from being too dry. I used a pastry cutter and chose to make the crust by hand but you can definitely whip this up in a food processor instead. Your choice.
The honey soaked cherries let off a lot of juices so its best to strain them with a slotted spoon before putting them into the pastry crust.
Then, the part I love most about galettes, plop the filling down onto the rolled out dough, fold the edges of the crust over, and bake. Make sure that the crust is on the baking sheet before adding the cherries cause its hard to relocate once its filled up.
To take this recipe over the top, I brushed the outside with frothy egg white and pressed sliced almonds into the dough. Don't skip the almonds. They add a nice crunch to the overall texture.
If you want the end result to be sweeter, you can drizzle a bit more honey on top of the cherries once the galette is all folded up. It was sweet enough for me without doing this, but the sour cherries do maintain their tartness so if you're not into that, you might want to add a little more sweetness.
You can serve this a few different ways too. For breakfast, desert, a mid-day snack, whatever and whenever. I have to say, its quite divine with vanilla ice cream though. I'm definitely partial to ice cream in any shape or form and with galette, its nearly perfect.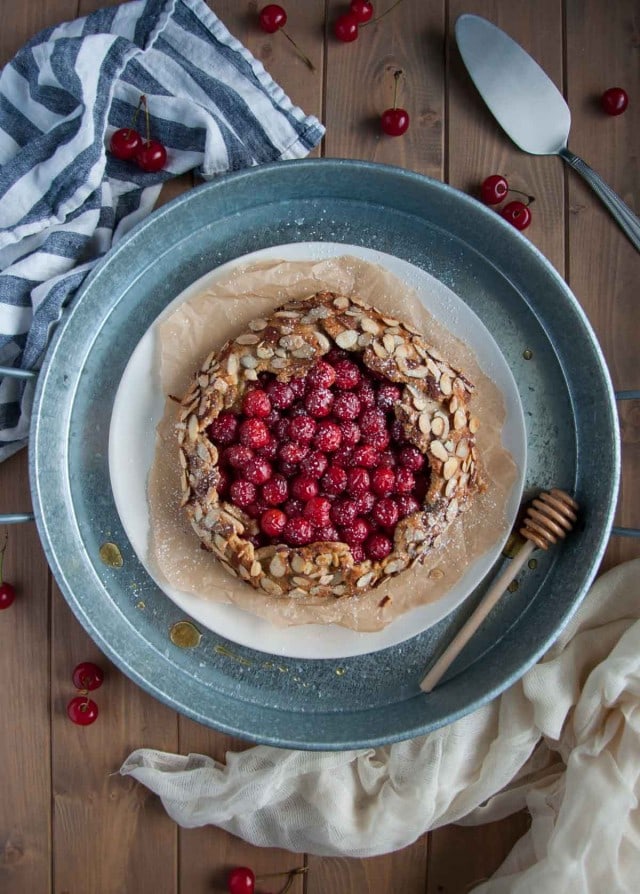 So, this is my red, white, and blue for this year. If you follow me on Instagram, you probably saw my patriotic cupcakes from last year. Well, those were tasty and all, but this is really a lot easier. This year we're going out on a boat for the holiday so there's no need for cupcakes in our lives tomorrow.
Unless they're baked by someone else that is… then I'm all about cupcakes…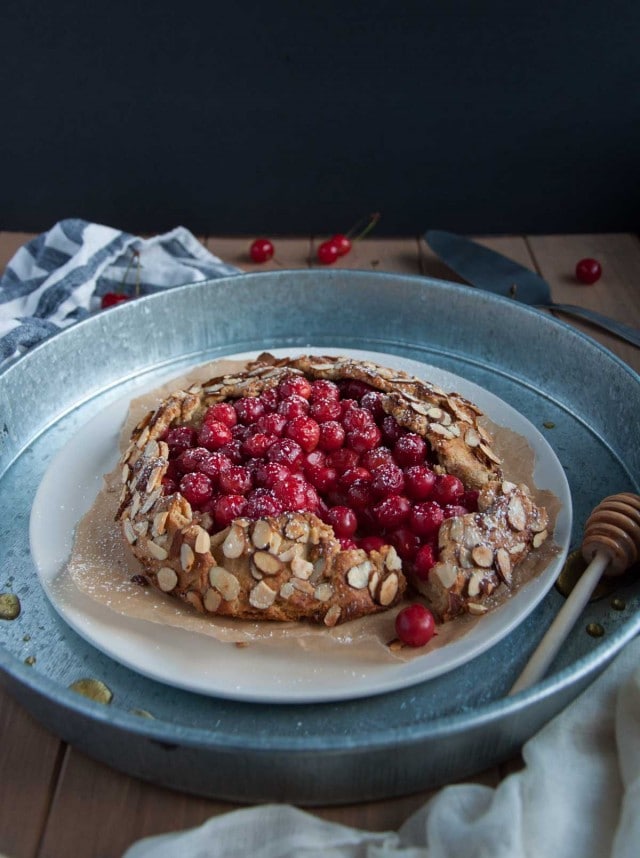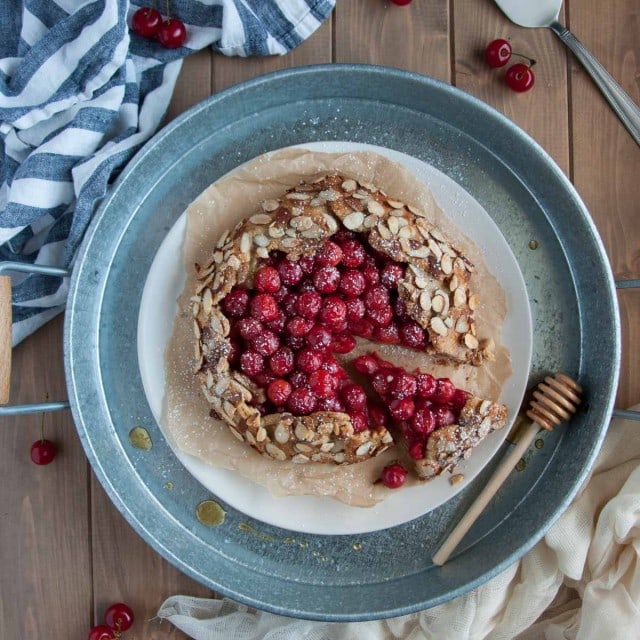 Happy Fourth everyone!
In this tasty sour cherry galette, tart cherries and heart healthy almonds come together in a nutritious whole wheat and almond flour crust for a perfect healthy desert.
Ingredients
Crust
1 cup whole wheat white flour
1 cup almond meal flour
1/2 tsp. salt
1/3 cup cold butter
1/2 Tbsp. honey
1/4 tsp. almond extract
1 egg (white and yolk separated)
1/4 cup cold milk
1/4 cup sliced or slivered almonds

Filling
3 cups sour cherries pitted
1/3 cup honey
1 Tbsp. corn starch
1/2 tsp. almond extract
pinch of ground cloves
pinch of salt
Instructions
Preheat oven to 400°F (204°C).

In a medium bowl, toss cherries with other filling ingredients and let sit while preparing the crust.

To make the crust, stir flour, almond meal, and salt. Cut butter into small cubes or grate using the large holes on a cheese grater. Work butter into flour mixture using a pastry cutter (you can also do this and the next step in a food processor like I did in this

savory galette

recipe if desired).

Once butter is worked in and broken down into pea-sized pieces, add honey, almond extract, egg yolk (reserve the white!), and milk stir a few times and then work in using your hands until combined. Be careful not to over mead the dough.

Prepare a flat surface by sprinkling with flour and smoothing over with your hand. Place dough ball on floured surface. Flatten with hands and sprinkle a pinch more flour on top to keep your rolling pin from sticking. Roll into a flat circle, about 1/2 inch (1 cm) thick.

Spoon cherries onto center of pastry dough using a slotting spoon to drain out the liquid. Leave about an inch of space on all sides of dough. Fold edges of pastry dough over filling.*

Add a small splash of cold water to the reserved egg white and whisk until frothy. Use a pastry brush to paint outer crust of prepared galette. Press sliced almonds into crust.

Bake approximately 30 minutes until crust is starting to brown. Remove from oven and let sit for 10 minutes before slicing and serving. Pairs well with vanilla ice cream!
Notes
* If you want the galette to be sweeter, you can drizzle a bit more honey on top of the cherries after folding up the galette.
Nutrition
Calories: 472kcal | Carbohydrates: 63g | Protein: 10g | Fat: 23g | Saturated Fat: 8g | Cholesterol: 55mg | Sodium: 274mg | Potassium: 207mg | Fiber: 6g | Sugar: 18g | Vitamin A: 1285IU | Vitamin C: 2.6mg | Calcium: 96mg | Iron: 3.2mg